Pad Thai for the Picky Eater
There are many different ways to make Pad Thai. This is my favorite, is it 100% authentic? No, but it works for my family and I and that's what cooking is all about, making food that you actually like. 😂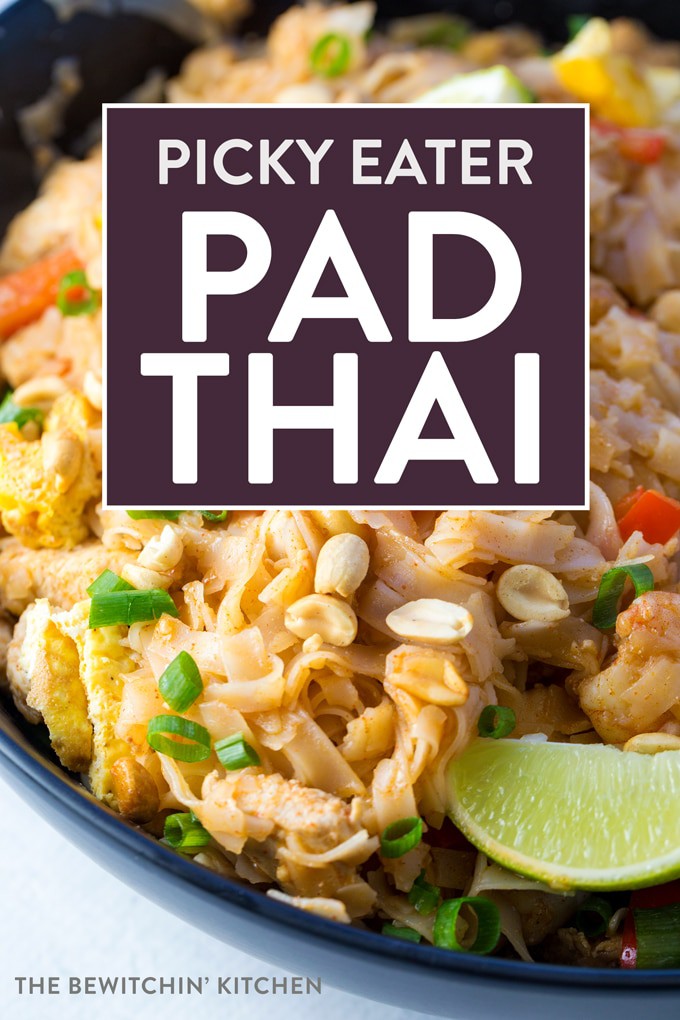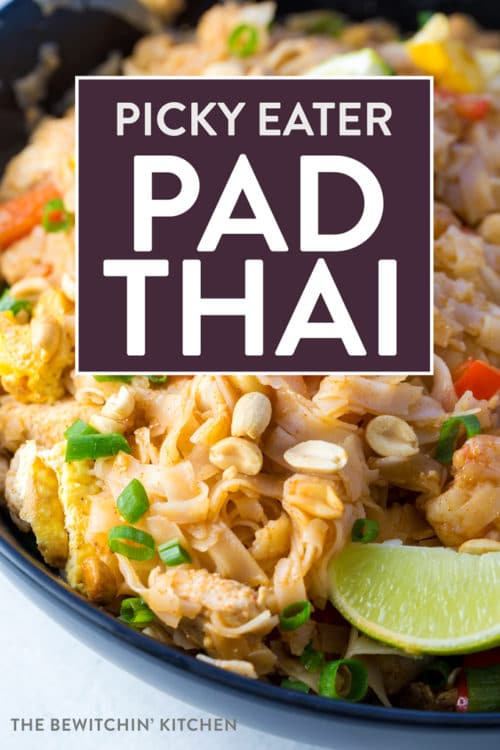 Pad Thai
This post contains affiliate links.
I have a love/hate recipe with Pad Thai, at least Pad Thai in restaurants. The best I ever had was at Earls', but they took it off the menu years ago. It wasn't too saucy, but packed tones of flavor with a little sweet, a little spicy, and a zesty vinegary flavor that I have mentioned that I love numerous times in the past. I bought the Earls Cookbook
in hopes of finding it, but no luck.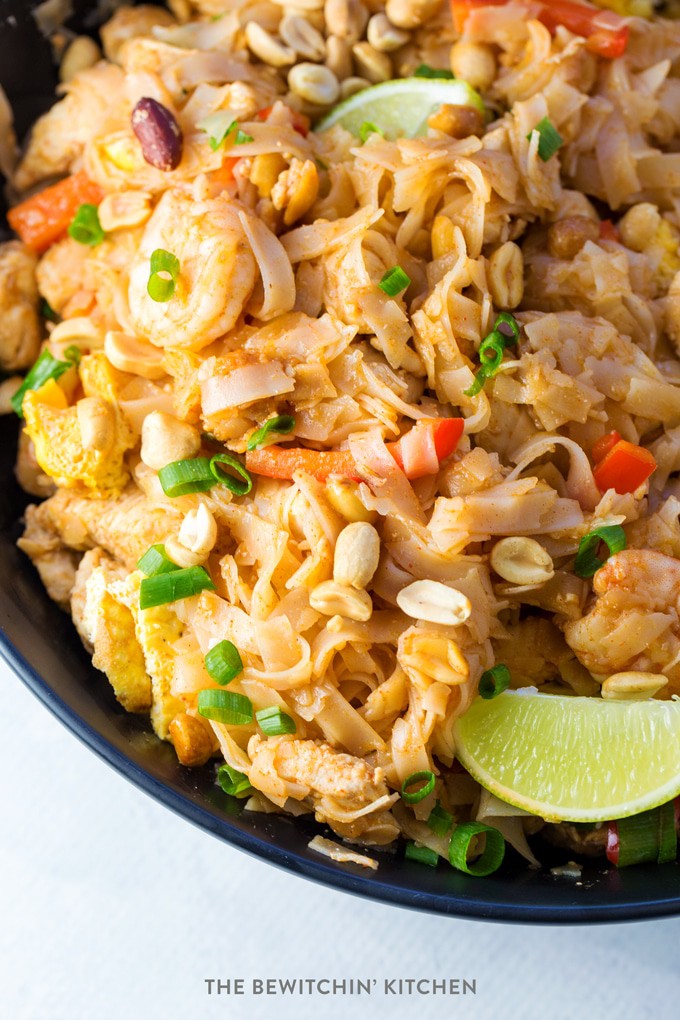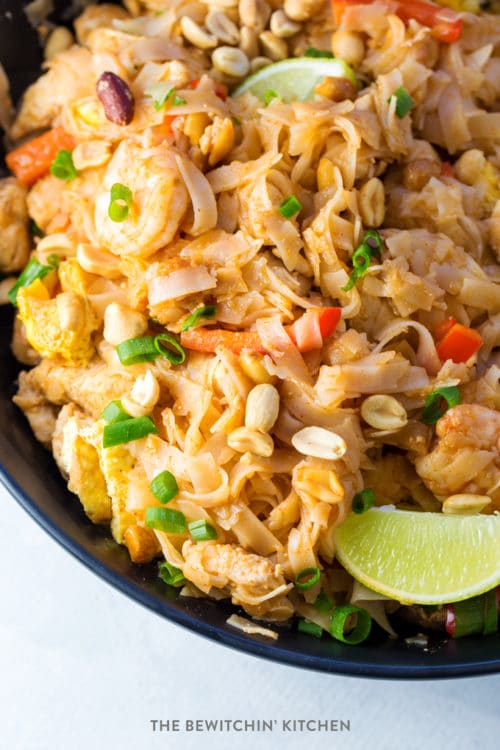 I found a similar recipe online, it was this one from Paula Deen, but it had some ingredients that I'm not a huge fan of. I'm a picky eater and so is my husband.
So I fiddled with it and came up with this version that doesn't have the traditional Pad Thai ingredients.
Why?
I don't like fish sauce, I don't like bean sprouts, and tamarind juice is not easy to find here in Northern BC. Instead of tamarind juice, Google tells me lime juice works well.
What the left me with was a similar taste to the Earl's version I loved. The noodles are not too saucy but has a sweet, spicy taste, with a hint of lime.

Picky Eater Pad Thai
In addition to leaving out fish sauce, bean sprouts, and tamarind I also subbed chicken for tofu.
I tried, I did, I even bought tofu for when I recreated this recipe for a photo shoot. I stared at it but couldn't bring myself to cube it up and fry it.
Maybe next time.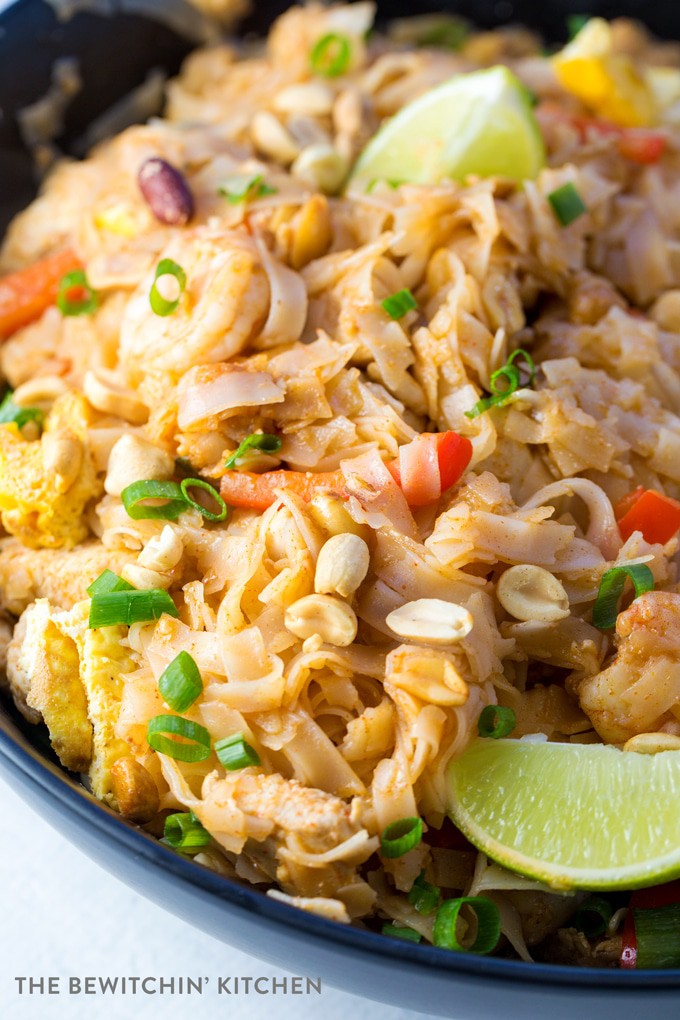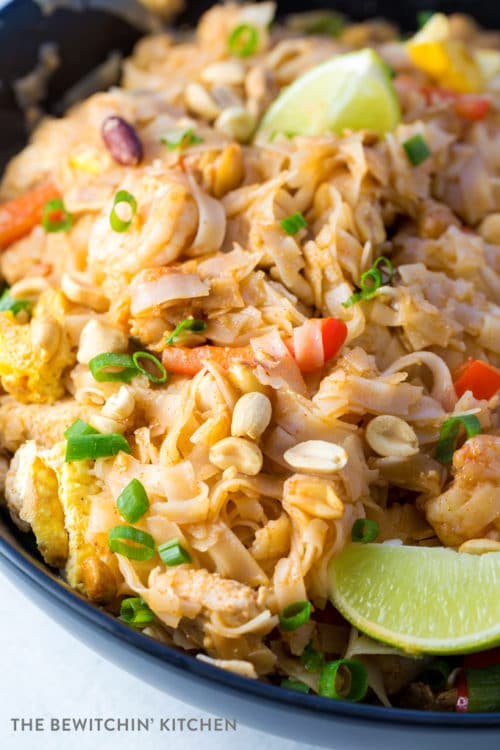 Is it a traditional version of Pad Thai? No, but it's my version and that's okay!
I've learned over the course of this blog that the recipe doesn't have to be 100% authentic or perfect, as long as you and your family are happy with it.
So use whatever you want: chicken, shrimp, tofu, whatever! Add carrots, cabbage, or whatever vegetable you have that's about to go bad in the fridge.
Just have fun cooking.
TBK's Pro Tip: Don't over soak the rice noodles, you want them to be able to soak up the sauce without the noodles getting soggy.
Ingredients and supplies you may need:
Pad Thai for Picky Eaters
Looking for a way to try rice noodles? This simple Pad Thai recipe makes a quick and fun dinner but without ingredients that may cause a fight. It's easy to make your own to by adding veggies and different proteins (like tofu, chicken, or shrimp).
Servings 8
Calories 528kcal
Ingredients
3  eggs beaten and cooked, rolled up and shredded
1 tbsp oil olive, coconut, canola all work
2 chicken breasts cubed
1 lb large shrimp peeled
2 red bell peppers sliced thin
1/2 cup rice wine vinegar
4 cloves garlic minced
1/4 cup sugar
1/4 cup lime juice
1/4 cup + 2 tablespoons good soy sauce
1 tablespoon paprika
1 teaspoon cayenne pepper try Raw Spice Bar
1 cup halved peanuts
1 14oz package dried rice noodles
Lime wedges
Instructions
Start by soaking the rice noodles in hot water as per package instructions.

Heat the oil in a wok over medium-high heat. Make sure the pan is hot.

Add the chicken and shrimp. When it's about half done, add the garlic and bed peppers.

While the chicken and peppers are cooking, stir the next 6 ingredients together in a bowl.

Add the rice noodles to wok along with the sauce. Stir to combine.

Add the peanuts and toss, giving the noodles time to soak up the sauce.

Serve with the shredded eggs and lime wedges.
Nutrition
Serving: 1g | Calories: 528kcal | Carbohydrates: 68.3g | Protein: 29g | Fat: 14g | Saturated Fat: 2.3g | Cholesterol: 181.7mg | Sodium: 658.3mg | Fiber: 3.4g | Sugar: 22.1g
Follow On Pinterest
Follow @bewitchinkitchen On Pinterest for more delicious recipes!
Similar recipes also found on The Bewitchin' Kitchen: