Thai Chicken Soup
This Thai Chicken Soup recipe is not only super yummy but super easy too. The combination of chicken, chili paste, garlic, shallots, and cilantro all in a Thai coconut peanut soup makes this the perfect way to warm up when you're chilled to the bone.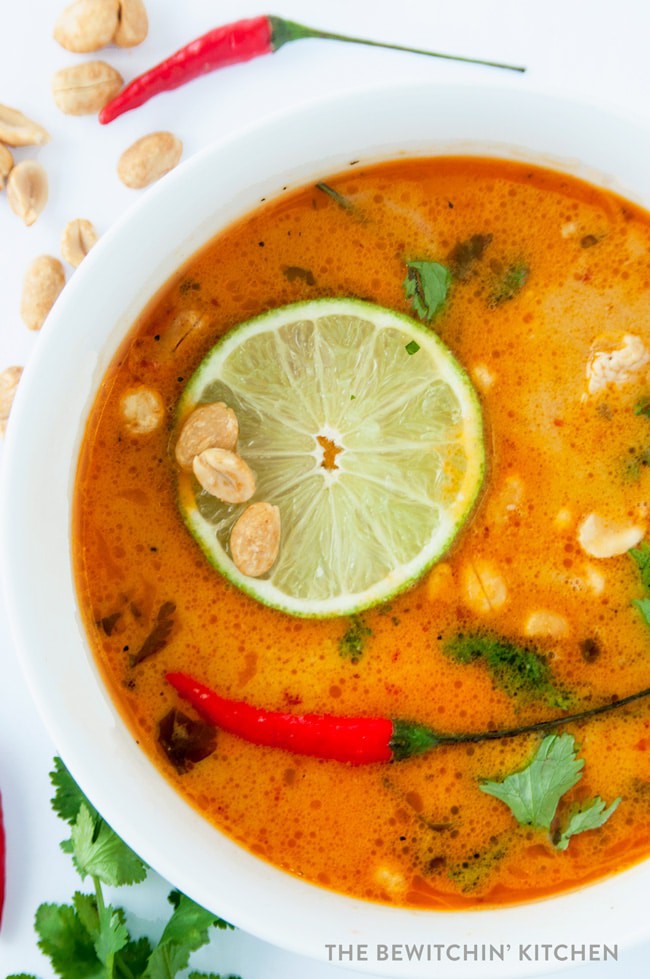 Spicy Sweet Thai Chicken Soup
Disclosure: This post contains affiliate links for your convenience. As an Amazon Associate, I earn from qualifying purchases.
I've mentioned before that I love peanut butter, and that I like to put it in as much food as possible. However, my husband doesn't believe that peanut butter belongs with dinner (because he's crazy).
So when I made him try this Thai Coconut Chicken Soup, I was nervous and he was hesitant.
The verdict? A winner! He said it didn't make him think of peanut butter, and it blended together nicely. Winning! (Are we still saying that? No? Just me?)
Related: Kickin' Chicken Kebabs with Spicy Peanut Sauce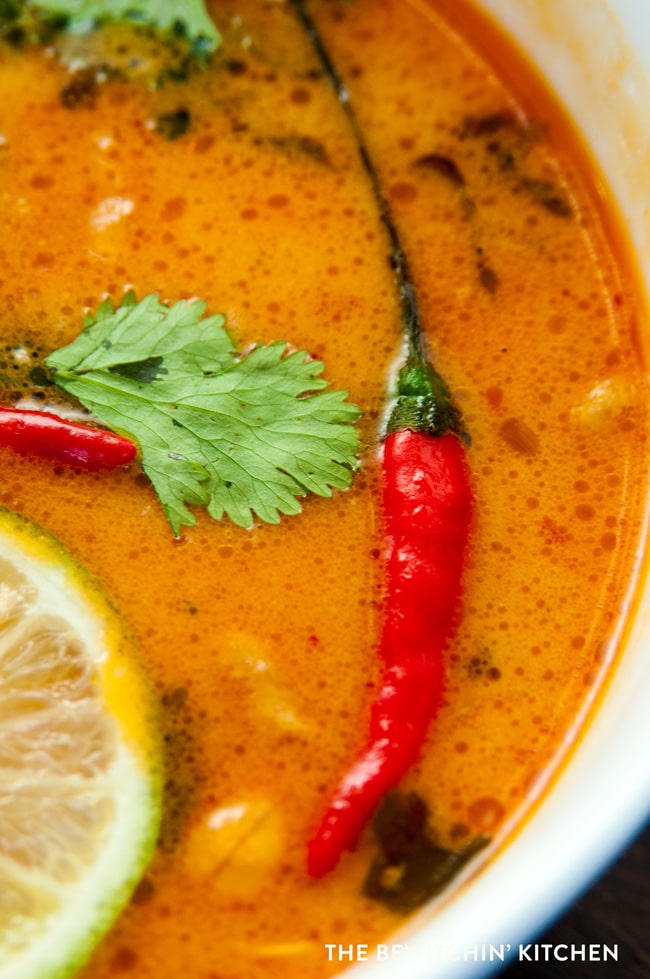 Why You Will Love Thai Peanut Soup
Incredible flavor – even better than takeout
Simple, fresh ingredients – adjust each to your taste or what you have on hand
Ready in 35 minutes – toss everything in and simmer
Feeds plenty – serve dinner guests or enjoy leftovers for lunch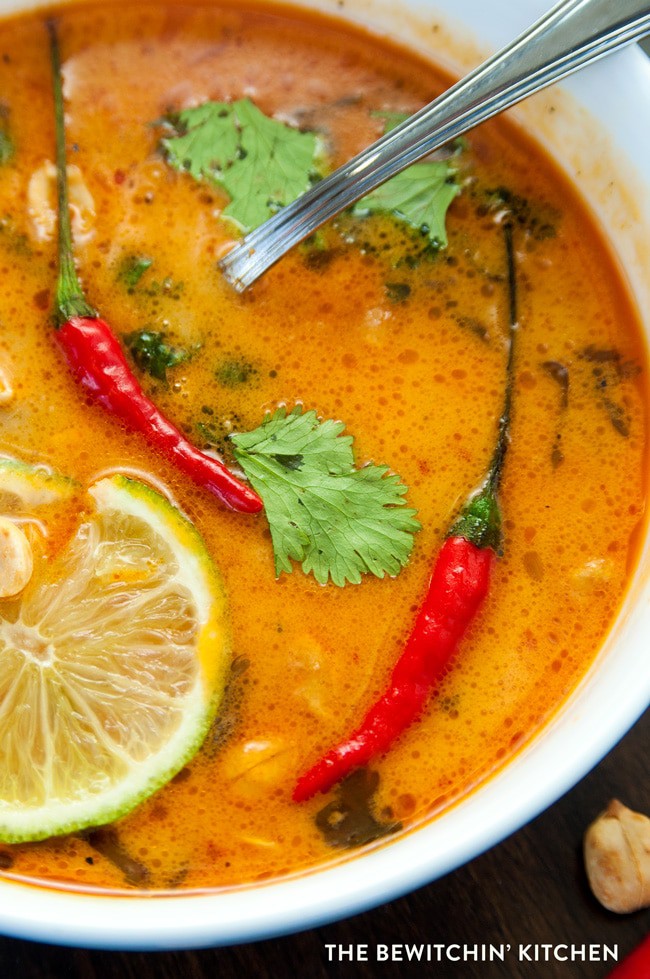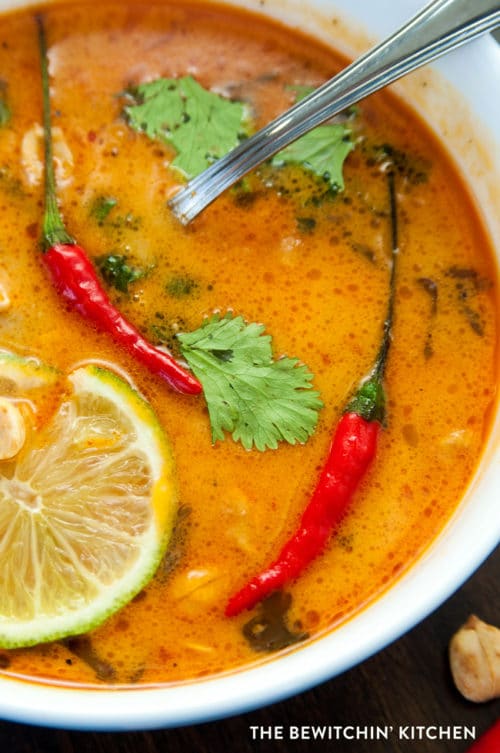 Thai Coconut Soup Ingredients
This list of ingredients in this Thai Chicken Soup is longer than the typical recipe here on The Bewitchin' Kitchen but don't let that stop you. The length may seem a little overwhelming, but it's not. It takes only a few minutes to throw it all together, I promise!
Check it out: If you like this recipe, then you will LOVE these Coconut Curry Chicken Meatballs.
Chicken breast – You could easily use an equal weight of boneless, skinless chicken thighs as well. Just be sure to remove any extra fat before cubing.
Garlic & Shallots – These add a lovely flavor base to the Thai coconut soup. For this recipe, I would not recommend swapping the shallots for onions.
Red Bell Pepper – Adds a bit of color and is sweeter than green bell pepper.
Cilantro – You will need both fresh and dried leaves for this recipe.
Liquid Aminos – Use these for a gluten free recipe, or substitute regular soy sauce.
Limes – Be sure to zest before you juice!
Peanut Butter – Opt for creamy no stir varieties, or make your own!
Cumin, salt, pepper – Since the other ingredients pack so much flavor, you can keep the seasonings to a minimum.
Coconut milk – Be sure to use canned, full-fat coconut milk. The kind sold in cartons won't have the same texture.
Peanuts
How To Make Perfect Thai Coconut Chicken Soup
Prep Ingredients Ahead of Time
This recipe for Thai chicken soup comes together quickly, so you'll want to have everything ready before you get started!
Cube the chicken breasts and chop the veggies and herbs. While you have your knife out, you might as well chop up the peanuts for garnish. Zest and juice the limes, then measure out the remaining ingredients.
Use A Large Pot
You can easily get up to 10 servings of Thai coconut soup out of this recipe! Any large pot will do — nonstick, stainless steel, or even a Dutch Oven.
I'd recommend at least a 4-quart capacity so you can simmer and stir without worrying about liquid sloshing over the sides.
Add Some Garnish
Extra cilantro and a Bird's Eye Pepper or two add more flavor and an incredible pop of color to each bowl. I like to sprinkle on some chopped peanuts for some crunch as well.
That said, this Thai peanut soup is just as delicious without any extras, so feel free to save the extra step and dig right in!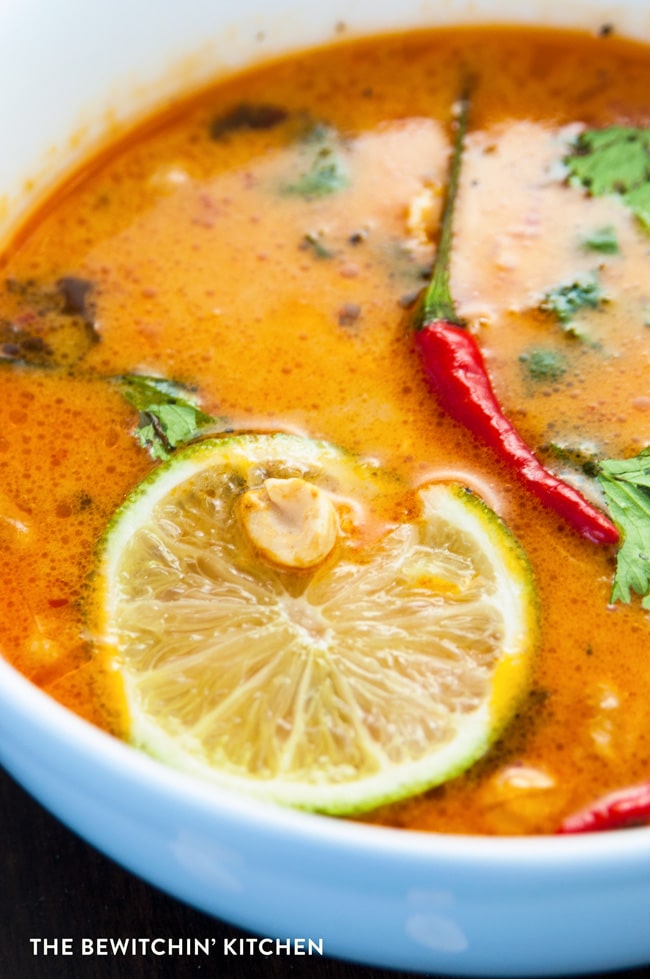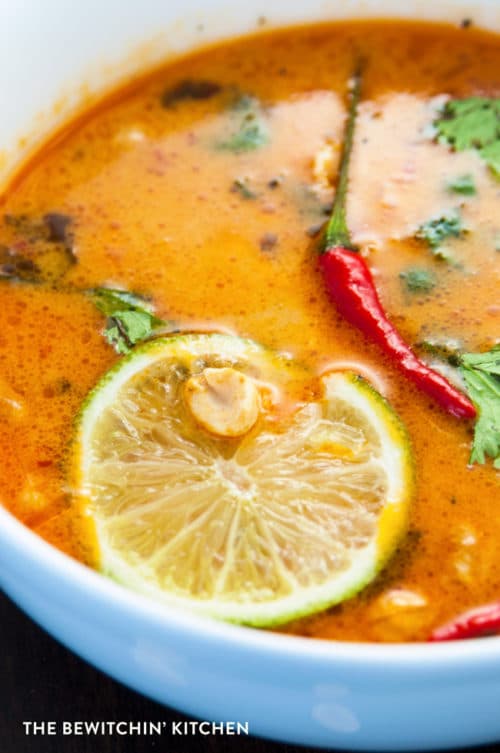 Frequently Asked Questions about Thai Peanut Soup
What Is Peanut Soup Made Of?
That all depends on the recipe! You can find different versions of peanut soup from all over the world, including Western Africa, the Southern United States, and throughout Asia.
This coconut peanut soup recipe is inspired by Thai cuisine and features savory and spicy ingredients such as chicken, peppers, chili paste, garlic, shallots, and peanut butter, all in a creamy coconut milk broth. Citrusy lime and cilantro help to balance the heat and brighten the whole dish.
Is This Recipe The Same as Tom Kha Gai?
While it may seem similar, this Thai coconut chicken soup is a bit different from the traditional version.
Tom Kha Gai features a creamier broth and contains lemongrass, mushrooms, and galangal (Thai ginger). These differences give it a sour taste with a bit more heat.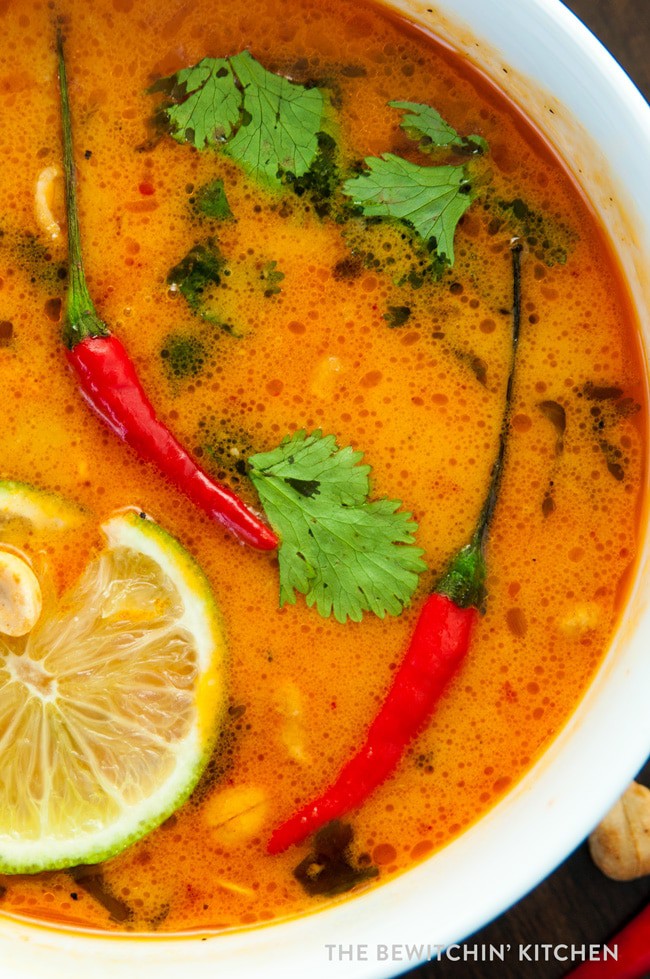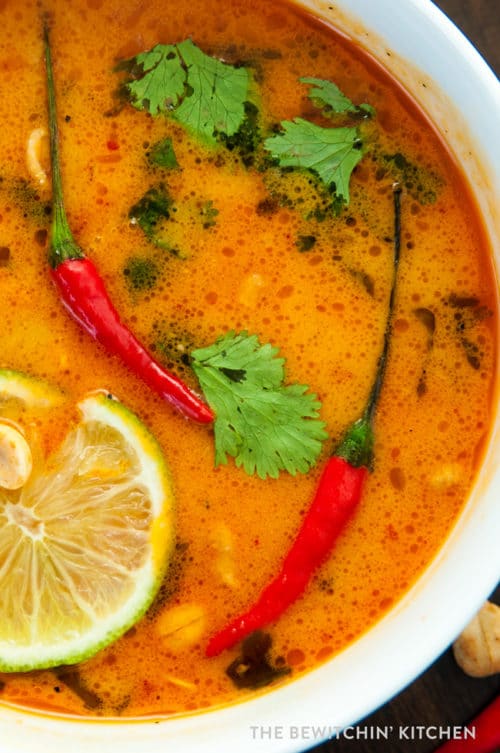 More Thai Inspired Recipes
Thai Chicken Soup
This Thai Chicken Soup recipe makes a delicious and easy dinner. Made with chicken, chili paste, peanut butter, coconut milk, and spices.
Servings 10 cups
Calories 333kcal
Ingredients
1 tbsp coconut oil
2 lb chicken breast cubed
5 cloves garlic minced
2 shallots diced
1 red pepper chopped
1/2 cup cilantro fresh, chopped
1/3 cup liquid aminos or soy sauce
Zest of 1 lime
1/3 cup peanut butter
1/4 cup lime juice
3 tbsp chili paste
2 tbsp soy sauce/liquid aminos
2 tsp dried cilantro flakes
1 tsp  cumin
1 salt pinch
1 black pepper pinch
6 cups chicken broth
2 14oz cans coconut milk
1/2 cup raw peanuts chopped
optional: bird's eye pepper sliced.
 
Instructions
In a large pot, heat the coconut oil over medium heat and saute the garlic, shallots, and red pepper until soft.

Add the chicken, cilantro, liquid aminos/soy sauce, lime zest and juice, peanut butter, chili paste, dried cilantro, cumin, salt, and, pepper. Combine over the heat for about 4-5 minutes, stirring constantly.

Add the chicken broth, coconut milk, and 2 tbsp of soy sauce and bring to a boil.

Reduce heat and simmer for 15 minutes.

Top with cilantro, peanuts and birds eye pepper.
Video
Nutrition
Serving: 1cup | Calories: 333kcal | Carbohydrates: 12.3g | Protein: 16.4g | Fat: 25.6g | Saturated Fat: 18.9g | Cholesterol: 33.3mg | Sodium: 892.5mg | Fiber: 0.9g | Sugar: 4.1g
Follow On Pinterest
Follow @bewitchinkitchen On Pinterest for more delicious recipes!