Sweet n' Spicy Turkey Burgers w/ Pineapple Sriracha Sauce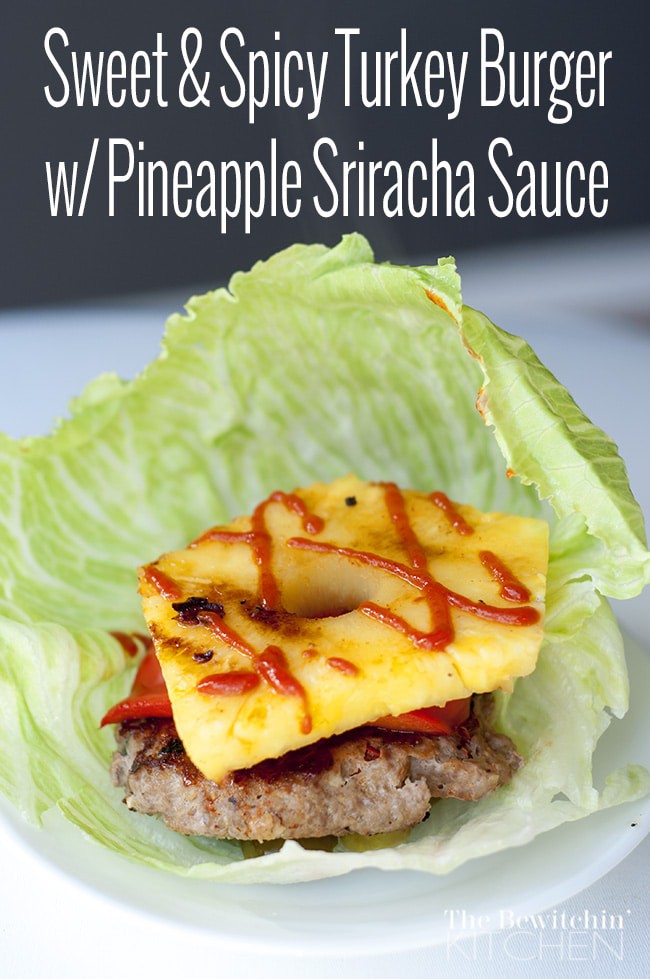 I love Sriracha, it goes good with almost everything. I especially like creating fun recipes with it. I've noticed when I combine Sriracha with something sweet – it creates something magical, like these turkey burgers.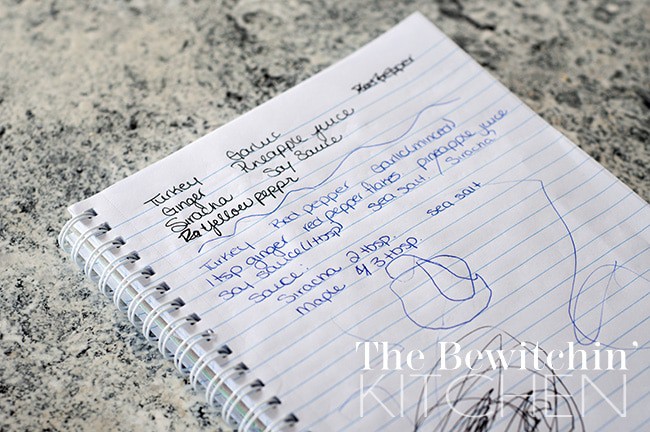 I was inspired after seeing a photo of a turkey burger sitting on a pineapple ring. I wanted to eat it, and so I whipped out my notebook (complete with fresh drawings from my toddler) and started to scribble down some ideas on what I could do with it. The recipe changed a bit, but it did incorporate a lot of the ingredients that I wanted to work with. I'm cutting back on wheat for right now, so I opted for a lettuce wrap instead of a burger bun (this saves me some room in my "calorie bank" for dessert, or more wine).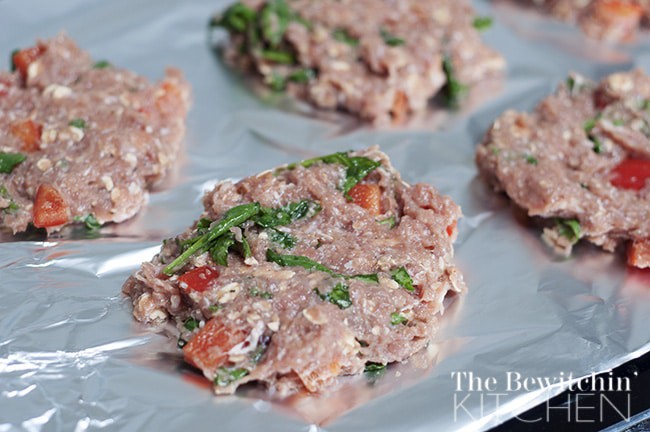 It's really hard to have ground turkey look appetizing, but I was pretty impressed with how the burger patties were coming along.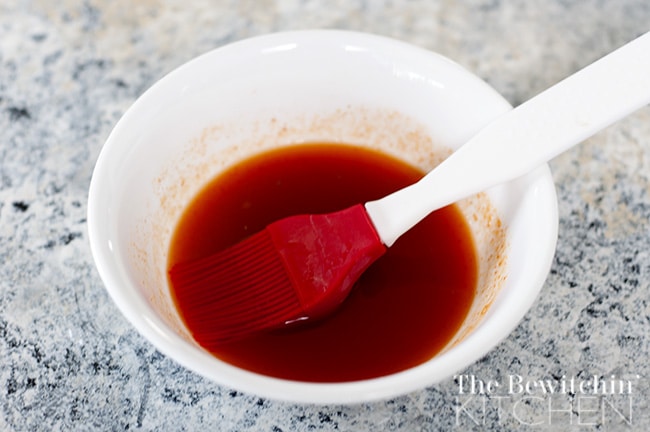 While I was heating up the Foreman grill (more on this in a minute), I whipped up this sauce to brush on the turkey and pineapples. It's right on the money. I almost made it into a mayonnaise, maybe next time.
About that grill, well you see I left something on the BBQ and long story short; it was swarmed with wasps. I wasn't taking my chances, so I opted for plan B and pulled out my George Foreman Grill.
Note: This recipe does contain some oats, originally I wasn't planning on adding any egg or "binders" to the burgers. I never use them with ground turkey and I find that they work well without but for some reason I had to put in egg whites today. The egg whites were too much (along with the soy sauce and pineapple juice), so I had to add something and oats were the closest thing I could reach. If you're allergic to oats, or would rather leave them out: don't add the eggs.
The end result was a deliciously amazing turkey burger that my husband devoured three of (that's how you know it's good, when it's husband approved).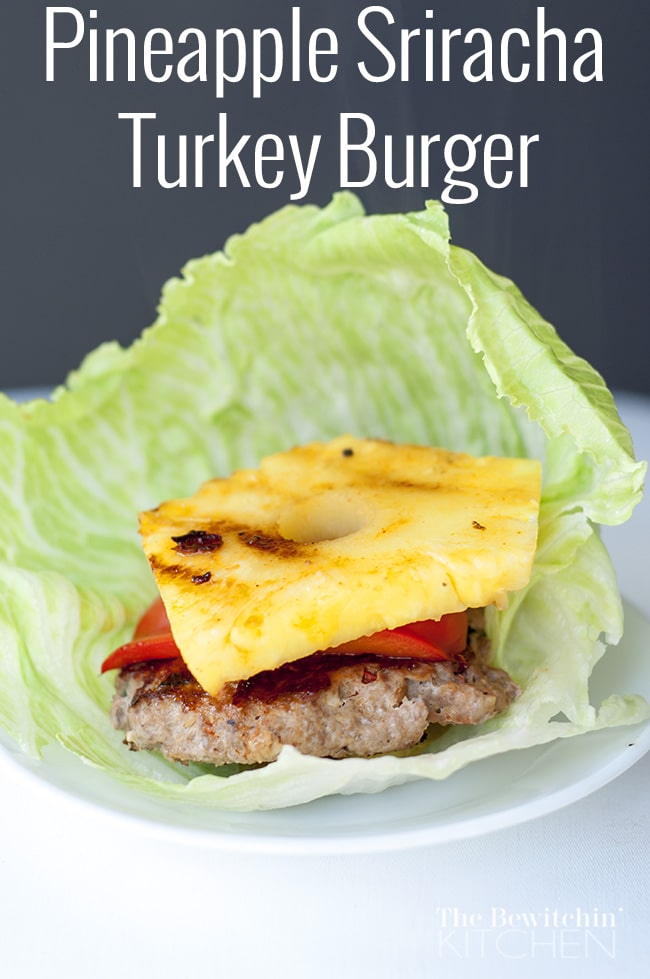 Sweet n' Spicy Turkey Burgers w/ Pineapple Sriracha Sauce
A delicious and healthy recipe for turkey burgers using Sriracha Chili Sauce and Pineapples. Sweet and spicy, and perfect for summertime!
Servings 6
Calories 146kcal
Ingredients
6 lettuce leaves for wrapping or use buns if preferred
6 Sweet n' Spicy Burgers recipe below
Pineapple cored and sliced into rings, juice reserved
Pineapple Sriracha Sauce recipe below
Sweet n' Spicy Turkey Burgers:
1 lb ground turkey
1/2 cup chopped red bell pepper plus a few more red peppers, halved and roasted for an optional burger topping
.5 cup spinach
2 garlic cloves minced
1 tsp ground ginger
1/4 tsp red pepper flakes
1/2 tsp sea salt
1/4 tsp black pepper
1 tbsp soy sauce
1 tbsp pineapple juice reserved from cut pineapple
1/2 tsp Sriracha Sauce
1/4 cup egg whites
1/2 cup oats
Pineapple Sriracha Sauce
2 tbsp pineapple juice reserved from cut pineapple
2 tbsp pure maple syrup
1 tbsp Sriracha Sauce
Instructions
Pineapple Sriracha Sauce:

Combine ingredients and set aside.

Sweet n' Spicy Turkey Burgers:

Combine ingredients with your hand and grill 10-15 minutes (or until no longer pink). If the burgers are a little too moist and you're concerned about it falling through the grill, place on foil and lay on top of the grills until it's stable enough to hold it's own.

Brush with Pineapple Sriracha Sauce two minutes before it's done.

Once you take the burgers off the grill, add the pineapple and grill for 1 minute on each side (or until you have beautiful grill marks). Brush with Pineapple Sriracha Sauce.

Assemble with toppings of choice and wrap in lettuce (or if you prefer, buns).
Nutrition
Serving: 1g | Calories: 146kcal | Carbohydrates: 11g | Protein: 20g | Fat: 1g | Cholesterol: 41mg | Sodium: 496mg | Potassium: 352mg | Fiber: 1g | Sugar: 5g | Vitamin A: 2055IU | Vitamin C: 8mg | Calcium: 26mg | Iron: 1.3mg
Follow On Pinterest
Follow @bewitchinkitchen On Pinterest for more delicious recipes!
Looking for more great ideas? Click here to follow me on Pinterest!
Visit Randa | The Bewitchin' Kitchen's profile on Pinterest.