Turkey Stuffed Zucchini Boats – Italian Style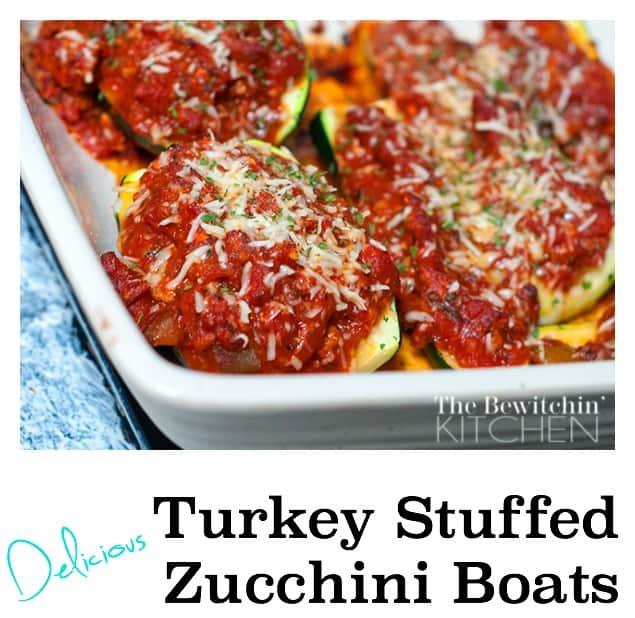 I'm slowly eliminating some foods from my diet, I have some theories that my body doesn't like certain foods and I'm taking control and trying a few things. One of the things I'm slowly taking away is wheat products, which sadly means that (for now) pasta is out of the question.
I'm a little sad to take away this comfort food, so maybe that means that it's a good thing it's gone, especially since one serving is never enough (who actually only just eats 3/4 cup – 1 cup of pasta?).
I'm usually okay, when I make my kick ass spaghetti sauce I make it with spaghetti squash and I seriously can not tell the difference.
Something that I have been wanting to try for a while are the cute zucchini boats I've been seeing around Pinterest, the only problem is I don't like zucchini. I like it shredded in baking and that's about it. I still add it to vegetable scrambles from time to time, but that requires me to choke it down fast. So when my in-laws handed me a bunch of zucchini I thought it would be the perfect time to give these boats a try.
At first I was planning on making some sort of southwestern inspired dish from the zucchini boats, like my Texas Turkey Spaghetti Squash Bake, but I was planning on having some wine and wine makes me crave my spaghetti sauce. Which is why I called this "Italian style" or "Italian Inspired", I was told before that this sauce is more of a "gravy" but I call it spaghetti sauce.

Hollowing out the zucchini was really easy, I just used the "1 perfect cup of tea" spoon I have (from back in my days of selling Steeped Tea). However, any spoon will work (preferably a metal teaspoon). You don't want to take all the flesh, just enough to fill, you want it to still have strong support.
Turkey Stuffed Zucchini Boats
These Turkey Stuffed Zucchini Boats are healthy and delicious!
Servings 6 people
Calories 390kcal
Ingredients
3 Zucchini split length wise
2 cups Spaghetti sauce made ahead of time: recipe below
Parmesan and part skim mozzarella optional
For The Sauce:
1 lb ground turkey
1 tbsp Olive Oil
1 large onion diced
1 green bell pepper diced
4 cloves garlic minced
1 cup white wine beef broth works too
1 can 28 oz crushed tomatoes
1/2 can tomato paste 4 oz can
1 jar marinara sauce I like Safeway O Organics
1 tsp oregano
1 tsp thyme
2 bay leaves
1 tbsp sugar
1 tsp sea salt
1/2 tsp - 1 tsp crushed red pepper start small and increase the heat by taste
2 tbsp dried parsley
1/2 cup parmesan cheese
Instructions
Pre-heat oven to 375F.

Scoop out the middle of the zucchini.

Ladle the spaghetti sauce in the zucchini boats.

Bake for 15 minutes.

Add cheese (optional) and bake for another ten minutes, or until bubbly and delicious. (For this recipe I used 2 tbsp of Parmesan Cheese for me (hubby added part skim mozza after).

Directions for the sauce:

In a large pot, over medium heat, cook up the ground turkey. Drain the meat and set aside.

Heat up the olive oil , add the onion, green pepper. Saute until the onion is soft (about 4-5 minutes) and then add the garlic. Give it a good stir for another minute or two (until fragrant).

Add the wine (this time I used Pinot Grigio, but I have used almost every other white and have had great results each time) and reduce for about four minutes.

Add the crushed tomatoes, paste, jar of marinara, oregano, thyme, sugar, bay leaves, crushed pepper flakes, and salt. I usually stir this together and let simmer a few minutes.

Add the meat. Stir and put a lid on.

Let this simmer on low - medium/low for at least an hour. The longer, the better.

After your hour is up, add the parmesan cheese and parsley. Stir and simmer for another thirty minutes.
Nutrition
Calories: 390kcal | Carbohydrates: 30g | Protein: 36g | Fat: 13g | Saturated Fat: 6g | Polyunsaturated Fat: 1g | Monounsaturated Fat: 5g | Trans Fat: 1g | Cholesterol: 63mg | Sodium: 2180mg | Potassium: 1635mg | Fiber: 7g | Sugar: 20g | Vitamin A: 1851IU | Vitamin C: 61mg | Calcium: 483mg | Iron: 5mg
Follow On Pinterest
Follow @bewitchinkitchen On Pinterest for more delicious recipes!
Note: don't eat the bay leaves from the spaghetti sauce – toss them.
Have you ever made zucchini boats before?