Cheesecake Stuffed Strawberries w/ Chocolate Pretzel Topping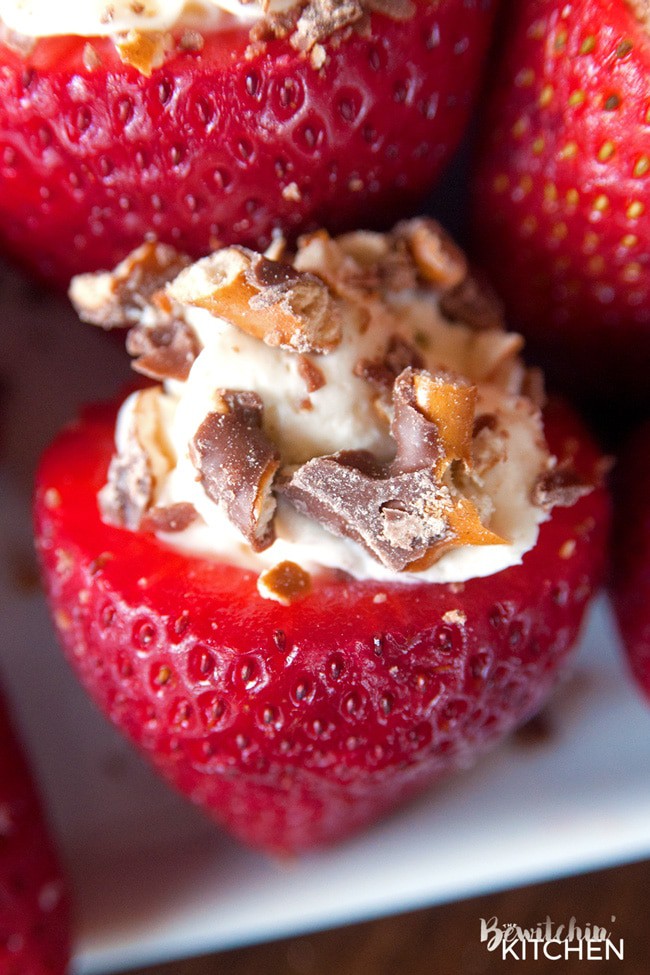 Rich and heavenly cheesecake stuffed strawberries. Do I have your attention? I thought so! I'm so excited to bring this recipe to you guys today. Trust me, this is one that you're going to want to save, make and share. It's a delicious mixture of cream cheese, vanilla extract, and FLIPZ® Milk Chocolate Covered Pretzels.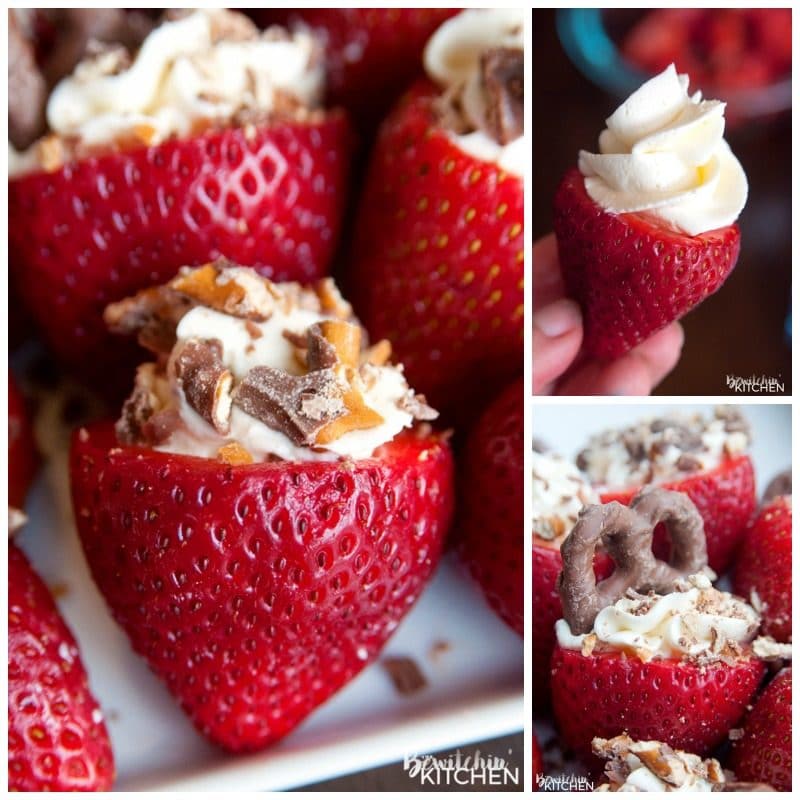 I love quick and easy recipes. As most of you know, I'm really lazy (especially when it comes to cooking) so the easier the recipe, the better. This recipe is no bake, so the only thing you have to worry about is not eating the whole batch before serving it to your guests.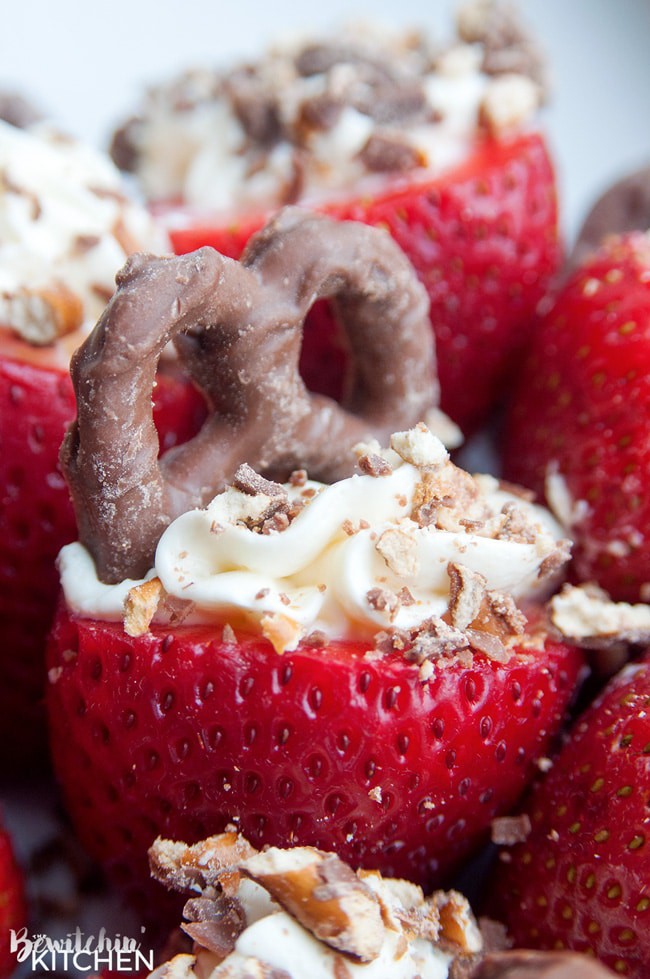 Ready or not, summer is here. That means lots of time with family and friends, many who have taken holidays and travelled for a visit. Whenever we have family stay with us, we always have a BBQ. It doesn't take much effort and I can prepare the sides ahead of time. These cheesecake stuffed strawberries are the perfect dessert to accompany a BBQ party as they don't take long to make and you can make them before your guests arrive. This means more time visiting and less time slaving away in the kitchen.
The twist on the cheesecake stuffed strawberries is the topping. Instead of the traditional graham cracker topping, I crushed up FLIPZ® pretzels and sprinkled them over the cheesecake mixture. This added a little crunch to the dessert and a bit of chocolate (because let's face it, chocolate makes everything better).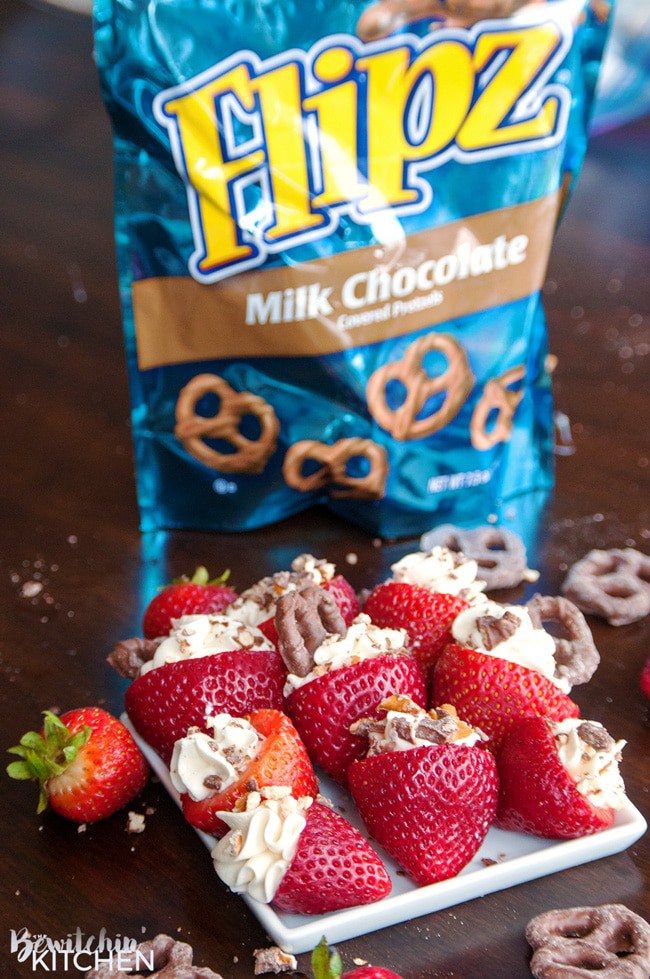 In a matter of 24 hours my three bags of FLIPZ® has dwindled down to one. Only a little over half a bag went to the cheesecake stuffed strawberries. We've all been there, right?
I think it's safe to say that my whole family loves FLIPZ®. It has the sweet and rich flavor of chocolate, the crunch of a pretzel and salt that leaves you wanting more. Chocolate and salt are my new chocolate and peanut butter. I can't get enough of the combo!
I'm heading to Whistler in two weeks, and I'm hiding the last bag until then. It's a 7-hour drive from where I live and FLIPZ® are the perfect snack for my husband and I to share as we road trip down to share a few days together to celebrate our anniversary. Usually, during road trips, I eat way too many snacks as I always crave sweet, salt and I want something with a crunch. I get all three in one snack with FLIPZ®.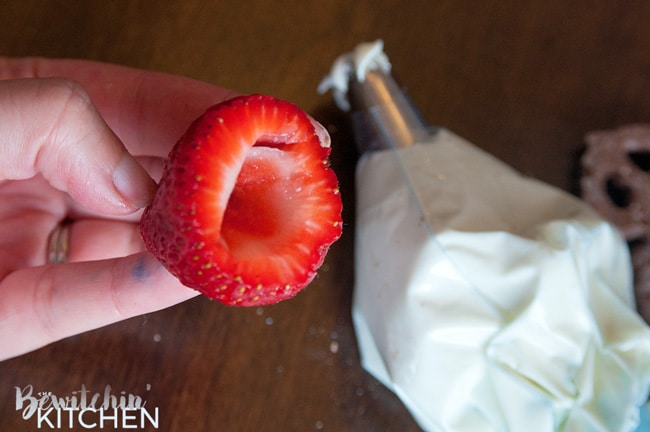 Just a quick note: the hollowed out strawberries don't have to be perfect. As long as there is enough room to pipe some of the cheesecake mixture into, you're golden.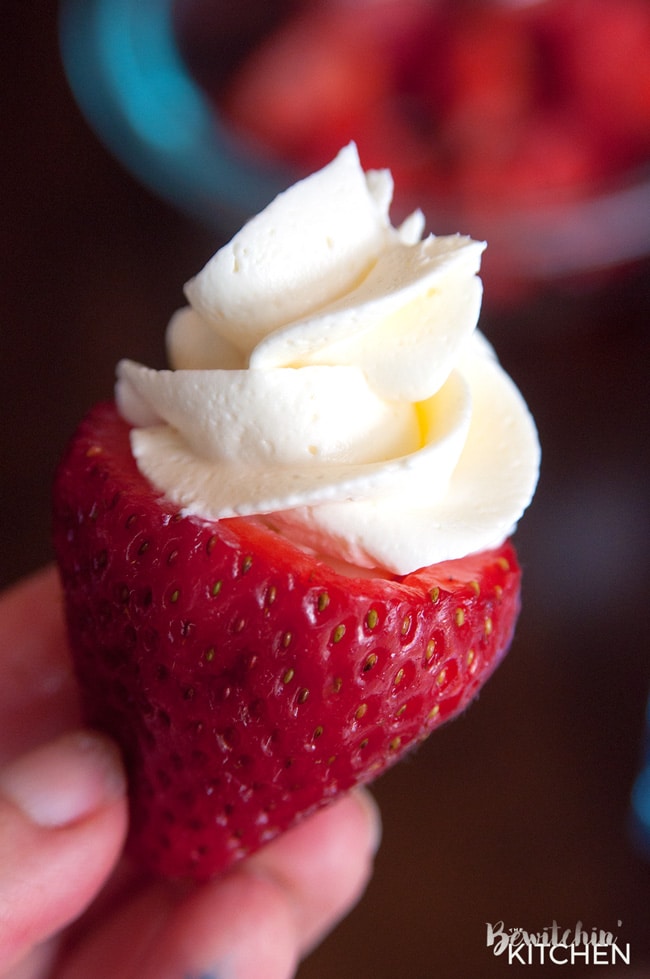 The cheesecake stuffed strawberries look beautiful after piping them, but they are missing something. The FLIPZ® chocolate pretzels are the perfect topping. I love the added crunch, and my son loves that added chocolate. You know what also works with these? Coconut. Check out these Coconut Cheesecake Stuffed Strawberries.
Cheesecake Stuffed Strawberries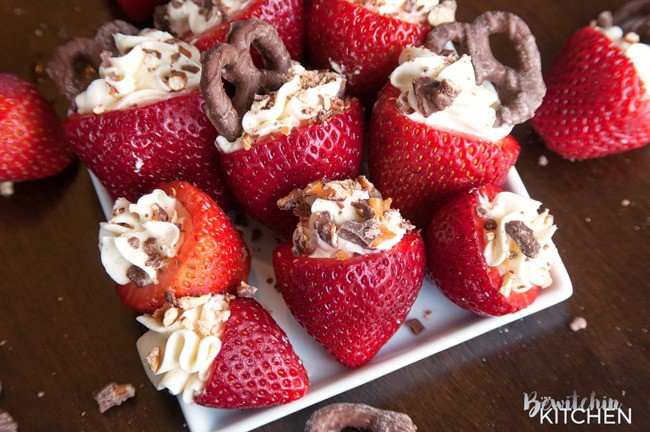 Cheesecake Stuffed Strawberries w/ Chocolate Pretzel Topping
Servings 24 strawberries
Ingredients
1 lb strawberries 22-24
1 cup cream cheese
1/4 cup powdered sugar
1 tsp vanilla extract
1 handful FLIPZ® Milk Chocolate Pretzels + 22-24 to top each stuffed strawberry
Instructions
Cut off the tops of the strawberries and hollow them out with a paring knife.

in a medium bowl, mix together the cream cheese, sugar, and vanilla extract. Whip the mixture for 2-3 minutes.

Add the cheesecake mixture into a piping bag (or a resealable bag) and pipe into the hollowed out strawberry.

Take a handful of the FLIPZ® Milk Chocolate Covered Pretzels, add to a resealable bag and smash into tiny bits.

Top each strawberry with a sprinkle of the pretzels and one whole pretzel.
Follow On Pinterest
Follow @bewitchinkitchen On Pinterest for more delicious recipes!
What's your favorite way to enjoy chocolate covered pretzels?
For more information on FLIPZ®, visit http://www.demetsflipz.com/.
If you like this recipe, please Pin and share it. Trust me, this is one recipe you want to share.

This recipe has been sponsored by my friends over at FLIPZ®. All opinions are my own.