Coconut Cheesecake Stuffed Strawberries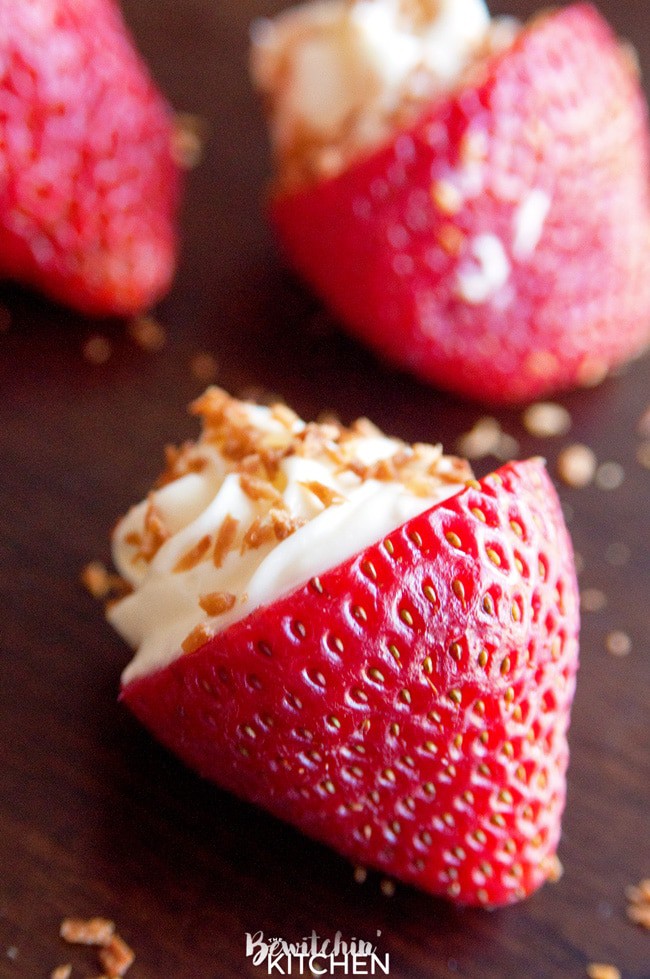 Attention lovers of coconut, cheesecake and strawberries! I have something ultra delicious for you, and the best party is that it's easy, quick, and no bake! I bring you Coconut Cheesecake Stuffed Strawberries.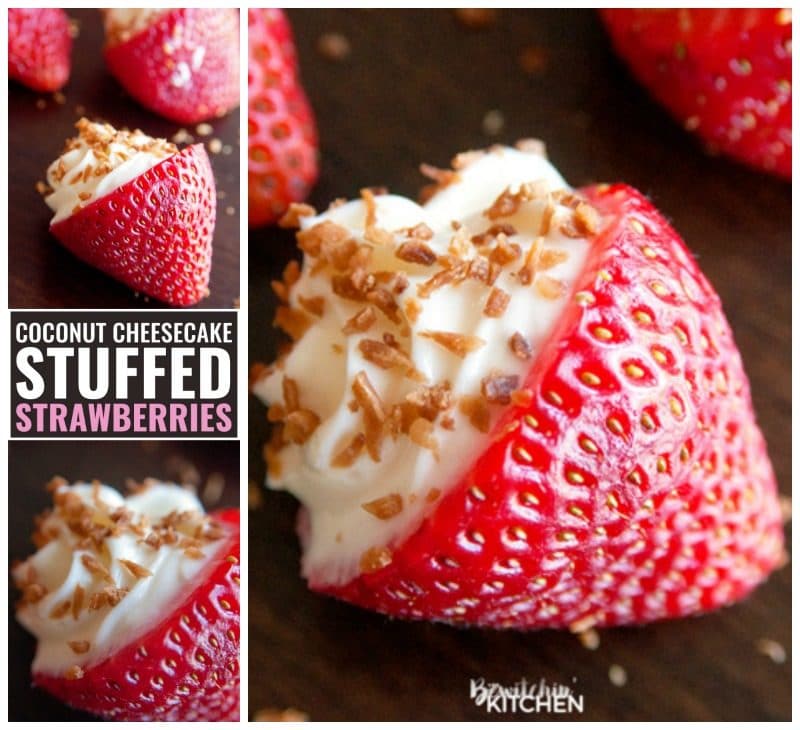 I've been on a little bit of a cheesecake stuffed strawberry kick lately. They're simple, delicious and fast. I've made Vanilla Cheesecake Stuffed Strawberries with Chocolate Pretzel Topping, Rum Cheesecake Stuffed Strawberries (coming soon) and now Coconut Cheesecake Stuffed Strawberries. Today I also worked on S'mores Stuffed Strawberries, but that's a difference post for a different day.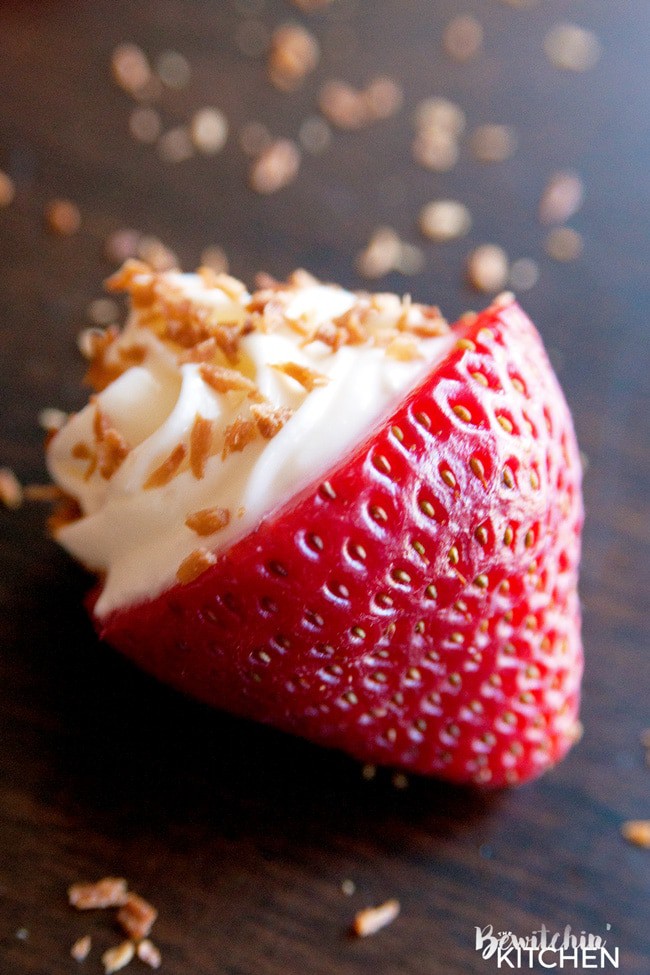 Toasting Coconut
If you have toasted coconut, this is a true no bake recipe. If you don't, there is a 5 minutes of oven time involved: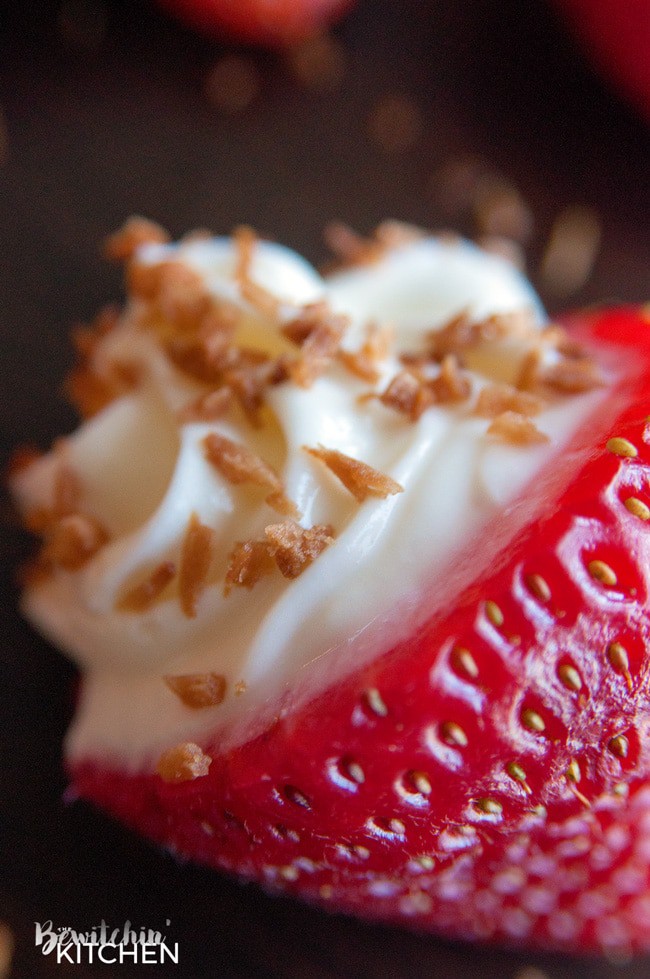 Lay out the shredded coconut on a baking sheet and bake it at 350 for 5 minutes. That's all you have to do for beautiful, golden brown coconut.
I put together a quick, 44 second video how-to for this coconut cheesecake stuffed strawberries recipe. Click above for the full rundown.
Coconut Cheesecake Stuffed Strawberries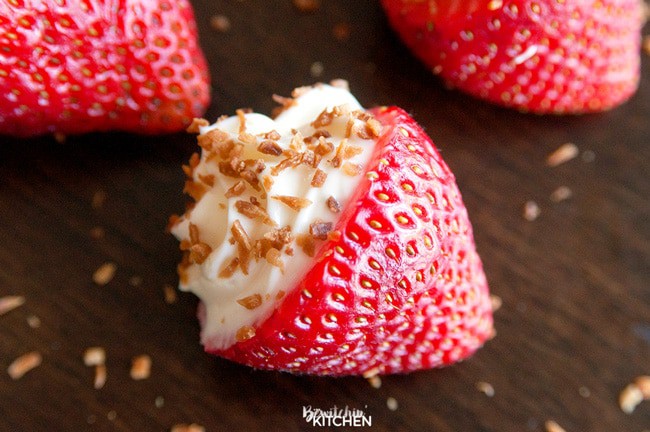 Again, I love how easy this recipe is. It's perfect for bridal showers, baby showers or any get together where you need to feed a crowd. Or you can be like me and eat the batch yourself.
Coconut Cheesecake Stuffed Strawberries
Servings 24 strawberries
Ingredients
1/3 cup unsweetened coconut flakes toasted
24 strawberries tops cut off and centers hollowed.
1 cup cream cheese
1/2 cup powdered sugar
2 tsps coconut extract
Instructions
Toast Coconut
Pre-heat oven to 350 and toast coconut for 5 minutes.
Coconut Cheesecake Stuffed Strawberries
Hollow out strawberries and set aside.

In a medium bowl beat the cream cheese, powdered sugar and extract for about 2 minutes.

Transport the coconut cheesecake mixture to a piping bag and pipe into hollowed out strawberries.

Top with toasted coconut.
Follow On Pinterest
Follow @bewitchinkitchen On Pinterest for more delicious recipes!
If you like this recipe for Coconut Cheesecake Stuffed Strawberries, please share it with your friends!