Cheesecake Stuffed Strawberries
Cheesecake stuffed strawberries bring the sweetness of strawberries, the tang of cheesecake, and the subtle toasted flavor of coconut together in one tiny morsel. Serve this delicious treat as an appetizer, snack, or dessert. And the best part — this recipe is easy, quick, and no bake!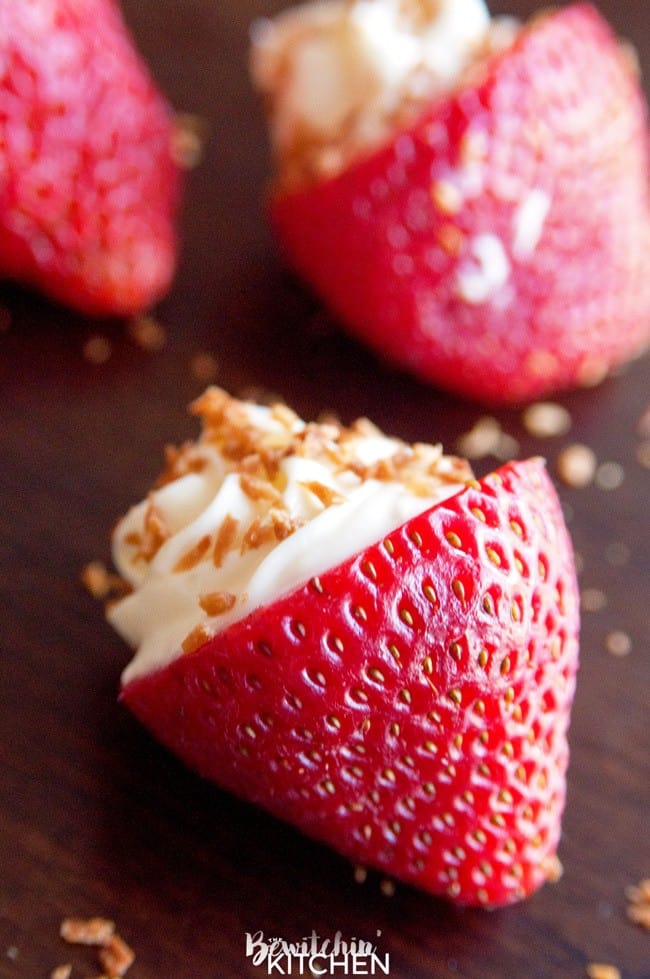 Cheesecake Stuffed Strawberries
Cheesecake strawberries are some of my favorite treats because they're simple, delicious, and fast. And cheesecake stuffed strawberries are so easily customized to your own tastes (or the tastes of your guests!), so they make the perfect party food.
There are a bazillion variations you can make to deviled strawberries. You can also make these Vanilla Cheesecake Stuffed Strawberries with Chocolate Pretzel Topping or Rum Cheesecake Stuffed Strawberries.
Why You'll Love These Cheesecake Strawberries
Convenient – Handheld and easy to eat means these make a convenient party food for your guests.
Easy – You don't have to feel any stress about your contribution to any gathering, because these stuffed strawberries are so fast and easy to put together.
Customizable – Make any number of small tweaks to this cheesecake filled strawberries recipe to make it your own. Add chocolate, remove the coconut, or flavor your cheesecake — the sky is the limit!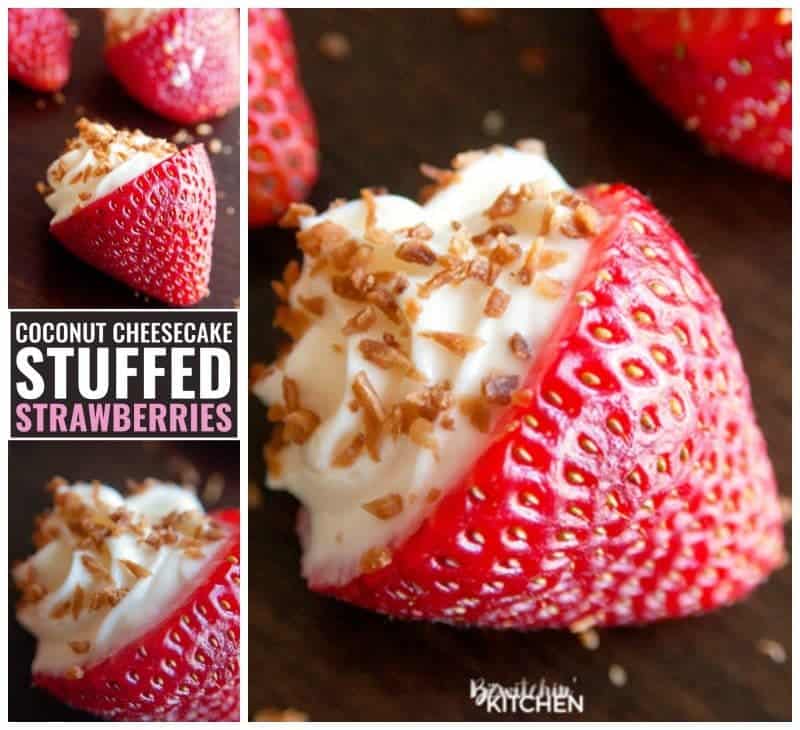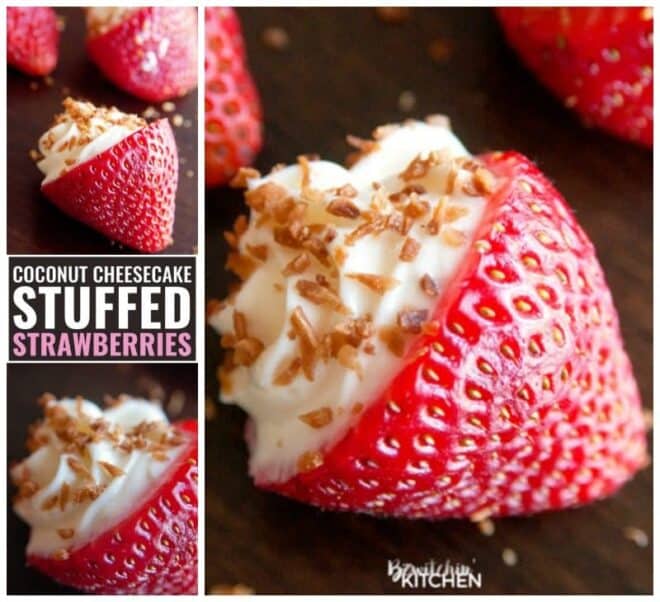 How to Make Stuffed Strawberries
Toast Your Coconut
If you have toasted coconut, this is a true no bake recipe. If you don't, there are 5 minutes of oven time involved.
Simply lay out the shredded coconut on a baking sheet and bake it at 350 for 5 minutes. Allow to cool before topping your cheesecake filled strawberries.
Prepare Your Strawberries
Wash your strawberries. I like to combine cold water with some vinegar, swish my berries around for about a minute, then rinse my berries with cold water.
Once cleaned, remove the stems and hollow out the strawberries. You want to leave enough flesh so that your walls aren't too flimsy, but you also want enough room for your filling.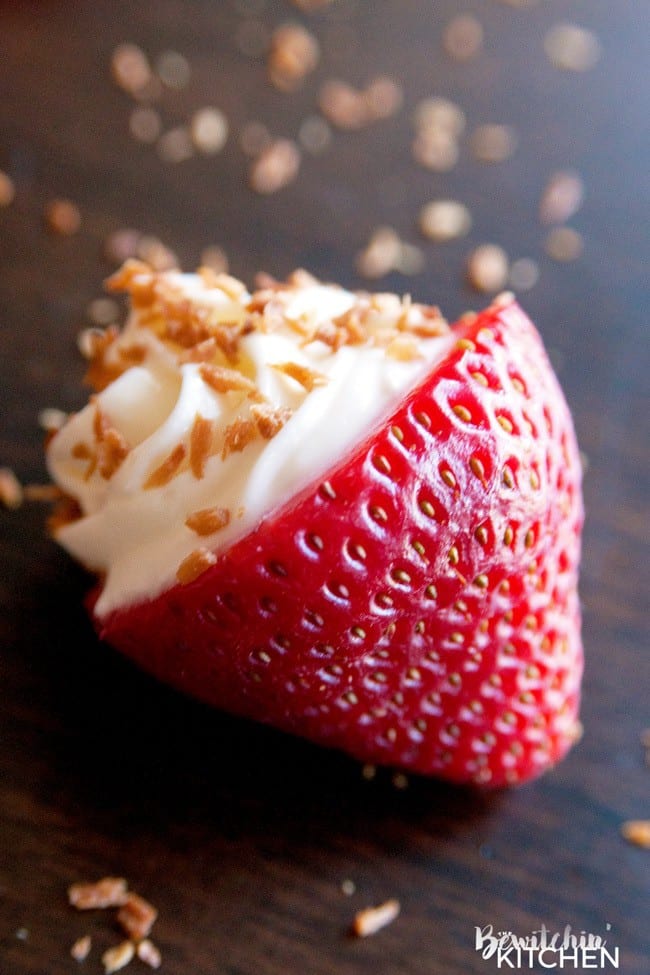 Make the Deviled Strawberries Filling
Beat together the cream cheese, powdered sugar, and coconut extract until smooth and creamy.
Transfer your filling into a piping bag. Don't have one? Use a zip top bag and snip off the bottom corner for a homemade version.
Fill Your Strawberries
Pipe the frosting into the hollowed out strawberries and top with the toasted coconut. Serve the deviled strawberries chilled. Enjoy!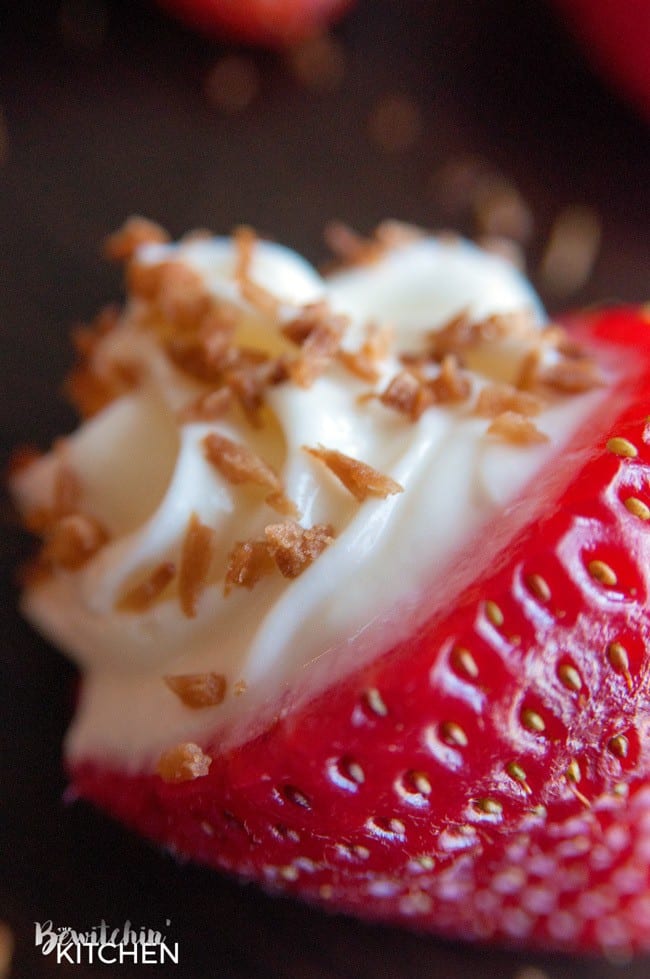 I put together a quick, 44 second video how-to for this cheesecake stuffed strawberries recipe. Click below for the full rundown!
Cheesecake Filled Strawberries Frequently Asked Questions
What toppings can I use besides coconut?
If you don't love (or are allergic to) coconut, you can easily serve these cheesecake strawberries plain! They're also delicious with a drizzle of melted chocolate or topped with lemon zest — get creative with your flavor combinations. You can also replace the coconut extract with vanilla or lemon extract.
Can You Use Frozen Strawberries for This Recipe?
Stuffed strawberries work best with fresh berries. Frozen berries would need to thawed first, and then they would be too mushy.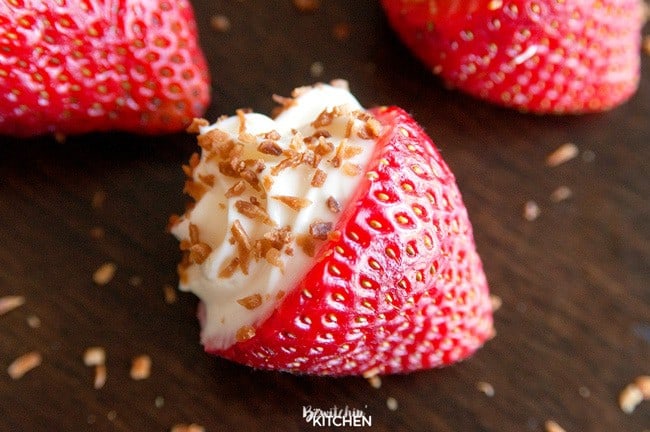 More Strawberry Recipes
Pina Colada Strawberry Shaved Ice Cream
Strawberry Yogurt Granola Bars
Coconut Cheesecake Stuffed Strawberries
Servings 24 strawberries
Calories 56kcal
Ingredients
1/3 cup unsweetened coconut flakes toasted
24 strawberries tops cut off and centers hollowed.
1 cup cream cheese
1/2 cup powdered sugar
2 tsps coconut extract
Instructions
Toast Coconut
Pre-heat oven to 350 and toast coconut for 5 minutes.
Coconut Cheesecake Stuffed Strawberries
Hollow out strawberries and set aside.

In a medium bowl beat the cream cheese, powdered sugar and extract for about 2 minutes.

Transport the coconut cheesecake mixture to a piping bag and pipe into hollowed out strawberries.

Top with toasted coconut.
Nutrition
Calories: 56kcal | Carbohydrates: 4g | Protein: 1g | Fat: 4g | Saturated Fat: 3g | Polyunsaturated Fat: 0.2g | Monounsaturated Fat: 1g | Cholesterol: 10mg | Sodium: 30mg | Potassium: 38mg | Fiber: 0.4g | Sugar: 4g | Vitamin A: 128IU | Vitamin C: 7mg | Calcium: 11mg | Iron: 0.1mg
Follow On Pinterest
Follow @bewitchinkitchen On Pinterest for more delicious recipes!
If you like this recipe for Coconut Cheesecake Stuffed Strawberries, please share it with your friends!