Healthy Steak Stir Fry
I have been wanting to post a healthy steak stir fry on The Bewitchin' Kitchen for a while now. It's a delicious way to enjoy our weekly red meat fix and with both vegetables and grains, it's in a healthy way. However, this one has a little bit of a twist: instead of the typical ramen or rice, I'm using Catelli's Healthy Harvest Ancient Grains Spaghetti.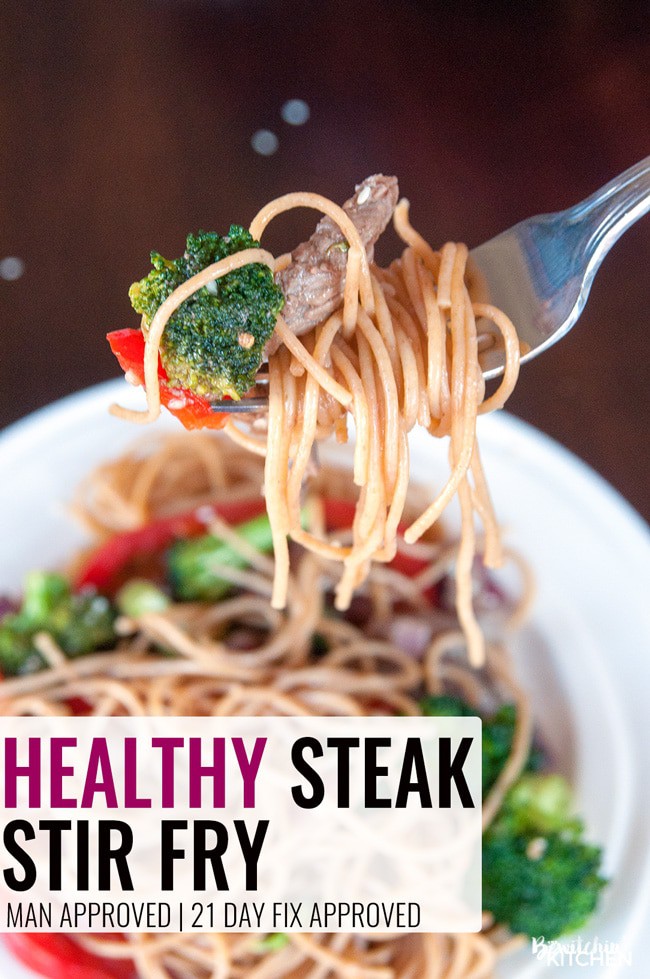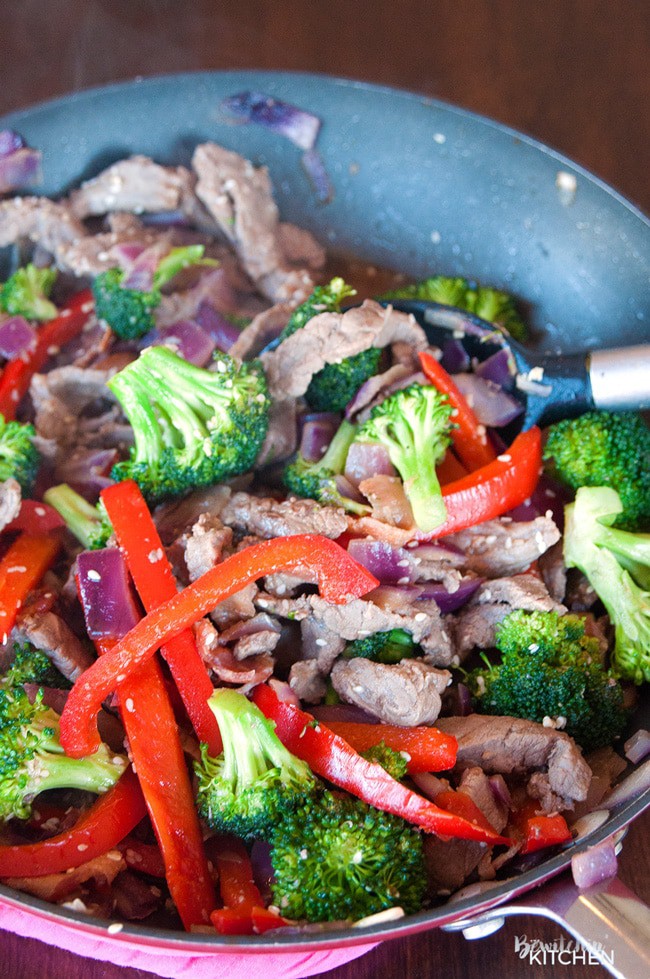 A while back, I asked my husband to give me an idea on what he thinks of when he hears the term "man meal". His response was "anything with steak". In our house, Friday night is steak night and that usually consists of the typical sirloin with salad and grilled vegetables. So naturally, I wanted to switch it up a bit and came up with this man approved Healthy Steak Stir Fry for Father's Day.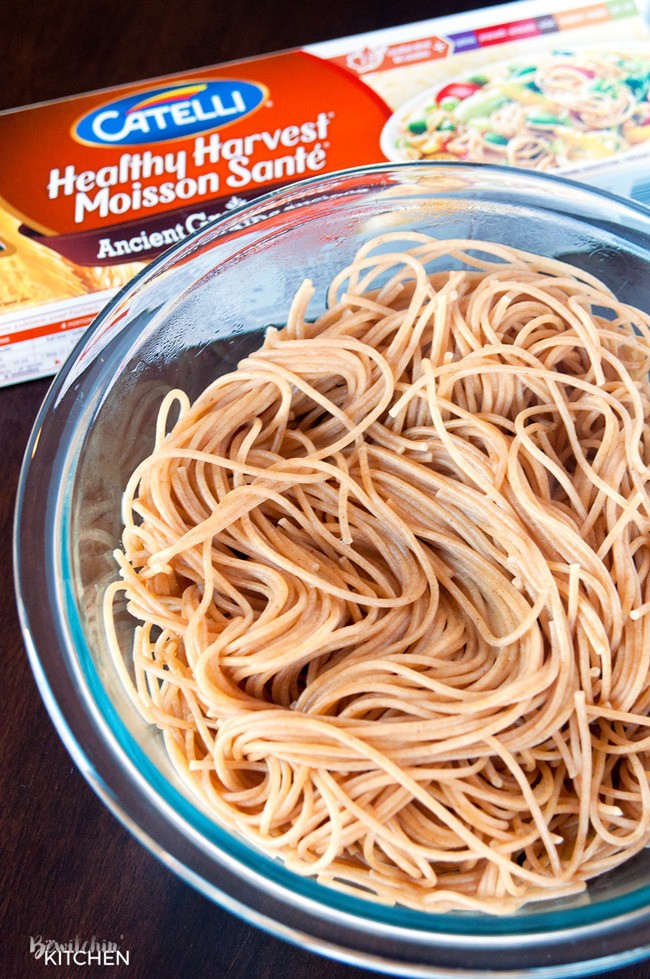 Whenever I make a steak stir fry, I skip the ramen and rice and head straight for the hearty spaghetti. My favorite spaghetti is Catelli's Healthy Harvest Ancient Grains variety. This pasta is made from all-natural, 100% whole grain blend of Canadian wheat and five ancient grains, which consists of: quinoa, amaranth, teff, sorghum and millet. Each Ancient Grains serving has 12g of protein, 8g of fibre and provides you with 25% of your daily intake of iron.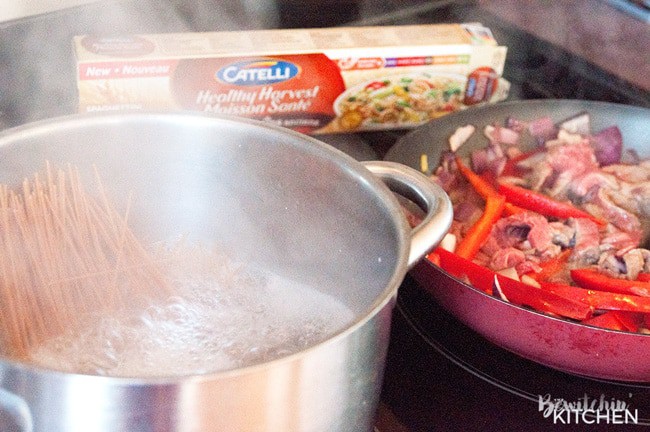 I like the thickness of the spaghetti for the Healthy Steak Stir Fry, and a little goes a long way because it's so deliciously filling.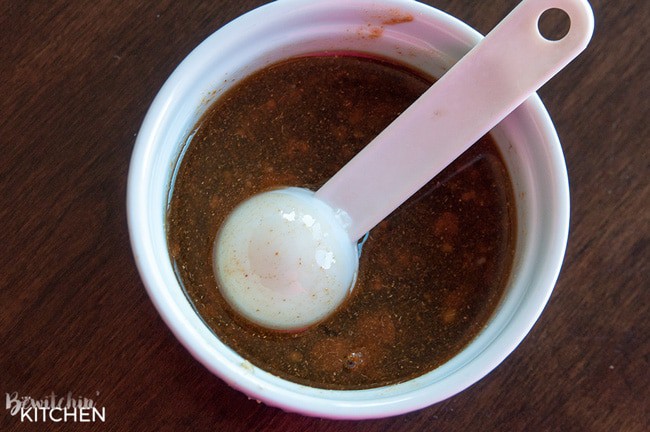 Our anniversary is at the end of the month and to celebrate we're driving down to Whistler for three days of relaxation and exploring, so I'm a little more health conscious right now (I mean, I do have to look good in a bikini 😉 ). So when it came to making up a sauce I didn't use any thickeners and I used a recipe from the P90X nutrition guide with a few modifications. I omitted soy sauce for liquid aminos (it's just what I buy, but soy sauce or coconut aminos would be great too) and I thought it would be a great time to use the coconut vinegar that I had sitting in my cabinet as well. If you don't have coconut vinegar, white wine vinegar or rice vinegar will work.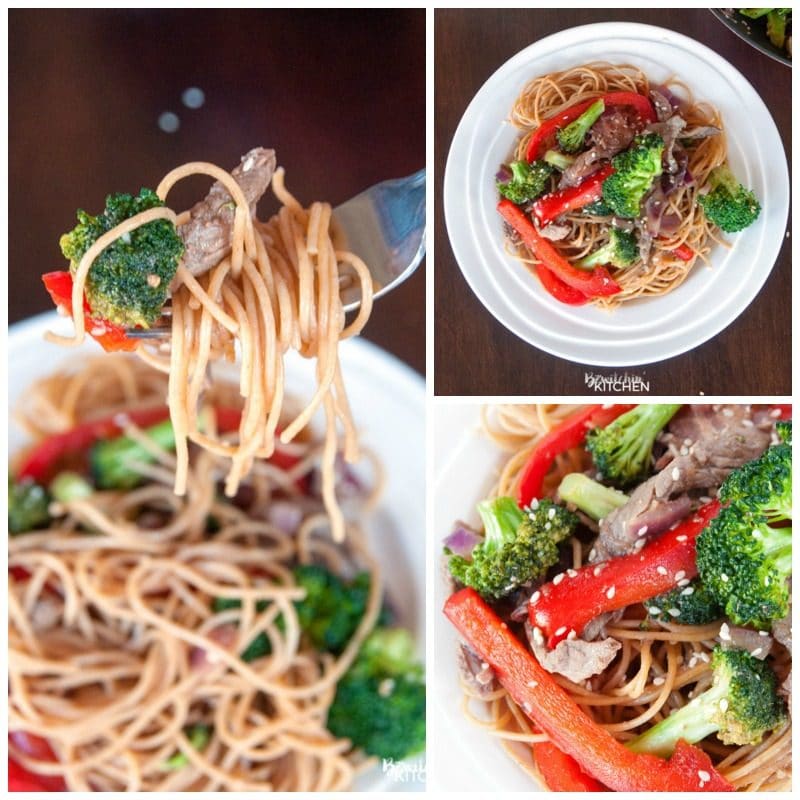 Just because it's healthy, does not mean you have to sacrifice texture, flavor and taste.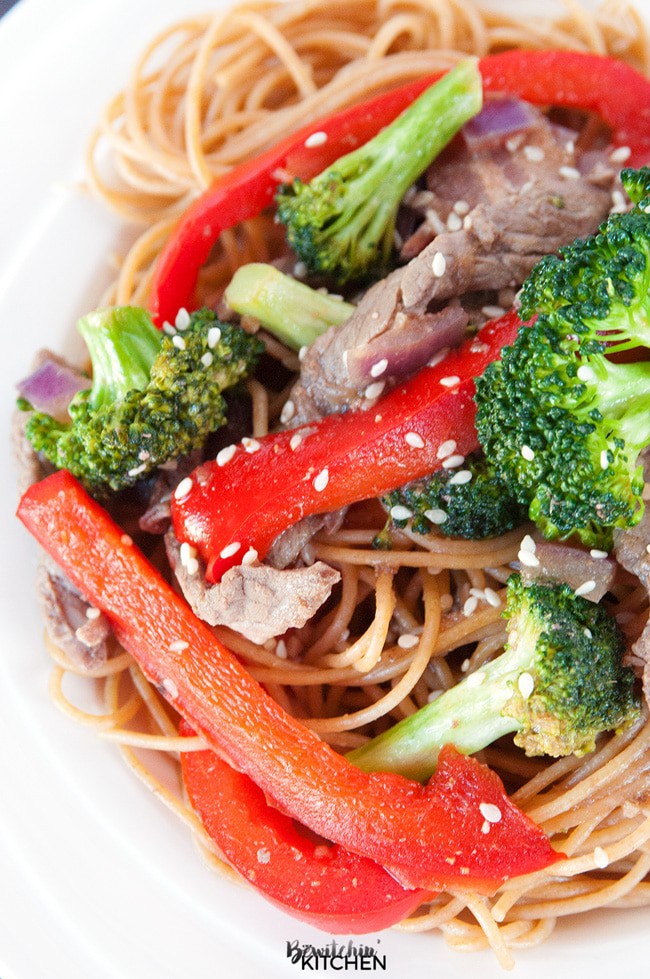 More delicious pasta recipes:
Healthy Steak Stir Fry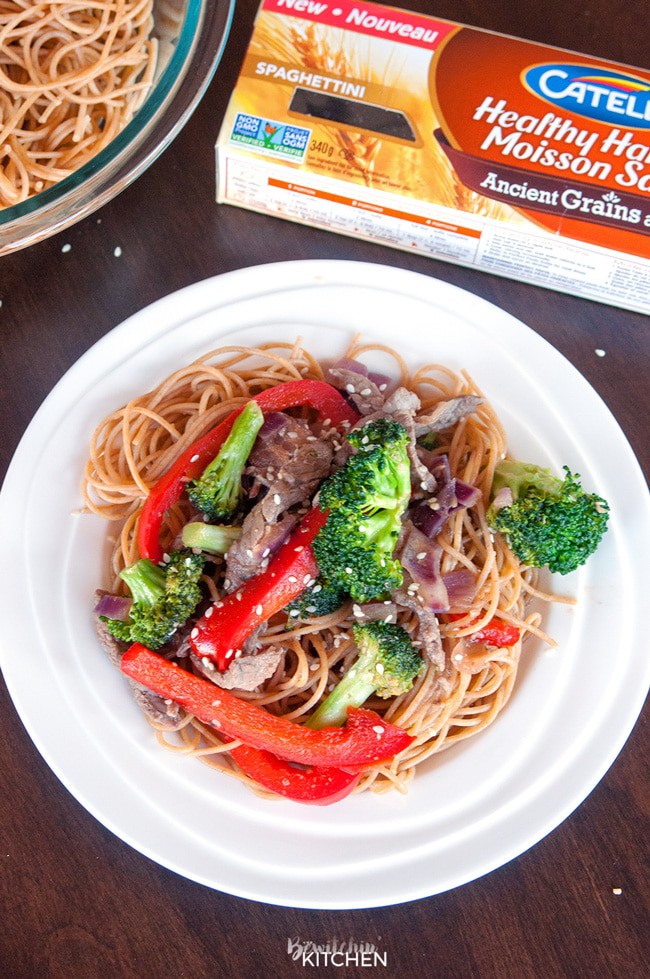 This Healthy Steak Stir Fry is a hit with families of all sizes. This recipe provides four heaping portions, but it's easy to scale back if you're cooking for two. To make it more of a "man stir fry" I added two strips of cut up bacon with the beef, but you can leave that out if you would like. It was a little extra something that made my husband smile, and isn't that what cooking is about? Showing our families (and ourselves) a little love?

Healthy Steak Stir Fry
Healthy Steak Stir Fry - this man approved 21 dayfix recipe has steak strips, broccoli, red pepper, red onions all tossed together stir fry style and served over ancient grain noodles. It's a fast and easy recipe that's good for you.
Servings 4 servings
Calories 599kcal
Ingredients
1/2 box Catelli Healthy Harvest Ancient Grains Spaghetti
1 lb steak strips
2 strips bacon cubed
2 tsps olive oil
1 red onion diced
3 cups broccoli cut into small florets
1 red bell pepper sliced
2 tsps sesame seeds
Instructions
In a hot pan over medium-high heat add the steak strips and cut up bacon. Cook until no longer pink, drain and set aside.

While the meat is cooking, put all the sauce ingredients in a small bowl and stir, set aside.

Prepare pasta according to the directions on the box.

While the pasta is cooking add the broccoli, onion, and bell pepper. Cook until the onion is translucent.

Add the meat back in and pour the sauce over the meat and vegetables. Sprinkle with sesame seeds.

Serve over Catelli Healthy Harvest Ancient Grain Spaghetti.
Nutrition
Serving: 1g | Calories: 599kcal | Carbohydrates: 52g | Protein: 36g | Fat: 27g | Saturated Fat: 9g | Cholesterol: 76mg | Sodium: 1106mg | Potassium: 769mg | Fiber: 4g | Sugar: 5g | Vitamin A: 1375IU | Vitamin C: 100.9mg | Calcium: 68mg | Iron: 3.6mg
Follow On Pinterest
Follow @bewitchinkitchen On Pinterest for more delicious recipes!
What are you making for Father's Day Dinner? Share with me your photos (and recipes) on how you "man up" pasta dinner 
using #CatelliFamilies on social media (don't forget to tag me) and in the comments below.
To learn more about Catelli and the pasta products they offer visit http://www.catelli.ca/.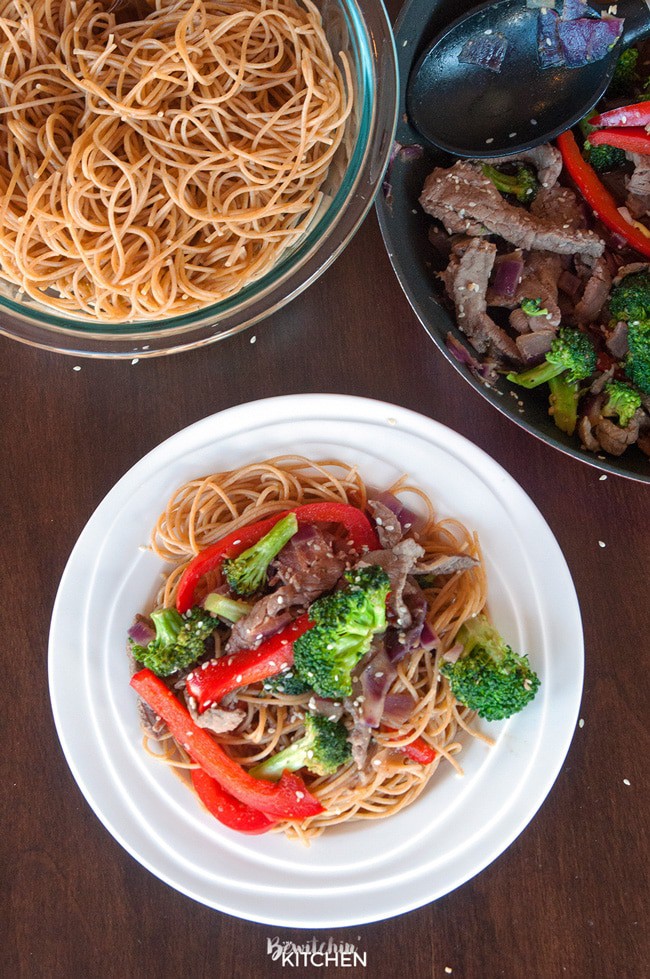 Like this recipe? Then please pin it, I even made a super-easy pinnable image for you – just hover over the picture below and a Pin It button should appear.

This healthy steak stir fry recipe has been sponsored by my friends over at Catelli. I am being compensated as their brand ambassador but all opinions are 100% my own.