Rainbow Swirl Buttercream Frosting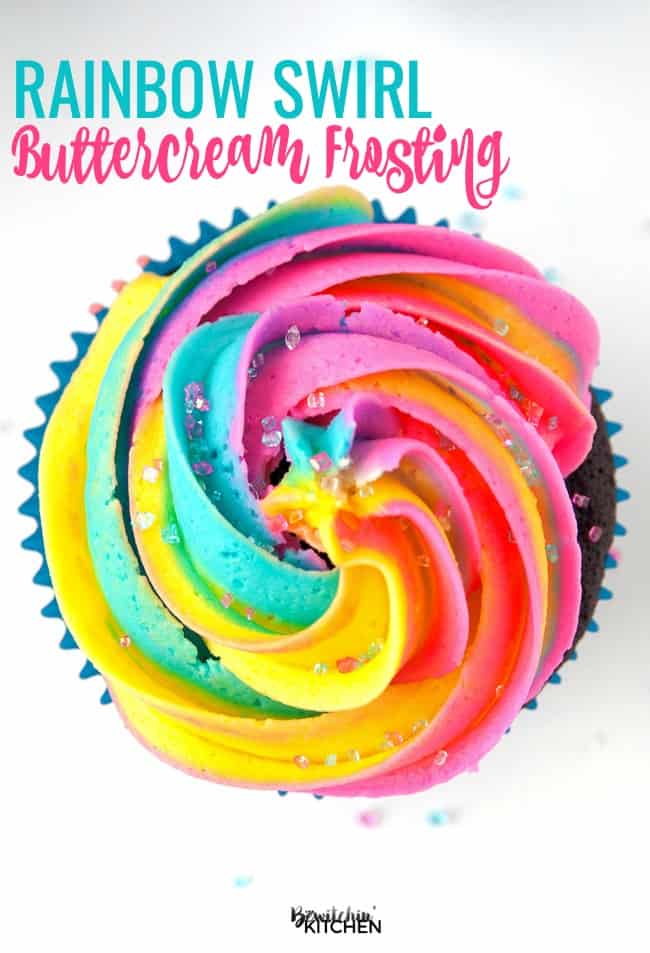 For my son's birthday this year I wanted to do something fun and colorful so I got out some food coloring and made these chocolate cupcakes with Rainbow Swirl Buttercream.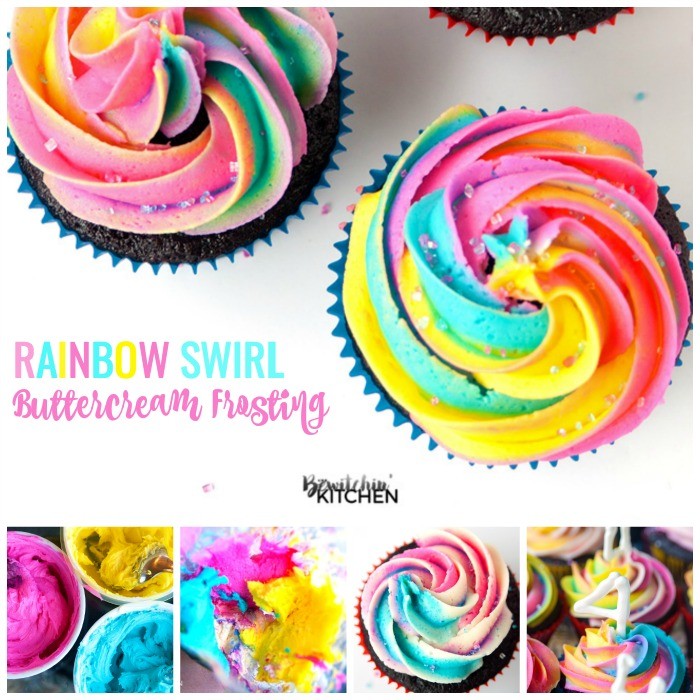 My son's birthday was in the middle of our moving timeline, and because of that, we opted out of hosting a big party this year. That night we had a nice meal, did presents and celebrated as a family but during the day, I made cupcakes for him to celebrate with his friends at pre-school.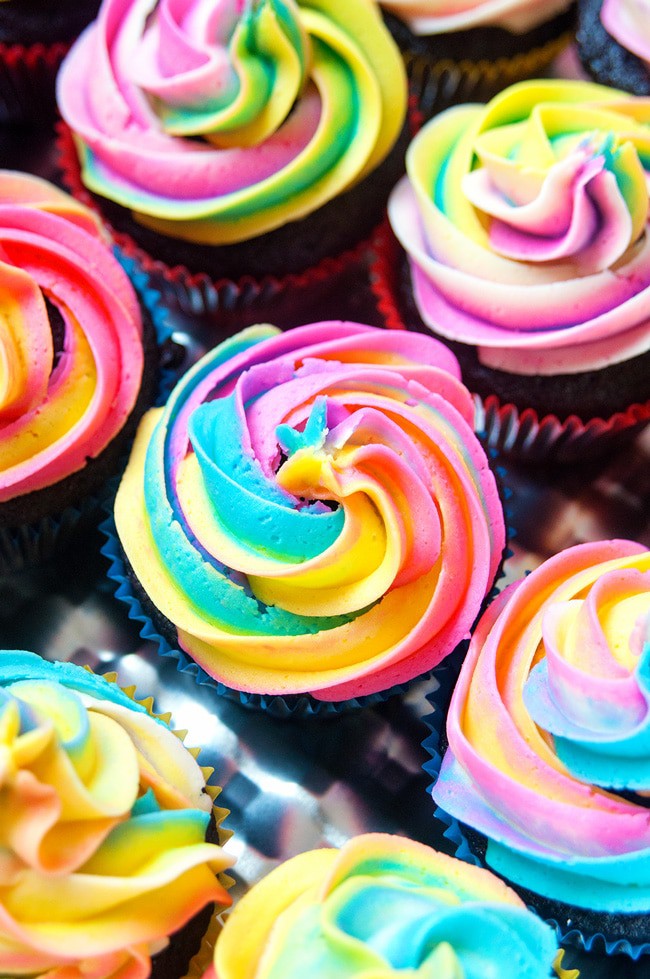 I love the outcome of this rainbow swirl buttercream! I'm really proud of how they turned out and the fact that every cupcake is unique and has it's own look is the icing on the cupcake 😉 Sorry, I couldn't resist.

Rainbow Swirl Buttercream How To: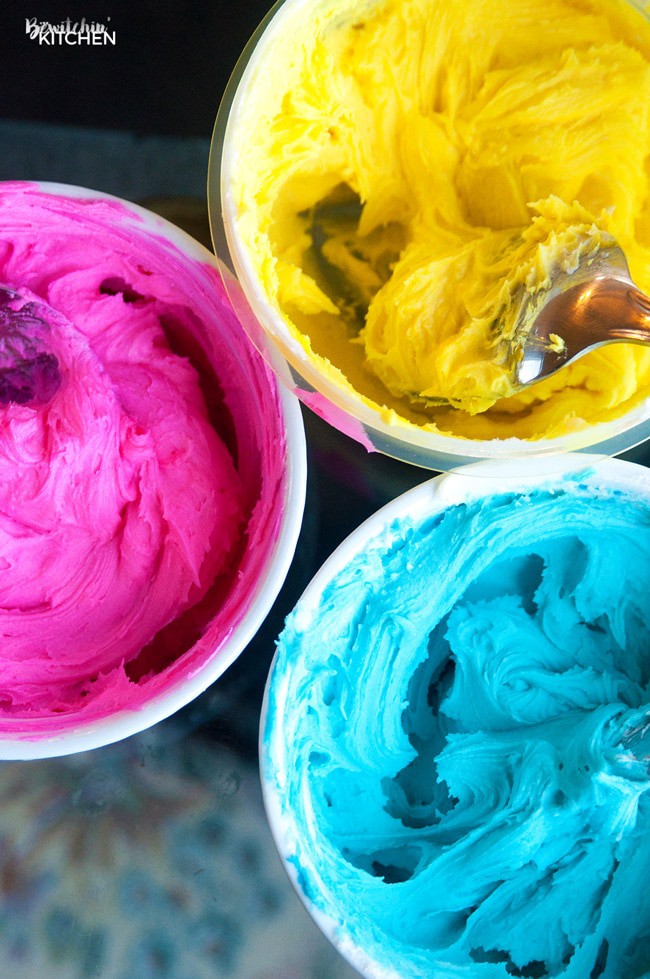 The rainbow swirl buttercream frosting is really easy to achieve. The first step is to choose your food coloring, I used pink, blue and yellow. I used the Wilton Gels, you can get them at Bulk Barn, Michaels, Walmart or Amazon [affiliate].
I divided the frosting into four bowls: 3 for the colored and 1 for the original.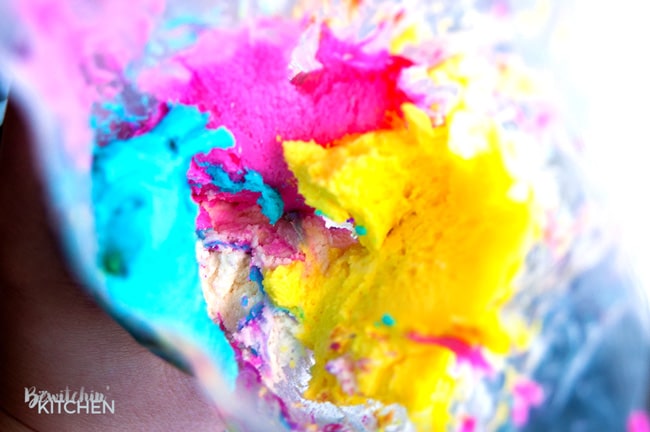 I have seen a lot of people using multiple piping bags in one piping bag, or buying a special piping bag [affilliate]. I'm far too lazy for that. I simply tossed it all in the bag (focusing on the sides) and it turned out well.
That's it. It's really simple to do.
I mixed a few colored sugars and sprinkled them on top.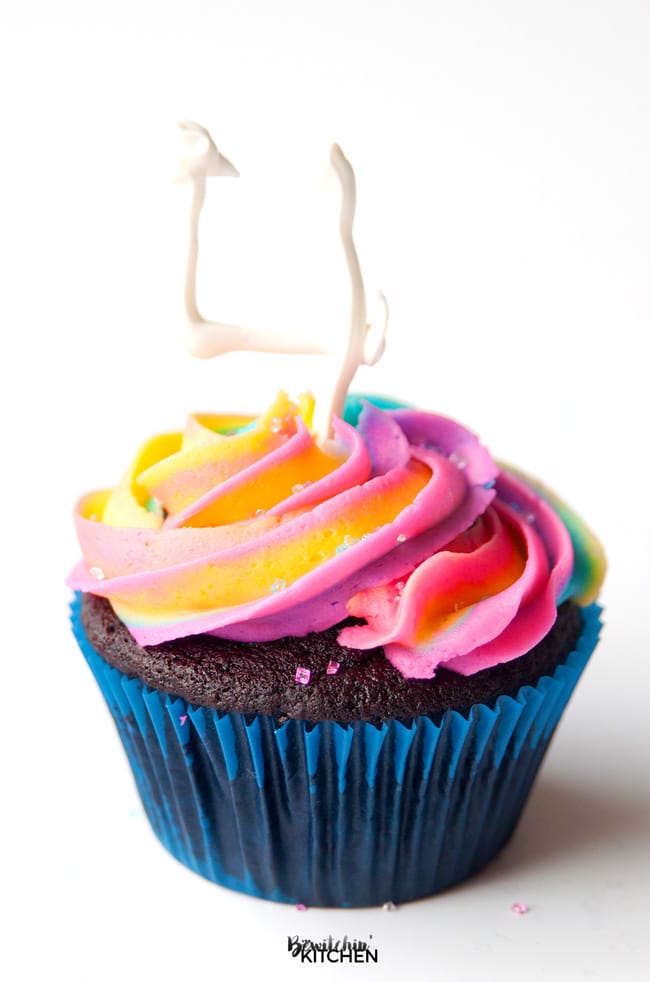 To top off the rainbow swirl buttercream, I used Wilton's Candy Melts [affiliate] and wrote out the number 4 on parchment paper. It hardened up quick and they stayed put. I have done this before with just chocolate but once it got to room temperature they would melt. I suggest using candy melts for that reason.
The recipe I used is a variation of the white chocolate buttercream and the strawberry white chocolate buttercream.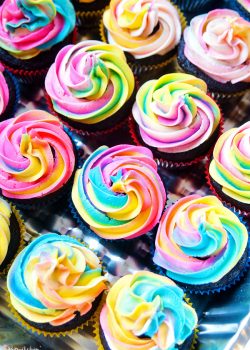 Rainbow Swirl Buttercream Frosting
Ingredients:
1 cup butter, unsalted and softened
3 cups powdered sugar (depending on the humidity/heat that day sometimes I have to add about 1/2 - 1 cup more, play around with it until you reach the consistency you desire)
1/4 cup whipping cream
1 tsp vanilla extract
1 pink food coloring
1 blue food coloring
1 yellow food coloring
Directions:
In your mixer add the butter and slowly begin to beat it on a medium setting. Once it's soft, add the sugar.
On a slow speed mix until incorporated (and to prevent sugar going everywhere) and then beat until fluffy. This takes a few minutes.
Scrape the bowl, add the cream and vanilla.
Turn the beater to high and let it whip up for about five minutes. You may need to pause and scrape the bowl a few times.
Divide the frosting into four bowls: leave one the original color and then color the three with the colors your chose.
Spoon the colors into a piping bag, focusing on the sides more so the colors come out at once and pipe!

FREE Recipe Binder
Are you constantly wondering what's for dinner?
When I don't meal plan I feel behind, and we usually end up ordering take out. This recipe binder will keep you organized and make life a little bit easier.