Neutrogena Norwegian Formula Hand Cream #NeutrogenaHandOff #NeutrogenaCA
If you couldn't tell from the background in the above photo, I'm in the middle of renovations. Actually, it's the genius combination (there is a lot of sarcasm behind the word genius) of renovations while moving at the same time. I'm tired, my house is a mess, my hands are beat up; it's the perfect time to try Neutrogena Norwegian Formula Hand Cream.
We take our hands for granted, they do a lot. Cooking, touching, cleaning are some of actions your hands go through daily. My new home is very dry, I can't moisturize enough. The dryness in the air plus the abuse I have been putting my hands through have really taken it's toll.
Here are a few ways my hands have taken one for the team: 
Moving – tight spaces and big furniture, my hands have been crushed a few times in the past two weeks.
Cleaning – every chemical under my sink has been introduced to my hands.
Painting – I don't wear gloves, and I'm a messy painter. The combination means me scrubbing my hands until they're raw.
The worst thing I have done to my hands in the past two weeks is TSP. The air being dry plus the use of TSP really did a number on my already sensitive hands. They're dry, cracked, sore and a little scaley. The TSP took my gel nails off so I cringe at what it did to my skin.
Enter Neutrogena Norwegian Formula Hand Cream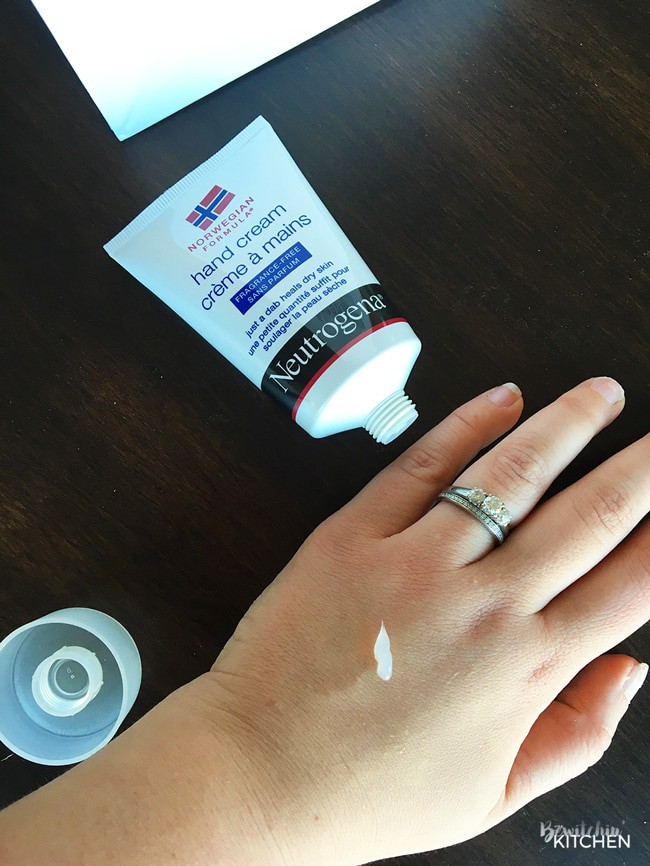 Neutrogena Norwegian Formula Fragrance Free Hand Cream is dermatologist tested and great for sensitive skin (like mine). I found that it offered instant relief and my hands stayed moisturized and soft all day.
My favorite feature of the Neutrogena Norwegian Formula? A little goes a long way. All you need is a dab and it moisturizes both hands easily, which means that the tube lasts a long time (with the tube being only $6.99 that is a huge bargain).I'm relieved that my hands are making a recovery.
I'm relieved that my hands are making a recovery, I'll continue to use the hand cream to rehab my hands and prevent dry, chapped skin.
Giveaway
I'm excited to hand off a tube of Neutrogena Norwegian Formula Hand Cream to one of my Canadian readers to try. Enter below on the Giveaway Tools form (if it doesn't load click the link).
This post has been sponsored by Neutrogena via Blog Meets Brand. All opinions are my own.