Raw Apple Pie
Yes, you read that right raw apple pie and no, I have not lost my mind. I swear! Just trust me on this one.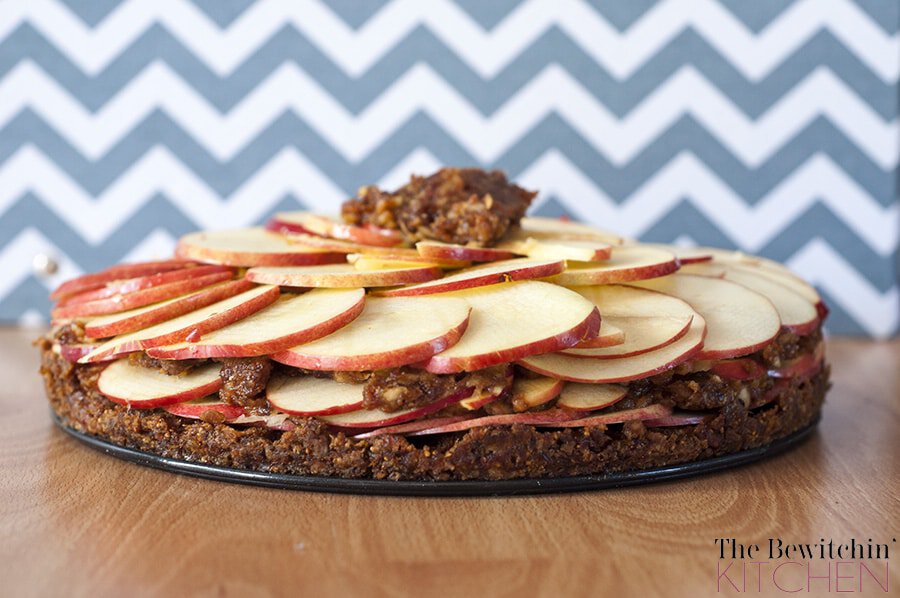 I don't bake often. I don't bake often because I have a problem with will power. You see, I have an "everything in moderation" state of mind but when it comes to cakes, cookies and pies I also have a "sit down and eat the whole thing in one sitting" habit. So I only pick a few things a year to make (Christmas baking, special occasion cakes, etc). It sounds a lot sadder then it is.
I recently started following the user FullyRawKristina on Instagram, and I saw she had a recipe for "raw carrot cake". I followed the link to her YouTube page and I saw the most amazing thing in the world.
Raw Apple Pie.
Today I made that pie and I wanted to share my results and thoughts with you.
I first want to note that I do not follow the fully raw lifestyle, but I do like the idea of incorporating more raw vegetables and fruits into my diet. I do not judge the raw diet lifestyle, but I would just miss meat too much. Meat, yams, bread – trust me, it's not the lifestyle for me.
Fully Raw Kristina's Raw Apple Pie
You can find the original recipe on Kristina's YouTube page. My measurements are a little less then hers and some additional flavours.
Ingredients:
1 package dried figs (250 g)
7 1/2 cups pitted dates (the original recipe uses more, but this is what I had on hand).
10 apples of choice (Granny Smith are my favourite, and I wish I used them – the tart would be fantastic).
1 tsp cinnamon
1/2 tsp pumpkin pie spice
1 tsp vanilla extract (leave out if Whole30 or 100% raw).
Juice of one lemon.
Method:
 Here's what I did: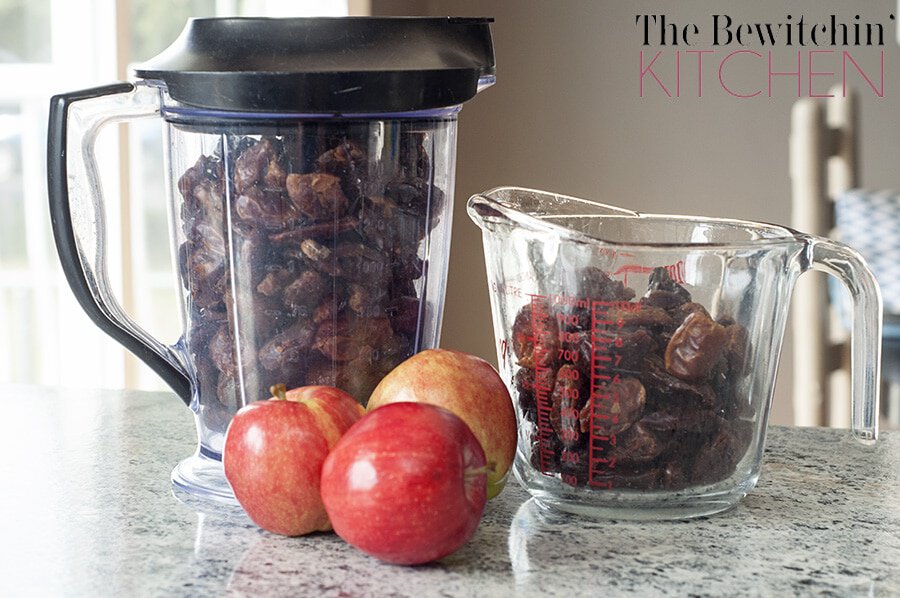 This pie is made "raw" meaning there is nothing to cook. There is no flour, no added sugar, no butter. The ingredients above are the only ingredients (wait, that's a lie there are also some spices): dates, figs, and apples.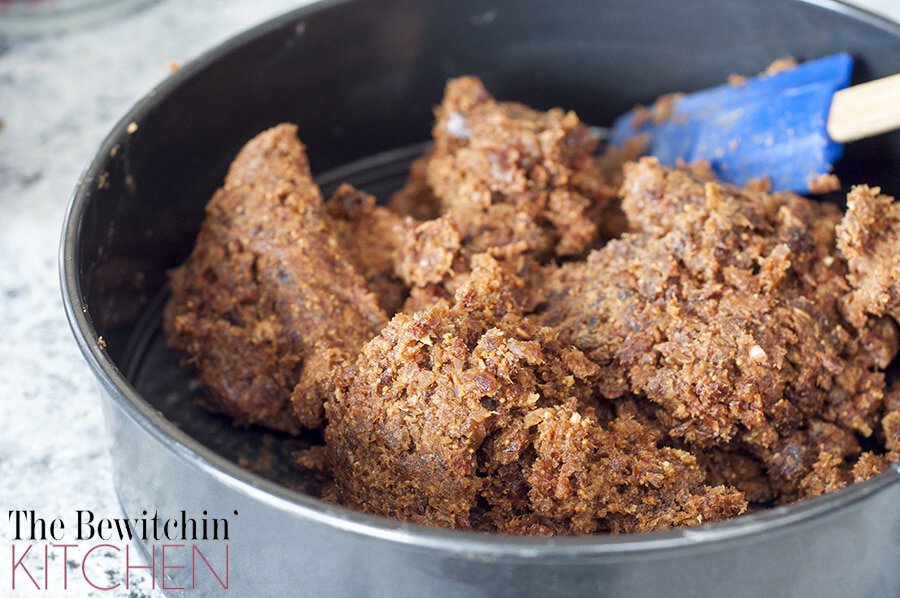 It involves a quality food processor or blender (I use a Ninja but a Vitamix would be ideal) to get the crust together. Again, this is just 4 cups of dates and 1/2 cup figs (250 grams).

See what happens when you press the mixture into your pan? It makes a crust. (I used a springform pan since I was planning on taking photos of it afterwards.) At this point take a mandolin and slice 7 apples (or if you value your fingers, just slice them thinly with a knife).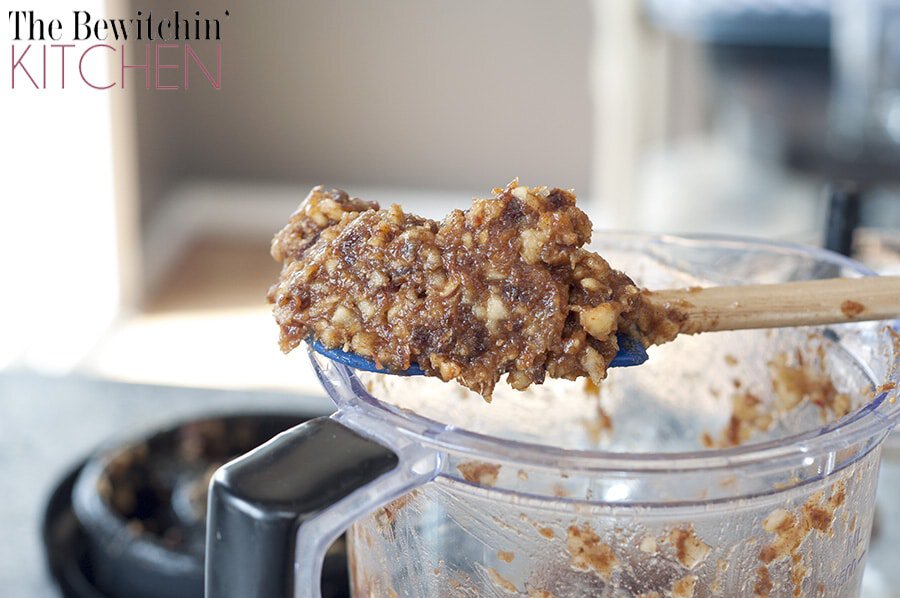 After my "crust" was formed, I made my apple pie filling. Using 3 apples, cinnamon, pumpkin pie spice, vanilla, and 3 1/2 cups of the dates. When you're first layer of apples are laid down, cover with a layer of the filling. Repeat this step until you run out of apples.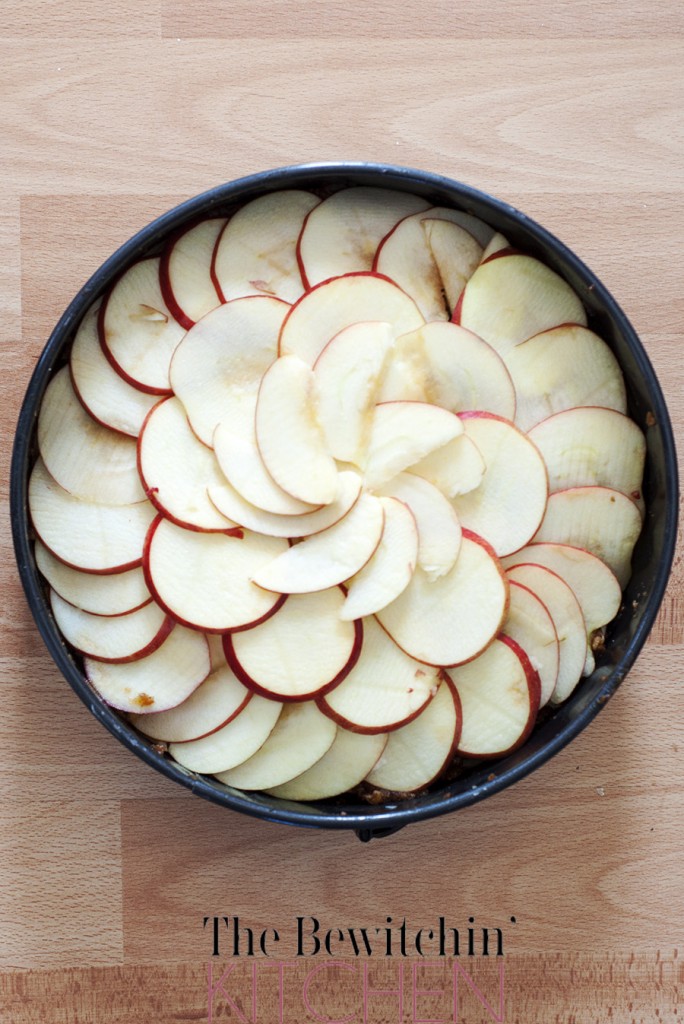 Isn't that stunning? At this point I squeezed some lemon over it (so the apples didn't go brown). It looked like it was missing something, so I dabbed some of the apple pie "filling" in the middle.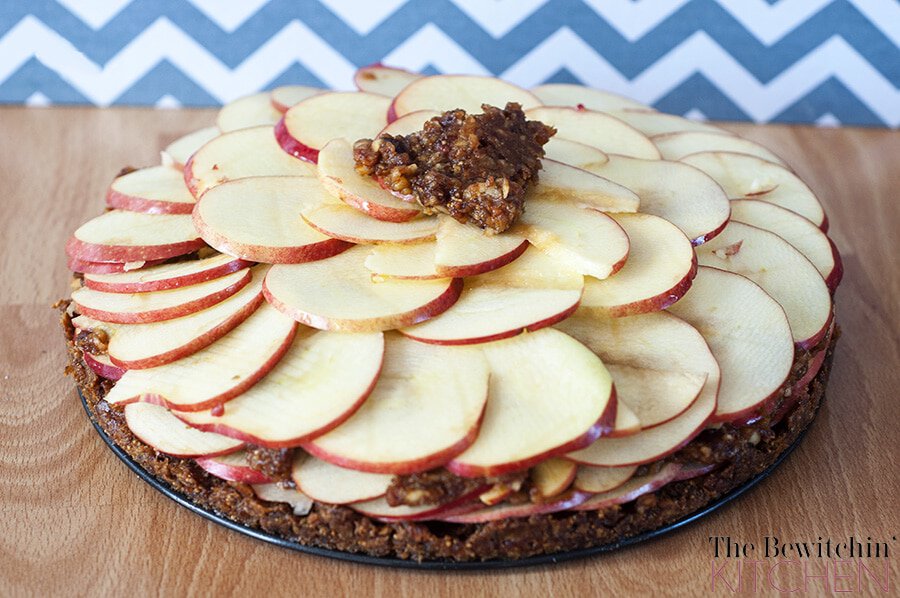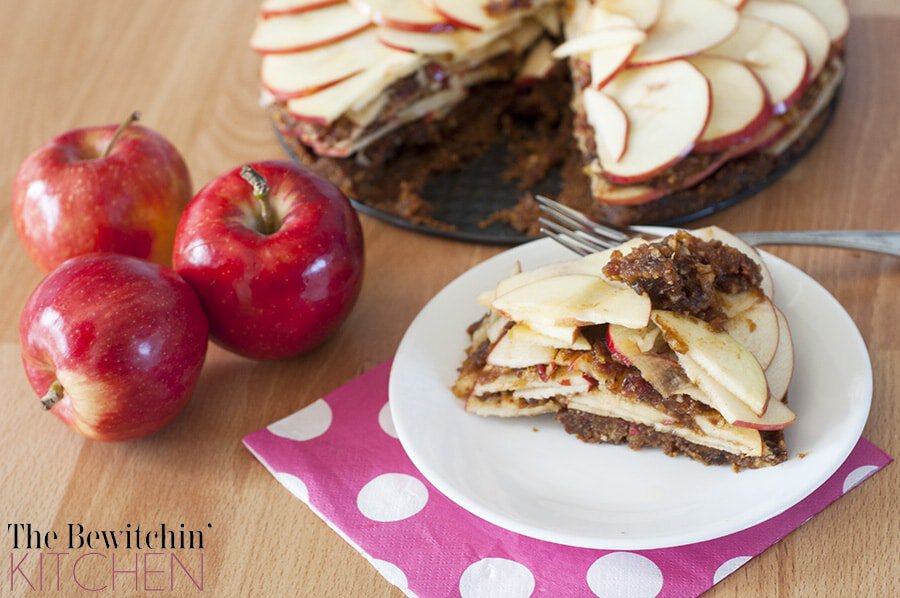 This pie isn't overly sweet, and it's incredibly filling. I could only handle half the pie and I was really full. The neat thing is that I have been full of energy since having my slice. I was able to tackle my afternoon chores with ease, I didn't even have my afternoon coffee.
I know this defeats the purpose of "raw" but I (just at this moment) threw some in the microwave for thirty seconds and it was heaven.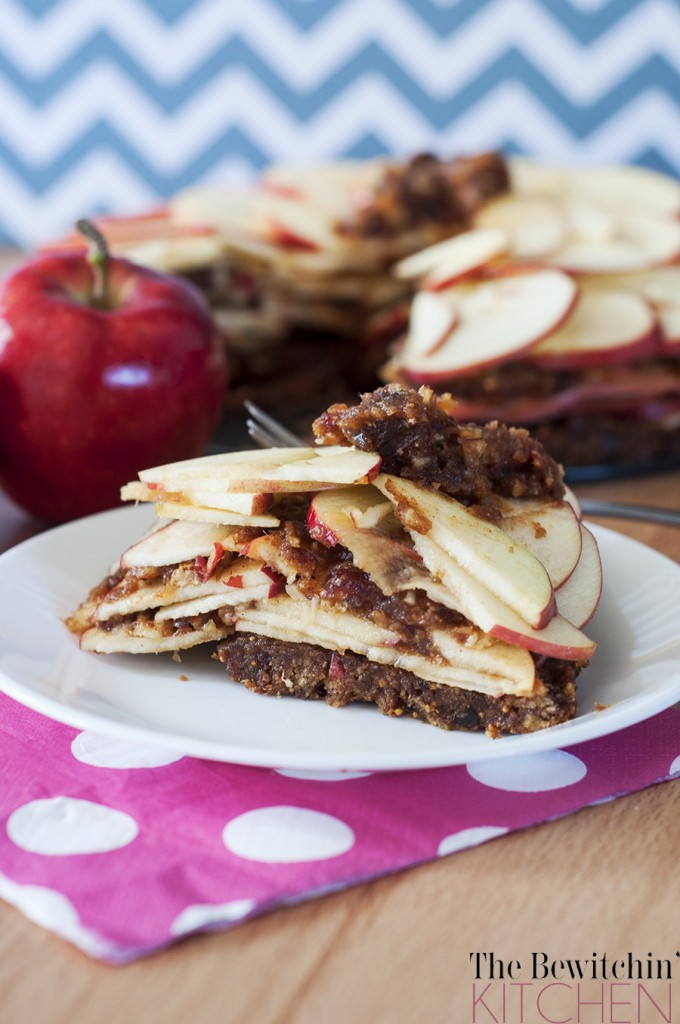 As I take another bite it has been confirmed: I do prefer it heated up, the apples are soft and the crust is gooey. It resembles more of an apple pie feeling and texture. Now, all that is missing is the ice cream! (Kidding, kind of.)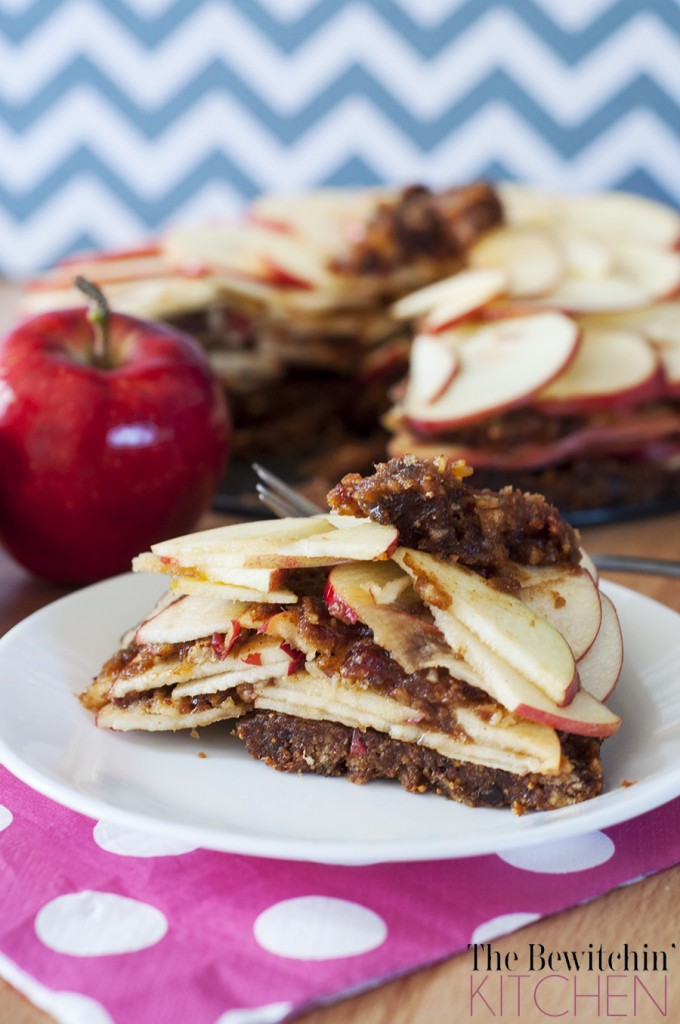 Raw Apple Pie
Apple pie that doesn't require cooking? Give this raw food dessert a try!
Servings 8 slices
Calories 533kcal
Ingredients
1/2 cup dried figs
7.5 cups pitted dates
10 apples I used granny smith
1 tsp cinnamon
1/2 tsp pumpkin pie spice
1 tsp vanilla extract
Juice of lemon
Instructions
Place 4 cups of dates plus the figs in a food processor or blender. Process until combined to form a crust.

Press the crust into a springform pan (that's lined with parchment paper).

Slice 7 of the apples thin. Lay a few of the slices down over the crust to make a layer of apples.

Make the filling by blending 3 apples, the rest of the dates, plus the cinnamon, pumpkin pie spice, vanilla, and lemon juice. Spread this over the layer of apples.

Top with more of the filling, topped with the rest of the apples.
Nutrition
Serving: 1g | Calories: 533kcal | Carbohydrates: 141g | Protein: 4g | Fat: 1g | Saturated Fat: 1g | Polyunsaturated Fat: 1g | Monounsaturated Fat: 1g | Sodium: 6mg | Potassium: 1215mg | Fiber: 18g | Sugar: 116g | Vitamin A: 139IU | Vitamin C: 12mg | Calcium: 86mg | Iron: 2mg
Follow On Pinterest
Follow @bewitchinkitchen On Pinterest for more delicious recipes!