21 Day Fix Results & Week 3 Review
Yes, I'm a little late with posting my 21 Day Fix Results. It's been a busy week, but it's better late than never. Updated: I put together an Ultimate 21 Day Fix Resource Guide to help you fixers out!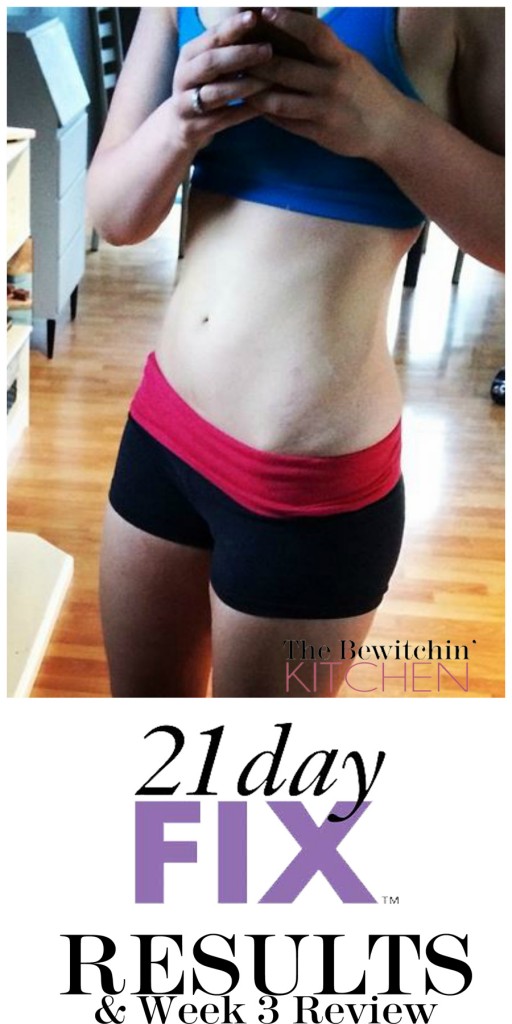 21 Day Fix Week 3
The last week of the 21 Day Fix is different than the first two weeks in two ways:
Doubles
3 Day Quick Fix
21 Day Fix Doubles
This week the 21 Day Fix schedule includes DOUBLES.
It sounds a lot more daunting then it really is. For this week, you have the option to kick your workouts into high gear and do two a day. You are instructed to do two workouts a day, at different times of the day, not back to back.
The reasoning behind this is that your heart rate stays elevated for a few hours after your workout. So if you do one in the morning, and one during the evening – you will burn more calories throughout the day.
Do what works for you.
My workout times were 9 am and 3 pm. It's what worked best for my schedule.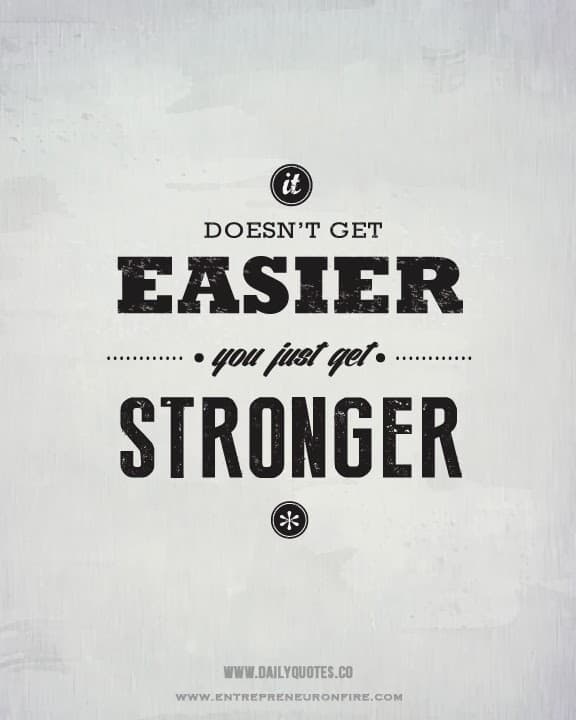 Helpful supplies for 21 Day Fix:
I have included affiliate links for your convenience.
3 Day Quick Fix
The last three days have the option for your to follow a structured meal plan. It's a lot of protein, I used chicken and ground turkey (the menu in the book calls for fish but I don't like fish). There is also coconut oil added, you're supposed to zap it in the microwave until liquid and drink it. I added my morning one to my coffee. It didn't taste bad, I didn't mind doing this. Coconut oil is supposed to help fill you up and give you energy. This is for three days ONLY and can only be done once per 21 Day Fix cycle. My days looked like this:
M1 Steel cut oats (yellow) & egg whites (red) + 1 tsp coconut oil – I added some stevia and cinnamon and mixed them together. Tasted like french toast.
M2 Chicken (red) & yams (yellow) – It was my favorite meal.
M3 Chicken (red) & steamed veggies (green)
M4 Chicken (red) & steamed veggies (green) + 1 tsp coconut oil
M5 Ground turkey (red) & steamed veggies (green) + 1 tsp coconut oil
M6 Ground turkey (red) & steamed veggies (green) + 1 tsp coconut oil
I was so full. Every day it was a struggle to get in my last meal. I was surprised because it said that there was a calorie deficit but I was eating almost 1600 calories on these days (which is more than my usual caloric intake). With that being said, this was the plan for every woman, so I guess if you were regularly eating 2300 calories in the fix, this would be a challenge.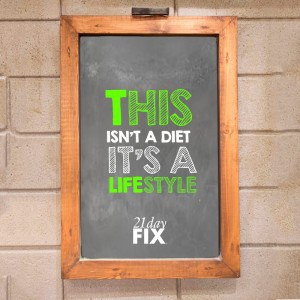 I liked the meals, I seasoned it with chili powders and dill (no salt allowed) and used hot sauce. It was tasty. As for the coconut oil, I'm not sure if it was because it was in my mind or not but my energy levels were sky high and (like I said before) I was so full. There are no carbs other than the veggies and yams on these three days, which is why you drop the weight fast. I didn't miss my English muffins on these days.
21 Day Fix Results.
Read about the 21 Day Fix Week 1 and Week 2 to find out more about the eating plan and exercises. Now we move on to my 21 Day Fix Results!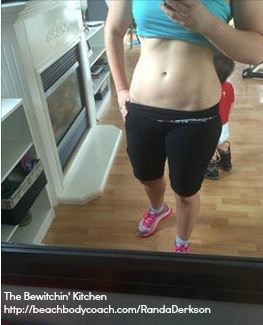 In 21 Days I lost a total of 3.8 pounds and 5.75″. You guys, that's awesome. I'm still a few pounds heavier then what I was when I finished Focus T25 (darn wine) but my inches are almost the same. I seriously considering pitching my scale and sticking with my measuring tape. I did have a few fall backs during these 21 Days. I had a day of pizza, and Easter brought some extra chocolate then planned, but for the most part – I stuck to it.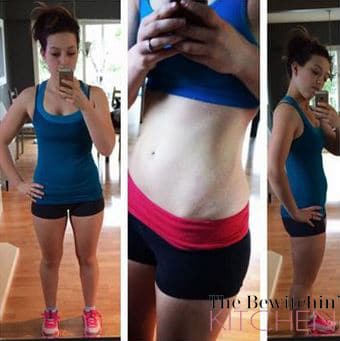 On top of the stats, here are some other victories:
I found my love for fitness again! I am loving these workouts and the variety, it's different every day.
My "skinny jeans" are fitting again, they're snug but the muffin top is gone.
I have fallen in love with Pilates (Thursday workouts on the Fix).
I can now appreciate Yoga (I despised it before) and what it does for me. I am hoping to find some cheap yoga DVDs at Walmart and incorporate it more often in my fit routine.
I am slowly starting to run again, and showing progress each time.
I can complete the surrenders without taking a break (you'll understand when you do Total Body Cardio Fix).
I didn't miss a single workout.
Finding a balance between healthy living and have treats.
I feel better (physically and mentally).
If you would like to order the 21 Day Fix, you can order it over at My Team Beachbody Store (just hit shop).
Want more proof? Search #21DayFix on Instagram and see the inspiration stories for yourself (or just Google).
GOOD NEWS – The 21 Day Fix has JUST come off back order (it's been sold out twice since it's launch in February). Here are your options:
Options when ordering the 21 Day Fix:
21 Day Fix Challenge Pack (best value) $160
21 Day Fix Base Kit ($59.99)
Shakeology on Home Direct (value $129.99)
30 Day Free Trial To The Team Beachbody Club Membership)
Coach sign up fee waived, if you want to continue Shakeology and want a 25% discount (value $39.99).
21 Day Fix Base Kit $59.99
Includes: Workouts, shaker cup, eating guide, and containers. –
BONUS: when ordered through me, you get an additional workout (Plyo Fix) worth $19.95!
Ultimate DVDs $29.85
Two additional workouts (Barre Legs & Flat Abs Fix).
Disclosure: I am an Independent Beachbody Coach and I do receive a commission of 25%. If you would like to receive a 25% discount and make health and fitness YOUR business drop me an email: randaderkson @ gmail(.)com
Looking for more great ideas? Click here to follow me on Pinterest!
Visit Randa | The Bewitchin' Kitchen's profile on Pinterest.