Red Velvet Cinnamon Rolls with Cream Cheese Glaze
This post has been sponsored Kraft Heinz Canada ULC. All thoughts and opinions are my own.
It's baking season! It's the time of year where I love to get in the kitchen and make both sweet and savory treats: homemade buns, rugelach, and cinnamon rolls. This year, I decided to try something a little more festive and I'm sharing these incredible Red Velvet Cinnamon Rolls with a luxurious cream cheese frosting.
In addition to the holiday season, these also make amazing valentine's day cinnamon rolls.

Red Velvet Cinnamon Rolls
Disclosure: This post contains affiliate links for your convenience. As an Amazon Associate, I earn from qualifying purchases.
Post update: November 2019 from 2017.
Confession: I'm a control freak. I have a hard time letting go and allowing people to help me, this is even true with my little guy. In the past, I have let him "help" with baking but I usually end up taking over and he wanders off to play.
Not this year.
I have always dreamed of having a happy and busy kitchen during the holidays where my children helped, so I'm setting my control aside and inviting my guy in the kitchen to not only make memories of baking but to teach him how (you're welcome future daughter in law).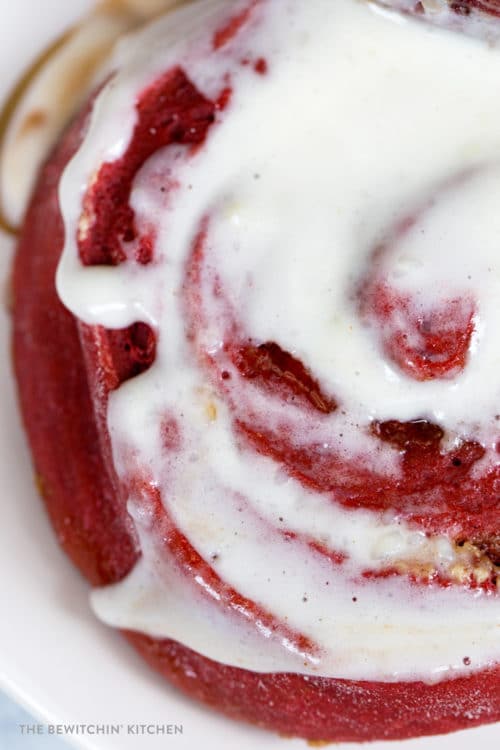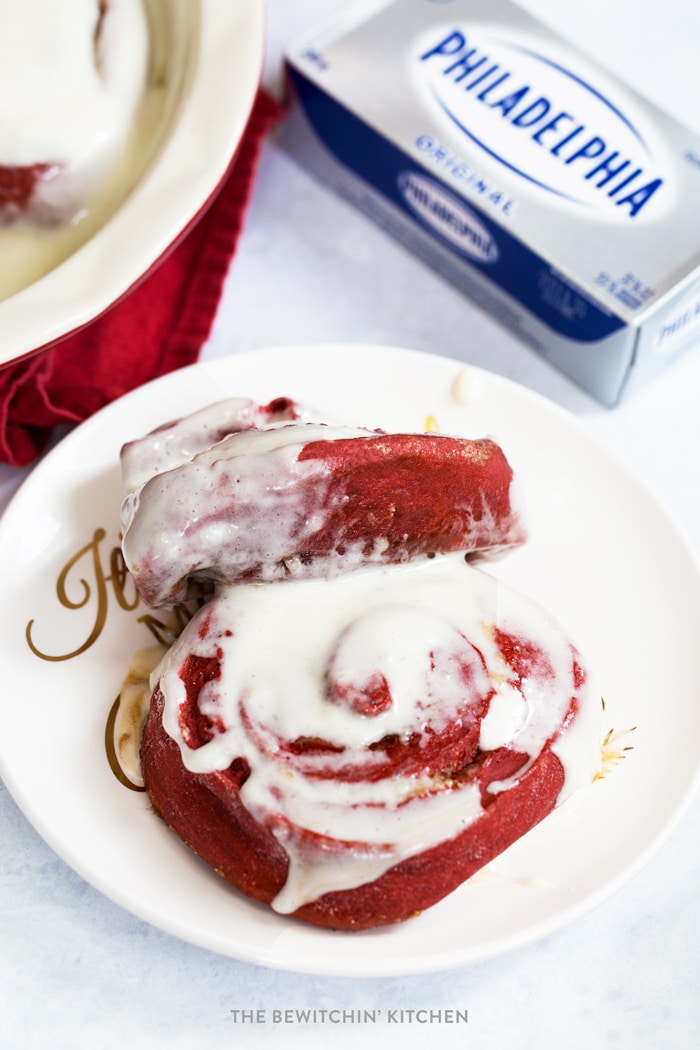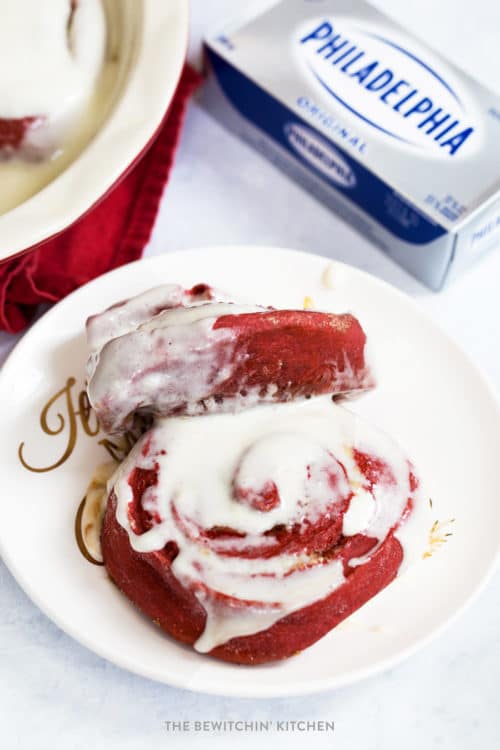 I'm starting this new tradition with an old tradition: my maple butter cinnamon rolls. However, this year this traditional recipe is getting a Christmas twist and I'm creating these Red Velvet Cinnamon Rolls. Not only does red velvet scream Christmas, but it's also my son's favorite color so he was so excited to be apart of it.
As a mom, doing this brings me so much joy.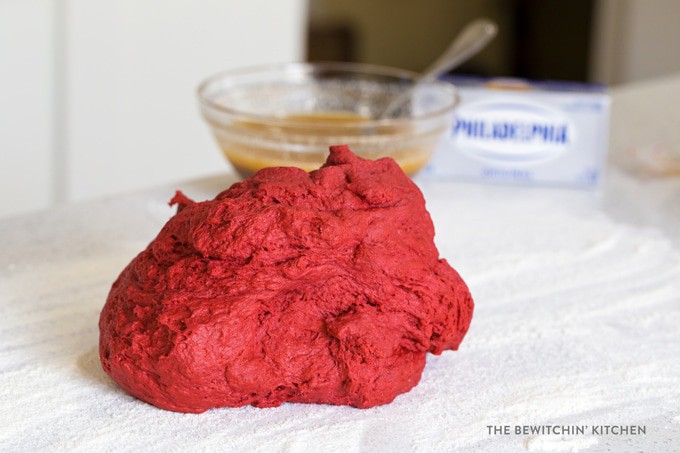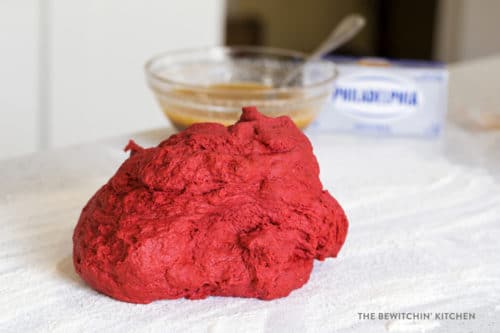 I'm a huge cream cheese fan, it makes the best desserts (and dips) and I always use PHILADELPHIA® Cream Cheese. Why? It's the brand I grew up with and no others are created equal. I know that I'm always going to find a quality product and it's easy to find in every grocery store's dairy aisle. There are no special trips to particular stores: everyone carries it. As a busy mom and business owner, this makes me happy because there is nothing I loathe more than running to 3 different stores for a recipe (it happens more often than I like to admit).
PHILADELPHIA® Cream Cheese is made with real milk and cream, giving the creamy taste and texture to any recipe (which gives me a boost of confidence when trying a new recipe, like these red velvet cinnamon rolls).

Not only is it creamy and delicious, but it looks pretty too!
TBK's Pro Tip: To keep as much of the filling in the cinnamon roll, instead of simply pushing and rolling towards you – lift and roll. You'll hold the filling in the dough better.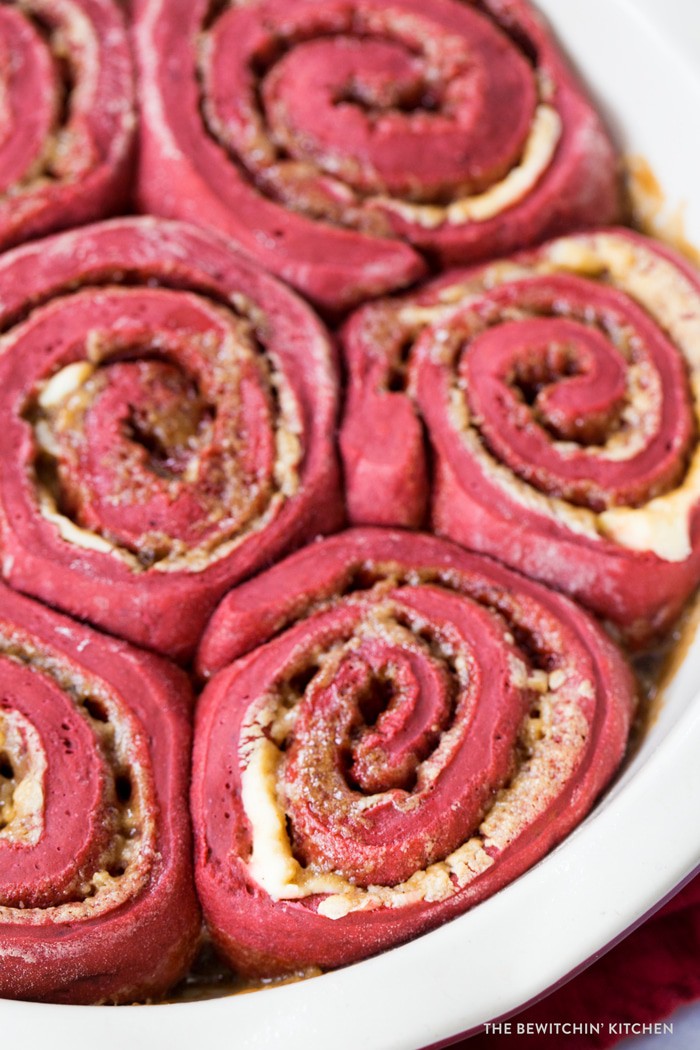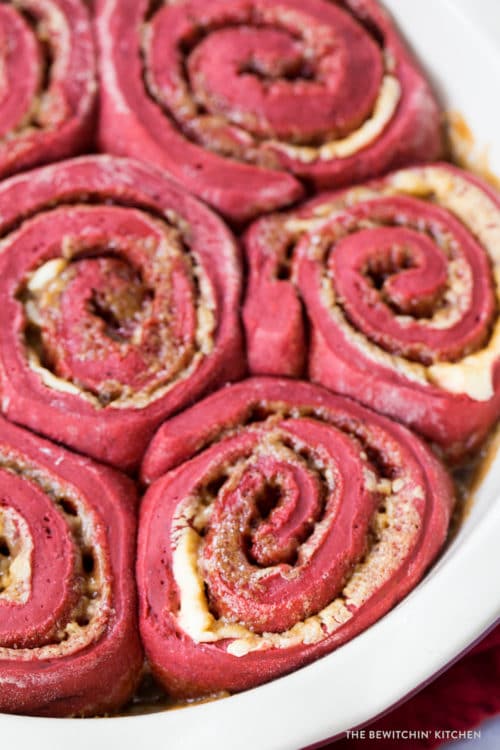 My favorite stage of making cinnamon rolls is the final rise, I love seeing them plump up and get doughy before I toss them in the oven.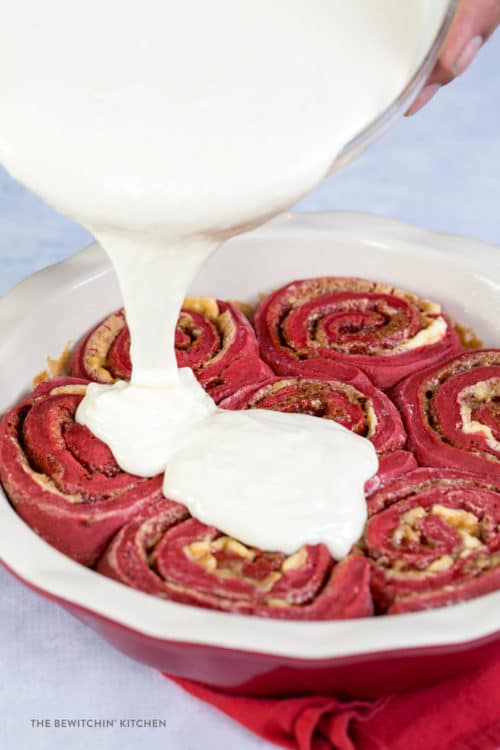 The moment they're out of the oven and I pour the cream cheese glaze over the red velvet cinnamon rolls – magic happens. The aroma of cinnamon, butter, and sugar fill my surroundings and it's pure comfort and joy.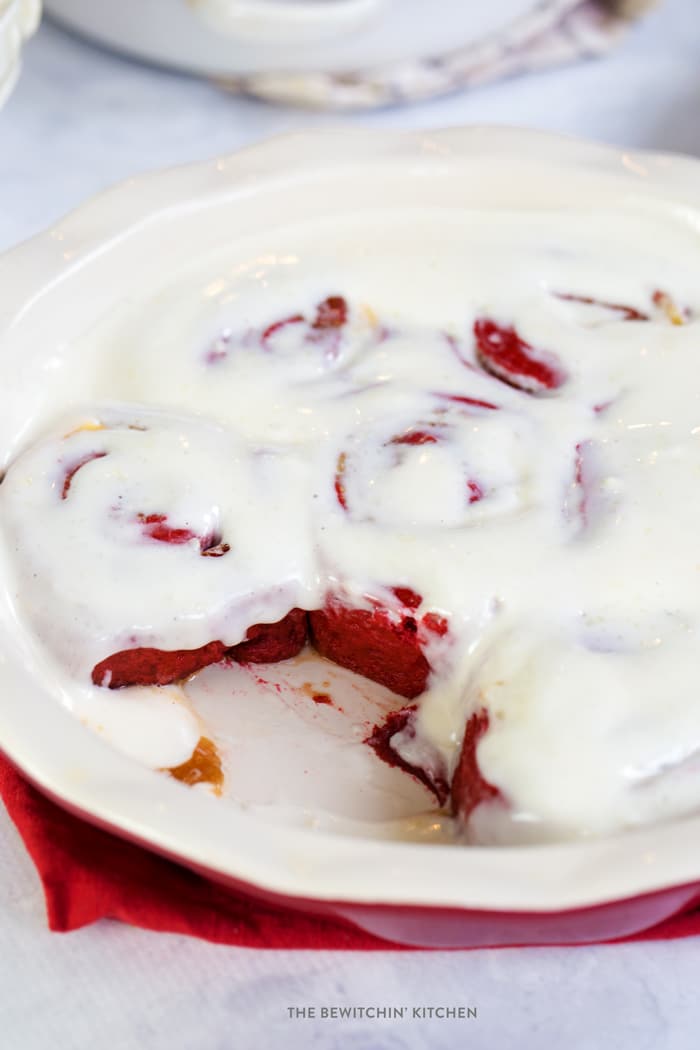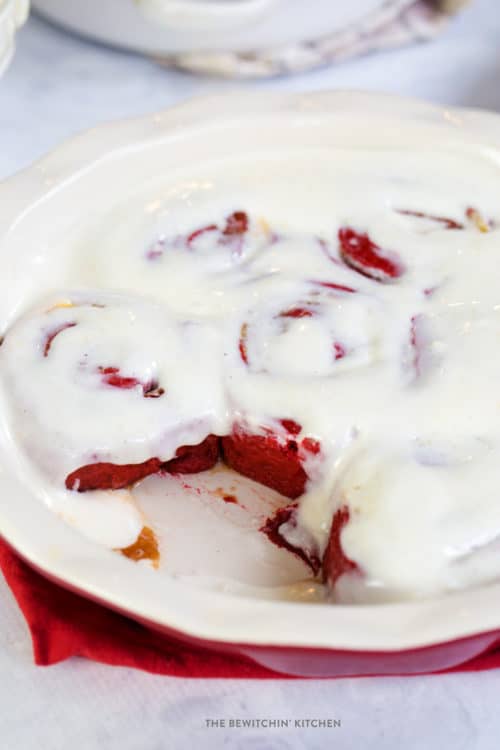 Can you make red velvet cinnamon rolls ahead of time?
Absolutely. I have made this recipe ahead of time and froze them. Just take them out and let thaw.
I should add that I baked them, frosted them and then froze them.

How do you store red velvet cinnamon rolls?
Because of the dairy in the red cinnamon rolls, store them in the fridge.
If you store them in a 9×13 baking pan, just add a lid or cover with foil, saran wrap, or beeswax cloths. Basically whatever you have on hand.
I find that the foil baking pans with cardboard lids work best. They can be tossed in the freezer, fridge, or be reheated in the oven.
Red Velvet Cinnamon Buns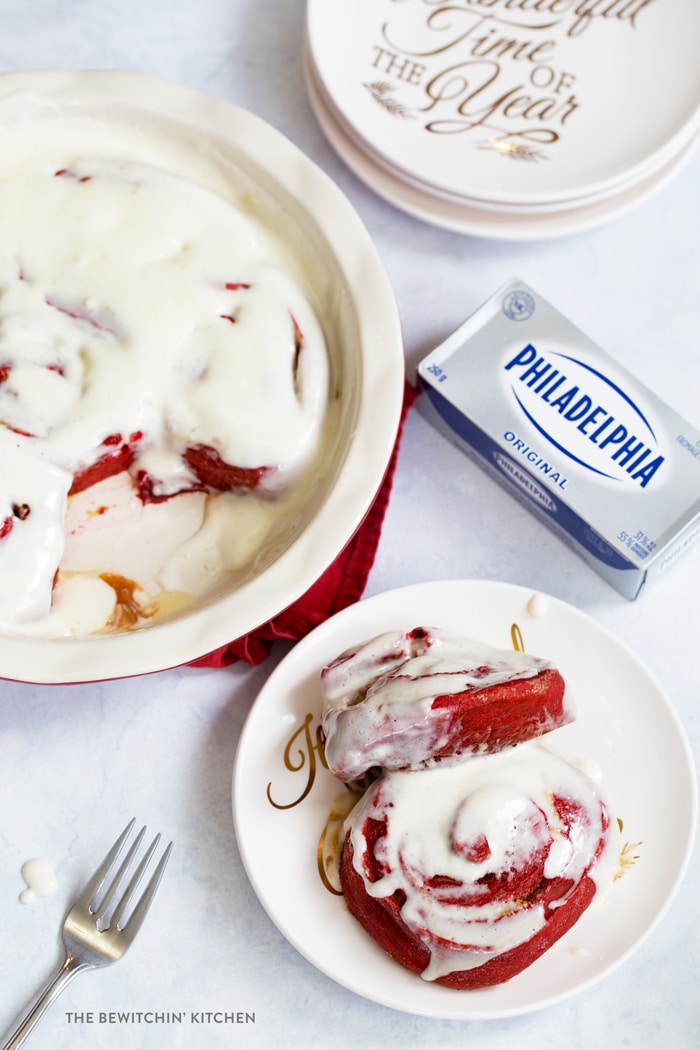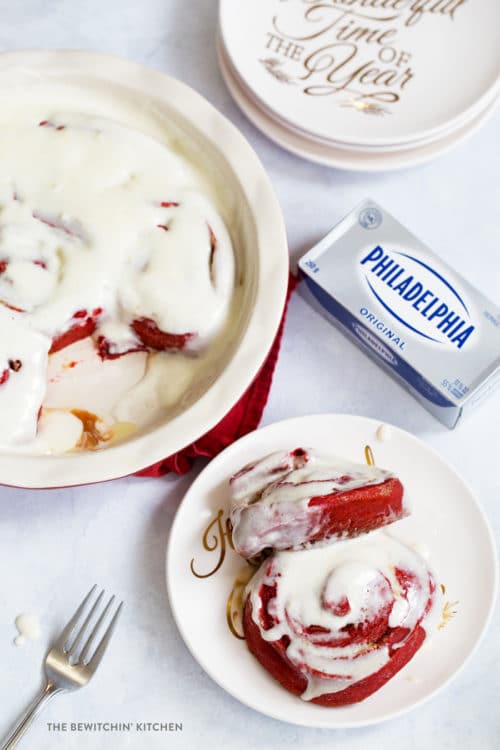 Don't forget to pick up PHILADELPHIA® Cream Cheese Bricks at your local grocery store for this baking season, and let me know what you'll be cooking up.
To help save on your holiday baking grab a PHILADELPHIA® Cream Cheese coupon!
Red Velvet Cinnamon Rolls
Creamy red velvet cinnamon rolls with cream cheese glaze recipe. Yummy brown sugar, cinnamon, and cream cheese make this a special treat for Christmas morning or a holiday party.
Servings 24
Calories 325kcal
Ingredients
For The Dough:
2 cups whole milk
1/2 cup canola oil
1/2 cup sugar
1 tsp  vanilla extract
Red & black food dye
2 1/2 tsps  quick rise yeast 1 pkg
4 1/2 cups whole wheat flour I know what you're thinking – trust me
1/2 tsp. baking powder
1/2 tsp baking soda
1/2 tablespoon salt
For the filling
1 cup melted butter
3/4 cup brown sugar
1 tbsp cinnamon
4oz PHILADELPHIA® Cream Cheese softened (half a block)
For the Frosting
4 cups powdered sugar
12oz PHILADELPHIA® Cream Cheese softened (1 1/2 blocks )
1 tsp. vanilla extract
1/2 cup whole milk
1 tbsp lemon juice
Pinch of salt
Pinch of cinnamon
Instructions
In a large pot, add the whole milk, oil and 1/2 cup of sugar. Scald the mixture. What this means is that you will heat it right before it boils. The sides will become frothy. Take the pot off the burner and let sit until it's lukewarm, it should take roughly 45 minutes.

Once the milk mixture is warm, not hot, add the vanilla, and the food dye. Start with red. I used the no taste variety and used a lot of red. I put a few dots of the black gel food coloring to make it a deep red. Play with the color until you get it right.

Add the quick rise yeast, let it sit for a minute to expand and then add four cups of flour. Stir with wooden spoon to combine.

Cover with a tea towel and let the dough rise for an hour.

Add the remaining 1/2 cup of flour, baking powder, baking soda, and salt and mix together (it's quick when you use a stand mixer).

Roll the dough out to a large rectangle.

In a separate bowl, add the melted butter, brown sugar, and cinnamon and pour over the dough. Spread with a spoon.

Take the softened cream cheese and spread (to the best of your ability) over top of the buttery brown sugar mixture.

Roll the down towards you. Seal the seams and ends by pinching them.

Grease a few pans with melted butter or nonstick spray (you'll need a few, I used four of various sizes).
Preheat oven to 375F.
Take a knife and cut the dough into 1" pieces, laying them in the pan. Let rise for another 30 minutes.

Bake for 20 minutes.

Immediately pour the frosting over the rolls.
Cream Cheese Glaze:
Add all the ingredients in a stand mixer and beat with a wire whisk until smooth.
Nutrition
Serving: 1g | Calories: 325kcal | Carbohydrates: 48g | Protein: 4g | Fat: 13g | Saturated Fat: 5g | Cholesterol: 22mg | Sodium: 255mg | Potassium: 141mg | Fiber: 2g | Sugar: 31g | Vitamin A: 280IU | Vitamin C: 0.2mg | Calcium: 52mg | Iron: 0.9mg
Follow On Pinterest
Follow @bewitchinkitchen On Pinterest for more delicious recipes!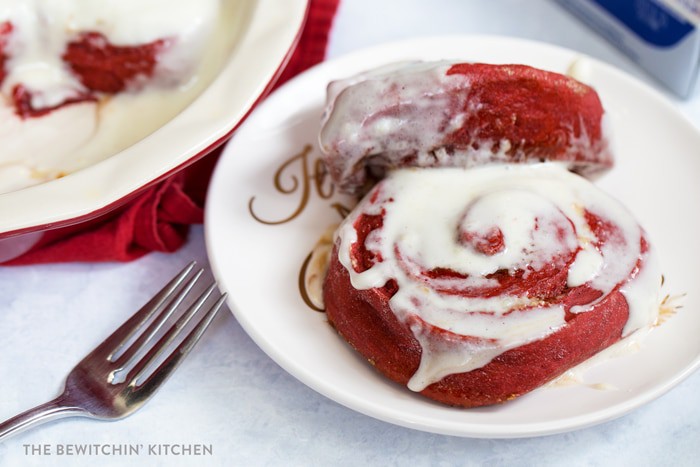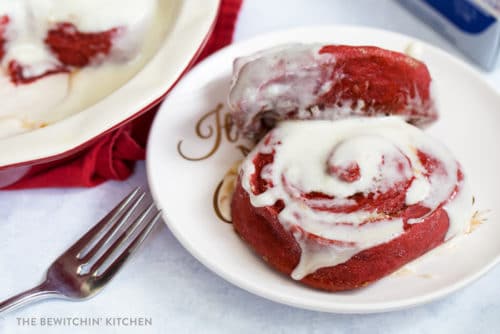 What's your favorite holiday cream cheese recipe?