Thai Chili Chicken Poppers
There is nothing better than catching up with friends over appetizers. If you're looking for an easy appetizer recipe, you're going to love these sweet chili chicken poppers.
Made with less than five ingredients, this twist on chicken poppers is going to be the hit of the get together.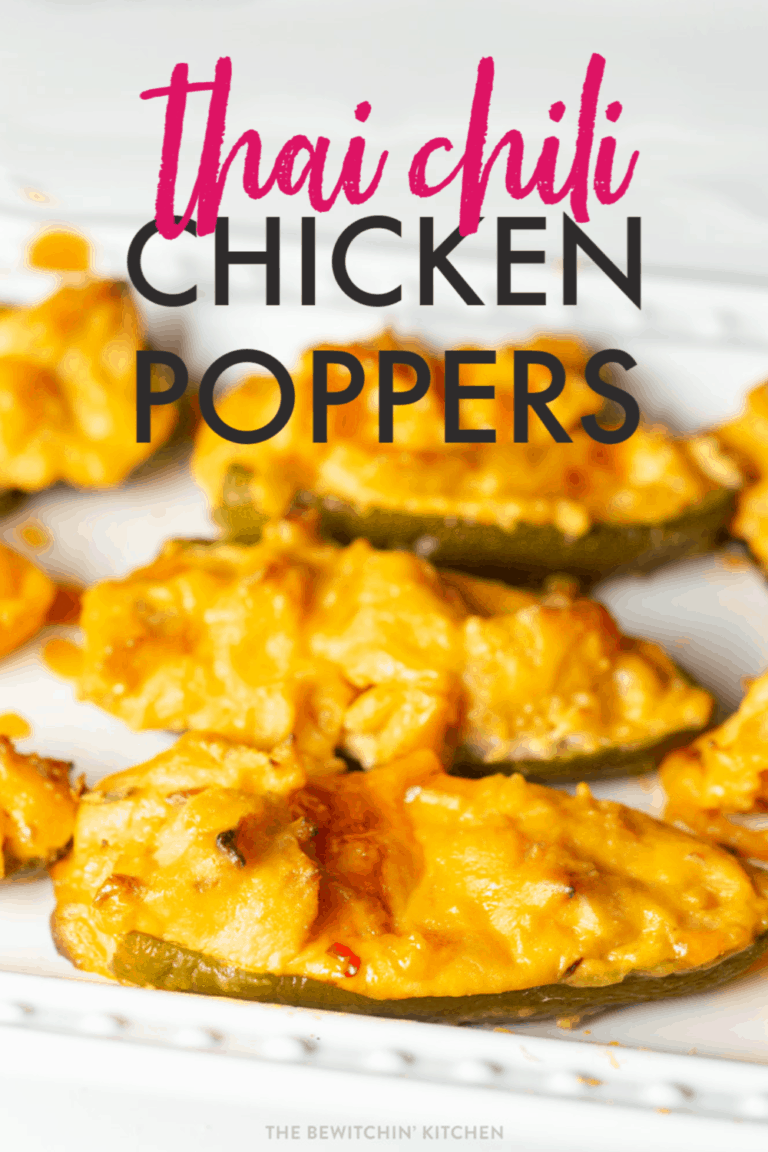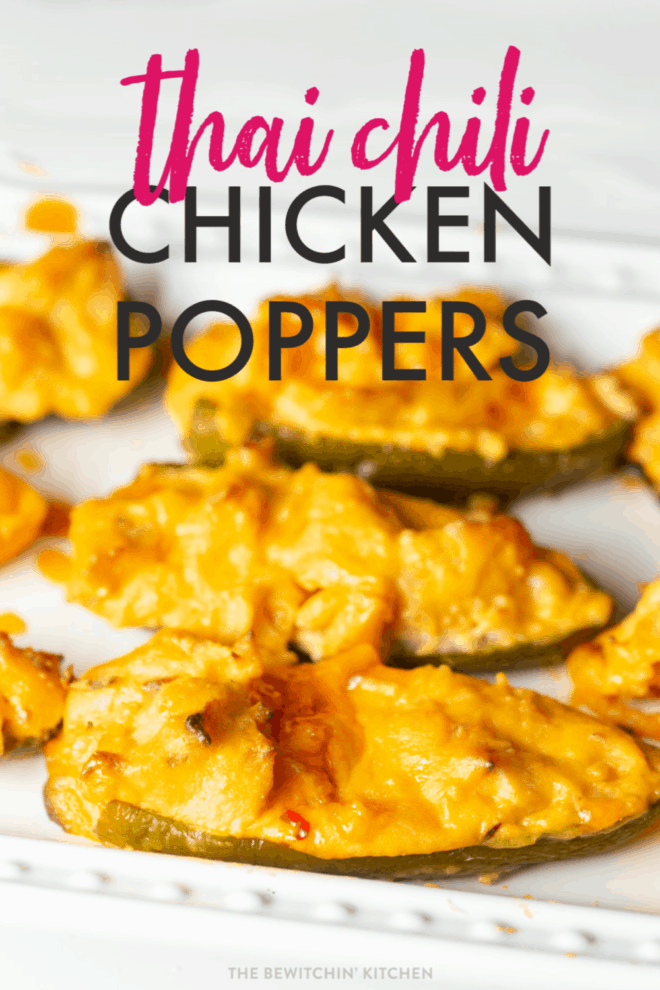 Thai Chili Chicken Poppers
Disclosure: I am participating in the Chicken Farmers of Canada campaign managed by SJ Consulting. I received compensation in exchange for my participation in this campaign. The opinions on this blog are my own.
Make sure you scroll down to the bottom of the post for an amazing giveaway.
I love this time of year.
The season of visiting friends and celebrating is here and food is abundant. There is something comforting about enjoying the company around us while snacking on appetizers.
I love to have simple recipes on hand for last-minute gatherings or a quick pop in from family.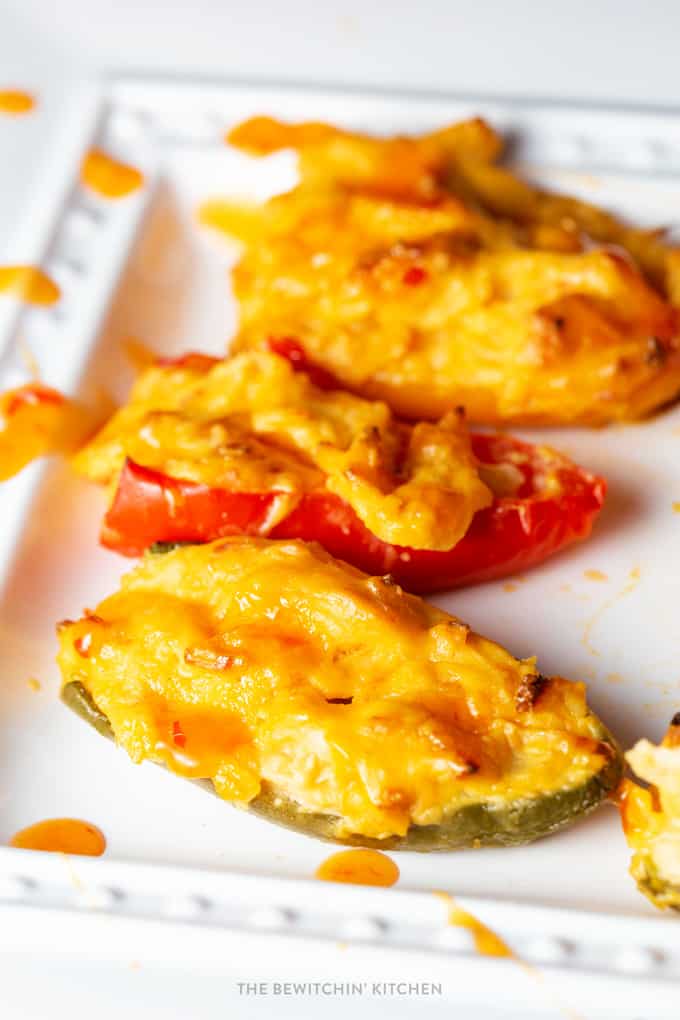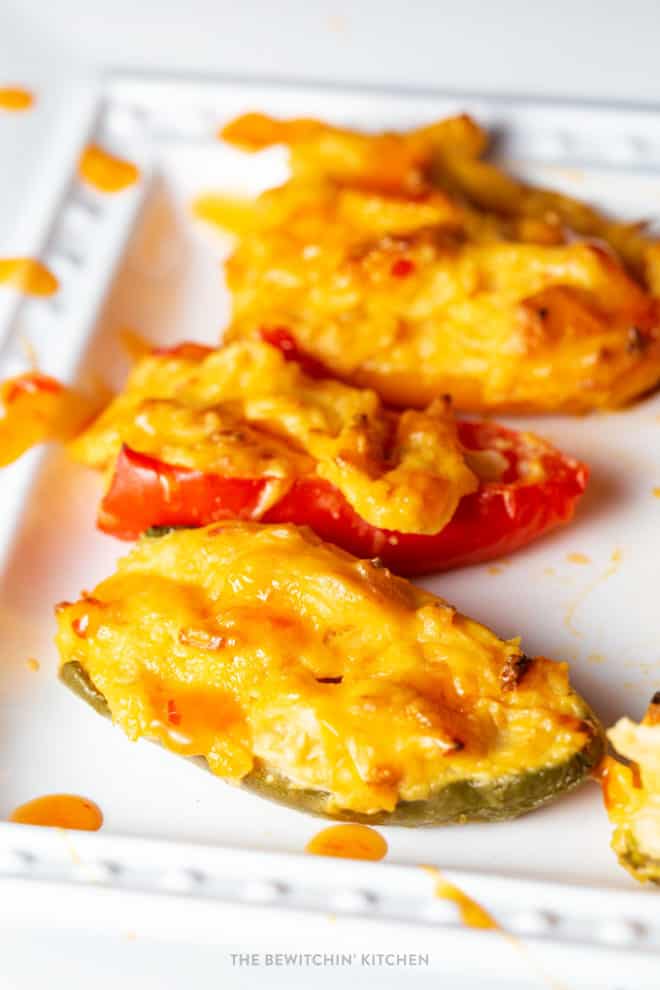 One of my family's favorites is chicken poppers. Or maybe I should say, they're my husband's favorite.
I personally don't enjoy the traditional recipe where it's breaded and deep-fried, so I created my own to work for my tastes.
The end result were these sweet Thai chili poppers that not only got my approval but my husband's thumbs-up as well.
Tip to Make Holiday Grocery Shopping Easier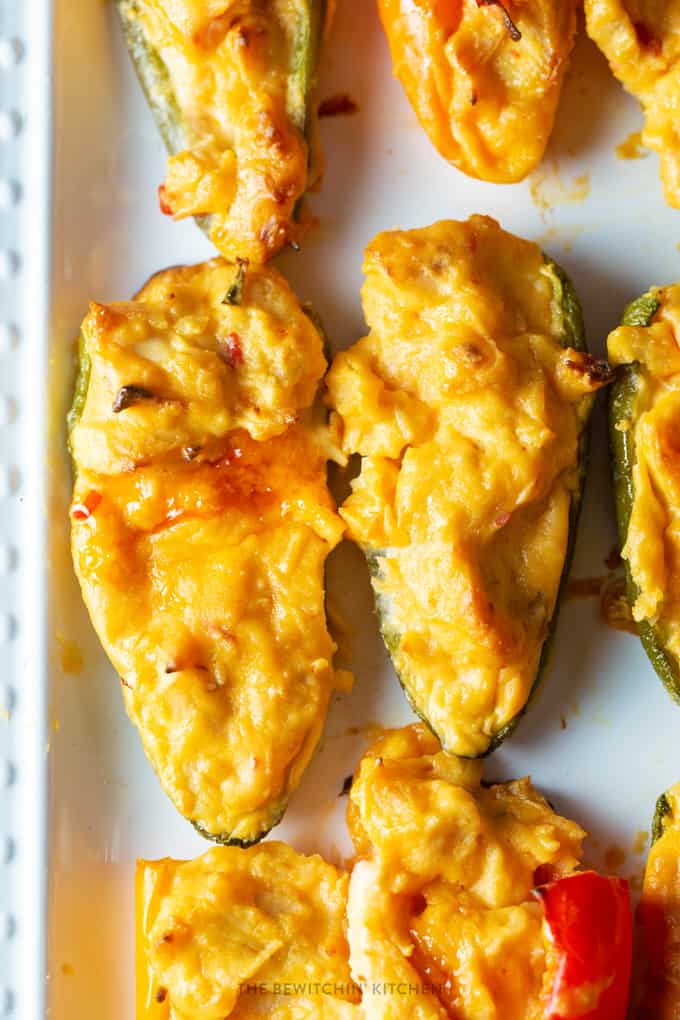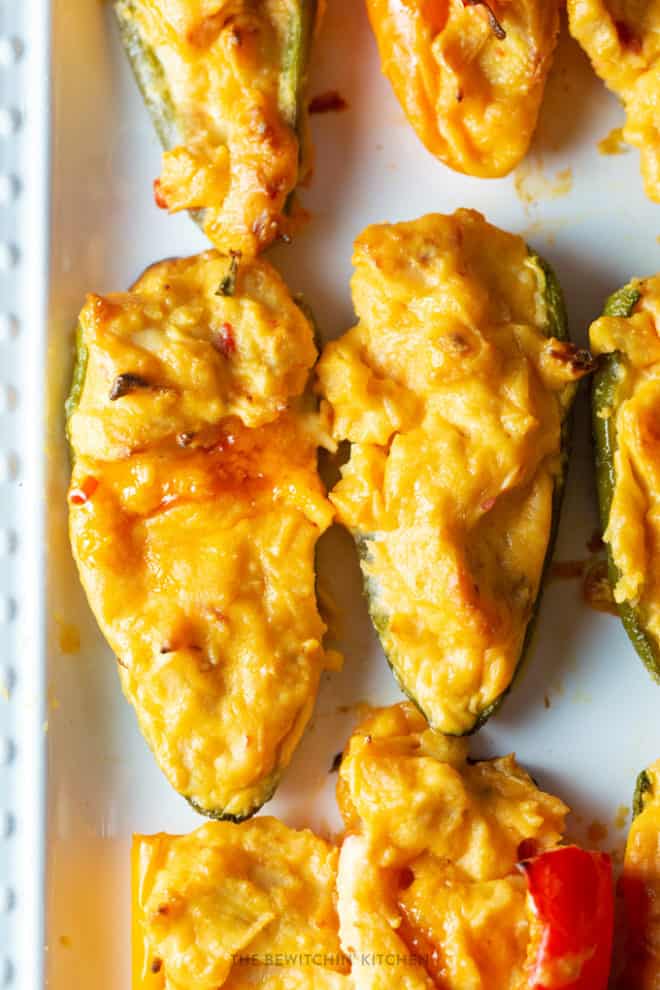 Since we're chatting holiday parties and food, I wanted to share a tip that will make organizing your grocery list a little easier.
Download ChickenApp.
This shopping app will make your life during the holidays (and everyday life) a little easier.
Here's why I love it:
On days where I'm crazy busy (which is every day during this time of year), it's nice to have the Chicken App because my husband will see the grocery list and can grab a few things on his way home from work without me texting him a list.
The bonus is that there are a ton of recipes there as well!

As always, and I cannot stress this enough, to look for the Raised by a Canadian Chicken Farmer logo when you shop for chicken. The Raised by a Canadian Farmer logo ensures that your chicken is raised by a Canadian farm, which is audited by third parties for food safety and animal safety.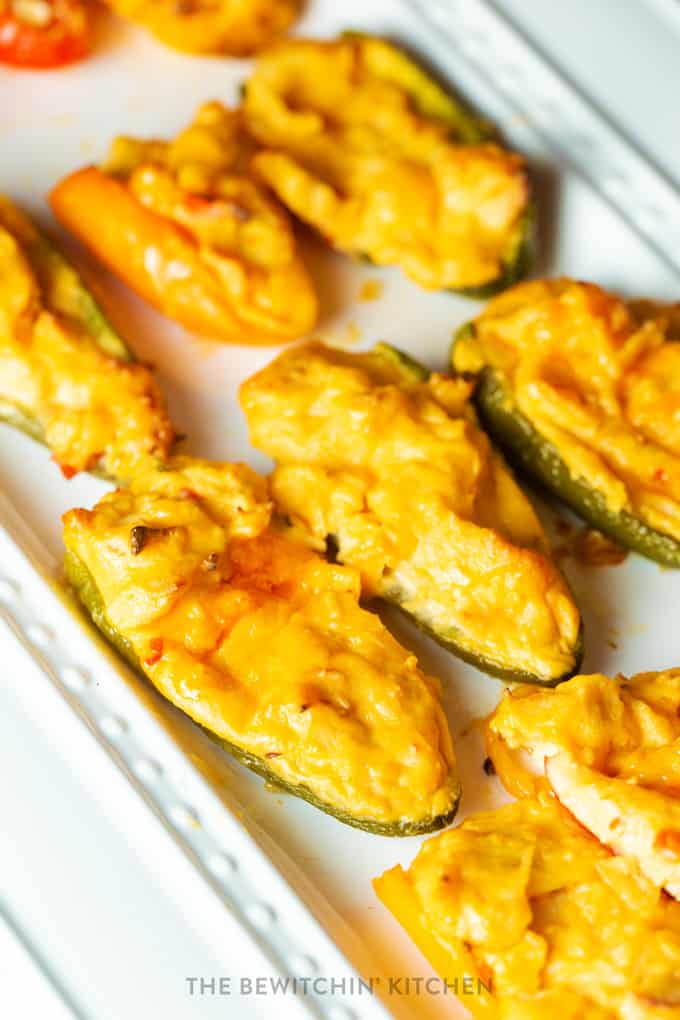 How to make poppers less spicy?
The mixture of the jalapeno and the thai chili sauce can be a lot. Especially for those with mild tastebuds.
I recommend using the mini bell peppers. I used a mix of the baby bell peppers and jalapenos for this recipe and they turned out great.
How to make Chicken Poppers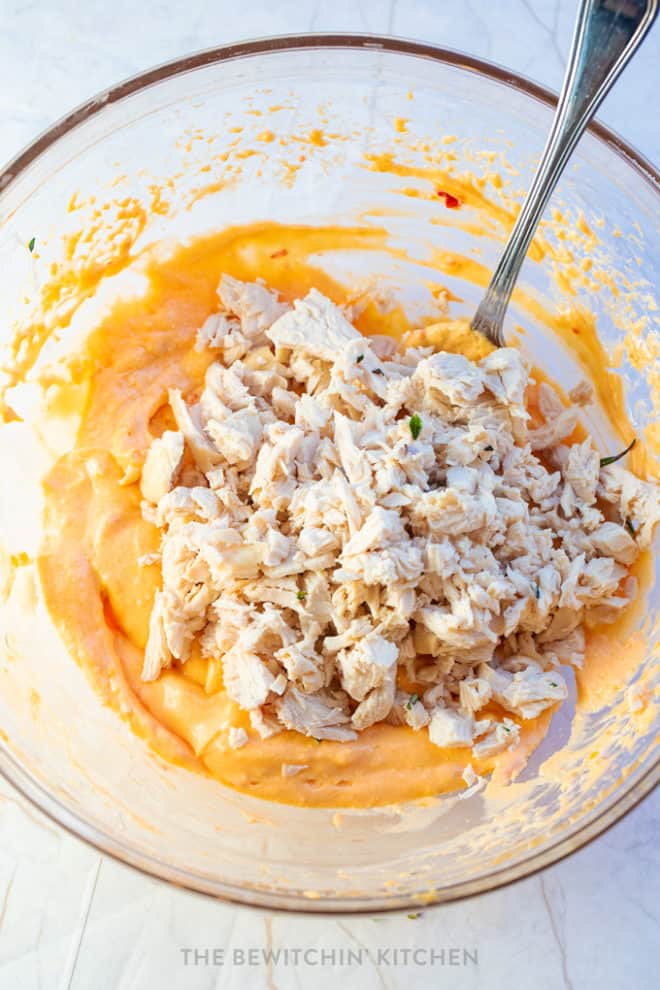 This recipe is so simple, there isn't really any need for additional tips to make it easier for you.
However, I do have a few notes:
If you are using jalapenos, I recommend using gloves. This prevents the spicy oils to hit your hands…which will inevitably end up in your eye. If you're using mini bell peppers disregard this tip.
To make mixing the cream cheese easier, use a simple hand mixer. If you don't have one you can find them for under $10 to a couple hundred dollars. Or you can use a blender or food processor.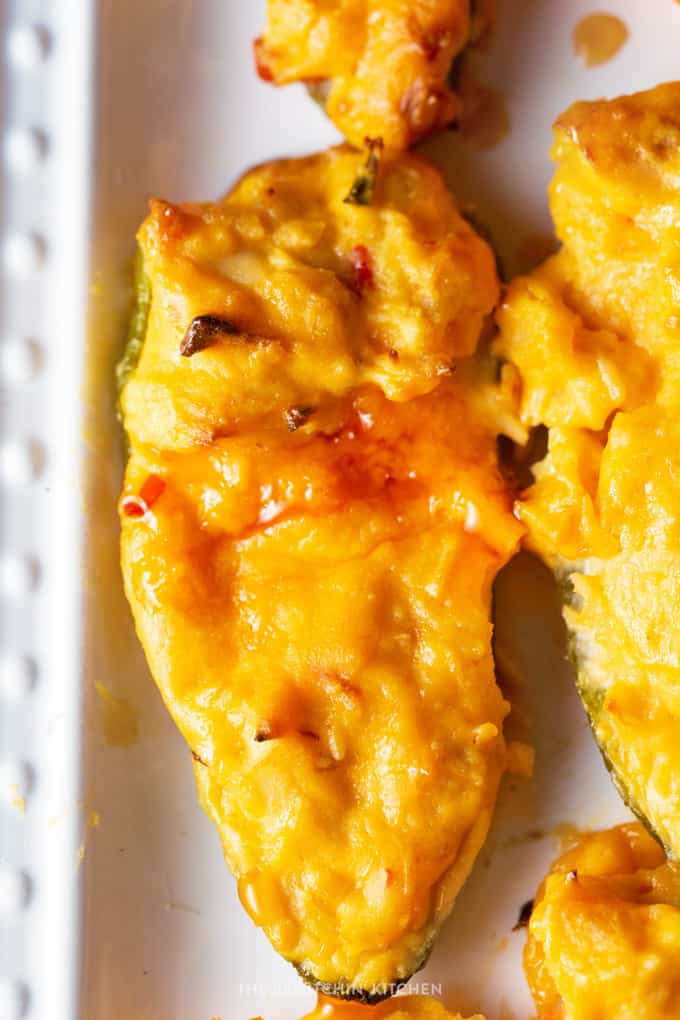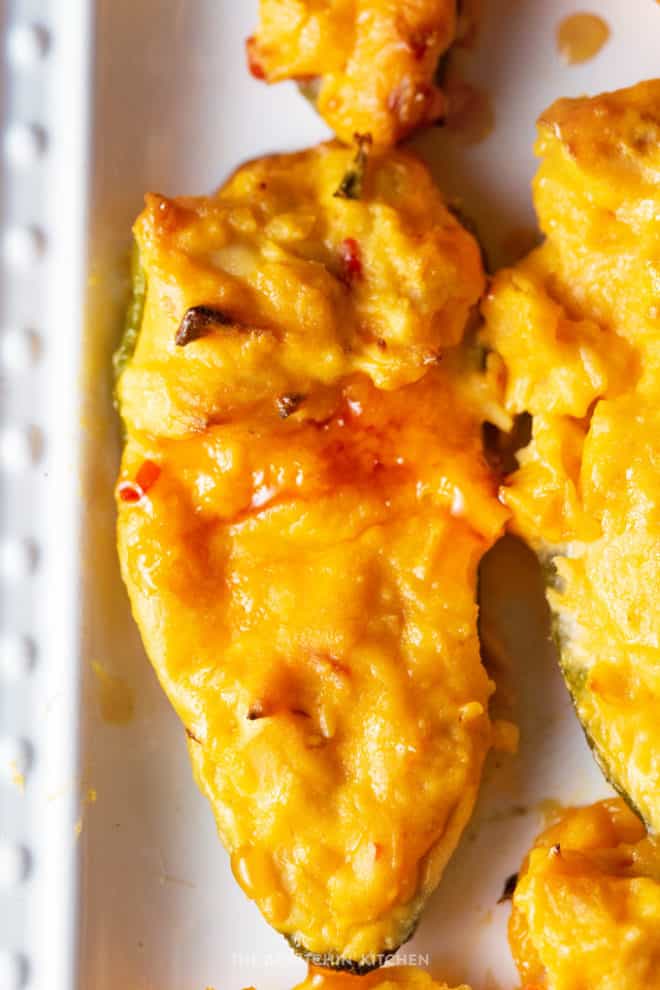 Easy chicken appetizer recipes:
As I mentioned before, I love a good chicken appie. Here are a few of my past recipes that I know you'll love:
For more chicken appetizer recipes please visit Canadian Chicken on the following social channels: Facebook: Canadian Chicken, Twitter: @ChickenFarmers, Instagram:@ChickenDotCA; Pinterest: ChickenDotCA.
Thai Chili Chicken Poppers
You're going to love these baked sweet thai chili chicken poppers! They're a twist on the traditional spicy jalapeno poppers but made with thai chili sauce, chicken, cream cheese, and sweet or jalapeno peppers.
Servings 24 poppers
Calories 72kcal
Ingredients
1 cup cream cheese
3/4 cup sweet thai chili sauce
2 chicken breasts cooked
12 jalapeno peppers or mini bell peppers for no heat
Instructions
Preheat oven to 350

Take the tops off the jalapeno/mini bell peppers and slice in half lengthwise. Discard ribs and seeds.

In a medium bowl mix the cream cheese and sweet thai sauce. I find it works better when you use a hand mixer.

Shred the chicken (either pull with forks, chop in a food processor, or use a hand mixer) and mix it in with the cream cheese mix.

Spoon the cream cheese thai chili mix into the halved peppers and lay on a parchment lined baking sheet. Bake for 30-40 minutes.
Notes
Nutritional information varies dependant on brand of Sweet Thai Chili sauce.
Nutrition
Serving: 1popper | Calories: 72kcal | Carbohydrates: 5g | Protein: 5g | Fat: 4g | Saturated Fat: 2g | Cholesterol: 22mg | Sodium: 132mg | Potassium: 100mg | Fiber: 1g | Sugar: 4g | Vitamin A: 208IU | Vitamin C: 9mg | Calcium: 11mg | Iron: 1mg
Follow On Pinterest
Follow @bewitchinkitchen On Pinterest for more delicious recipes!
Giveaway
Enter for the chance to win a fun prize pack that includes:
Google Nest Hub
Ninja Foodi Hot/Cold Blender.
Ends December 23 rd at 11 am EST. Canadian residents only.