Smores Stuffed Strawberries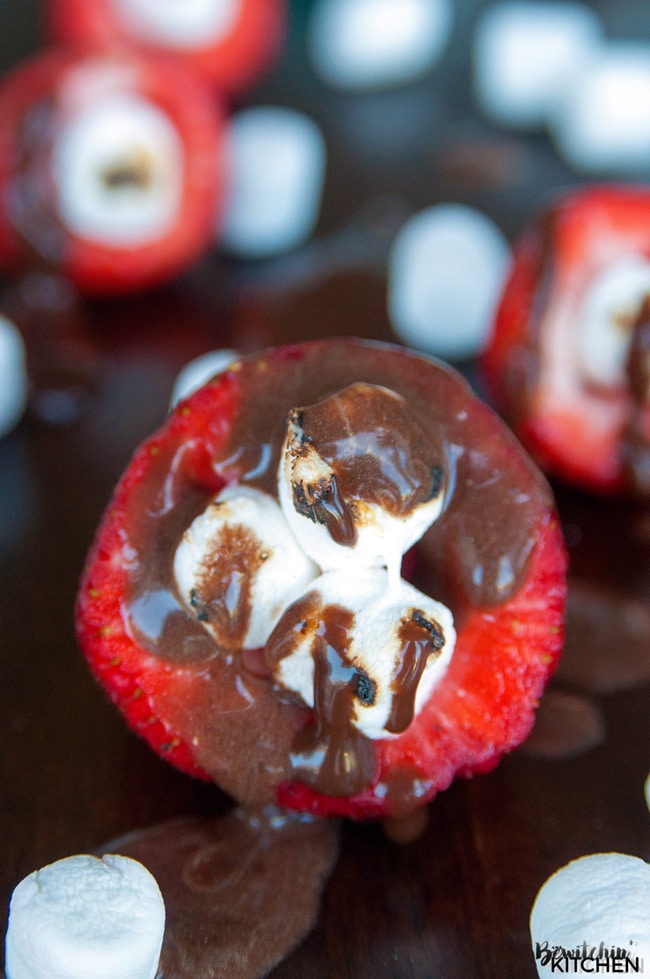 Two of my favorites (smores and strawberries) have come together to form Smores Stuffed Strawberries and I'm in pure chocolately, marshmallow bliss.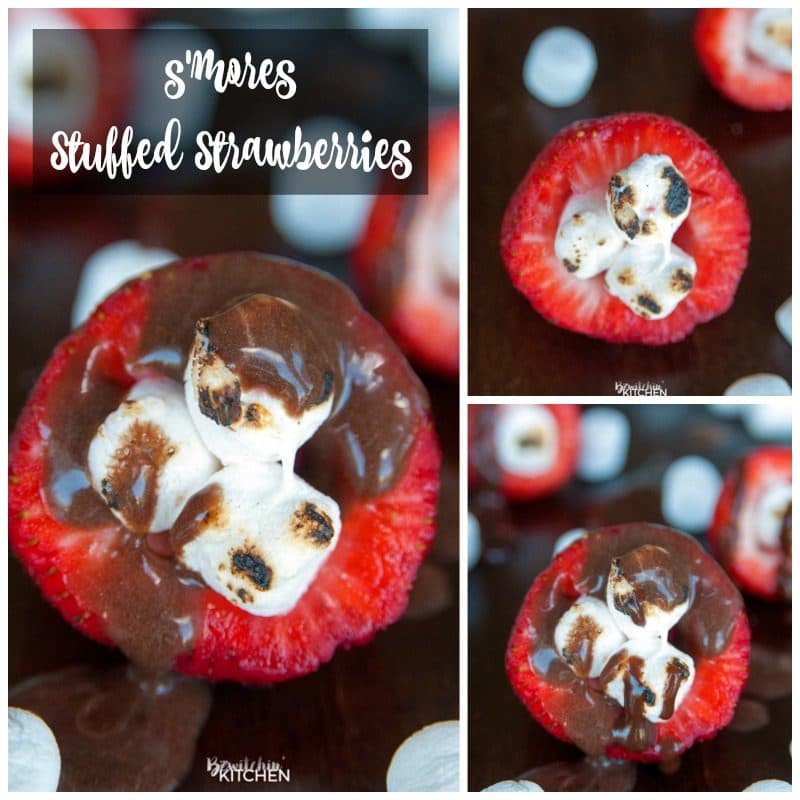 This recipe is another super-easy, laid back dessert that doesn't require much time. Gotta love that!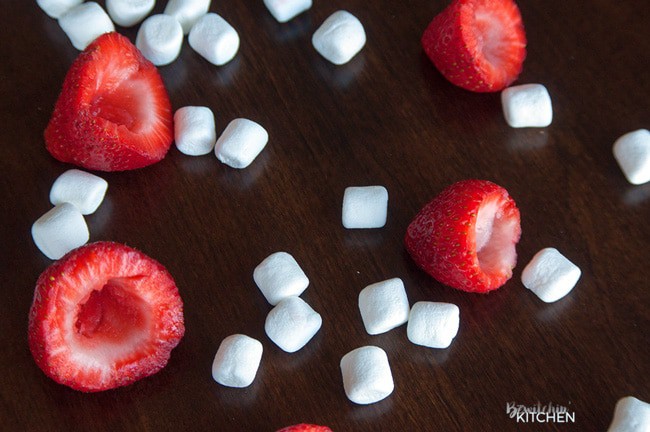 All the food that's needed: strawberries, marshmallows (I used minis) and chocolate sauce (or you can melt chocolate yourself).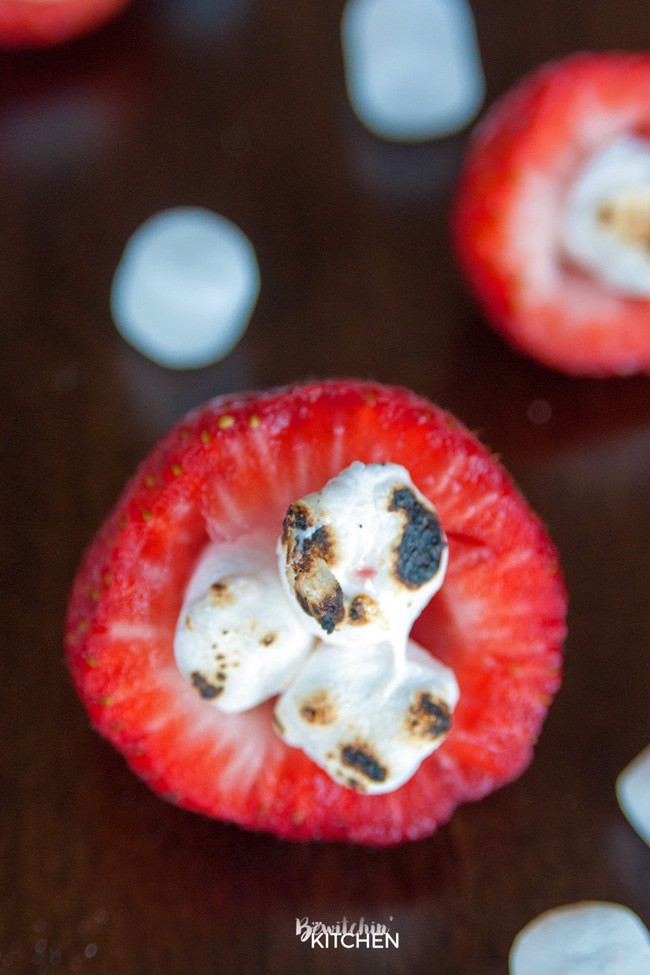 This recipe would be done best over a fire, but if you're without, a BBQ or a culinary torch would do the trick.
Full disclosure: I was too lazy to light the BBQ and I don't have a culinary torch (I need to order one) so I used a BBQ lighter. It didn't work that great as it took a really long time to get the marshmallows to "goo" and I usually ended up burning them.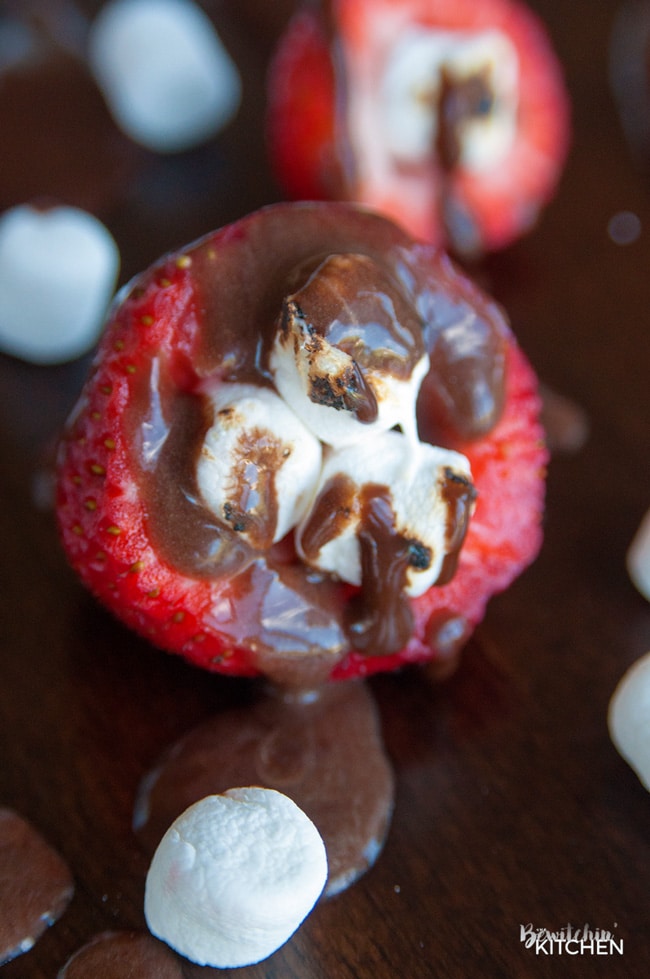 This recipe will work best with melted chocolate. I'm super lazy so whenever I melt chocolate I just toss it with some milk and microwave it for a little bit at a time until it's melted (make sure you stir in between).
For this recipe, I had some Walden Farm's Chocolate Syrup in the fridge and I used that. It's 0 calories, and it doesn't taste all that bad but it's a little bit on the gelled side of things (especially after being in the fridge). Use whatever chocolate you have. It will taste great.
Walden Farms chocolate syrup is available on Amazon, but I order it at Vitacost (especially with coupon codes). If you use this referral link to Vitacost you get a $10 coupon code and so do I.
Smores Stuffed Strawberries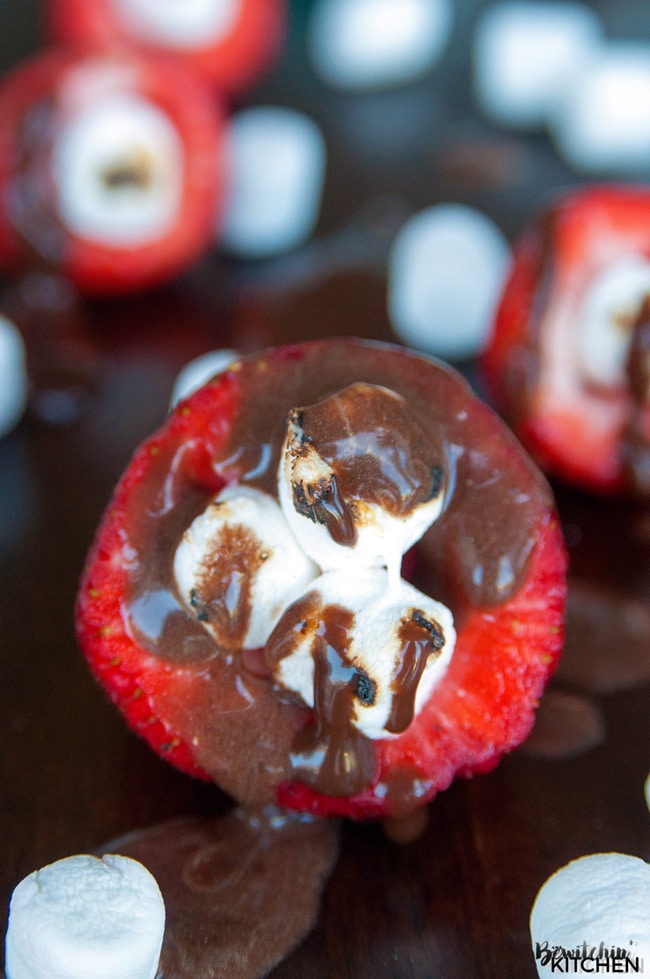 Smores Stuffed Strawberries
Servings 12 strawberries
Ingredients
12 strawberries
12-20 mini marshmallows dependant on how many you can fit in a strawberry
Chocolate Sauce or melted chocolate
Instructions
Hollow out strawberries and set aside.

Load the mini marshmallows on a stick and roast over a fire/bbq.

Roast until golden and stuff in the hollowed out strawberries.

If no BBQ or fire: stuff strawberries and torch marshmallows until golden and brown.

Top with chocolate sauce.

Bonus points for whipped cream.
Follow On Pinterest
Follow @bewitchinkitchen On Pinterest for more delicious recipes!
Make sure you share this easy dessert recipe for Smores Stuffed Strawberries with your friends!