Spiked Hot Chocolate Recipes
These spiked hot chocolate recipes are a comfort on chilly fall and winter nights. Chocolate hot cocktails ranging from hot cocoa with Kahlua to Malibu and hot chocolate with Irish Cream. Give these a try!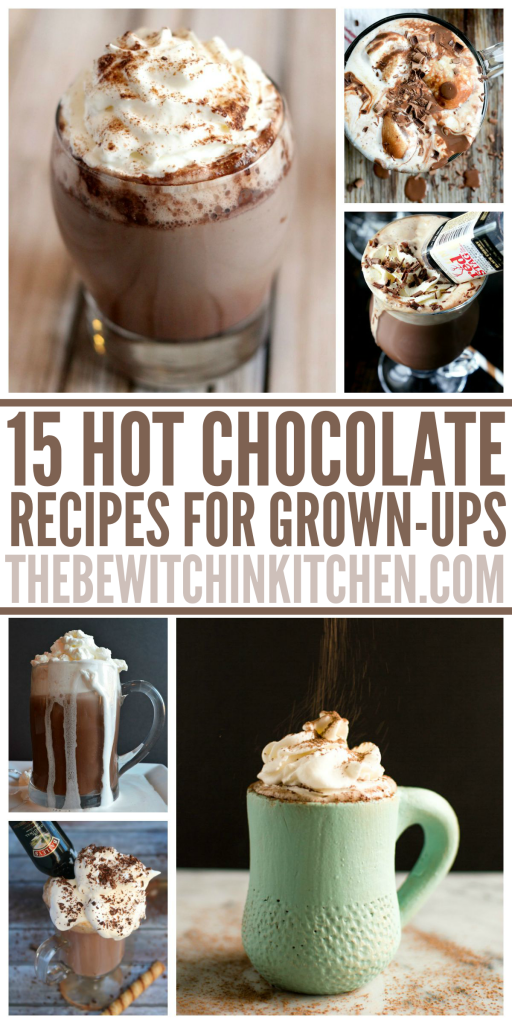 Welcome fall! One thing I missed about the cooler weather was hot chocolate. I love to sit up watching Grey's sipping on a hot chocolate, or if Shonda is really playing with my heart: a spiked hot chocolate.
Spiked Hot Chocolate Recipes
Disclosure: This post contains affiliate links for your convenience. As an Amazon Associate, I earn from qualifying purchases.
I have 15 delicious spiked hot chocolate recipes from some pretty amazing bloggers listed below. I'm really excited to try the Coconut Kahlua Hot Chocolate from Healthy Nibbles and the Spiked Butterscotch Hot Chocolate from Dizzy, Busy and Hungry.
I don't do it too often, but I do enjoy a Bailey's and hot chocolate from time to time but now I think I may dress it up and try out the following boozy hot chocolate recipes.
Maybe 1 hot chocolate cocktail a week for the next 15 weeks?
Fun supplies for boozy hot chocolate
I have included affiliate links for your convenience.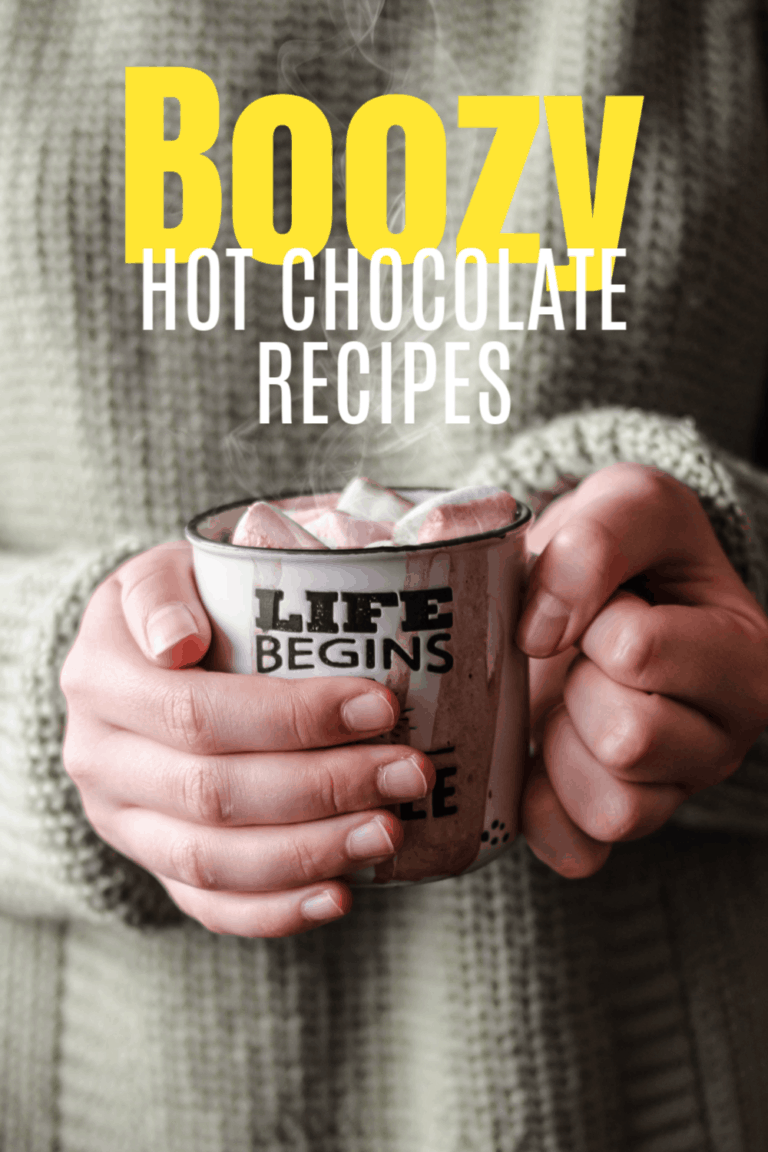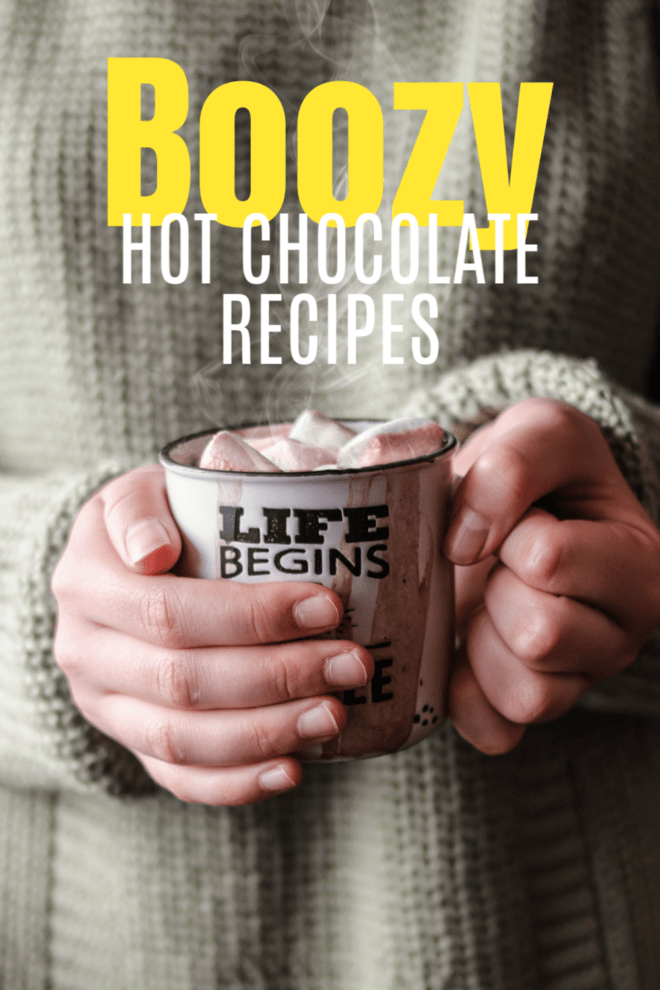 Alcoholic Hot Chocolate Recipes
1. Stout Hot Chocolate With Ice Cream | Floating Kitchen
2. Hot Chocolate Cocktail | Mom Endeavors
3. Black Cherry Bourbon Hot Chocolate | Living Better Together
4. Smirnoff Cinna-Sugar Hot Chocolate | A Night Owl
5. Irish Cream Hot Chocolate | Miss Information
6. Malibu Hot Chocolate | Shock Munch
7. Rumchata White Hot Chocolate | Delish D'Lites
8. Vegan Boozy Mexican Spiced Hot Chocolate |
9. Red Wine Hot Chocolate | Wholefully
10. Spiked Butterscotch Hot Chocolate | Dizzy, Busy and Hungry
11. Coconut Kahlua Hot Chocolate | Healthy Nibbles
12. Cinnamon Hot Chocolate With Rum and Horchata | FashionEdible
13. Spiked and Spicy Hot Chocolate | A Cocktail Life
14. Chocolate Liqueur Hot Chocolate | Bakes by Chichi
15. Kahlua Hot Chocolate | Living Better Together
You know what would go great with a spiked hot chocolate? Chocolate cake with a Baileys Buttercream Frosting. You are welcome my friends, please enjoy!
For a sweet treat that would go great with any of the spiked hot chocolates above, try this delicious recipe for Biscotti Minch. Salted caramel biscotti (and almond biscotti) coated in white chocolate, drizzled with both milk chocolate and caramel and finished with almonds. Holy yum!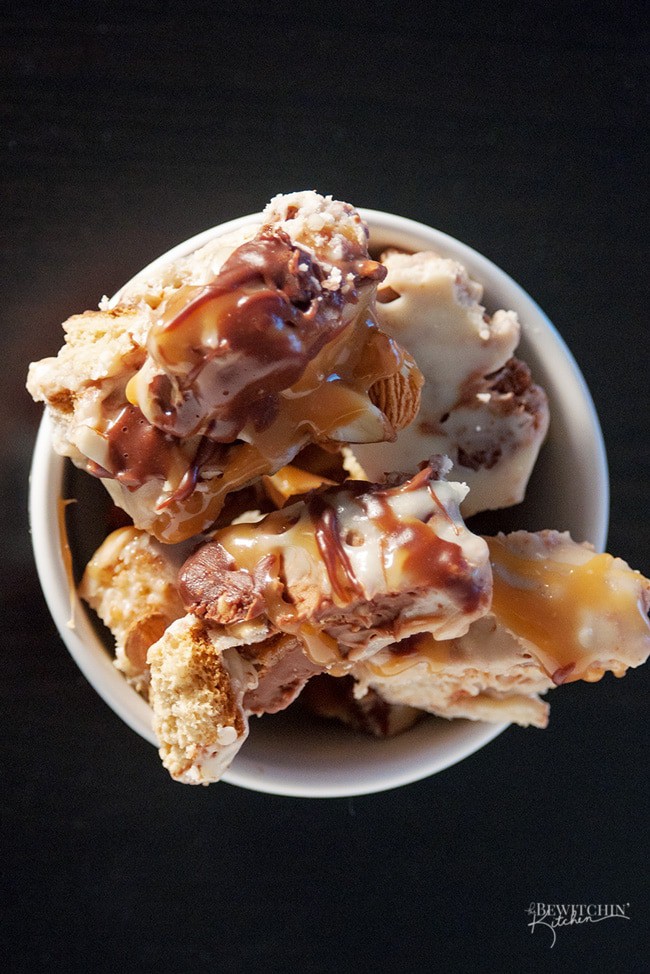 Do you like spiked hot chocolate? What's your favorite recipe?
Looking for more great ideas? Click here to follow me on Pinterest!
Visit Randa | The Bewitchin' Kitchen's profile on Pinterest.