Biscotti Munch Recipe 2.0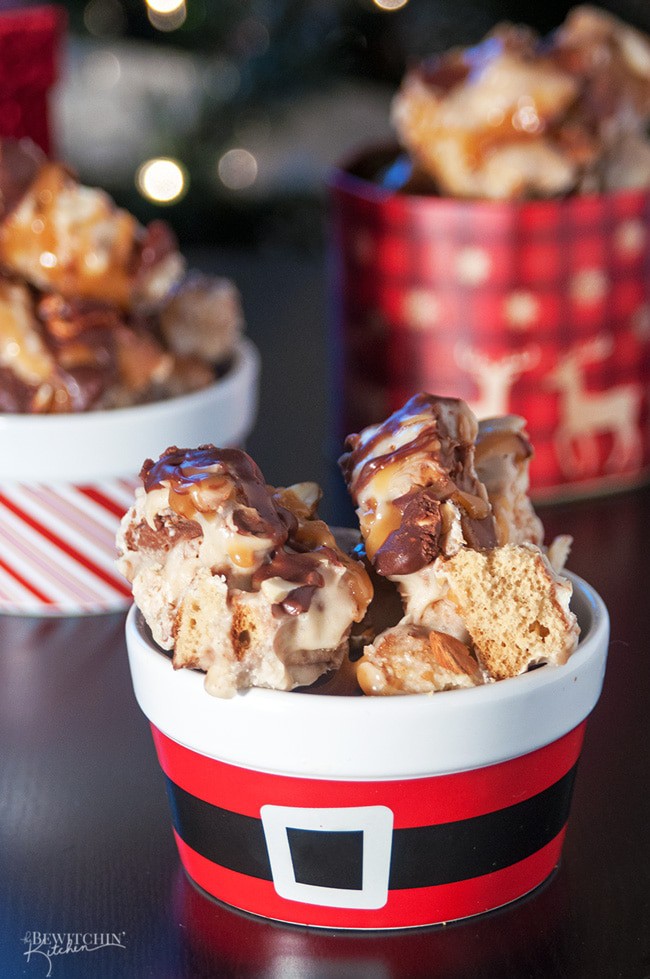 I need to start this post out by saying I love this Biscotti Munch recipe. It's such a simple and delicious, no-fuss dessert that is easy to package up for neighbor Christmas gifts or baking exchange parties.
Yes, this is very similar to the Biscotti Munch I posted last year but I wanted to switch out and try a few new things.
Biscotti Munch Recipe 2.0 & What's Different:
Instead of making my own caramel sauce this year, I wanted to save time (and effort) with this recipe and microwave the little caramel chews (you know the ones).
Half of the batch is original Nonni Biscotti and the other half is Salted Caramel Nonni Biscotti instead of the chocolate ones I used in the previous recipe. Side note: the salted caramel biscotti are amazing and I only used 8 because I wanted the rest to myself for my coffee.
The original Biscotti Munch recipe was a little soft, so I wanted to make this one crunchier by using half a can of sweetened condensed milk. I forgot about the plan and dumped the whole thing in, so maybe next year there will be a Biscotti Munch 3.0.
Instead of pouring the white chocolate mixture of the biscotti, I combined it all in a bowl and tossed to coat. If you have chocolate on the biscotti, it will melt and blend it so it won't be pure white but it will still be very yummy.
Sweetened condensed milk is nectar from the Gods. #templeofsugar

— Randa Derkson (@bewitchinkitch) November 15, 2015
In addition to the almonds, I also added Green & Black's Organics Almond Chocolate. It was an extra bit of almond flavor that made a tasty difference.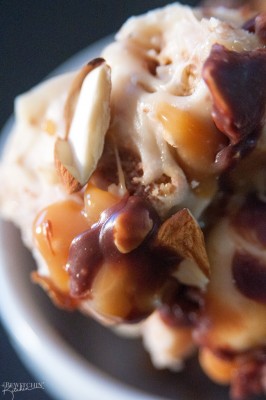 Okay enough of the chatting, here's the recipe (and don't forget to find more of my caramel recipes here).

Biscotti Munch 2.0
Instructions
Line a baking sheet with parchment paper.

Chop up your biscotti into chunks.

In a microwavable bowl, add your sweetened condensed milk and white chocolate chips and stir. Microwave the mixture for 45 seconds, stir and then 45 seconds at a time until fully melted and runs thinner (not as ribbon like in color).

Add the white chocolate into the biscotti bowl and toss to coat. Pour onto the baking sheet and toss in the fridge or freezer to harden up. Note: if your biscotti has chocolate on it, it will melt and mix into the white chocolate.

Microwave the caramel squares with a little water or milk and use the same method as the chocolate chips. Drizzle over the biscotti mixture.

Add the almonds.

Microwave the almond chocolate (or milk chocolate) and drizzle over the biscotti mixture.

Let harden, I placed mine in the freezer and left it for a few hours.

Chop up with a knife and package.
Follow On Pinterest
Follow @bewitchinkitchen On Pinterest for more delicious recipes!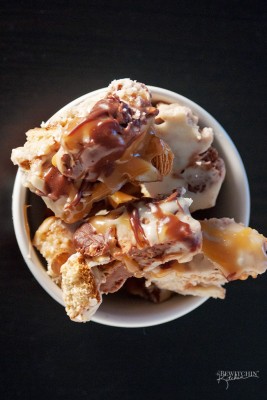 It's pretty tasty!
What's your favorite no bake recipe?