Holiday Inn Express Kelowna #ExploreKelowna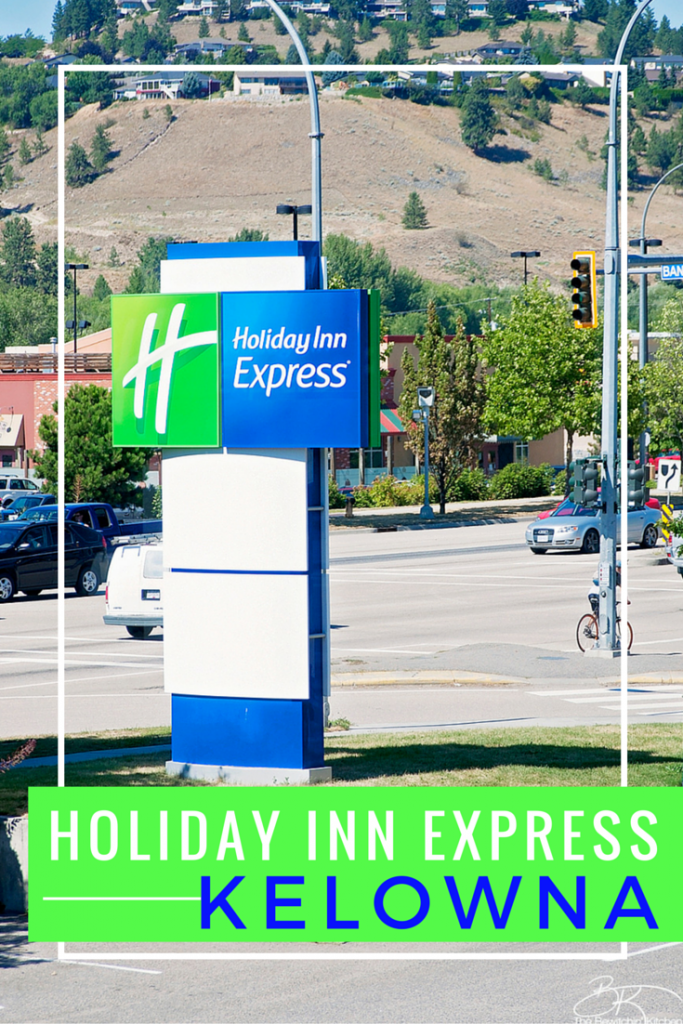 The Holiday Inn Express Kelowna is located on the main drag (highway 97) that runs right through the middle of Kelowna. It's easy to find, is close to shopping and is an affordable place to stay.
Holiday Inn Express Kelowna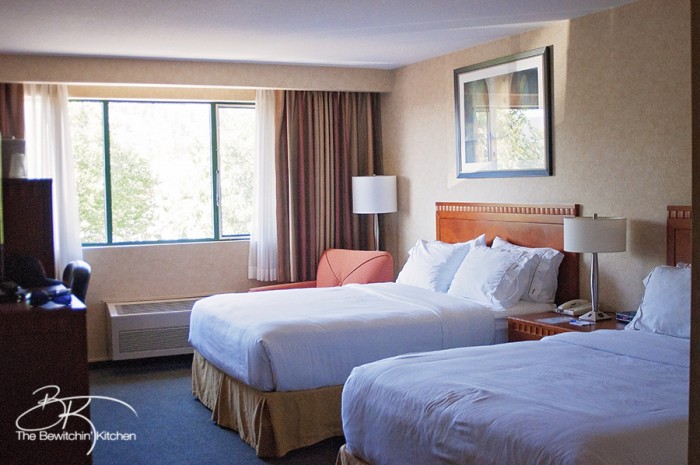 The room we stayed in at the Holiday Inn Express Kelowna was their standard two queen room. The room was a little small, but it fit two queen beds and chair so it may have been a little cramped with all the furniture that was placed in the space. The walls and decor are a little dated but it was clean and the beds had white duvets (here's why white bedding in a hotel is important).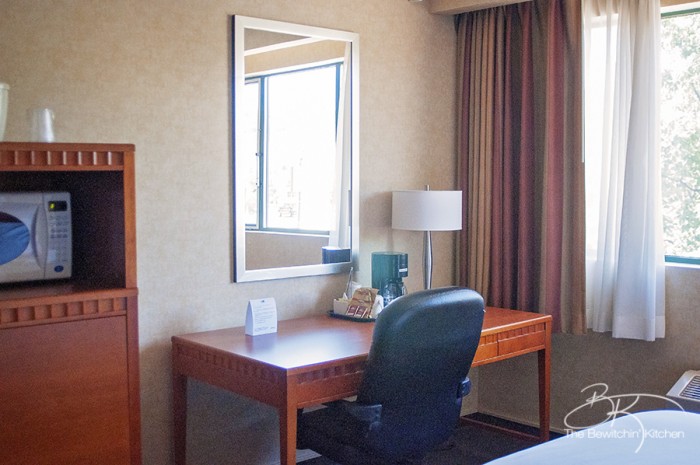 There is a waterslide and my toddler had a blast with my husband using it, while I stayed behind to unwind from a busy day at Quails Gate and Hillcrest Farm Market (and to do a little work). There is a an office space that was perfect for setting up my "on the go office" but I ended up just sitting in my bed and doing work from there. WiFi is included, it's slow but it was also one of the busiest weekends in Kelowna and the hotel was at full capacity.
The beds are comfortable and both my husband and I agreed that we had a good night's sleep, which at the end of the day is what should matter when it comes to a hotel.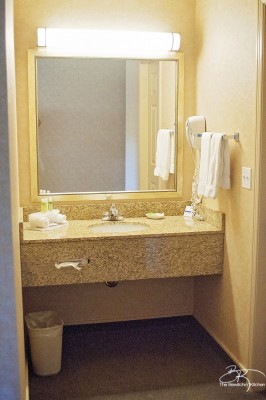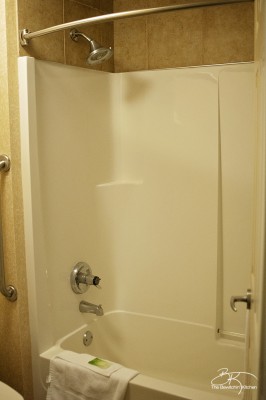 The bathroom is updated with porcelain tile, but it is cramped. I don't see it being all that useable for someone with a wheelchair. The vanity and hand washing station is outside the room and provided me with a lot of space to lay out my beauty supplies.
The hotel lobby is nice and there was always a parking space available. However the elevator took over three minutes to come to the lobby and it was a lot quicker to take the stairs. If this is something that matters to you, it is something to consider.
A buffet breakfast comes complimentary with your stay, and when you're on vacation with a budget it really comes in handy.
The Holiday Inn Express Kelowna also offers you a discount at Montana's (which is across the highway) on your room key. So there's another money saver there.
The hotel is in a good location. The shopping mall is a short drive away, the common (Walmart, Pier 1, HomeSense) is across the highway as is a selection of restaurants (Cactus Club Cafe, Montanas, and East Side Mario's). If you're wanting to find a clean hotel but you're on a budget it is something to consider.
For more information on where you can stay while visiting Kelowna, or more information on the Holiday Inn Express Kelowna please visit the Tourism Kelowna website.
Disclosure: I was not paid for this post but I was provided a stay at the Holiday Inn Express. All opinions are my own.