Sweet n' Smoky Rib Rub
This Sweet n' Smoky Rib Rub recipe is sponsored by Windsor Salt. It includes affiliate links for your convenience. 
Fire up the grill, this rib rub recipe is an easy and tasty way to liven up ribs but it also works perfectly when it comes to barbecuing chicken.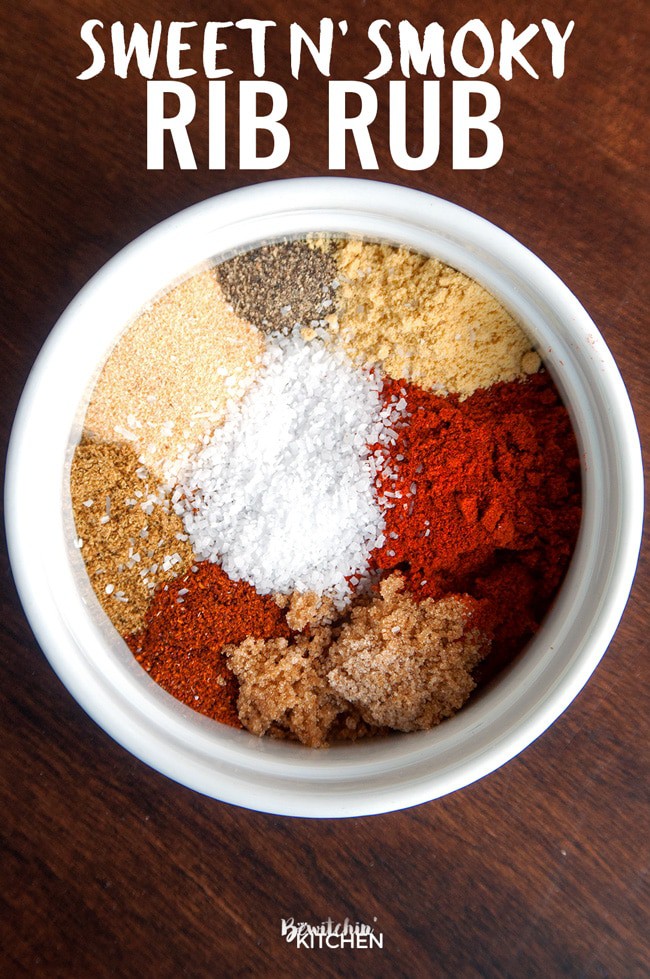 A while ago I posted a recipe for Tex Mex BBQ Chicken and I was reminded how much fun it is to make homemade rubs and sauces. I made this Sweet n' Smoky Rib Rub yesterday to prepare for some ribs this weekend and tested it on chicken breast last night and it's delicious. I'm so excited for all of you to try it.
Dry Rub For Ribs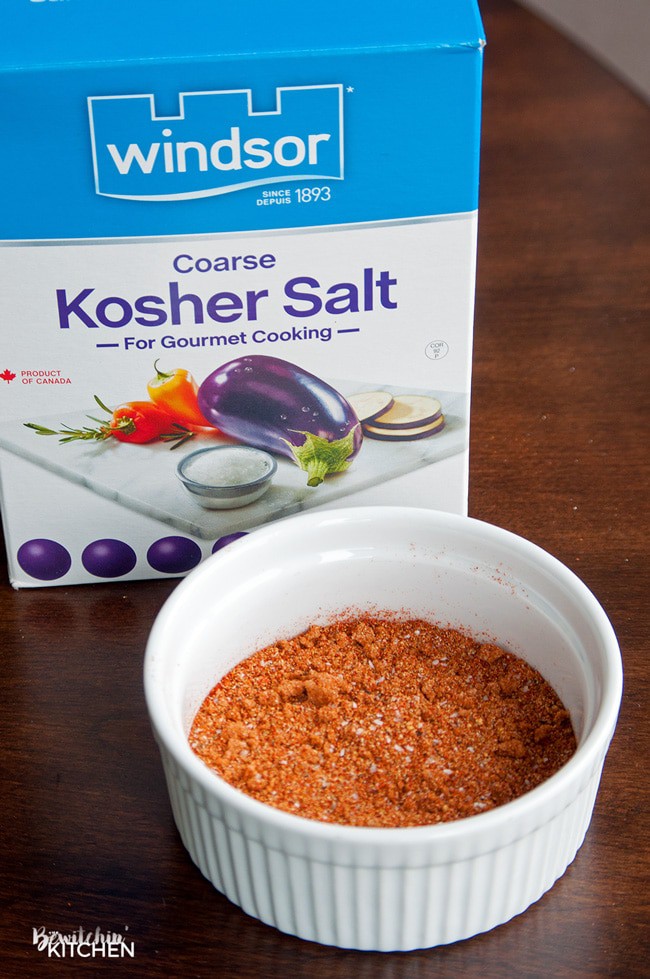 I made this rib rub recipe out of brown sugar, a bunch of spices and kosher salt. It can't get simpler than that! I love it when everyday pantry items come together to make something spectacular. But why kosher salt instead of regular salt or sea salt?
Why Kosher salt?
Kosher salt is a larger grain than regular table salt and it's recommended that when you season food with your hands that kosher salt is used. The coarse texture makes it easy to grab the salt and it's less likely to dissolve in your hands. It's a great salt to use when finishing foods, salting rims or brining.
My recommendation for a good kosher salt is Windsor Salt. I'm sure you've noticed Windsor Salt in your supermarket aisles, it's the brand I grew up with so it's a comfort to see it in my kitchen cabinet. This iconic Canadian brand has now gone over a little makeover and is now sporting a more modern look to go with the modern Canadian family. The logo still has the classic castle outline, but now has a clean accent underneath "Windsor" to highlight the premium quality of Windsor Salt. The packing is new, the fonts are cleaner but the product itself is still the original.
The packaging is new, the fonts are cleaner but the product itself is still the original that we know and love.
Like they say, if it ain't broke, why fix it?
Rib Rub Recipe
To celebrate Windsor Salt's new look, I came up with this Sweet n' Smoky Rib Rub recipe. However, this works as a delicious chicken rub too, and you could and even use it as a vegetable seasoning (mmm…smoky bbq cauliflower anyone?).
TBK's Pro Tip: Store the rub and other homemade seasonings in glass shaker jars to make storage easy!
If you've used this smoky and sweet rib rub recipe, please leave me a comment and rating with your thoughts! I love hearing how recipes turn out for you!
Here are some recipe ideas to add the Rib Rub to that sweet, summer flavor:
Sweet n' Smoky Rib Rub
This sweet and smoky rib rub is perfect for summer bbq's. Not only is this great on ribs but it's super yummy on grilled chicken too.
Servings 6 servings
Calories 25kcal
Ingredients
1 tbsp paprika
1 tbsp brown sugar
2 tsps garlic powder
1 tsp pepper
1 tsp Windsor Salt's Coarse Kosher Salt
1 tsp dry mustard
1 tsp chili powder
1 tsp cayenne powder
1/2 tsp cumin
Instructions
Mix all of the rib rub spices together and store in an air tight container for 2-3 weeks.
Nutrition
Serving: 1g | Calories: 25kcal | Carbohydrates: 5.6g | Protein: 0.8g | Fat: 0.3g | Saturated Fat: 0.1g | Sodium: 403.8mg | Fiber: 1g | Sugar: 1.9g
Follow On Pinterest
Follow @bewitchinkitchen On Pinterest for more delicious recipes!
If you like this recipe, don't forget to share it with your friends!
Disclosure: This recipe was sponsored by Windsor Salt. All opinions are my own.