The Bewitchin' Kitchen Income Report – December 2016
December was a busy month, but I still found time to take the last two weeks off to prep for our Disneyland trip (and start the Conquer course). Here's The Bewitchin' Kitchen Income Report for December.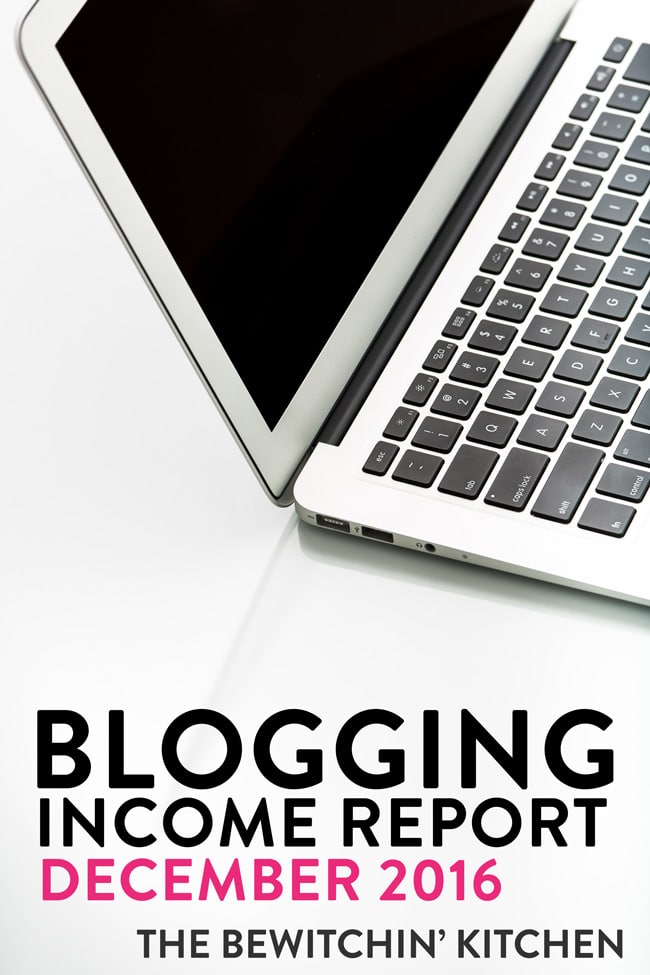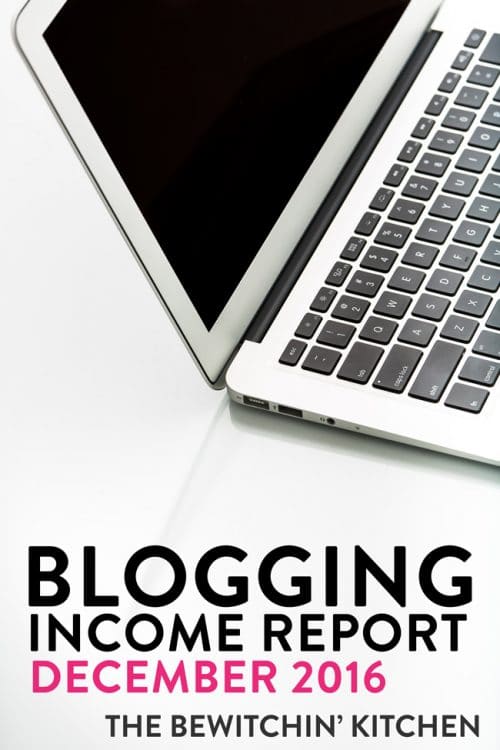 Curious on how to start a food blog (or a general blog)? <– Check out the guide! Don't forget to check out my blogging resources too!
New expenses: 
CONQUER the Layers of Search Engine Optimization – I'm a fan of Crystal and Kelly's courses (I have all of them listed at the bottom of this post). Since I started them, I went from 300 Google search traffic a day to over 1000. I'm still implementing everything, so I have high hopes. Conquer was released in December, and I didn't hesitate to buy it. It's more expensive, but it's a self-lead online course and I'm LOVING it so far.
As for my income, I'm waiting on close to $6500 in unpaid invoices so hopefully, they show up before the year ends!
This post contains affiliate links.
The Bewitchin' Kitchen Income Report
Everything is in Canadian dollars, all US currency was converted using the PayPal converter. All expenses are used for The Bewitchin' Kitchen. Any other businesses are separate. 
Sponsored Posts: $2400
Sponsored Social Media: $621.75
Shareasale: $149.83
AdThrive: $1382.74
BBTV: $13.28
Total Income: $4567.60
BLOG EXPENSES
There are a few receipts that I'm still searching for, but here is a rough draft of this month's expenses so far.
Virtual Assistants: $839.58
Supplies (Office supplies, supplies for blog projects, and groceries for recipe development): $530
Food Blogger Pro: $304.12 (upgraded to the annual payment)
Adobe Photoshop CC: $15.53
Mad Mimi: $22.29
WiredTree (Host): $73.76
Bluehost (domains): $33.13
CoPromote: $27.47
Conquer: $328.73
Facebook + Pinterest Ads: $83.25
Social Warfare: $37.34
Total Expenses: $2295.20
Somehow I think I'm missing a few grocery receipts (since I have been cooking like crazy), I'm going to have to look for them.
This expense report does not include house bills, utilities, and data plan. 
Blog services that I've paid for and that I couldn't live without or have made a difference:
Tailwind, Buffer, Skyrocket Blog Pageviews with Google Analytics, Dominate The Search Engines with Webmaster Tools, CoPromote, Food Blogger Pro, CONQUER the Layers of Search Engine Optimization.
Curious on previous months? Check out the Blog Income Report page to snoop around.
What would you like to see on my blog income reports? Is this something I should continue sharing?
This post contains affiliate links of products I use and love.