Ukrainian Christmas Breakfast – A Holiday Tradition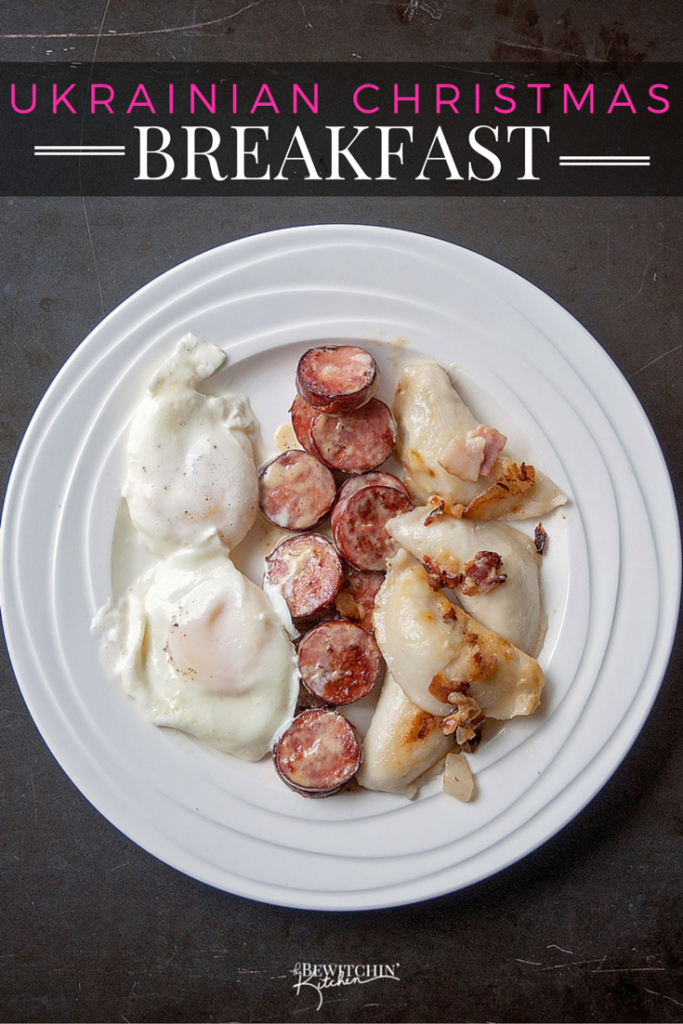 Every since I was a little girl, Christmas morning meant two things: 1. Santa had come and gone and 2. I was about to gorge myself with Ukrainian Christmas Breakfast.
I'm 1/4 Ukrainian, but I'm not into the traditional Ukrainian foods: I like perogies, but you won't find me in the same room as cabbage rolls or anything that has fish. So with that being said, my version of Ukrainian Christmas Breakfast is not the typical version that you find when you Google that said phrase. I guess you can say that it's been "westernized", but it's still really good Ukrainian food to me.
A Simple Ukrainian Christmas Dish
Ukrainian Christmas food is is dear to my heart.  It is fast and furious to make in that many of the pieces are all cooking at once.  Be prepared with multiple pans and a lot of coffee!
Why you are going to love it
Quick to make on Christmas morning
All the savory goodness your family craves with hearty sausage, eggs, and traditional perogies
When paired with a mimosa it is truly amazing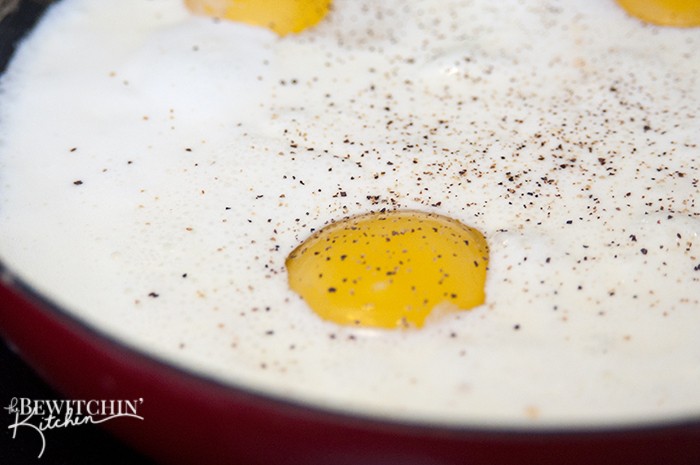 My favorite part of the breakfast would be the eggs. I have made this multiple times without the perogies and sausage because the eggs are perfect. Eggs alone are beautiful with the creamy yolks but when you poach them in cream: magic happens. Trust me.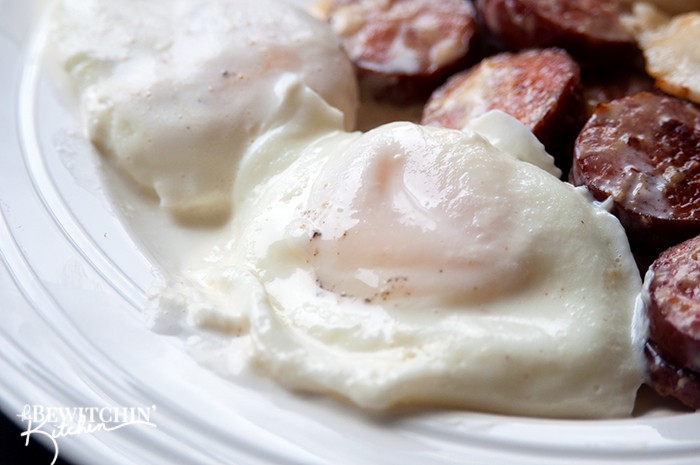 Pro Tips For An Amazing Ukrainian Christmas Breakfast:
Cream: I usually buy a 1L carton of cream and that lasts me the whole recipe. I don't ever measure it out, I just pour and make sure I have enough for each dish.
Managing the chaos:  The instructions need to happen quickly for everything to be just hot and right.  Start the eggs when the sausage and perogies are just about complete.  The eggs will take just a couple of minutes to be just right.
Perogies or Pierogies:  These are a Ukrainian food staple and can be any variety you choose.  Store-bought, frozen, or make your own.  If I am ambitious I make my own, but store-bought can be just as good with less work on a Christmas morning!  Either spelling is also acceptable…but Pierogies is is the most accurate 🙂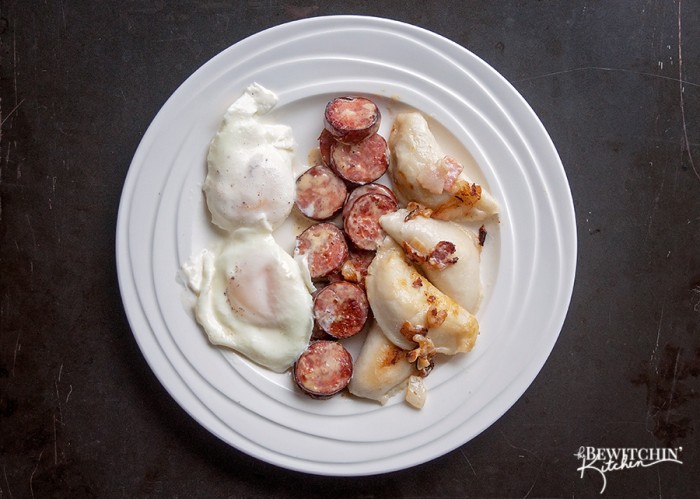 Also check out this Christmas Tree Cake for another fun way to celebrate the holidays!
Ukrainian Christmas Breakfast
A Westernized version of the traditional Ukrainian Christmas Breakfast. Eggs, sausage, and pierogies make this a savory experience on those magical Christmas mornings.
Servings 4
Calories 1365kcal
Ingredients
For the sausage:
1 ring of Ukrainian sausage depending on how many mouths you're feeding
1/2 cup whipping cream
For the eggs:
6 eggs
1 cup whipping cream
Sprinkle of pepper
For the perogies:
1 dozen pierogies fresh is best but store bought frozen will work
1 onion chopped
1 package of bacon chopped
2 tbsps butter
1/2 cup of cream or whatever is left
Instructions
You will be cooking all of this at the same time, so put your multi-tasking hat on. A word of advice: do the eggs when the sausage and perogies are close to done. You will need to watch the eggs so the cream doesn't boil over (it makes a huge mess if it does).
For the sausage
Slice up the sausage and toss in a pan over medium heat. Brown on each side.

Turn the heat to low and add the cream. Let simmer for a few minutes. The cream will thicken slightly.
For the pierogies
Fry up the pierogies in the butter, bacon and onion. Once the onion has turned translucent, turn the heat to low, add the cream and let simmer. for a couple of minutes.
For the eggs
Pour the cream in a deep pan and bring to a gentle boil.

Crack the eggs in, add pepper and simmer until they're done to your liking. Keep your eyes on the pan, as the cream makes a huge mess if it boils over.
Nutrition
Calories: 1365kcal | Carbohydrates: 24g | Protein: 30g | Fat: 99g | Saturated Fat: 44g | Polyunsaturated Fat: 11g | Monounsaturated Fat: 37g | Trans Fat: 1g | Cholesterol: 485mg | Sodium: 1179mg | Potassium: 5384mg | Fiber: 1g | Sugar: 1g | Vitamin A: 1915IU | Vitamin C: 2mg | Calcium: 112mg | Iron: 3mg
Follow On Pinterest
Follow @bewitchinkitchen On Pinterest for more delicious recipes!
Note: In Ukraine pierogies are known as varenyk, but I still grew up with the term "perogy" (which is also known as pierogi or perogi as there are many different spellings).