Whole Wheat Rhubarb Muffins
For the first time in a long time I found some rhubarb at the grocery store and couldn't resist grabbing a couple stalks. I wanted to make something other then strawberry rhubarb pie, and came up with this creation instead: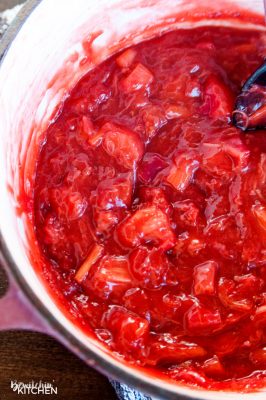 If you like this recipe, be sure to check out this recipe for Strawberry Rhubarb Pie Filling.
Whole Wheat Rhubarb Muffins
Ingredients:
          Muffin
2 cups whole wheat flour
1/2 cup all purpose flour
1 tsp baking soda
1 tsp baking powder
1/2 tsp salt
1 cup 0% greek yogurt
1/4 cup + 3 tbsp Brown Sugar Splenda
1/2 cup canola oil
1 lightly beaten egg
2 tsp vanilla
1 1/2 – 2 cups fresh rhubarb, dicedTopping
1/2 cup granulated sugar
1 tsp Splenda brown sugar
2 tsp flour
2 tbsp margarine
Method
Preheat oven to 375
Mix together first five ingredients in mixing bowl and set aside.
In a separate bowl whisk greek yogurt, Splenda, oil, egg and vanilla until well blended and Splenda brown sugar is completely dissolved. Slowly add to dry ingredients, mixing in between each addition. Stir in rhubarb.
Spray muffin tins with non-stick spray and fill with muffin mix. I usually do about 2-3 to full.
In a small bowl combine the last four ingredients and divide the sugar mixture among the muffins.
Bake for 20 minutes, let cool. Even with the sugar topping, these muffins are not too sweet. A great breakfast or mid morning snack.
Makes 15 muffins
Each muffin contains approximately 223 calories, 28.5g carbs, 10g fat, 5g protein.
FREE Recipe Binder
Are you constantly wondering what's for dinner?
When I don't meal plan I feel behind, and we usually end up ordering take out. This recipe binder will keep you organized and make life a little bit easier.