Strawberry Rhubarb Pie Filling
Strawberry rhubarb pie filling is the perfect combination of tart and sweet that will make your next summer desert a family favorite. It can be made in less than 30 minutes and uses fresh rhubarb and strawberries with several pantry staples to create a flavor that brightens your desserts and goes great with a scoop of ice cream.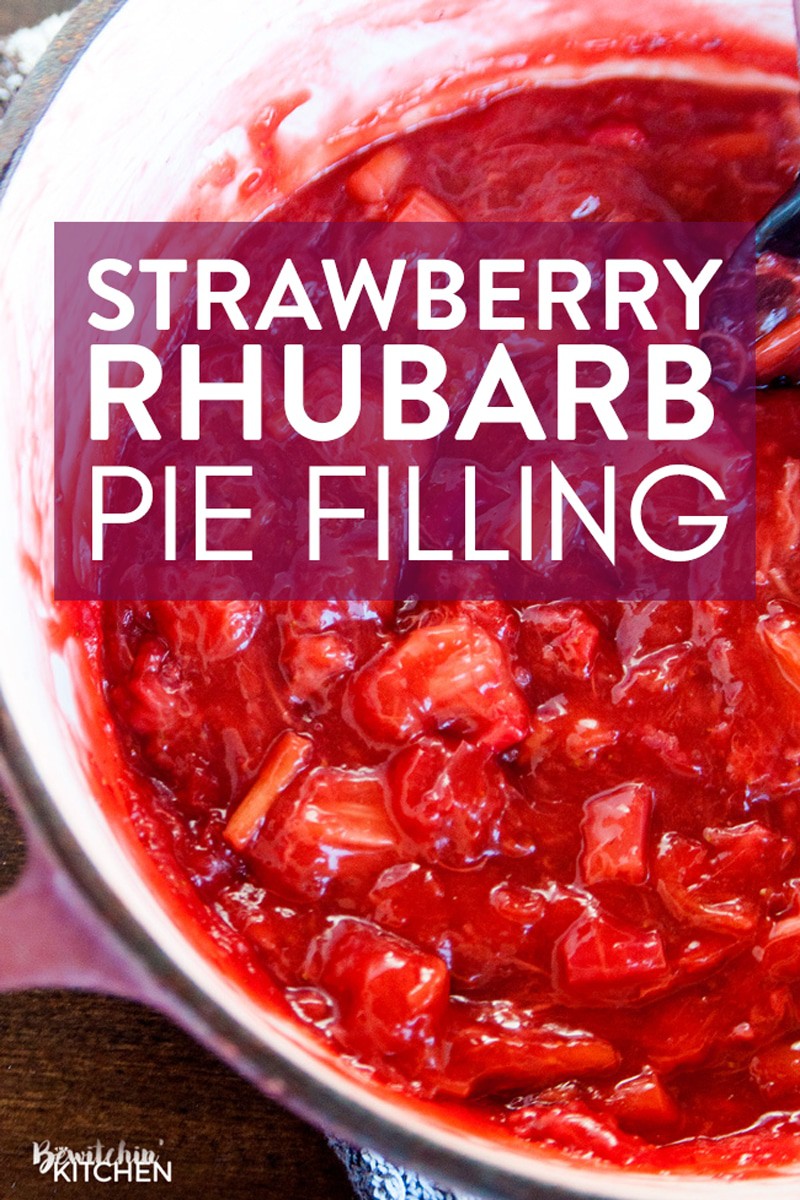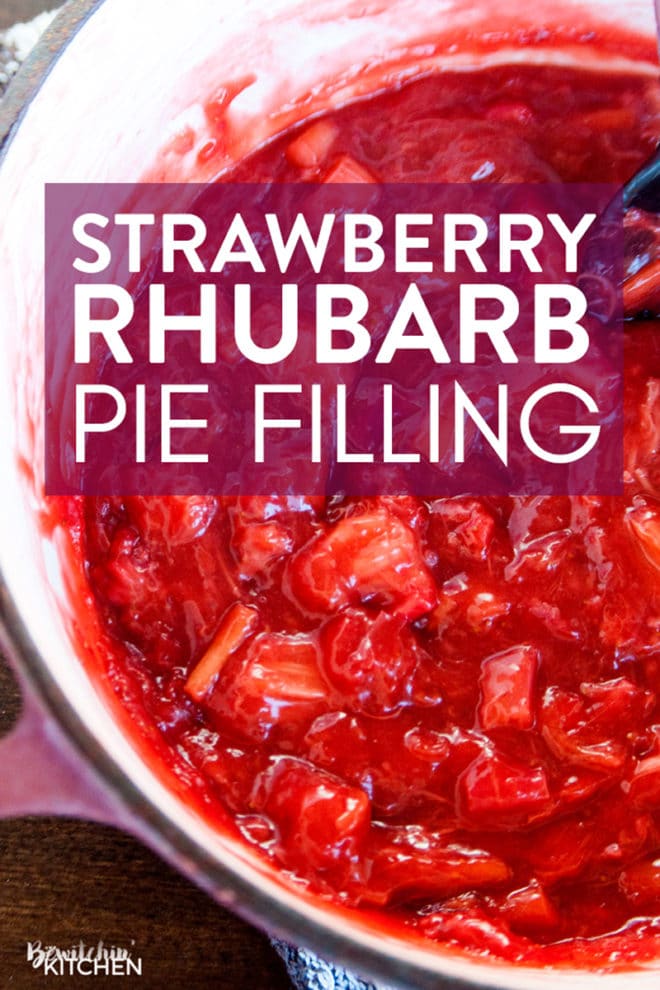 Easy and Fresh Strawberry Rhubarb Pie Filling
Not too tart and not too sweet, rhubarb pie filling made with plump, juicy strawberries is the epitome of summer flavor. And that color!
I hope you're as excited for this strawberry rhubarb pie filling as I am. I mean, who are we kidding? I'm always excited when food is involved.
This simple strawberry rhubarb recipe goes great in parfaits, hand pies, and (of course) pie — if you don't eat it all with a spoon first! Need something a little more last minute? Whip up a batch of Strawberry Rhubarb Tarts, perfect for any summertime cookout.
How to Make Strawberry Rhubarb Pie Filling Video
Why You Will Love This Rhubarb Pie Filling
Easy to make – toss everything in a pot and simmer
Unique flavor combination – beats any ol' berry pie filling
Can be prepped ahead – make a big batch and freeze some for later
Simple ingredients – fresh produce + pantry staples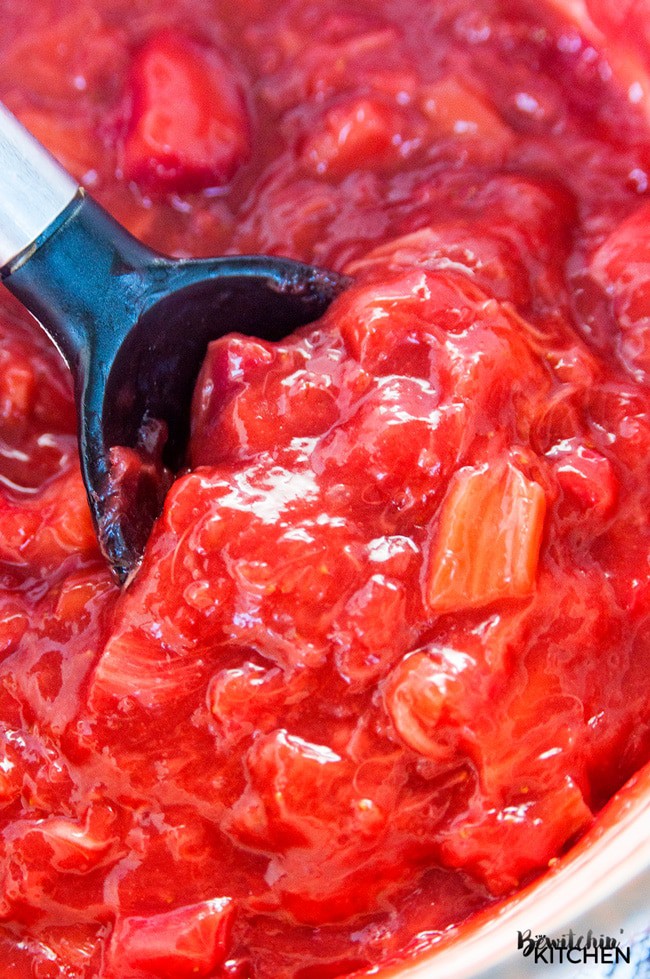 How to Make Perfect Strawberry Rhubarb Pie Filling
Use a nonstick pot
Between the natural sugar in the strawberry and rhubarb combo, plus granulated and brown sugar on top of that — this rhubarb pie filling is prone to sticking! Be sure to use cookware with a nonstick surface (I used ceramic) or clean up is sure to be a pain.
Choose the freshest produce
Filling for a rhubarb pie recipe is really quite simple, so the flavor of every single ingredient comes through. Be sure your strawberries are nice and ripe, and use fresh lemon juice instead of concentrate.
Look for rhubarb stalks that are firm yet tender and more red than green. If the leaves are still attached, they should appear fresh and not wilted. Just be sure to remove all of them before cooking — they are toxic to humans!
Keep it at a simmer
As fast as this comes together, you may be tempted to turn up the heat and rush the process. Don't! Start it at medium until it starts to bubble, then reduce it to low just until thickened. Stirring frequently will also help prevent the strawberry rhubarb pie filling from burning.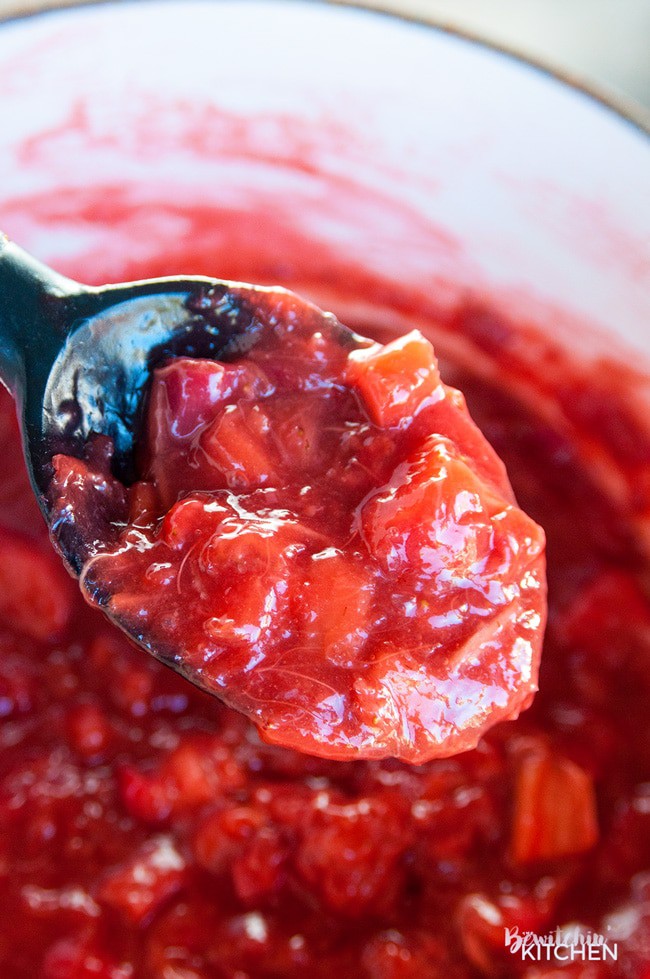 Frequently Asked Questions About Strawberry Rhubarb Pie
Do you cook rhubarb before putting it in a pie?
That depends, but generally, I say yes. Rhubarb can be very tough when raw, so any extra time with some heat will do wonders. Luckily, this recipe for rhubarb pie filling still only takes about 15 minutes to make.
If you're looking for a delicious strawberry rhubarb pie recipe where you don't have to cook the filling first, then I highly recommend Sally's Baking Addiction. Her recipes are always phenomenal.
How do you keep strawberry rhubarb pie from being runny?
By thickening your strawberry rhubarb pie filling, of course! You can do this one of two ways:
Cook down the rhubarb pie filling until most of the liquid evaporates
Choose a rhubarb pie recipe that includes a thickening agent
What is the best thickener for rhubarb pie filling?
Flour will often do the trick, and it's often already handy since you need it to make the crust. That said, cornstarch dissolves better into the filling, won't change the flavor, and allows for a gluten-free option as well.
Some recipes include a simple custard made with eggs, but that seems like more effort than it's worth!
TBK's Pro Tip: I use a ceramic pot (the one I have is a discontinued KitchenAid but this Lodge ceramic pot looks good) when I cook up the pie filling. It makes for an easy cleanup!
More rhubarb recipes:
Strawberry Rhubarb Pie Filling
Strawberry rhubarb pie filling is the perfect combination of tart and sweet that will make your next summer desert a family favorite.
Servings 1 batch
Calories 114kcal
Ingredients
3 cups rhubarb sliced into roughly 1/2 inch pieces
2 3/4 cups strawberries chopped
1/3 cup sugar
1/3 cup packed brown sugar
1/4 cup cornstarch
1/4 teaspoon salt
1 tsp vanilla extract
2 tbsps lemon juice
1 tbsp salted butter
Instructions
Add all of the ingredients into a medium sized pot. I used my KitchenAid

ceramic pot

so it didn't stick badly to the bottom.

Mix together and cook over medium heat for 5-10 minutes, stirring often so it doesn't burn to the bottom.

For another 5-10 minutes, bring the heat to simmer.

It's ready when the rhubarb is soft.
Notes
If you find that it's getting too thick, add water (like I do in the video).
Nutrition
Serving: 1/8th of batch | Calories: 114kcal | Carbohydrates: 27.9g | Protein: 1g | Fat: 0.9g | Saturated Fat: 0.4g | Cholesterol: 1.3mg | Sodium: 81.8mg | Fiber: 2g | Sugar: 18.6g
Follow On Pinterest
Follow @bewitchinkitchen On Pinterest for more delicious recipes!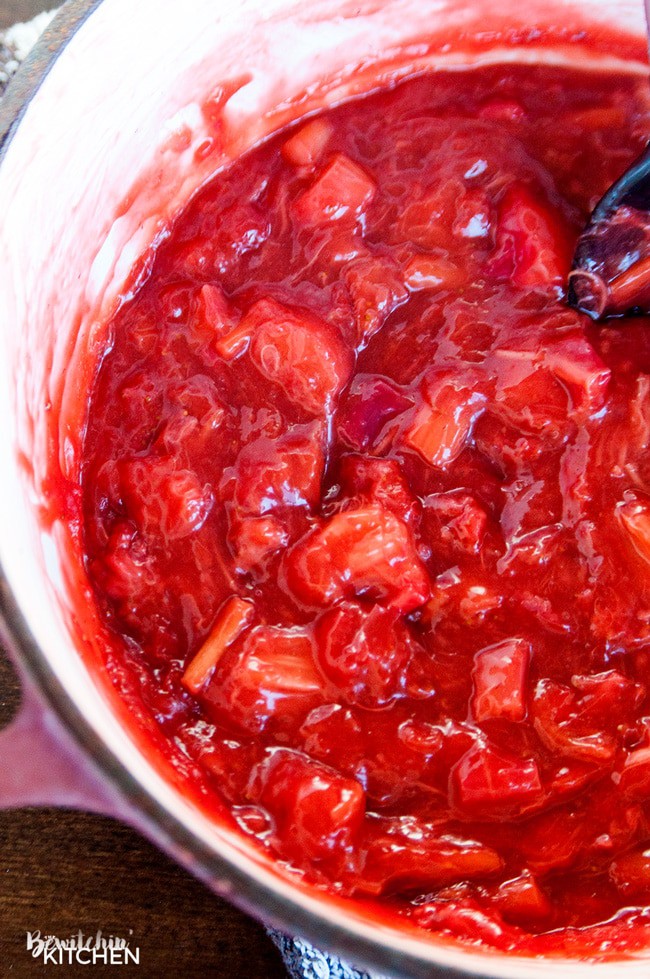 How do you like to use strawberry rhubarb pie filling?

If you like this recipe, then please share it with your friends! I made a Pinnable image below: