Strawberry Rhubarb Pie Filling
I have a few strawberry rhubarb recipes coming up over the next two weeks on the blog, so I thought it would be appropriate to share a recipe for homemade strawberry rhubarb pie filling.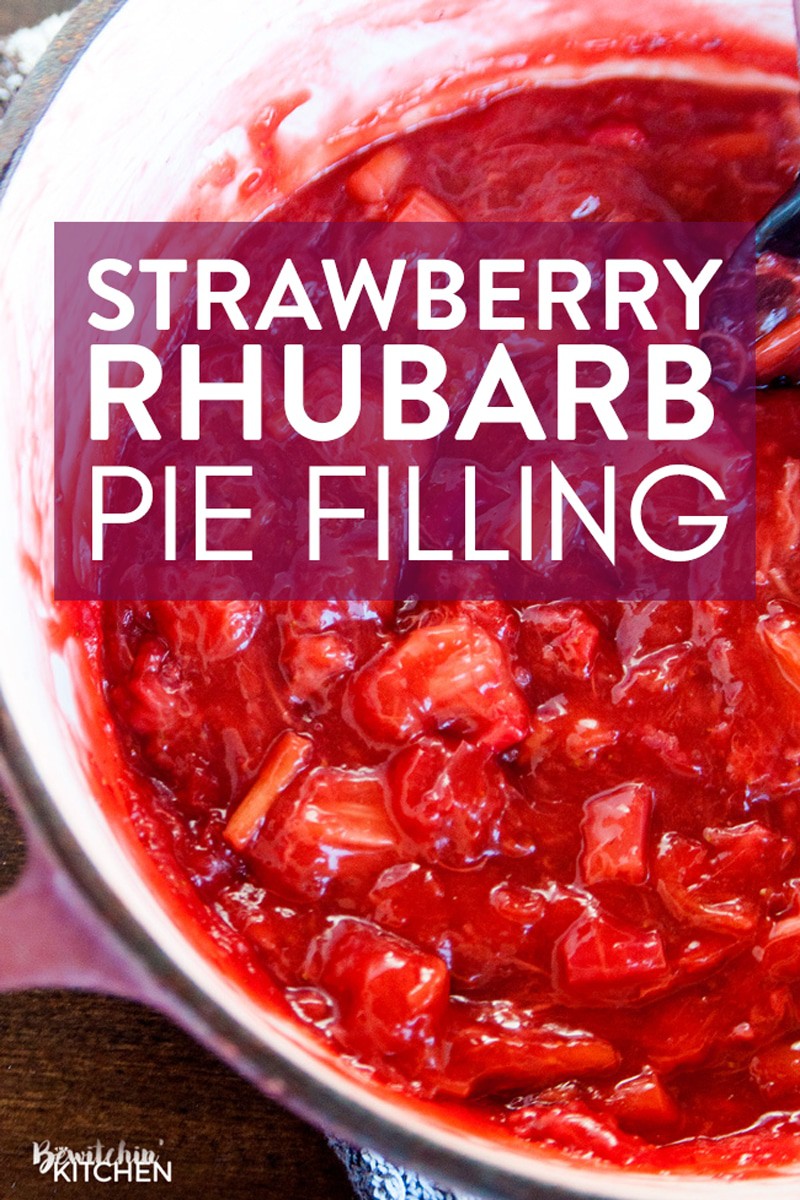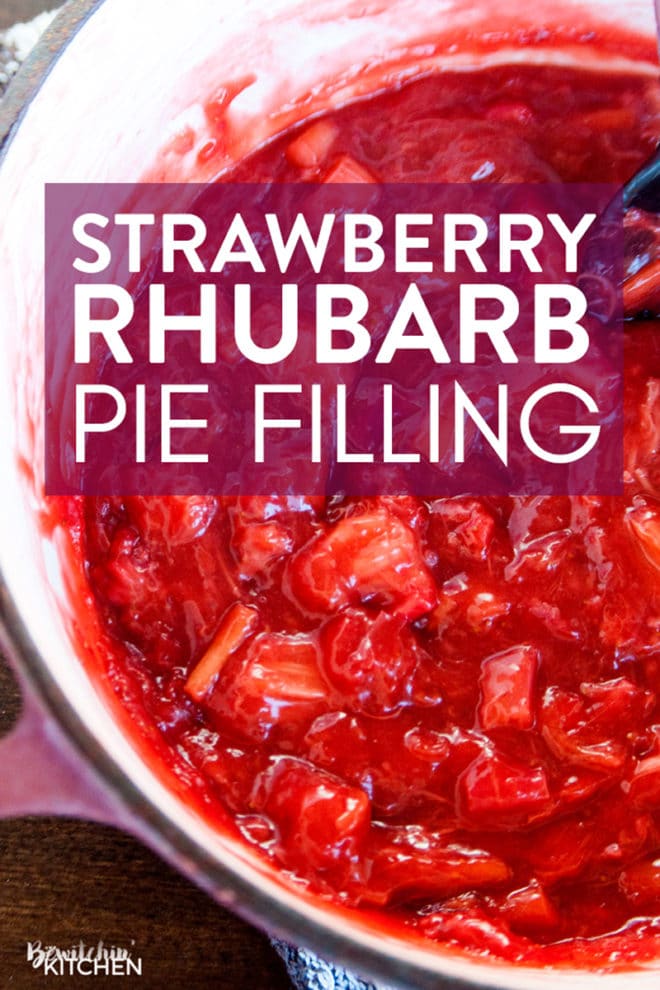 Strawberry Rhubarb Pie Filling
This morning I woke up and had the plan to make
Strawberry Rhubarb Cream Cheese Turnovers
and that was it. Now it's turned into the turnovers, a strawberry rhubarb yogurt parfait and this recipe for strawberry rhubarb pie filling.
Originally, I was going to use Sally's Baking Addiction's recipe for Strawberry Rhubarb Pie and simply cook it down, but I ended up changing the ingredients slightly and the cooking method so mid-way through the simmering process I opted to bust out my DSLR (aka Bertha) and share the recipe. That being said, if you're looking for a delicious strawberry rhubarb pie recipe where you don't have to cook the filling first, I recommend hers. I bet it's phenomenal.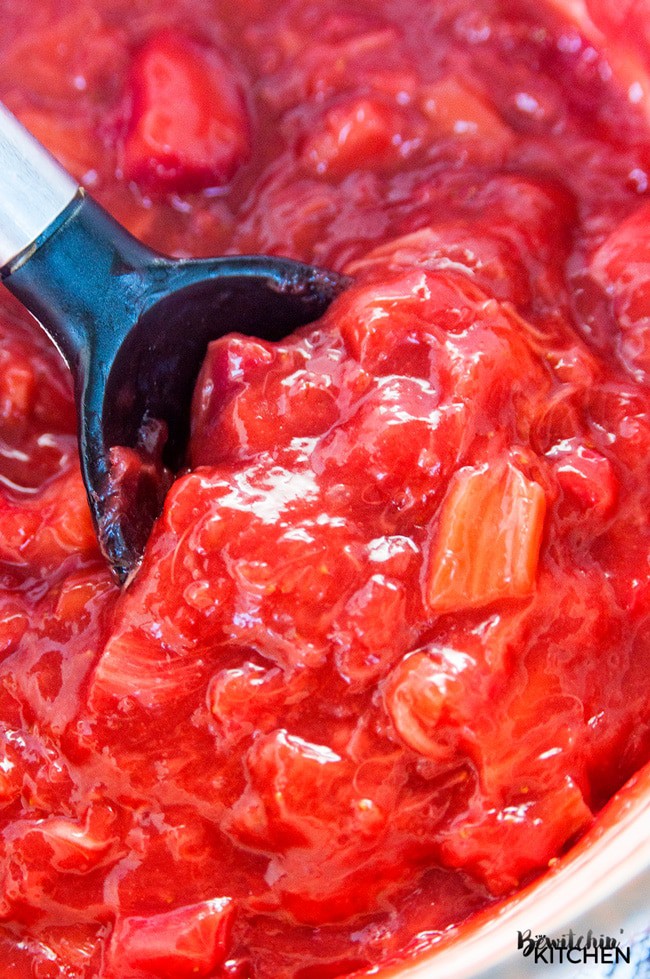 Do you guys have any idea how hard it is to not eat this with a spoon? I'm practicing my will power as I type this and the will power is winning since I know I have a few recipes to make up in the next few hours. Where's my hero cookie? (Or Strawberry Rhubarb Turnover😎?)
Strawberry Rhubarb Pie Filling Recipe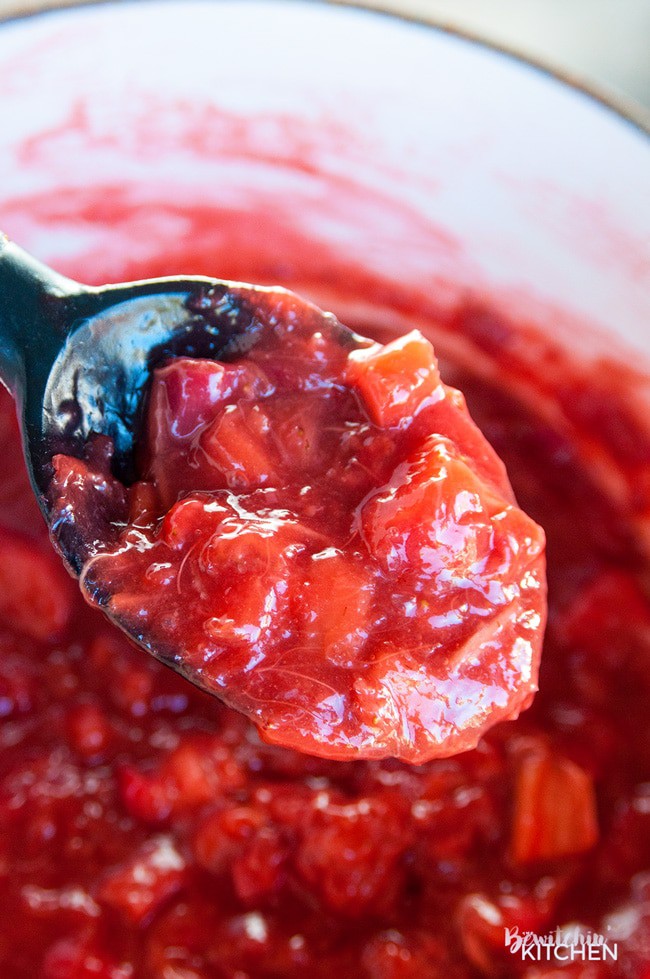 I hope you're as excited for this strawberry rhubarb pie filling recipe, as I am. I mean who are we kidding? I'm always excited when good is involved. This simple recipe goes great in parfaits, turnovers, and pie! Oh, and wish me luck on working on my willpower for the next few hours – I'm going to need it.
TBK's Pro Tip: I use a ceramic pot (the one I have is a discontinued KitchenAid but this Lodge ceramic pot looks good) when I cook up the pie filling. It makes for an easy cleanup!
More rhubarb recipes:
Strawberry Rhubarb Pie Filling
This simple recipe goes great in parfaits, turnovers, and pie!
Servings 1 batch
Calories 114kcal
Ingredients
3 cups rhubarb sliced into roughly 1/2 inch pieces
2 3/4 cups strawberries chopped
1/3 cup sugar
1/3 cup packed brown sugar
1/4 cup cornstarch
1/4 teaspoon salt
1 tsp vanilla extract
2 tbsps lemon juice
1 tbsp salted butter
Instructions
Add all of the ingredients into a medium sized pot. I used my KitchenAid

ceramic pot

so it didn't stick badly to the bottom.

Mix together and cook over medium heat for 5-10 minutes, stirring often so it doesn't burn to the bottom.

For another 5-10 minutes, bring the heat to simmer.

It's ready when the rhubarb is soft.
Notes
If you find that it's getting too thick, add water (like I do in the video).
Nutrition
Serving: 1/8th of batch | Calories: 114kcal | Carbohydrates: 27.9g | Protein: 1g | Fat: 0.9g | Saturated Fat: 0.4g | Cholesterol: 1.3mg | Sodium: 81.8mg | Fiber: 2g | Sugar: 18.6g
Follow On Pinterest
Follow @bewitchinkitchen On Pinterest for more delicious recipes!
How do you like to use strawberry rhubarb pie filling?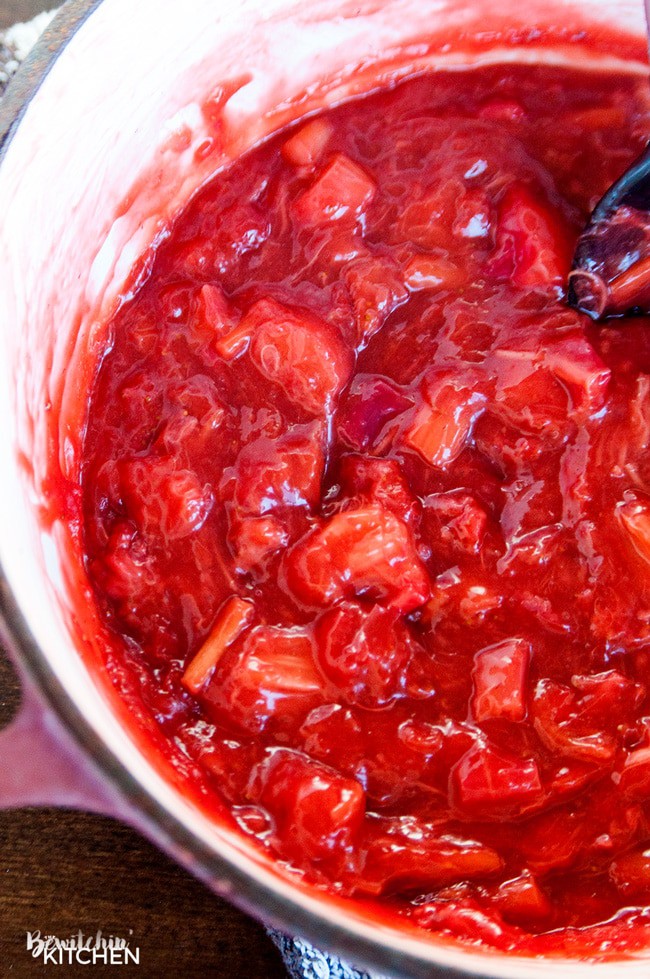 If you like this recipe, then please share it with your friends! I made a Pinnable image below:
FREE Recipe Binder
Are you constantly wondering what's for dinner?
When I don't meal plan I feel behind, and we usually end up ordering take out. This recipe binder will keep you organized and make life a little bit easier.
products I used to make this happen Shop This Post
(may include affiliate links)