10 Baby Products To Skip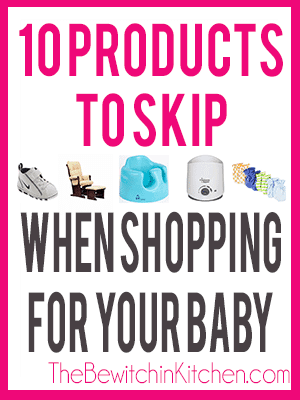 When you're a new mom (or a new mom to be) it's easy to get caught up in the products that are "all the rage" at the time, or products that you think would be incredibly useful. I'm more than guilty, I have boxes full of useless baby stuff I never used. So I put together this list of 10 baby products to skip, based on my experiences.
Baby Products To Skip :
The Bumbo The whole time I was pregnant with Carter I really wanted a Bumbo. Thankfully I didn't pay the $60-$70 retail price and bought one second hand for $30. Carter used it maybe once. I find them useless. Some moms find them handy for tasks like feeding, but by the time Carter was on solids his thighs were a little too meaty to fit in the seat. This made number one on my baby products to skip list. 
Lamaze Spin & Explore The Sea Gym I thought this was the neatest thing and I searched everywhere for it. Turned out to be just another thing I never used. Every once in a while we would put Carter on the mat for tummy time but he was never interested in it – he liked the cheap one from Walmart the best (figures). The spinner is meant to help strengthen a baby's neck while then spin around to the different activities. Carter had really poor and uneven neck strength for a while and I thought this would be a great way to help him but whenever I would lay him on the spinner it would seem like his air was getting cut off. It freaked me out. When he was as big as the baby in the photo, he had no patience for it and wanted to find something else to do.
Tommee Tippee Bottles After reading about how Tommee Tippee helps colicy babies when I was pregnant, I wasn't taking a chance. I went down to Toys R Us and spent a lot of money on them. Athough I LOVED the bottles, what I didn't realize was that they are a huge pain in the butt. They don't fit most breast pumps, so if you want to pump straight in a bottle you have to buy the Tommee Tippee brand. They don't fit in most sterilizers, again you have to buy the TT brand. Which whatever, those things were a pain but not the end of the word, what ticked me off the most was they didn't fit in my diaper bag properly. Just 3-4 bottles with bulk up my diaper bag so much that I had issues getting other items in it. Not to mention cleaning and building a bottle is a pain. There are three additional parts you have clean and put together for a bottle. Would I call them a waste of money? No because I still use them now but I wouldn't buy them again.
Scratch Mittens I thought these were the cutest things ever and they were a must have because baby's nails are sharp. I never used them. Not once. If you're that concerned, use some socks.
Bottle Warmer Again, with the Tommee Tippee Bottles I had to buy their special bottle warmer. I wish I never even bought one at all. In the beginning when I was using breast milk, it was handy as we would just take it out of the fridge and pop it in the warmer. As soon as we switch to formula it was a pain. There was nothing more heartbreaking then over cooking milk at 2 am. My husband liked it, and he even used it for heating up jarred food but I could live without. What I would do next time around is buy a bottle warmer for the vehicle, the kind you plug into the cigarette lighter. The only time I really needed a warmer was for road trips and of course that was never when I had one.
Glider Now I know this one is a hit and miss for most people. I used my glider very rarely. However, I know a lot of people who still use them to this day. The only time I used mine was either in a sleep deprived state to feed Carter (before I figured out I could go watch TV while doing so) or to use as a laundry hanger for his diapers.
Baby Towels Yes, they're cute but they're also thin and don't keep your baby warm. I would use mine, but always had to resort back to our towels. Every time.
Shoes Carter had a lot of really cute shoes when he was a newborn. He never wore a single pair. Same goes for slippers. Whenever we did go out he had a sleeper on and was bundled in blankets. They were pointless.
Designer Outfits The first few months Carter lived in onesies and sleepers (and sometimes still does). Two piece outfits that didn't zip or even snap were a huge pain. My $50 Baby Guess or Baby Gap outfits went to waste because he only wore them once or twice.
Play Yard/Play Pen The only reason I have one is because I was given one for a review. It's a rare occurrence that it gets brought out (mostly for guests). It takes up space when traveling and most hotels have cribs you can use anyway. It all depends on your situation, but for me I would have never bought one. If you feel that it's something you cannot live without and you absolutey have to have one…buy a cheap one. You probably won't use the bassinet, changing table features that the fancy ones have anyway.
So those are my baby products to skip. What do you think?
If you liked this post, I highly suggest you read my Top 10 Newborn Must Haves. They're the products that helped me get through my first year.
What You Said:
I asked my readers and the blogging community on what products they could have lived without and here is what they came up with :
"A Bumbo. My son fell out of it, then that was the end of that." – Erica, This Flourishing Life
"Anything intended to keep the floor or table clean during feeding. It's just not happening!!" Gena, Captain Fussy Buckets
"The Johnny jump up. My son was terrified of it!!" Julie, A Year With Mom and Dad
"A travel swing by Boppy. My kid managed to flip it over!" Kristin, Coupon Kristin
"Diaper Genie – once it got full it sat and sat until someone emptied it and it still smelled awful." Anne,  Meglomaniac Mommy
"We bought about 30 outfits for each size range. Summer clothes were too big to wear and never got worn. We somehow skipped 6-9 month clothes and a whole lot of it just never got worn. Never again!" Elizabeth, Frugal Mom Eh
"A complete bottle with system with ALL the different nipple flows etc… For the longest time they never took a bottle and when they finally did…they HATED that kind. Sigh". Kristen, Mudpies and Tiaras
"A bottle warmer. It took way too long for the bottle to warm up, and my daughter just was NOT having it." Amber, Beautifully Bella Faith
"Bumbo, baby bullet, wipes warmer, other peoples advice." Katie Rasmussen
"I received a wipe warmer as a baby gift and never used it. It seemed inconvenient and I was concerned that the warmth and moisture would breed bacteria, and bacteria was the last thing I wanted to put on my babies bottom. I also never used baby powder because of adding unnecessary scents onto sensitive baby skin. If there was moisture present then I just used a dab of cornstarch in their diapers." Corrina, My Picky Family
"Burping pads or whatever they are called that are designed to fit perfectly over the shoulder when receiving blankets do the job just fine. Also designer label baby clothing is a complete waste of money, especially newborn-3month size when they only fit it for a max of 2 weeks."Julie Paine
"We bought a diaper wipe warmer and it just completely dried out all the wipes. It was a waste of money and wipes!" Ashley, Cute As a Fox
"Blankets-you get so many at showers there is no need to buy an." Sharon, Mom On Dealz
"I bought a travel co-sleeper. After the first night, my son slept in a separate room. He was too noisy!" Laurel,  Head Ant
What would you add to this baby products to skip list?
Looking for more great ideas? Click here to follow me on Pinterest!
Visit Randa | The Bewitchin' Kitchen's profile on Pinterest.