6 Easy School Lunch Ideas that are No Fuss
If you're like me and need kids lunch inspiration here are 6 easy school lunch ideas that are no fuss and take very little effort. I am not the mom that cuts sandwiches into cute shapes and makes art out a bento box. Don't get me wrong, I'm in awe of the moms who do (you guys rock) but, in gentle honesty, I couldn't be bothered.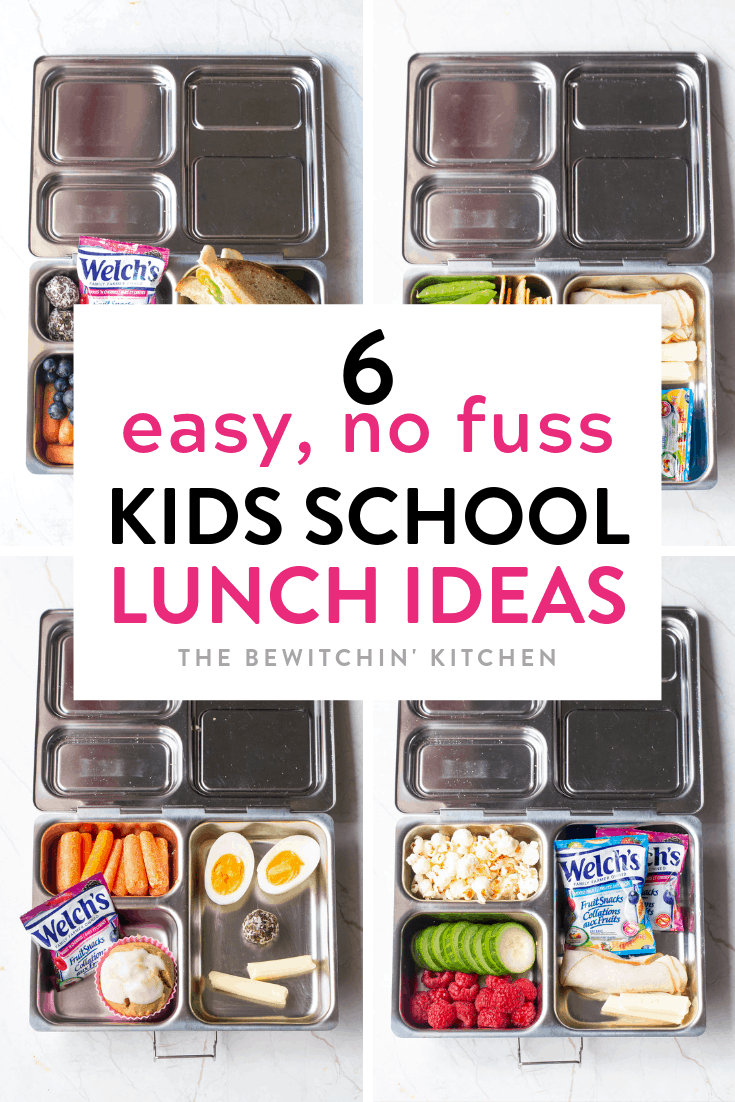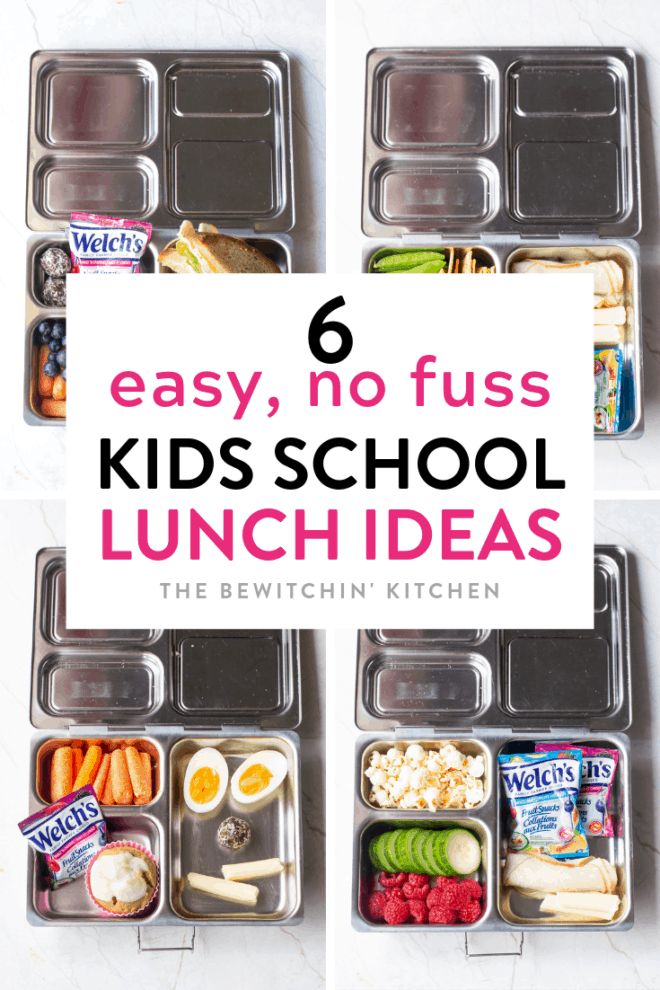 This post is sponsored by Welch's® Fruit Snacks. I am being compensated for this post. All comments and opinions are my own.
Easy School Lunch Ideas
I know back to school is right around the corner, but it won't be long now where you'll be stuck for lunch ideas.
It happens to all of us, we have the best of intentions, but we get stuck in our own routine.
That's where I come in.
Do you have a great lunch idea that you want to share? Let me know your favorite kid's school lunch in the comments.
Easy Kids Lunch Ideas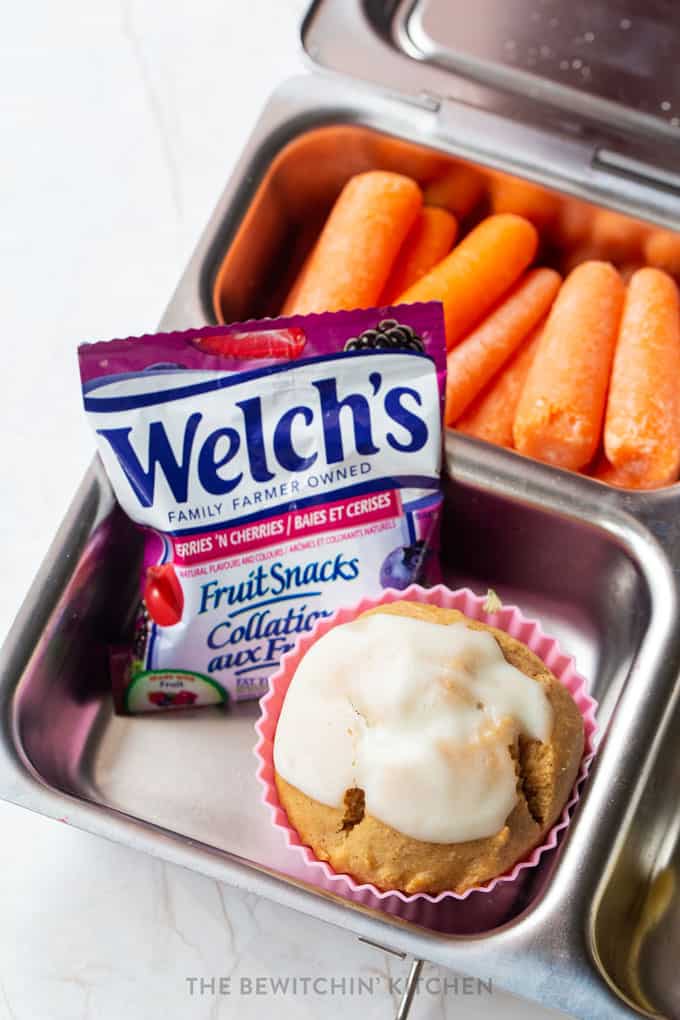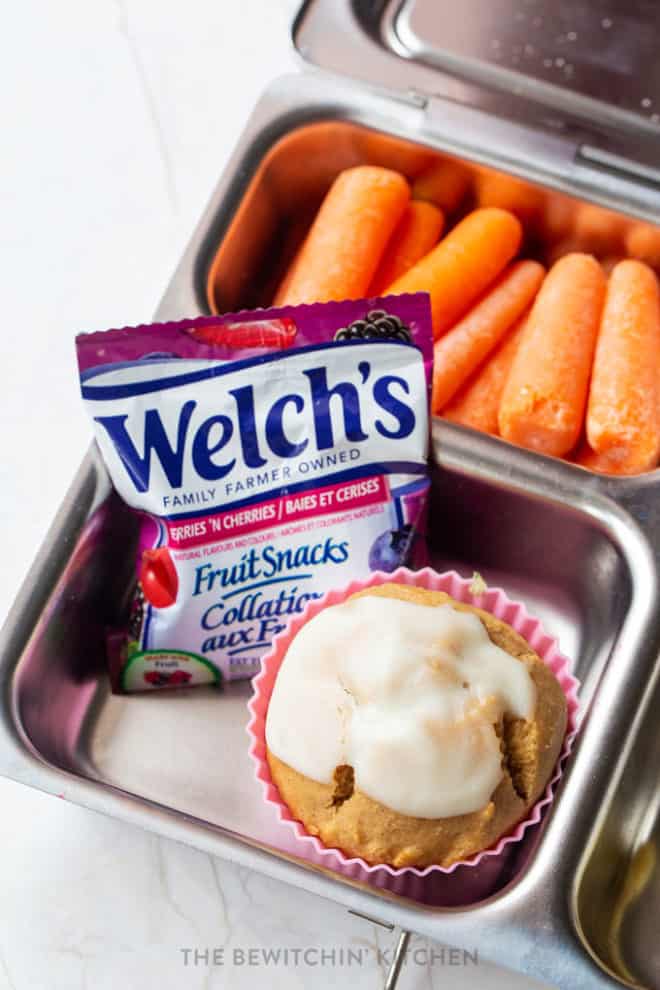 Here are 6 easy school lunch ideas that I've personally packed for my son.
It's easy enough to make swaps to suit your child. Swap a vegetable for a vegetable, fruit for a fruit, and if your child loves sandwiches as much as my son does – add their favorite instead of the options I listed below.
I will add that you don't have to come up with new lunches every single day, that adds to mommy burn out. Swap one or two of the foods and trust me, the kids are happy with that.
Lunch 1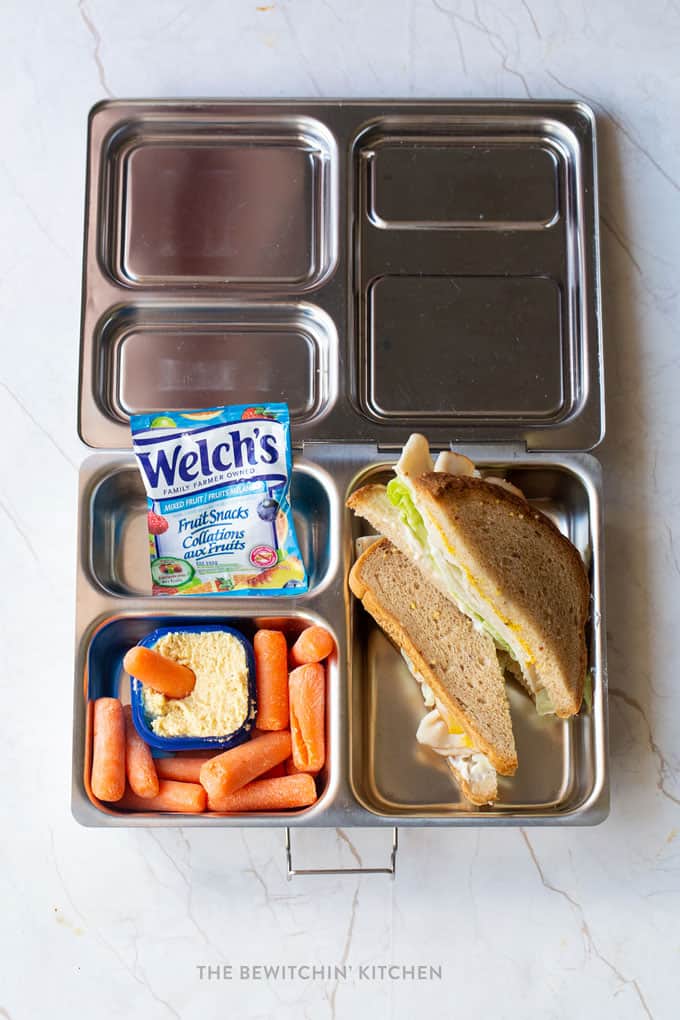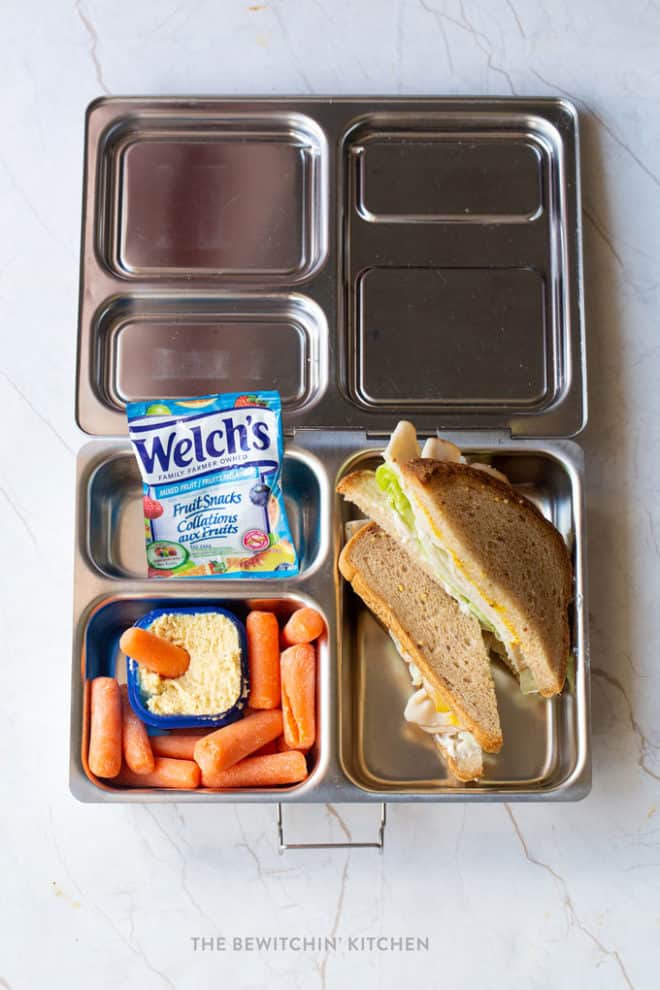 Turkey sandwich
Carrots
Hummus
Welch's® Fruit Snacks in Mixed Fruit.
Lunch 2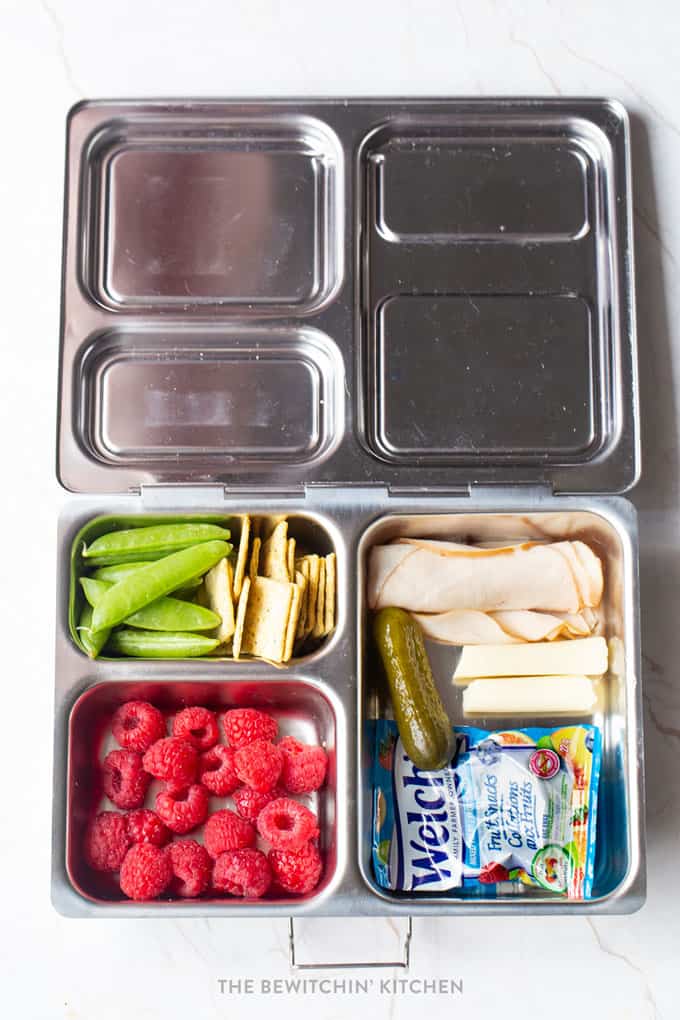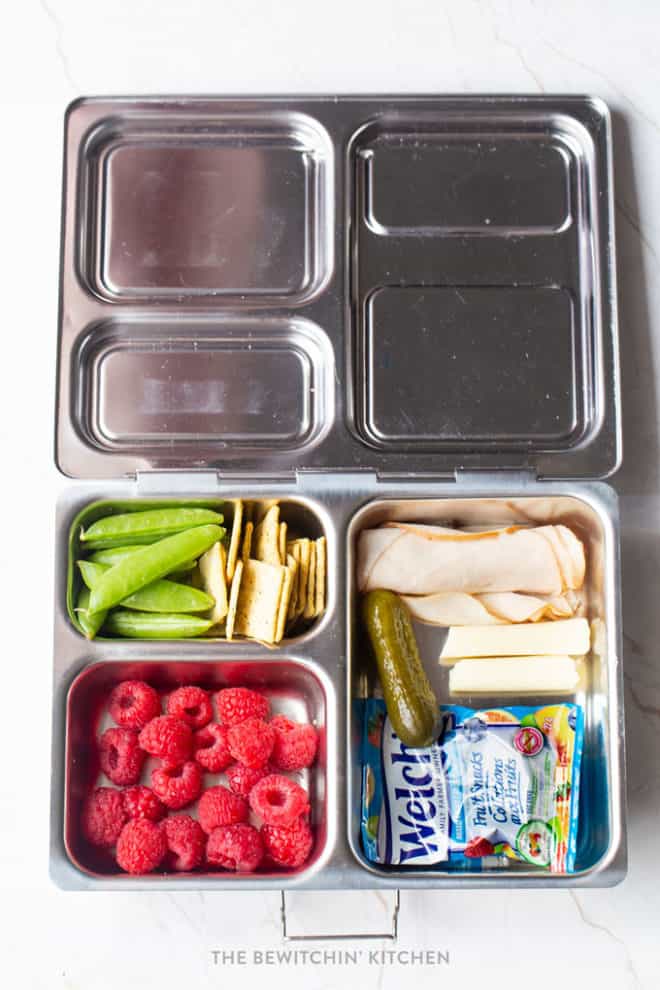 Growing up, this would have been my favorite. I personally love the "snack style" lunches with crackers, meat, and cheese.
Peas
Crackers
Deli meat roll-ups
Dill pickle
String cheese
Welch's Fruit Snacks in Mixed Fruit.
Raspberries
Lunch 3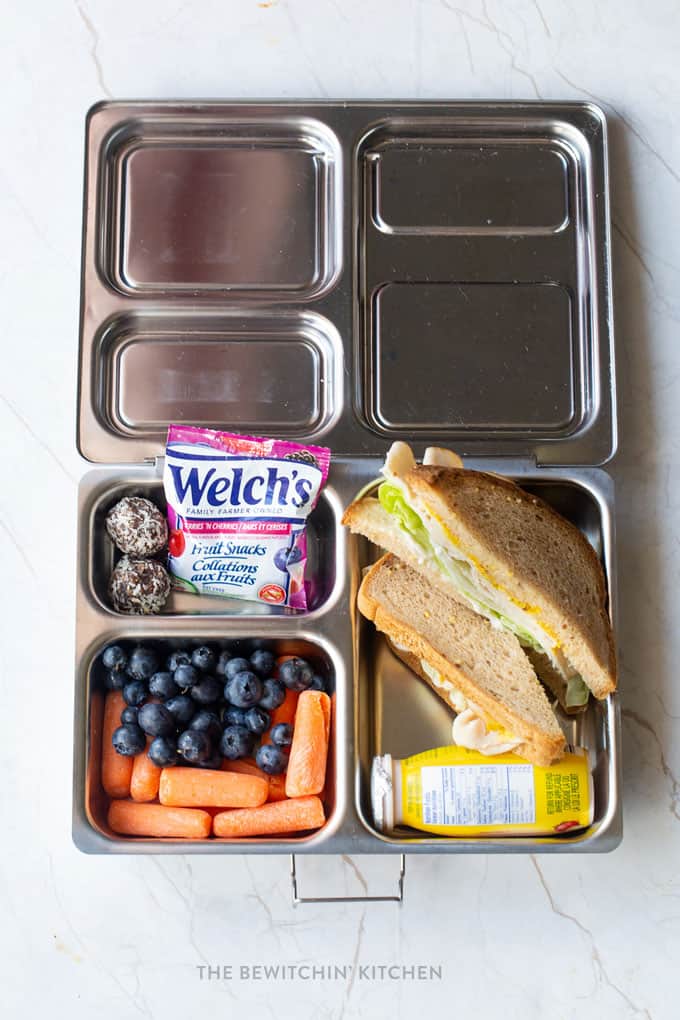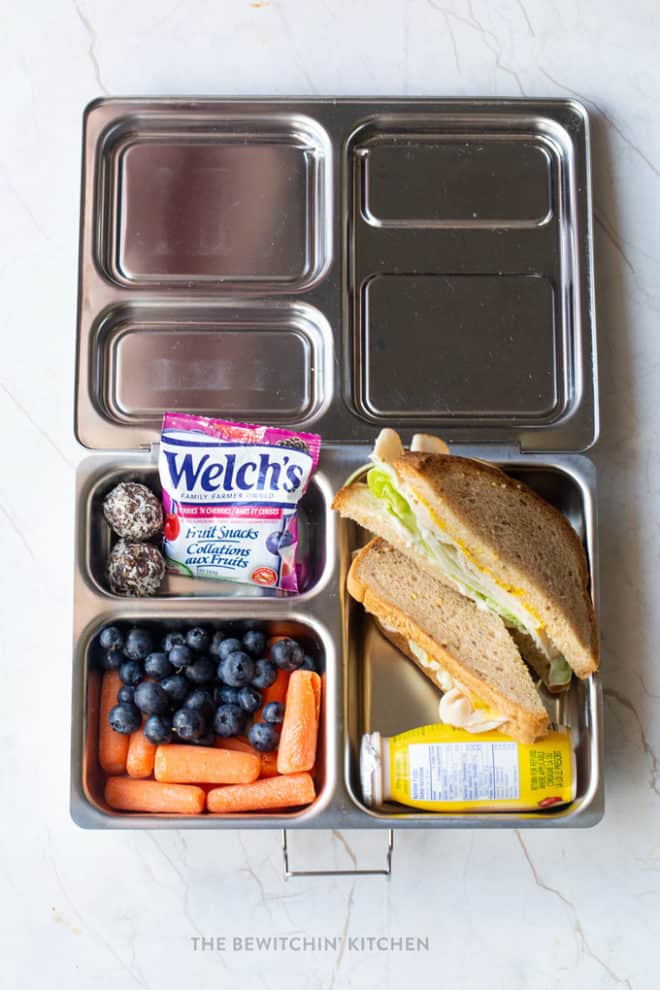 Drinkable yogurt
Blueberries
Welch's Fruit Snacks in Berries 'N Cherries
Turkey sandwich
Carrots
Energy bites
Lunch 4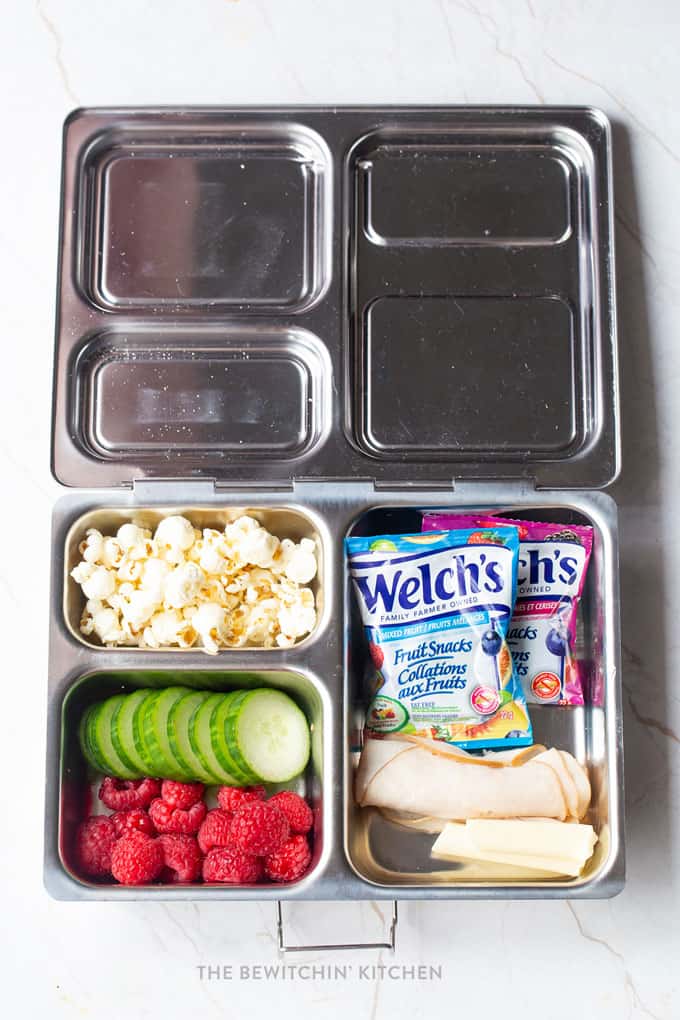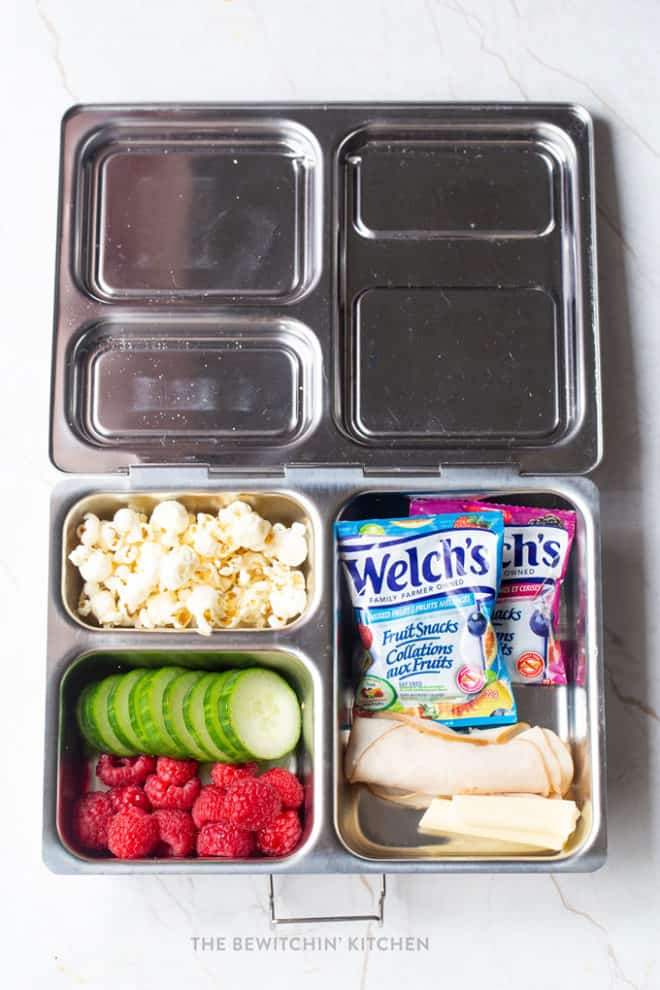 Popcorn
Welch's Fruit Snacks in your favorite flavor variety
Cucumbers
Raspberries
String cheese
Turkey roll up
Lunch 5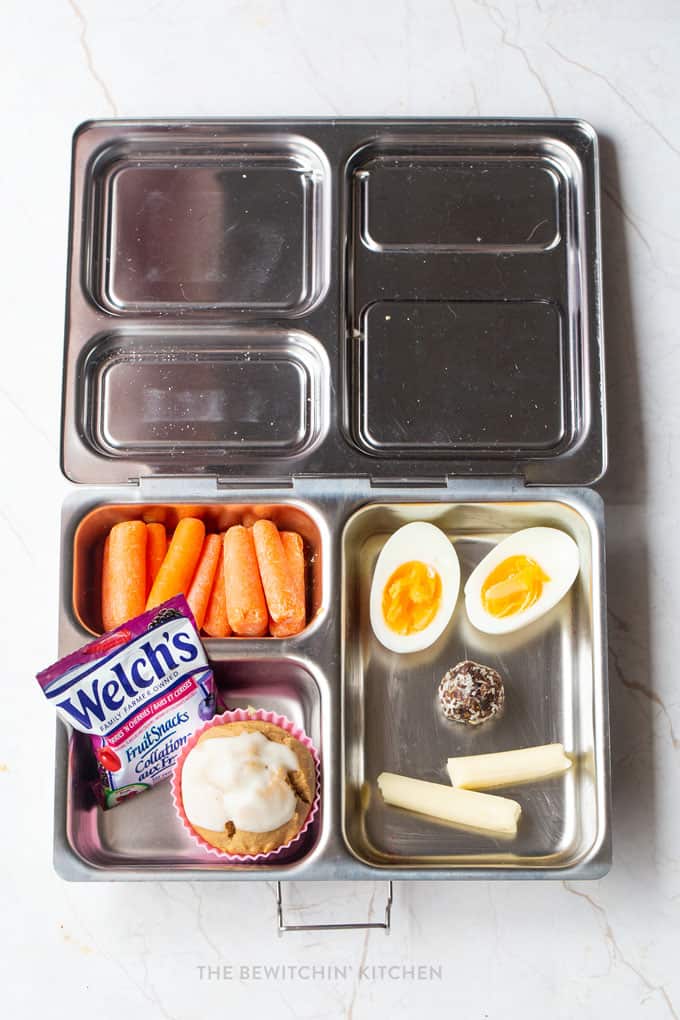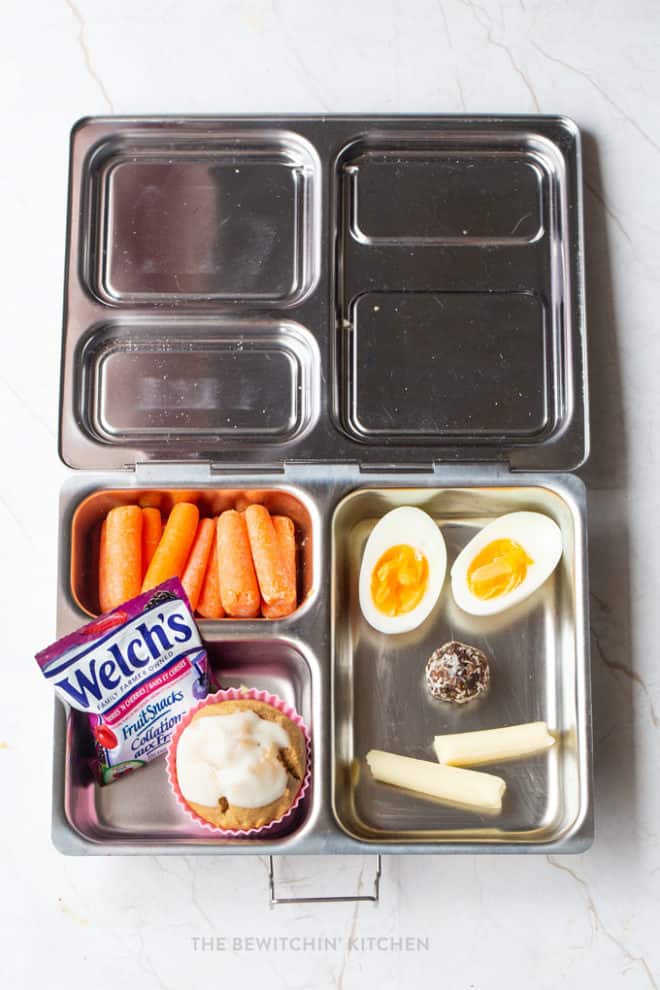 Okay, there's a face here but I swear that happened by accident (and I was super excited when it did).
Cinnamon roll muffin (the "frosting" is Greek yogurt and a little bit of sugar).
Carrots
Welch's Fruit Snacks in Berries 'N Cherries
Hard-boiled egg
Energy bites
String cheese
Lunch 6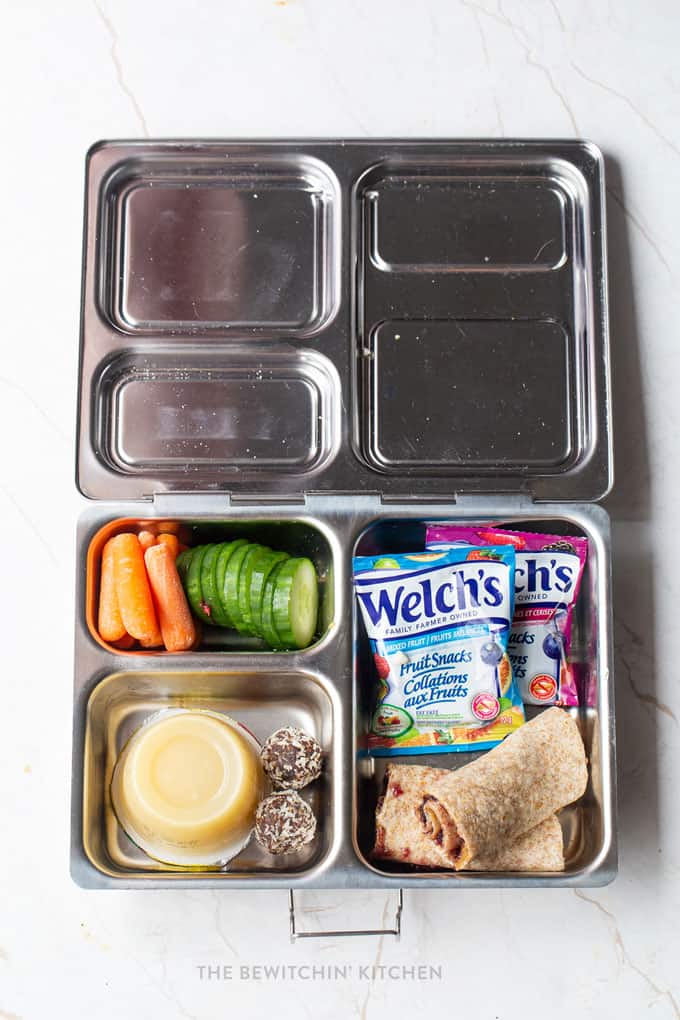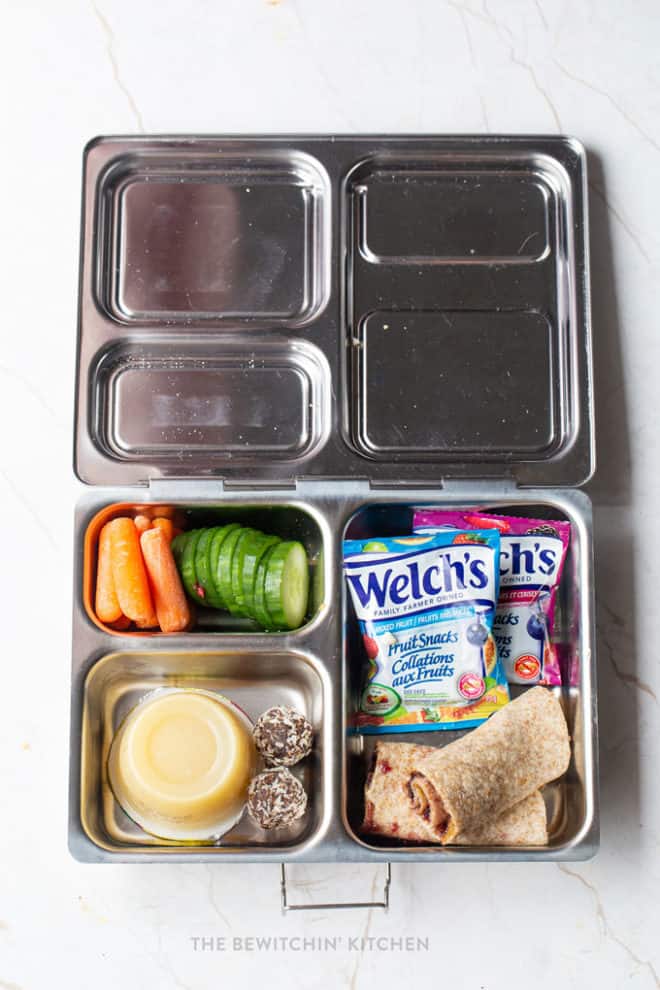 Sunflower butter and jam roll-ups
Welch's Fruit Snacks in your favorite flavor variety
Cucumber and carrots
Apple sauce
Energy bites
Bento Box Snack Ideas
In addition to the typical sandwich, wrap, or stuffed pita here are some snack ideas for recess.
Welch's Fruit Snacks
Whenever my son has Welch's Fruit Snacks in his lunch, I'm the hero of the day. They're one of my favorite choices for back to school. They're a treat for my son and they're made with real fruit which makes them so delicious!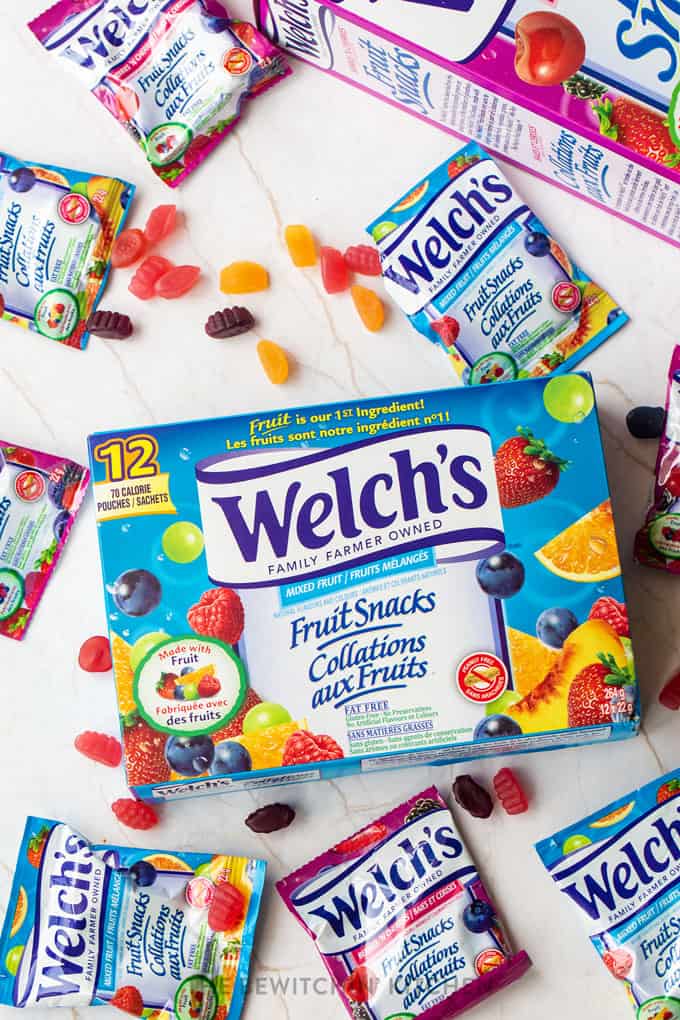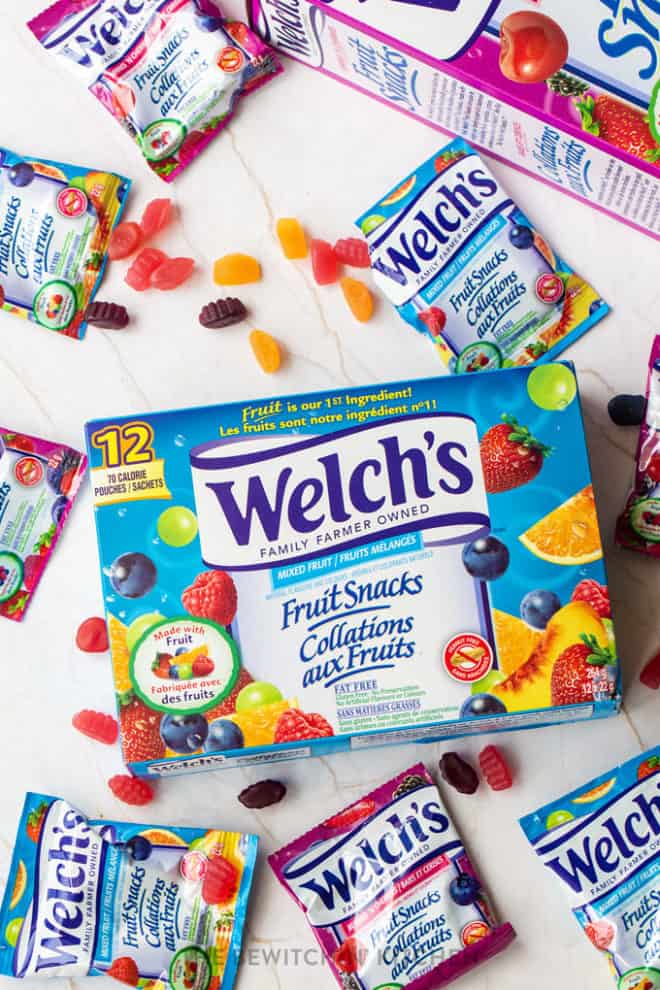 Fruit is the first ingredient in this snack time favourite and with it having natural flavours and colours is one less thing I have to think about. They're gluten free too! They're the only fruit snack we ever have in our house.
Veggie of Choice
A house rule with kids school lunches is that there have to be vegetables, but they get to choose it. Some of my son's common vegetables for school lunches include:
Carrots
Snap peas
Cucumbers
Bell peppers
Popcorn or Tortilla Chips
I will add some air popped popcorn or tortilla chips for a fun crunch for bento-style lunches.
Other options you can add are crackers, pretzels, and roasted chickpeas!
Muffins/Breakfast Cookies
I will add the odd homemade muffin or breakfast cookie. I say breakfast cookie because I don't add sugar to them, so they fuel my son while giving him a treat.
Try these: Blueberry Breakfast Bars
or these Almond butter balls (substitute sun butter if it's a nut free school).
Dipping sauce
It's not often my son brings a sauce to school with him (he's not as into dips as I am) but when he does, he likes hummus or guacamole. Guac can be tricky since it turns brown, but you can buy individually packaged ones that make it easier.
Another good dip to add to lunches is ranch dressings, most kids love it (but for some reason mine doesn't), and it just may encourage them to eat their vegetables!
You can find out where you can purchase Welch's Fruit Snacks here.
Want to save some money? Save $1 by bringing this coupon to your local store.