5 Dinosaur Party Games and Activities Guests Will Dig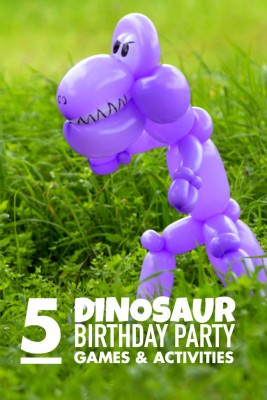 Unearthing cool dinosaur party games and activities for a prehistoric celebration just got easier! Jennifer Carver, from Spaceships and Laser Beams, is sharing five super-cool dinosaur party games and activities that guests will dig! So grab your pith helmet and excavation tools as we explore her ideas together!

It comes as no surprise that children love party games and activities. I've heard it said many times that a children's party is only as strong as its activities. I'm thrilled to share 5 rock solid ideas, sure to delight any dinosaur lover!
Dinosaur Party Games and Activities Guests Will Dig
1- Host a dinosaur dig!  Fill up a sandbox or plastic tub with sand and hide dinosaur bones (available for purchase at many toy stores or online) for guests to excavate. Gift guests with play excavation kits (even small paint brushes and magnifying glasses would work). They will love unearthing the fossils.
2- Visit a real dinosaur museum.  There is nothing quite like seeing life-sized replicas of prehistoric creatures in person. Arrange for your party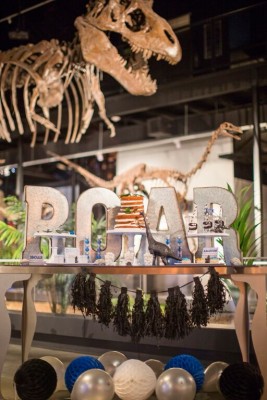 guests to visit a museum and go on an explore. Check to see if you can get a special guided tour or participate in a dinosaur related activity while you are there. Many museums offer party packages. 
3- Make a model dinosaur.  Many inexpensive commercial kits are available. How fun would it be for guests to put together their own dinosaur right at your party? Not only would this activity function as part of the planned entertainment, but it also functions as a take home party favor too—bonus! 
4- Hold a Dinosaur Egg Hunt.  Designate an area of the party space for a dino egg hunt. Fill plastic eggs with small toys and trinkets (candy, temporary tattoos, stickers, mini dinosaurs) and hide them all over the designated hunting grounds. Guests will love searching the premises for the hidden eggs. Let guests keep the eggs and included treasure.
5- Play "Hot Lava".  Whether you use pillows or tape down pieces of cardboard or paper, mark off a path guests must cross without falling in the "lava". Make sure you spread the markers out far enough that there is a little bit of a challenge, but not so far that crossing without falling off is impossible.
Pick and choose from any of these exciting activities to pack a prehistoric punch at your next dinosaur party!