Why I Felt Safer at Disney
At (hopefully) the tail end of the Covid-19 pandemic, travel and parks are beginning to reopen. While planning your spring-break and summer vacations to Orlando parks, you might be pondering what the changes will be and what the health saftey and risks of your traveling might bring. While I did not visit every park this spring-break, I hope you can take some helpful tips from my experience with Sea World and Disney World.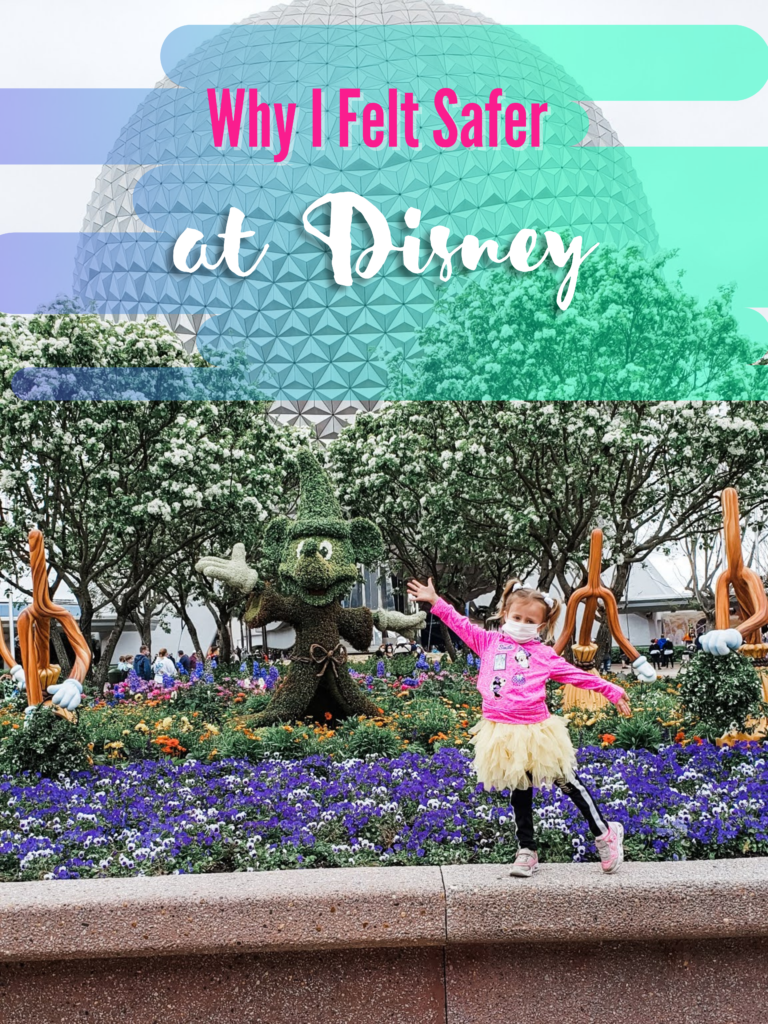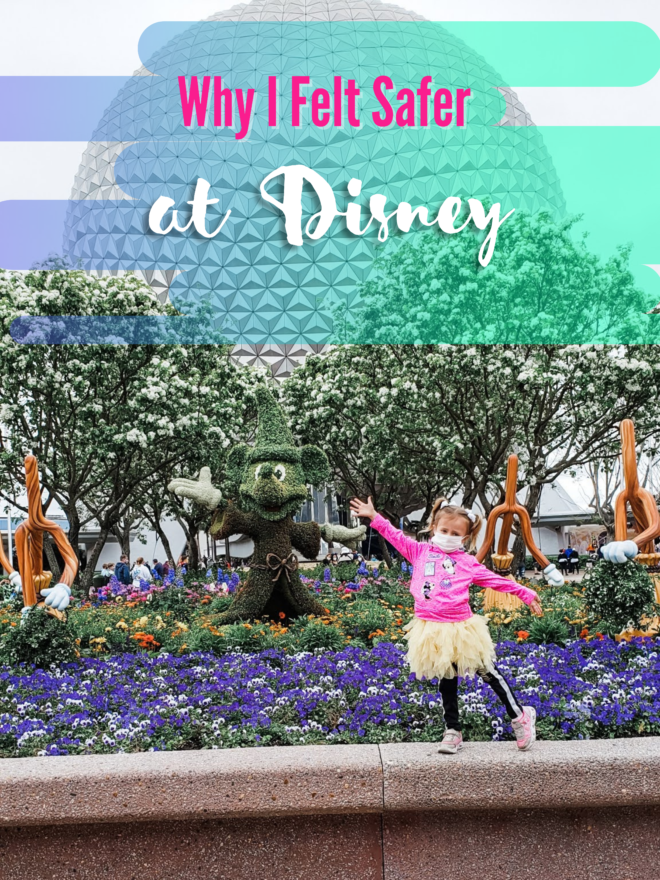 Tickets and Reservations at Orlando Parks
Orlando was a last-minute spring break decision for us this year. We'd been stuck in a Colorado snow storm for a while and thought 80 degrees and wake-surfing with our cousins at lake Minihaha sounded like heaven. Since we'd be right next door to Disney, we promised our daughter we'd visit Micky Mouse. However, as I checked into getting Disney tickets, I was surprised to find that you had to both purchase a ticket and make a reservation. For pandemic safety reasons, Disney World is operating at thirty-percent capacity. And the reservations were mostly already taken. We were able to snag a spot at Epcot for one day, and that was it.
When we got to Orlando, other family members had decided to join us and they wanted to go to a park too. We tried Universal, but they were also out of reservations. The last place I could think of was Sea World. We wouldn't normally pick Sea World. This is a pandemic safety post, so I won't explain. However, Sea World was open and I was panicking, so we booked tickets and reservations.
Sea World was a spring-break nightmare. From the second we turned into Sea World traffic, we were sitting in line. Just getting through to parking took thirty minutes. Then the line to go through the temp check station took another thirty minutes (literally, I timed it). That was just the beginning of the crowd drama. It's a theme park so lines are expected. Everywhere we went there were lines for the restaurants, for the rides, for the bathrooms, games, etc. The lines were not the problem.
The problem was that not many people were following the pandemic safety rules like "stay six feet apart" and "wear your mask over your mouth and nose." There was really no way to do this in many cases. The roller coaster lines were clearly marked and spaced, but lines for the restaurants and many of the kid's ride lines were more like six inches apart instead of six feet.
The problem that Sea World had was that they didn't have nearly enough markers spacing lines out, and they didn't have enough staff to enforce the rules. Consequently, the ninety minute line I waited in with my five year old for lunch, was packed with people so close we were definitely breathing each other's air.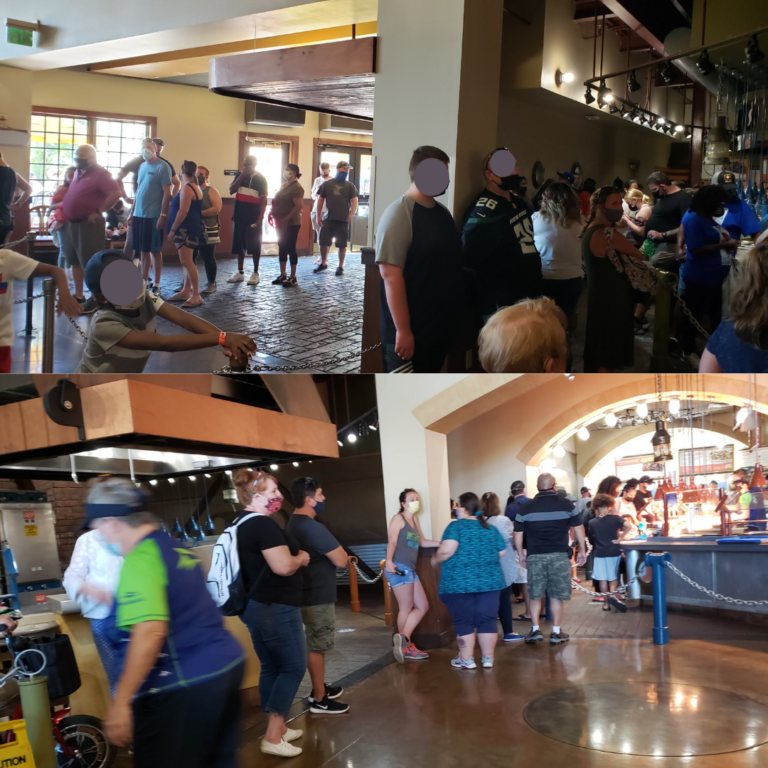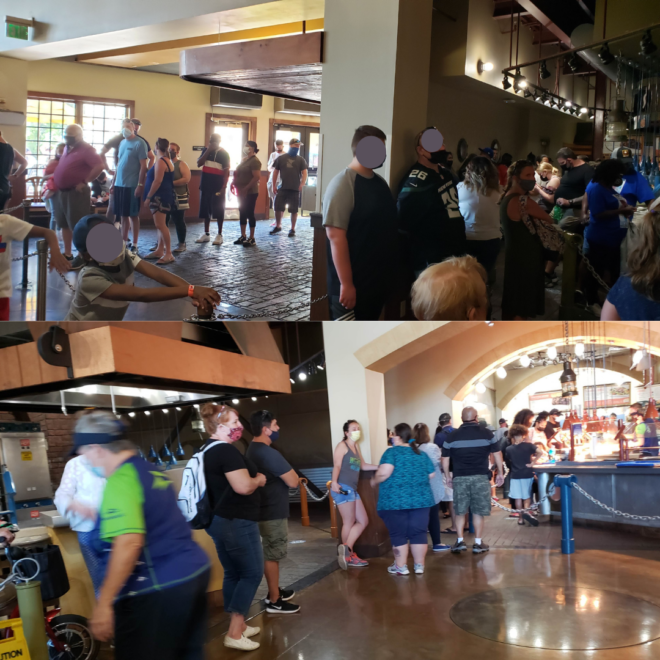 The kids' rides were also really bad. Sea World doesn't have rides for under 40inches at every part of the park like Disney does. Rather, they relegate the kids to the Sesame Street section of the park. The lines there were again long, packed, and not well marked. We waited for forty-five minutes to get through the carousel ride. Every child was hanging on the railings that marked the line, masks were on some and off some, and the kid in front of us was sucking on the railing. Forget Covid. At this point we were thinking, strep, bacterial meningitis, hand, foot and mouth. By the time we got off that ride, all I wanted to do was go home and bathe in hand sanitizer. Kidding. Don't do that.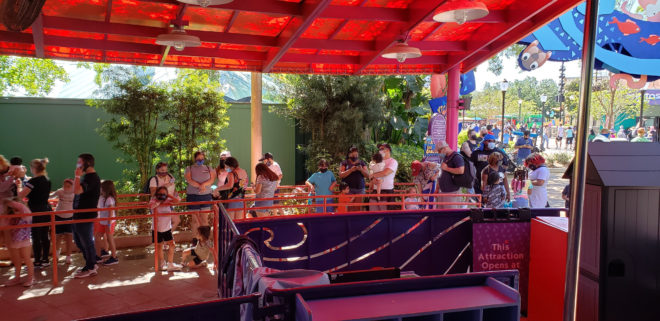 The third problem Sea World had was health safety at their shows. Again they had good rules, but no one was there enforcing them. People were supposed to sit six feet apart with a row open in between families. That happened in most cases, except with us. In our case, a large family sat directly behind us, so close that my son had beer spilled on him. That's the story of the rest of Sea World. Zero rule enforcement. Some people had masks, and some didn't. Some people kept a respectful distance, others didn't. Coming in and out of the shows was like wading through a Sea World of people, even though they tried to release people from their seats slowly. My husband said he didn't want to go to Epcot. He figured it would be just as bad. I said I thought Disney would handle it better because they are masters of crowd control. Luckily, I was right.
Disney safety and crowd control was nothing like Sea World's. Here's what they did right:
Reduced Capacity: When Disney says thirty percent capacity, they mean it. The drive in was quick and what we immediately noticed was that the parking lot was nowhere near full. Regular parking was just as good as the preferred parking because there weren't that many cars. The walkways and boardwalks at Epcot were fairly open. At no time did I feel like anyone got too close for comfort. There was plenty of space.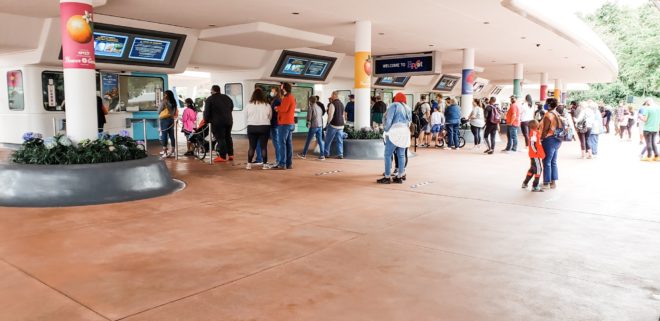 Line Space Markings and Safety: Disney was masterful with the line space markers. There had to be thousands of those stickers everywhere. From the ticket entrance to the vendors. Everything was clearly marked. They also moved you through quickly. At high volume places like the park entrance, they had people with scanners coming through, issuing park cards. We moved through it so quickly.
At restaurants where we had to wait, there were clearly marked spaces to do so. At the most popular ride in the park, Frozen Ever After, the line was so spaced out, it wound itself clear from the Norway section into China. But everyone was calm, safe, and moving in the right direction because they also had five security members there directing people where to go.
On rides like The Three Cabaneros, where there was a turn-style type line, they had full walls with clear plastic windows erected to keep people apart.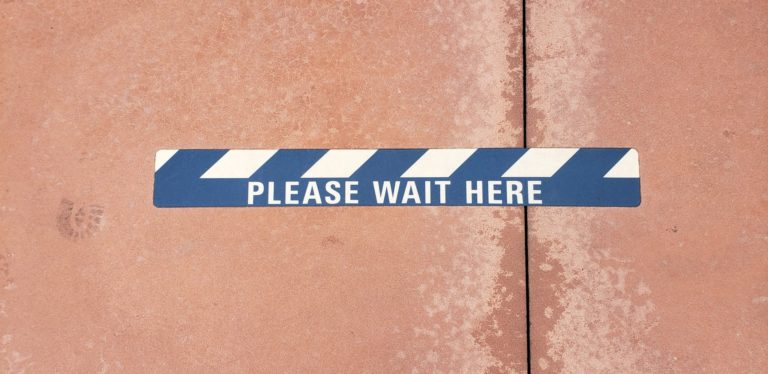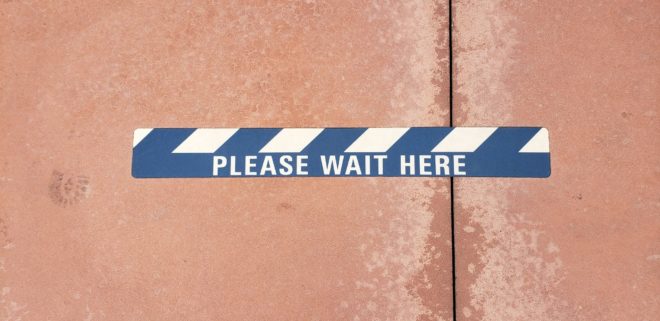 Masks: At Disney, everyone was wearing a mask properly. And if you weren't, you were quickly asked to do so. My family hadn't even made it through the parking lot when Disney Cast members stopped us and politely pointed out that my five year old princess had left her mask in the car. Luckily, I had planned for mask disaster, so I pulled out a disposable spare as the cast members clapped, complimented me on being prepared, and told my daughter to have a magical day.
There was another time that I was at Disney Springs and as we were going through security, I saw the security guards ask a few people to wear their masks correctly. They were all over the mask enforcement, and it made us feel safe. Really safe. Like I don't even feel this safe at the grocery store type of safe. Like at any moment, I expected the Gray's Anatomy cast to wheel out a patient and start working on them, type of safe.
Temperature Checks: We were individually checked with a thermometer that scanned the forehead before we entered the park.
Hand Sanitizer: At every ride before and after the ride, they had touchless sanitizer stations. We took advantage of those. At every restaurant they had a station, and people were reminded over loudspeakers to wash their hands or feel free to use the sanitization stations.
Rule Enforcement: Disney has the capacity and manpower to explain and enforce their rules. Periodically, they announce on their loudspeakers that you should be wearing your mask properly at all times unless you are stationary and eating. Otherwise they'll ask you to leave the park. Then they have a huge team of people with radios and smiling faces that will do just that.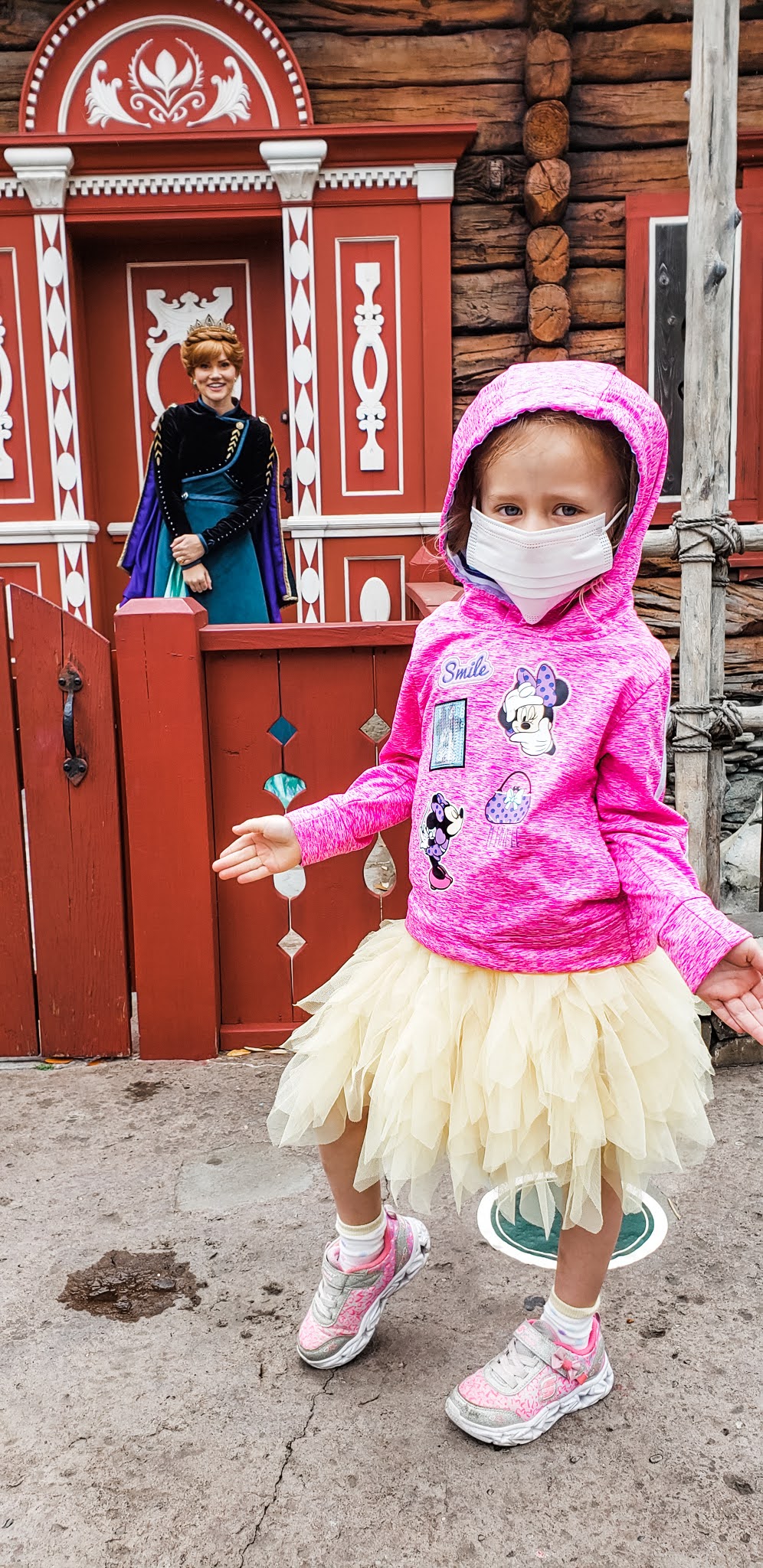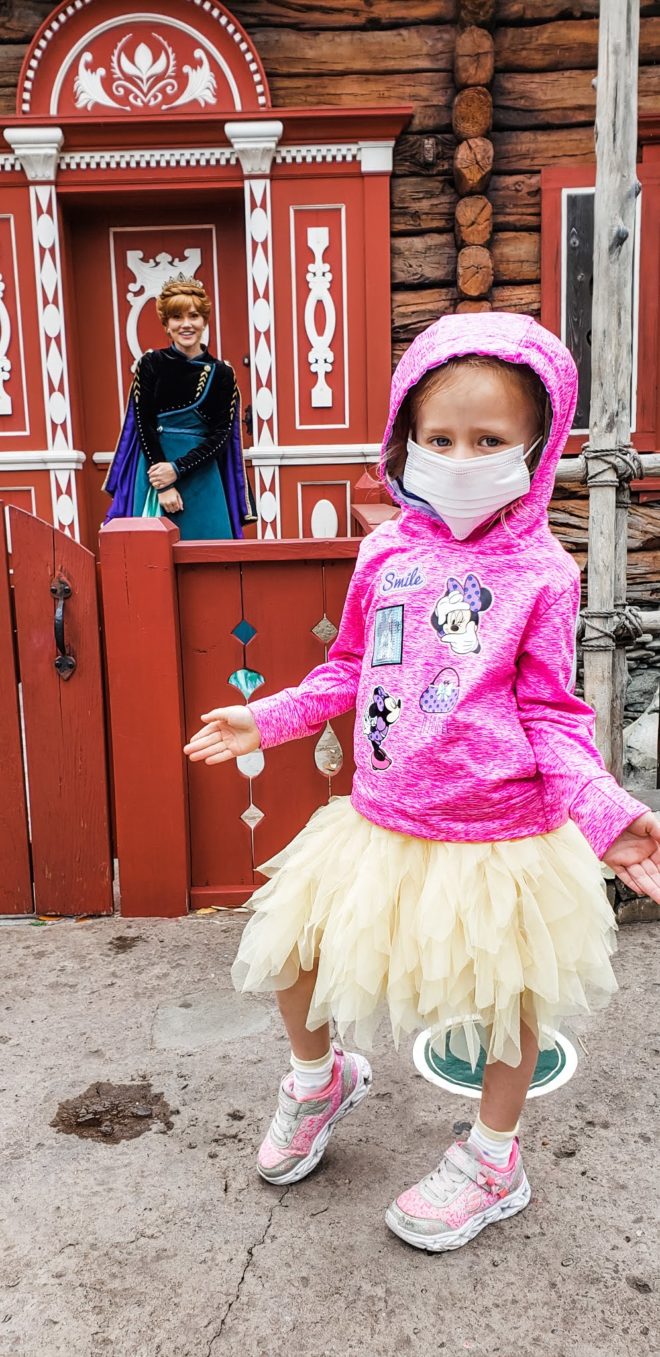 Be Aware for Your Level of Health Safety
To conclude this article, I'd like to add that you should do whatever your family is comfortable with when you vacation. If you're a lucky family that's been vaccinated or feels comfortable around a crowd, then going to places like Sea World will be fine for you. However, if you have members of your family who are higher risk, not vaccinated, or more concerned about health safety, I'd choose Disney. I definitely felt safer at Disney. Plus, due to the reduced capacity, it was just nicer to not have to wait in ridiculous lines.
For more travel articles check out: 10 Tips to Eat Healthy at Disneyland, Quick Tips to Save Money at Disney, Gluten Free at Disneyland
For more information from Disney for their health and safety guidelines click here.