Southwestern Roast Chicken in the Ninja Foodi
What I love about this Southwestern Roast Chicken dinner is that it's one and done. Simply all the ingredients in the Ninja Foodi and you'll only have one dish to wash!
On top of that, this meal goes a long way. It's the perfect meal to enjoy during the first few days back to school as you get used to your new routine.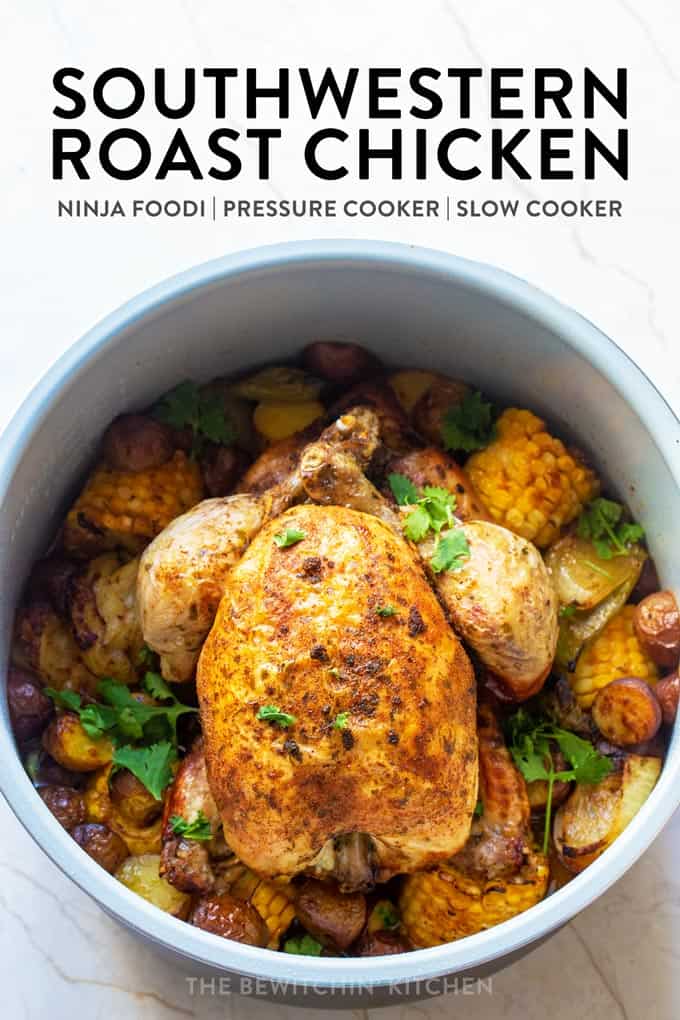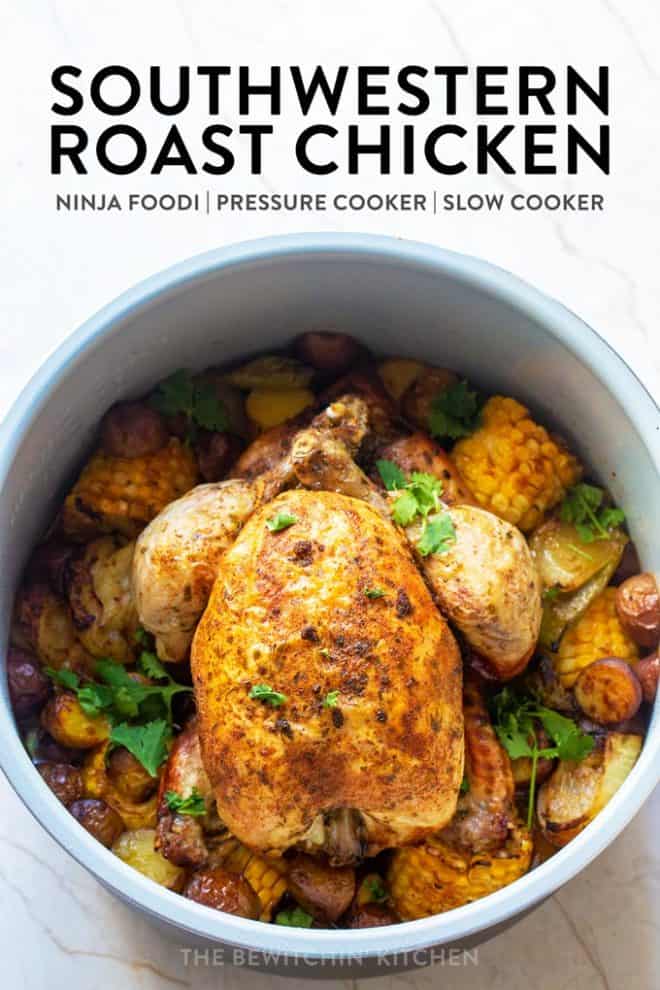 Southwestern Roast Chicken
Disclosure: I am participating in the Chicken Farmers of Canada campaign managed by SJ Consulting. I received compensation in exchange for my participation in this campaign. The opinions on this blog are my own.
Every month for the past four years I have been creating a chicken recipe for my friends at Chicken Farmers of Canada. This month I'm crazy excited because not only do I get to use a new kitchen toy, but I also get to share a recipe that's incredibly budget-friendly because this recipe stretches far.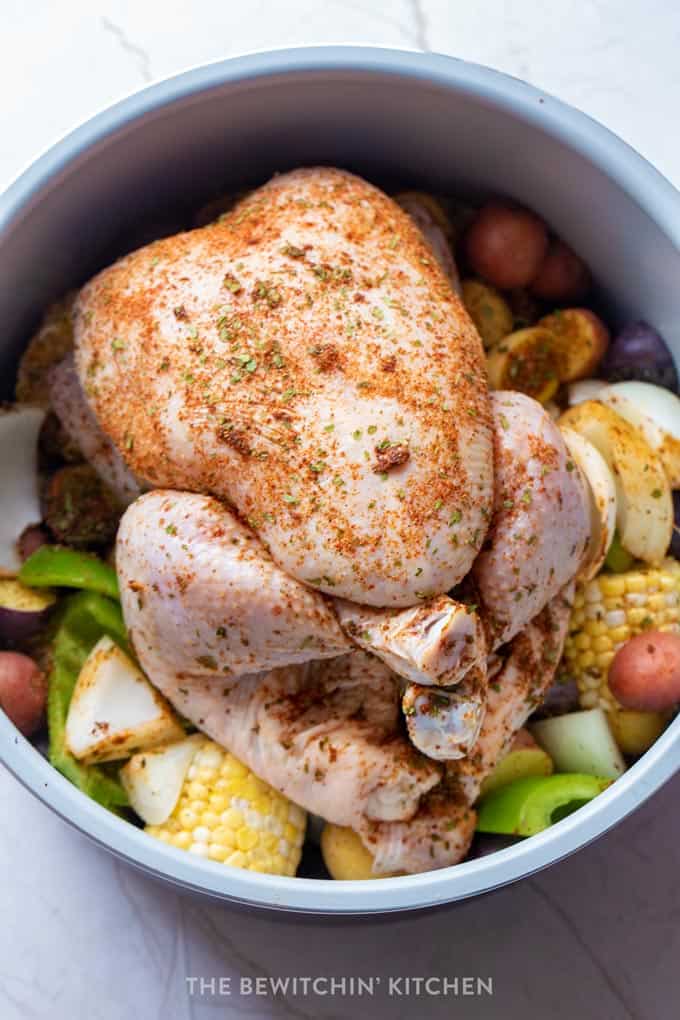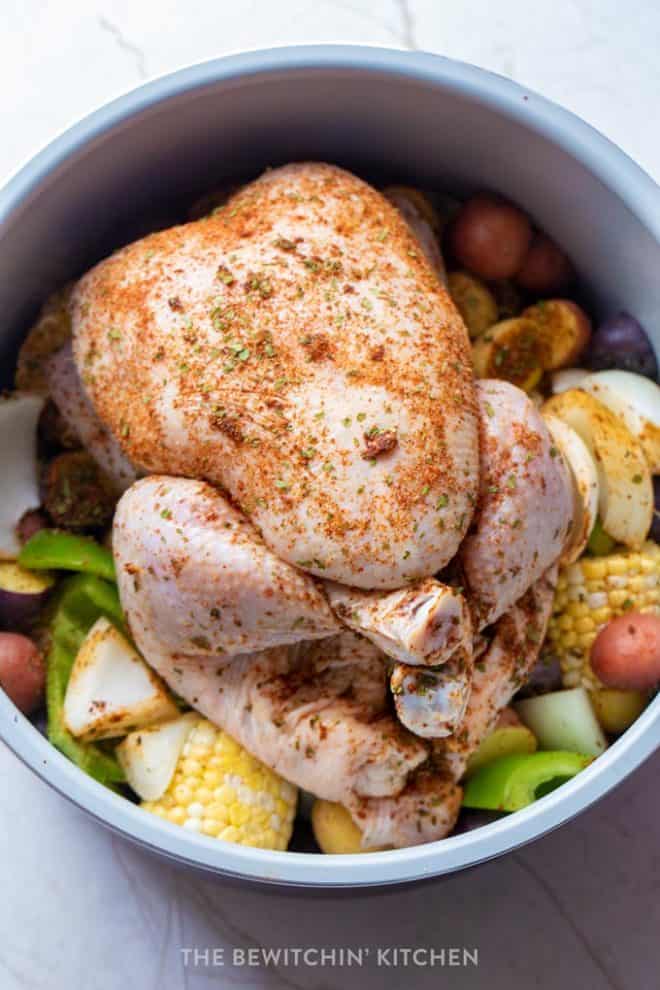 One of the biggest budget-friendly foods you can add to your grocery list is a whole chicken. Not only do you get a wholesome meal, but you can turn that into so many different meals that no one would guess are "leftovers".
If you're in Canada, be sure you're on the looking for the Raised by a Farmer logo on your chicken. This ensures that your chicken has been raised by Canadian farmers!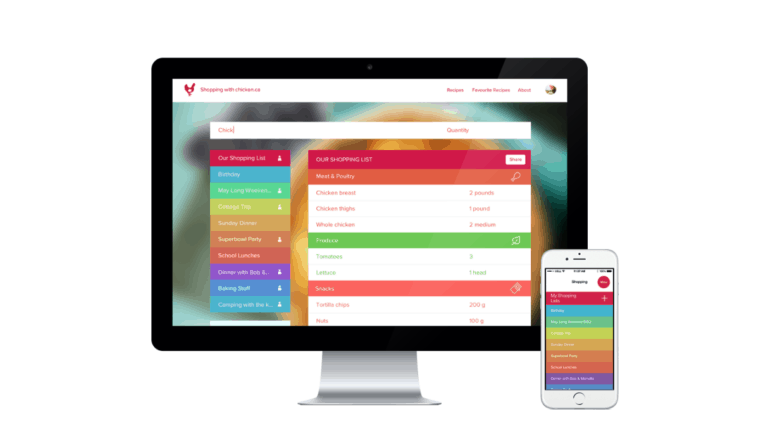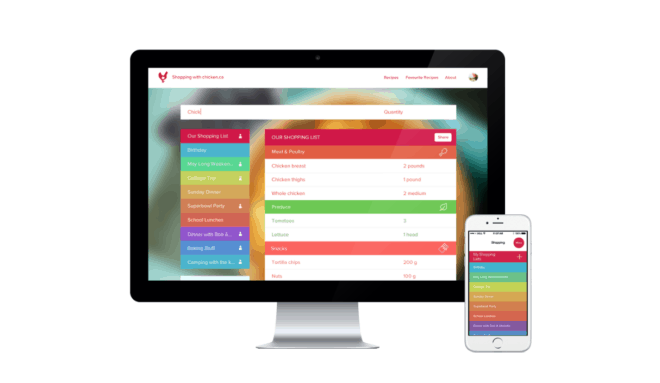 Another hot tip? Download the Chicken App! This app is more than just a grocery list maker, it gives your recipe ideas, syncs said grocery list with other people in your household and just makes meal planning easier!
Roast Chicken Leftovers
Recently on my nutrition website, I shared 13 healthy recipes using rotisserie chicken. Head over there for more chicken leftover inspiration.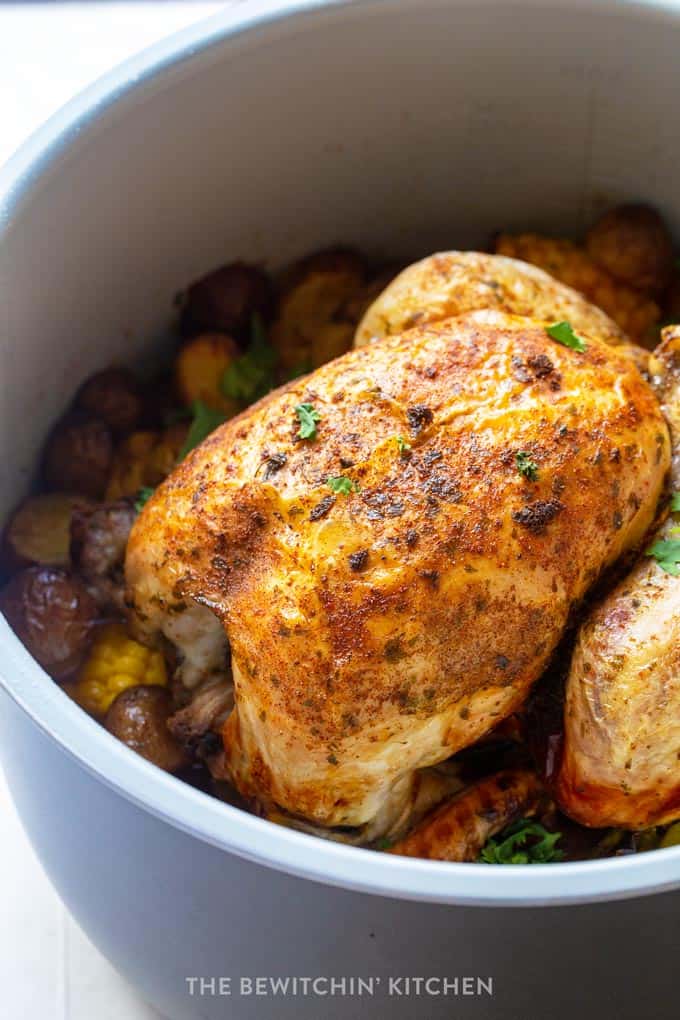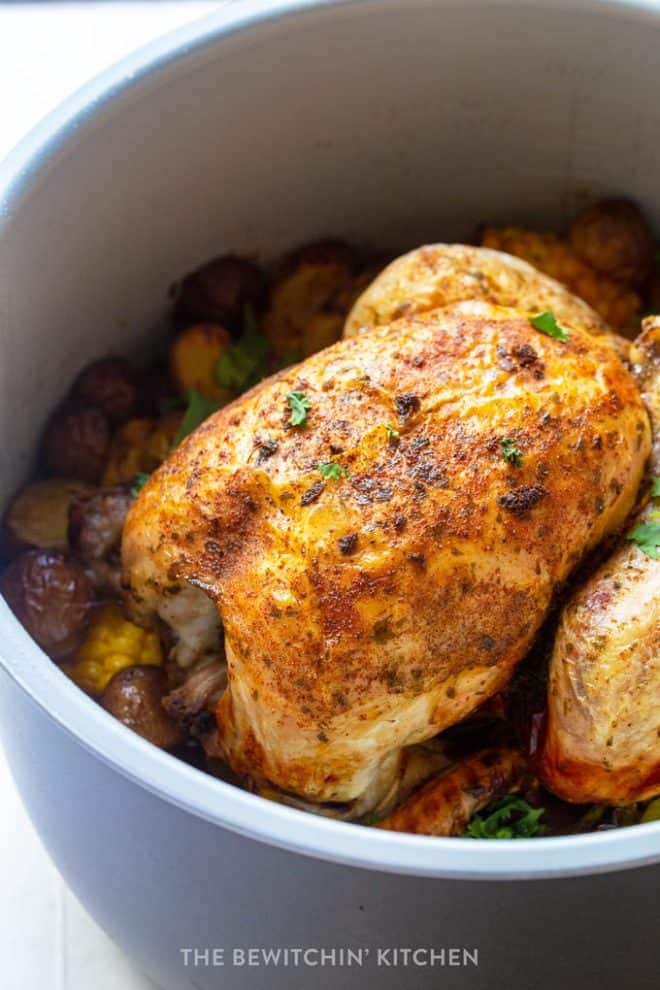 If you don't have much meat left for leftovers, you can boil the bones and make a bone broth (here's how to make bone broth in an Instant Pot). From there you can go forward with a soup or freeze it for a later use.
Ninja Foodi Roast Chicken Dinner
This Southwestern-inspired chicken dinner is the first meal I made in my new Ninja Foodi and I am so excited to share it! I bought my new kitchen miracle on Prime day and I have been tracking it wildly for the past week.
Don't have a Ninja Foodi?
You can make this in a pressure cooker (InstantPot), slow cooker, or you can adapt it and roast it in the oven. I have further instructions in the note section of the recipe card.
Roast Chicken Vegetables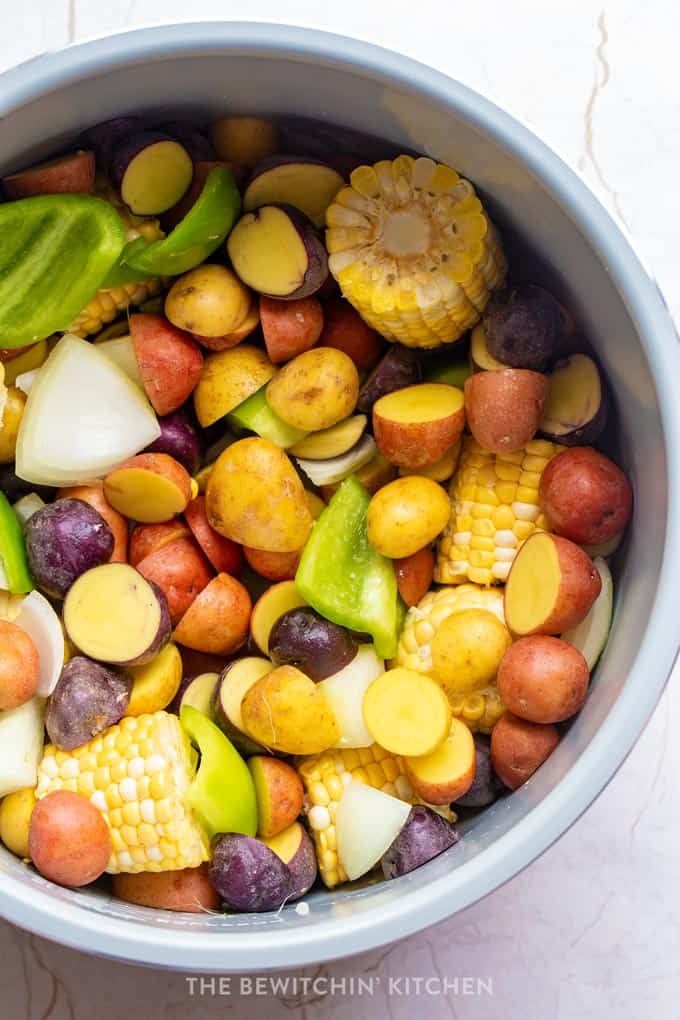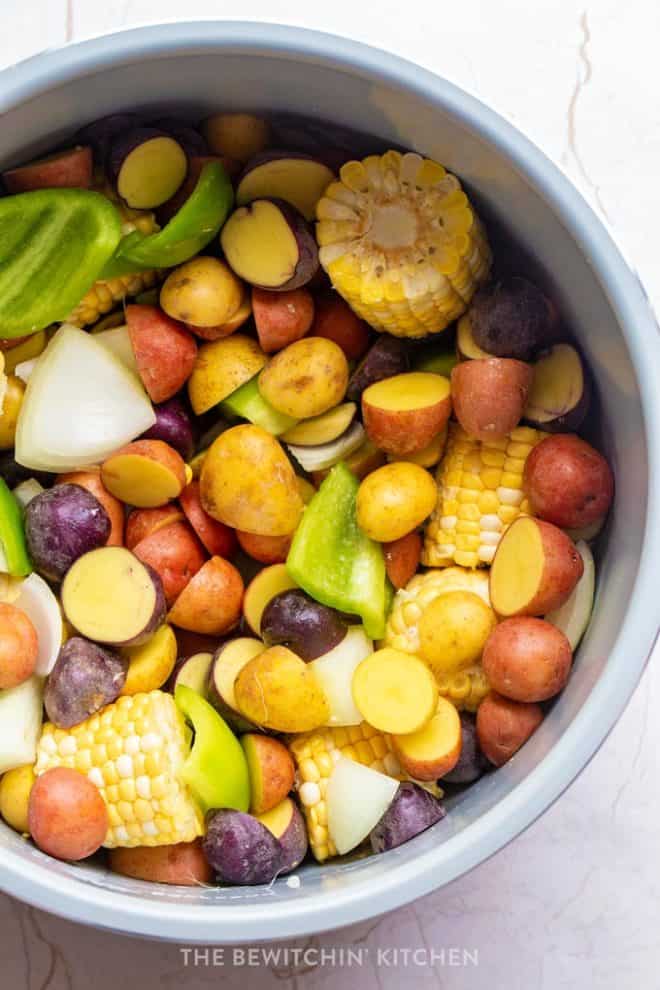 I chose some of my favorite southern flavours and vegetables for this recipe. I wanted something full of flavour to be balanced with hearty vegetables that will hold their shape.
This vegetables I used in this roast chicken dinner are:
Corn
Baby potatoes
Onion
Green pepper
How many calories are this southwestern roast chicken dinner?
According to the nutrition calculator I use for this recipe 1/4 of the whole recipe (including the corn, peppers, and potatoes) is 598 calories total, 53g of carbohydrate, 34g of protein, and 27 grams of fat.
The issue with this calculation is that the 3lbs of chicken includes the bones and I didn't make a gravy so the protein and fat counts will be less than what's listed (making the calorie count go down as well). Another thing to consider is if you don't eat the skin, you'll be taking in less fat there as well.
21 Day Fix Roast Chicken
By popular demand, I am now offering the container counts for the Ultimate Portion Fix. I'll be slowly updating all my recipes so you can use my recipes for Beachbody programs like 21 Day Fix, 80 Day Obsession, Liift4, and more.
Total recipe: 3 green, 6 red, 4 yellow, 3 tsps.
Per serving: 3/4 green, 1 1/2 red, 1 yellow, 3/4 tsp/
Another option is to fill the containers with what you need (1 full red, 1 full green, etc).
How to cook a whole chicken in the Ninja Foodi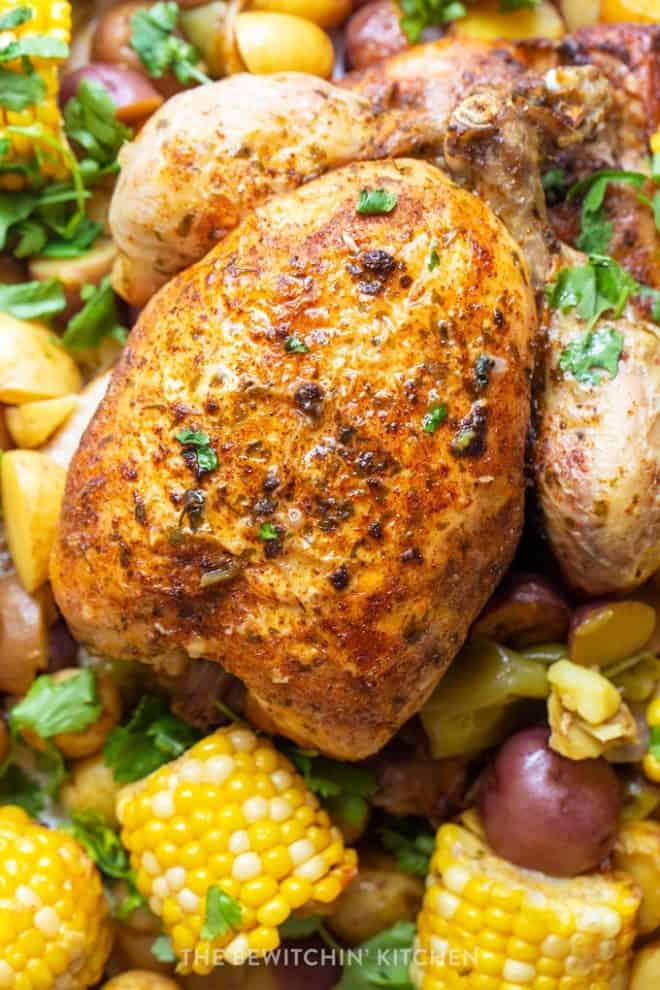 Keep in mind that the Ninja Foodi takes a bit of time to get up to pressure, that is not included in the cooking time located in the recipe card.
It's also important to note to let the chicken rest for 10-20 minutes so you don't lose all the juices.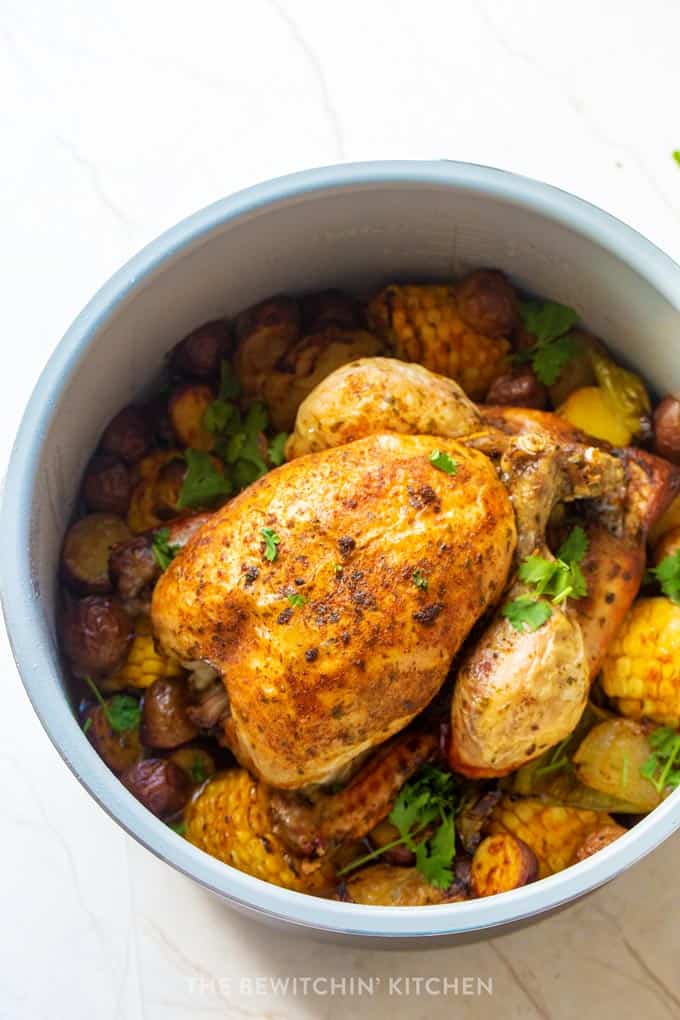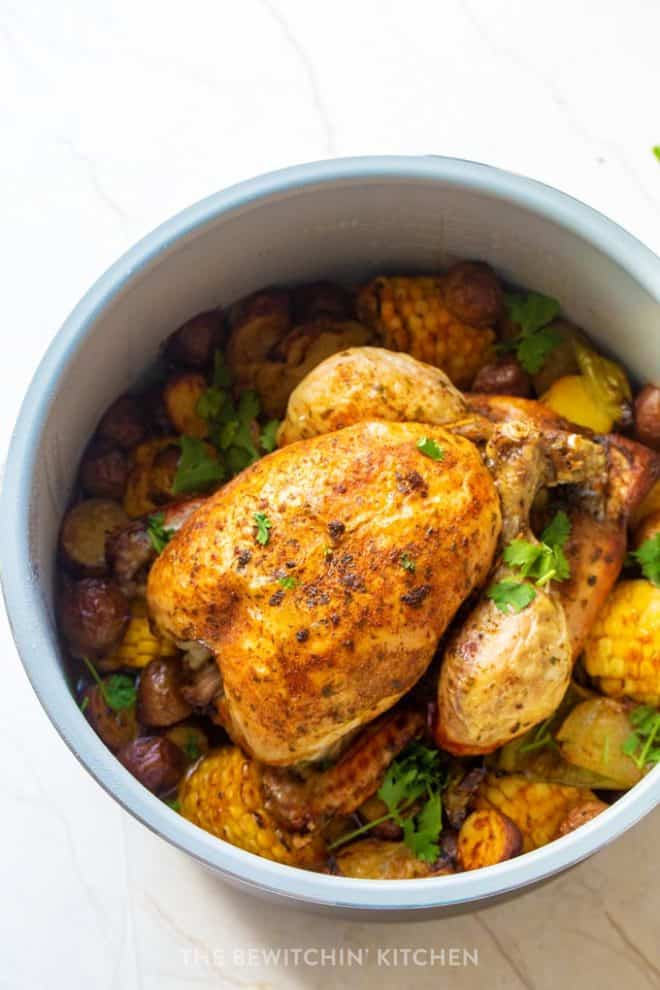 Chicken recipes to try in the Ninja Foodi:
I made this chicken zoodle soup with the leftovers and it was so good!
Want more chicken recipe ideas? Search the recipe sections over at Chicken.ca to discover more healthy recipes. Don't forget to follow them over at Facebook, Twitter, Instagram, and Pinterest.
Southwestern Roast Chicken Dinner
This Southwestern roast chicken dinner is a one pot meal that uses the pressure cooker and air fryer function for a healthy and delicious dinner recipe.
Servings 4 people
Calories 604kcal
Ingredients
3 lbs whole chicken
2 lbs baby potatoes one small bag
2 ears of corn cut into 8
1 green pepper cut into large cubes
1 onion quartered
1 head of garlic
1/2 cup chicken broth or water
cilantro optional garnish
1 tsp avocado oil I used this spray
Southwestern Rub
1 tsp sea salt
1 tsp chili powder
1/2 tsp cumin
1/2 tsp garlic powder
1/2 tsp paprika
Instructions
In the pot of the Ninja Foodi, lay out the corn, baby potatoes, 3/4 of the onion, and green pepper.

Rub the inside of the chicken and outside with the rub mix.

Chop the top of the head garlic and give it a hit with your knife. Throw it inside the chicken cavity, along with the 1/4 of the remaining onion. Place the chicken ontop of the vegetables.

Add the water, place on the lid, seal and pressure cook for 22 minutes on high.

Let the chicken naturally release for five minutes (this keeps it cooking), then vent it.

Take off the pressure cooker lid and spray with a quick spray of Avocado oil (this is the one I have) or brush it on.

Put down the air crisper lid and air crisp at 400F for 10-12 minutes.

Let the chicken rest for 10-20 minutes
Notes
For the Insant Pot
Follow the same instructions but you'll have to leave out the air fryer portion. Let it naturally realease.  Add 1 cup of water or broth instead of 1/2.
For the slow cooker
Follow the same steps (up until the air fryer portion) but cook on low 8-10 hours or high 5-6. Omit the water/chicken broth.
The chicken should read on a meat thermometer at least 165F. 
To crisp the chicken, broil it on a sheet pan for a few minutes until brown.
21 Day Fix Roast Chicken
Total recipe: 3 green, 6 red, 4 yellow, 3 tsps.
Per serving: 3/4 green, 1 1/2 red, 1 yellow, 3/4 tsp/
Another option is to fill the containers with what you need (1 full red, 1 full green, etc).
Nutrition
Serving: 1g | Calories: 604kcal | Carbohydrates: 54g | Protein: 38g | Fat: 27g | Saturated Fat: 7g | Polyunsaturated Fat: 6g | Monounsaturated Fat: 11g | Trans Fat: 1g | Cholesterol: 122mg | Sodium: 835mg | Potassium: 1539mg | Fiber: 7g | Sugar: 6g | Vitamin A: 705IU | Vitamin C: 80mg | Calcium: 73mg | Iron: 4mg
Follow On Pinterest
Follow @bewitchinkitchen On Pinterest for more delicious recipes!