Air Fryer Carrot Fries
These spicy Air Fryer Carrot Fries with aioli sauce and nutritional yeast are a flavorful, fast, and healthy side dish.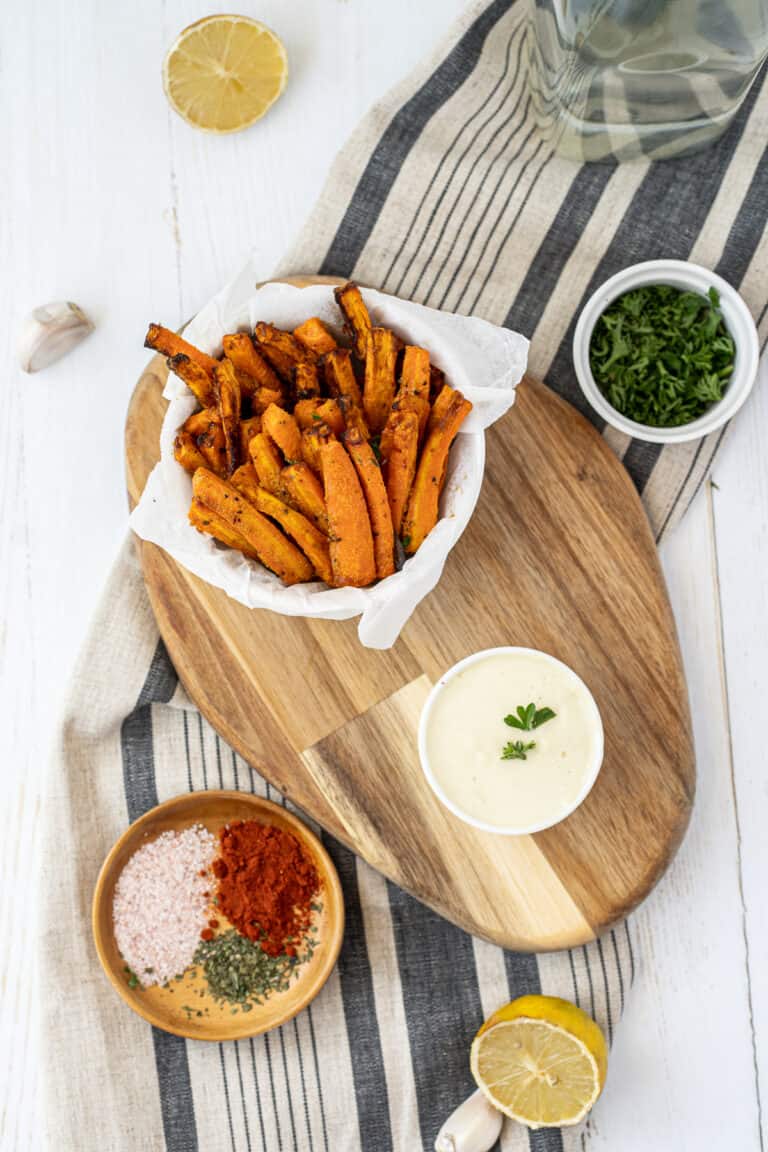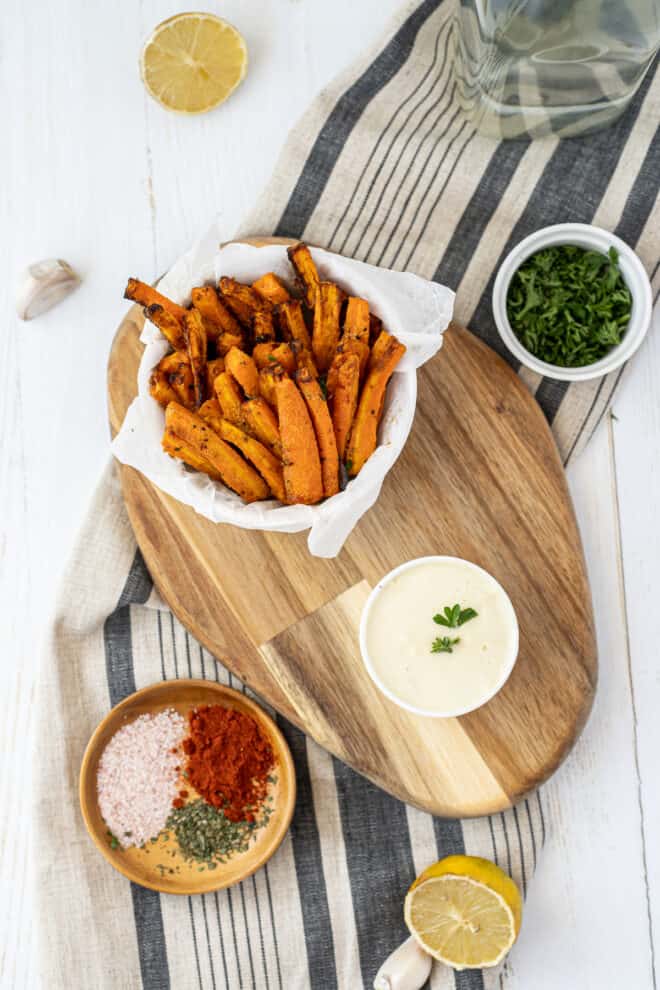 Air Fryer Carrot Fries meet Vitamin B1
Crisp, cheesy, and fry-like, Air Fryer Carrots are an excellent side dish or appetizer. It only takes five – ten minutes to prep and fifteen minutes in an air fryer. If you already have your carrots pre-cut, then it takes even less time. Add to your side a spicy aioli sauce and voila! You have a healthy, tasty, and beautiful side!
Air Fryer Carrot Fries are also a great way to sneak some vitamins into your diet. According to WebMD, a "half cup of carrots contain 73% of your daily need for vitamin A." They also contain "a wealth" of antioxidants, which is great for your skin and organs.
What this recipe adds to the carrots is nutritional yeast. Nutritional yeast tastes like parmesan cheese and it's what Vegans use as a cheese substitute. If you don't have nutritional yeast, you can substitute parmesan cheese. However, Nutritional Yeast is easy to order or buy from a health food store.
The reason I recommend using it is that nutritional yeast provides a natural source of B vitamins including B1 or Thiamin. Thiamin is difficult to get from a natural source because you need to eat a lot to get the same benefit as a synthetic vitamin. Nutritional yeast, however, has most of the B1 you need. For more information, check out Dr Berg on YouTube. I found his video had a lot of great information.
For more healthy recipes, check out: Cinnamon Peanut Butter Apples, Healthy Tuscan Shrimp Alfredo, Healthy Chicken Stir Fry.
Why you will love Air Fryer Carrot Fries
Healthy!
The air fryer does all of the work for you.
The carrot fries and aioli sauce are the perfect combo!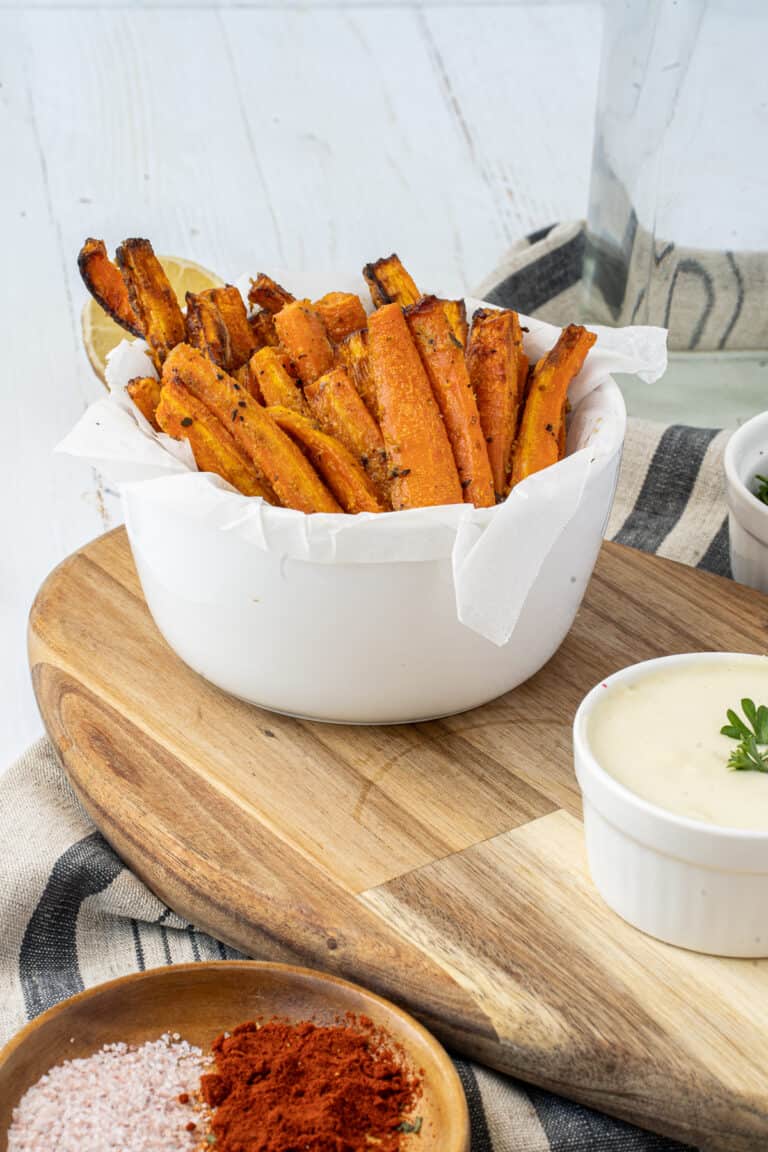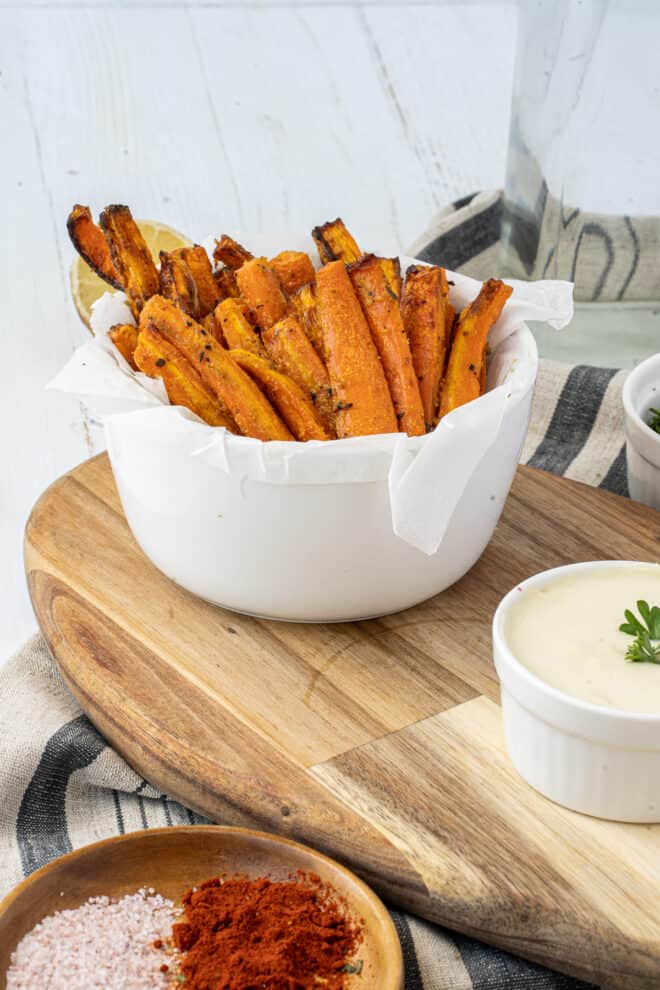 How to Make Perfect Air Fryer Carrot Fries
Step 1: Peel and chop the carrots. The trick to making your carrots look like fries is how you cut them. You can either buy them pre cut or buy the big rough carrots. Peel them, and then cut twice lengthwise. Then chop them into shorter portions. You can continue squaring them with a knife. The shape does affect the taste to a certain extent because if the carrots are thicker it will take more time for the air fryer to cook them and the outsides can burn.
Step 2: Coat the carrots. Mix olive oil with cajun seasoning, nutritional yeast, salt and pepper and coat carrot sticks with it.
Step 3: Cook carrots for 15 minutes at 400 degrees in the Air Fryer.
Step 4: Blend. For the aioli mayonnaise, blend all the ingredients until smooth.
Pro Tip: For added cheesiness… sprinkle more nutritional yeast or parmesan cheese on top of the fries when they are done cooking and mostly close the air fryer door on the carrots, leaving a gap so that the cheese will melt but not cook.
Frequently asked Questions about Air Fryer Carrots and Nutritional Yeast
Are Air Fryer Carrot Chips Healthy?
Root vegetables like carrots are among the healthiest vegetables available. Loaded with vitamin A and other essential vitamins and minerals, air fryer carrots are low in carbs and fat and high in the essential minerals your body needs. Therefore, yes, carrot chips or fries made in the air fryer are healthy for you.
What is nutritional yeast?
Nutritional yeast is a deactivated form of Brewer's yeast. Nutritional yeast is often used by Vegans as a replacement for cheese because it tastes similar to parmesan. Nutritional yeast comes in yellow flakes and is easily sprinkled on snacks like popcorn or fries. It contains many vitamins including vitamin B1, which is a source of energy for your cells. It also contains all nine of the amino acids and has several other benefits.
What is the best nutritional yeast?
The most popular brand of nutritional yeast is Bob's Red Mill Nutritional Yeast. I find that brand stocked in Kroger stores often. However, there are several selections to choose from. Anthony's, Bragg are also great brands. And Dr. Berg has a nutritional yeast product available on Amazon.
Does Trader Joe's sell nutritional yeast?
If you are a Trader Joe's shopper, you can find a brand of nutritional yeast there. The Trader Joe's brand is fairly inexpensive and has great ratings. If you prefer to shop there, simply pick up your nutritional yeast on your next Trader Joe's run.  
Air Fryer Carrot Fries
Air Fryer Carrot Fries with Aioli Sauce and Nutritional Yeast are a spicy version of this healthy side dish.
Servings 4
Calories 247kcal
Ingredients
1 pound carrots
1 tsp cajun seasoning
1 tbsp olive oil
1 tbsp nutritional yeast
1/2 tsp salt
1/2 tsp ground pepper
Aioli Mayonnaise
1/3 cup mayonnaise
2 cloves garlic
1 tbsp olive oil
1/4 tsp salt
Instructions
Peel and chop carrots into fry-shaped sticks.

Mix olive oil, Cajun seasoning, nutritional yeast, and salt and pepper. Coat the carrots.

Cook carrots for 15 minutes at 400 degrees in an air fryer. Stop and check carrots at 5 and 10 minutes. Shift them around if needed.

Blend all aioli ingredients until smooth in a blender.

Serve carrots with dipping sauce and enjoy!
Nutrition
Calories: 247kcal | Carbohydrates: 13g | Protein: 2g | Fat: 21g | Saturated Fat: 3g | Polyunsaturated Fat: 9g | Monounsaturated Fat: 8g | Trans Fat: 0.04g | Cholesterol: 8mg | Sodium: 634mg | Potassium: 425mg | Fiber: 4g | Sugar: 6g | Vitamin A: 19204IU | Vitamin C: 7mg | Calcium: 44mg | Iron: 1mg
Follow On Pinterest
Follow @bewitchinkitchen On Pinterest for more delicious recipes!