Healthy Chicken Stir Fry #ChickenDotCa
Whether you're in the midst of a renovation (like me), hangry and need food now, or just short on time this quick and easy healthy chicken stir fry has you covered.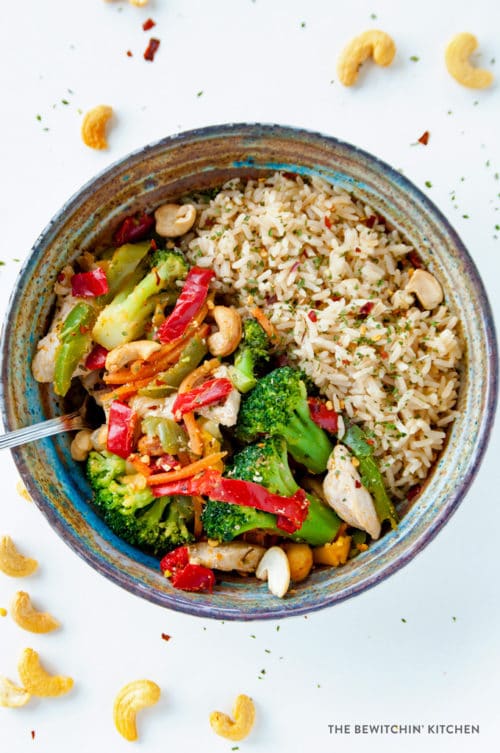 If you've been following me on Instagram, you may have noticed that the past few weeks have been a renovation craze. We're redoing our kitchen and not only is it a lot of work, but it completely disrupts everyday life.
I had this crazy idea that I would still be able to make it work, cook, and keep up with my normal routine while this was happening.

OUR LATEST VIDEOS
Oh younger and naive me…
It was a lot harder than what I thought it would be. I was on the right track, I used a portable induction cooktop for a few things but the chaos consumed me and we ate out more often that what I care to admit.
Things are also done and put back in place, but my routine has still yet to get back to normal. I did my best to eat healthy, but I usually needed something last minute and quick, which is how this healthy chicken stir fry came to be.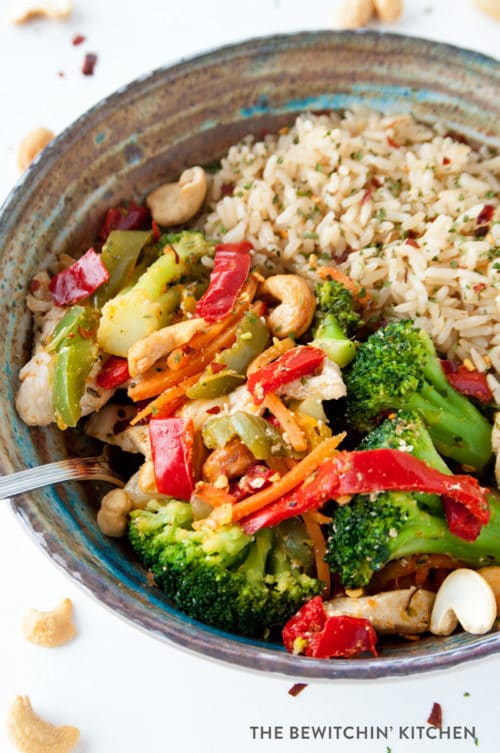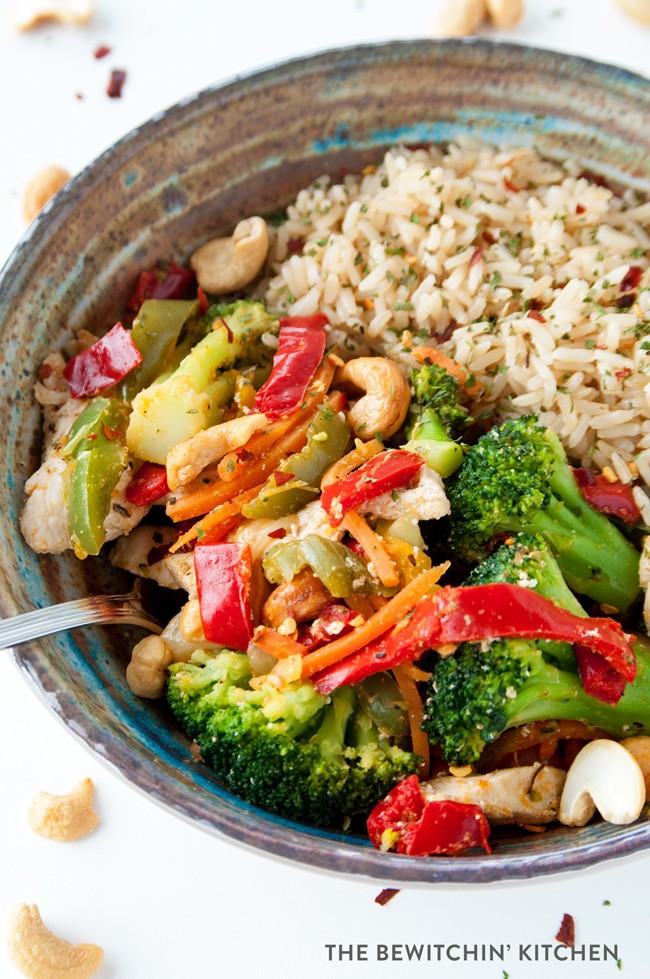 Healthy Chicken Stir Fry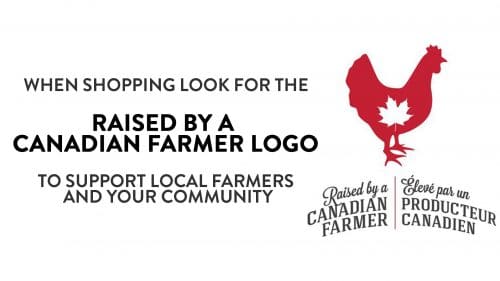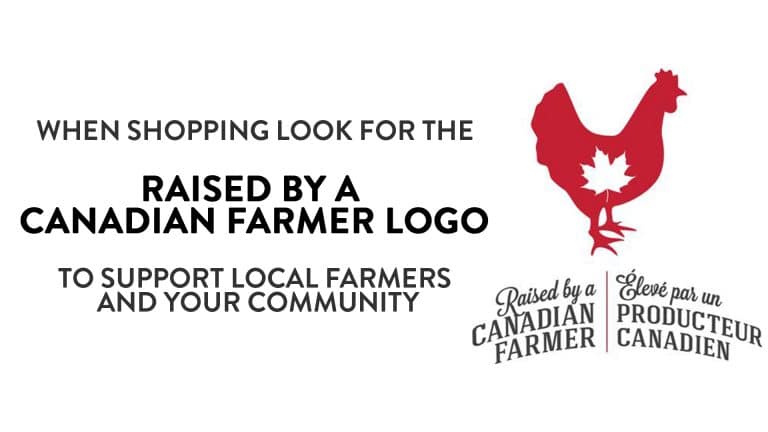 As in all my chicken recipes, this recipe uses chicken that has been raised by a Canadian farmer. This means the chicken I purchase from the store has been raised in an environment with national set and mandated standards for food safety and animal care.
If you're like 80% of Canadians who would like to see a mark that indicates that the chicken we eat is raised by a registered Canadian chicken farmer and that means the strict standards, look for the raised by a Canadian farmer logo that you see in the above photo.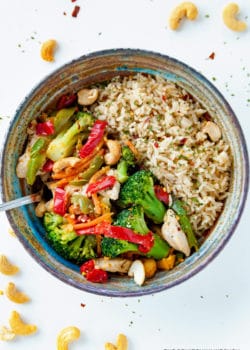 Healthy Chicken Stir Fry
This healthy chicken stir-fry is a quick and easy dinner idea that's no only healthy but yummy as well!
Ingredients:
1 tbsp avocado oil
2 chicken breasts, cut into strips
1 cup broccoli
1/2 a red pepper
1/2 onion, diced
1 yellow pepper
1/4 cup matchstick carrots
2 tsps lemon garlic seasoning (I use FlavorGod)
2 tsps garlic powder
2 tsps sesame oil
splash of chicken broth
1/3 cup cashews
Directions:
Heat the oil in a wok over medium-high heat.
Once hot, add the chicken cook for 5 minutes or no longer pink.
Once the chicken is cooked, transfer to a dish.
Add the rest of the ingredients and stir-fry until vegetables are crisp.
Add the chicken back into the wok and top with cashews, stir fry for another minute.
Serve either by itself for a Whole30 compliant meal, or with rice.
All images and text ©
.
Don't forget to visit Chicken.ca and search for their recipes. Regardless of your dietary needs or what you're craving, you can search the site based on what you're looking for. Check out and follow the Chicken Farmers of Canada on the following social profiles: Facebook, Twitter, Instagram and Pinterest.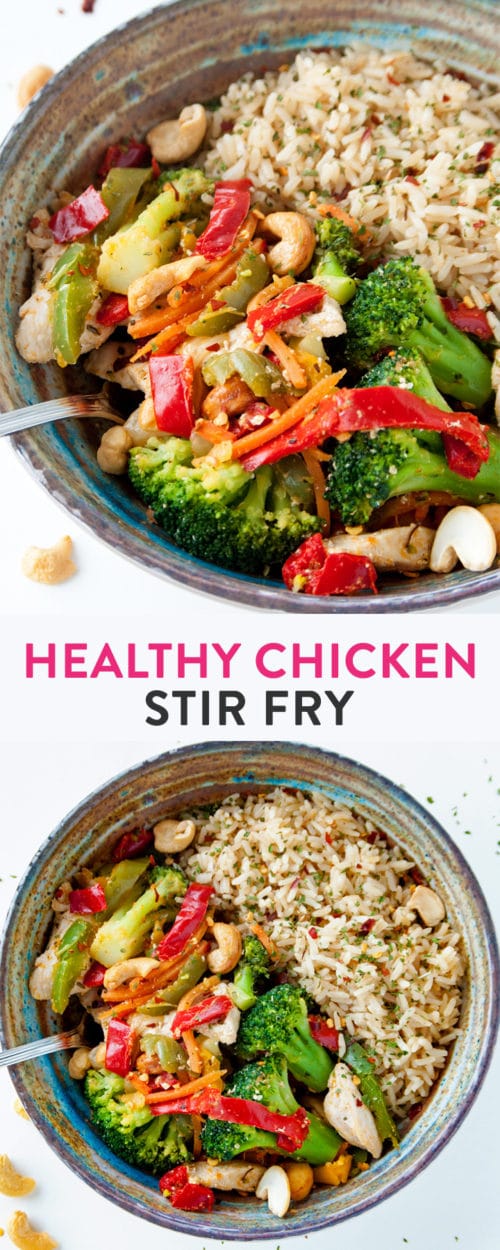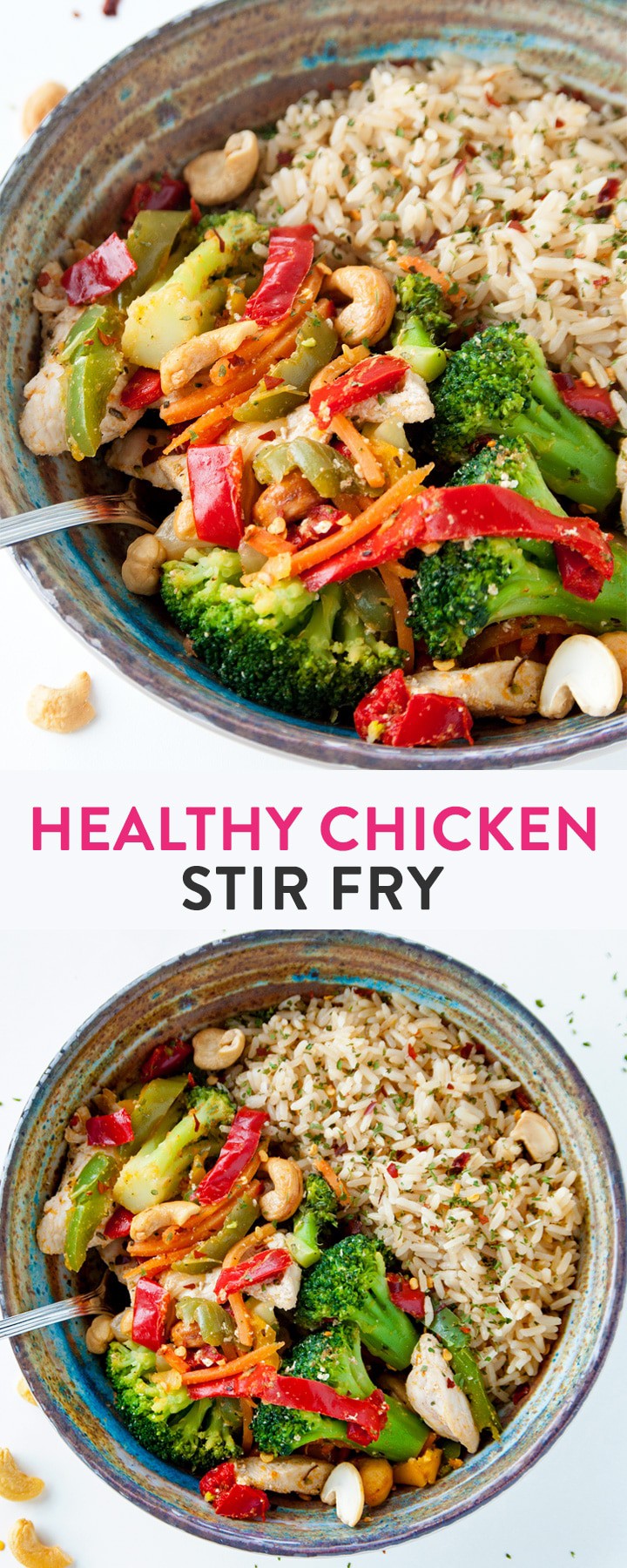 Disclosure: I am participating in the Chicken Farmers of Canada campaign managed by SJ Consulting. I received compensation in exchange for my participation in this campaign. The opinions on this blog are my own.
FREE Recipe Binder
Are you constantly wondering what's for dinner?
When I don't meal plan I feel behind, and we usually end up ordering take out. This recipe binder will keep you organized and make life a little bit easier.