Icebox Cookies (Slice and Bake)
These Icebox Cookies are loaded with dried cranberries and chopped pistachios for the perfect sweet and salty treat. Brown butter adds extra nutty flavor and pairs beautifully with the vanilla extract. Keep the dough in the freezer for slice and bake cookies whenever the craving strikes!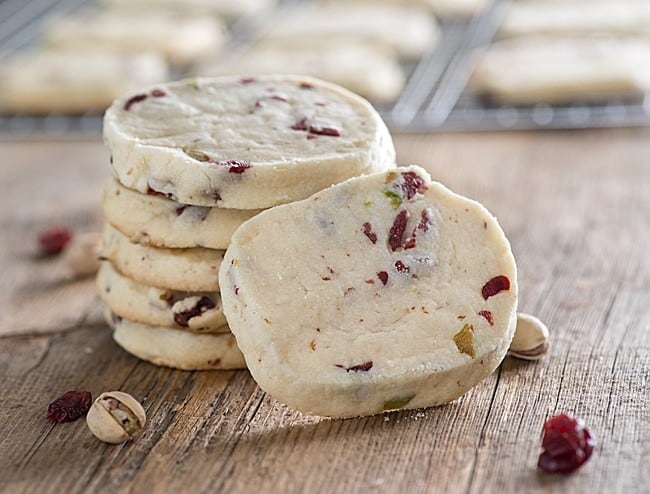 Buttery Ice Box Cookies
If you're like me, you spent your teens in front of the tv with a tube of refrigerated cookie dough and a spoon (yes, for real!). That ready-to-eat dough, with those rock-hard chocolate morsels, was just too tempting to pass up.
Since then, I've learned there are many better homemade versions out there, and the flavor possibilities are endless! Take these slice-and-bake Icebox Cookies, for instance. This is a knockout shortbread recipe that's made even better with the addition of brown butter and the winning combination of pistachios and cranberries.
This cookie recipe is my family's most requested for the holidays, but honestly, there's no reason not to make them year-round!
Why You Will Love Refrigerator Cookies
Salty and sweet – balanced with a hint of tartness from the cranberries
Great for gifts – make a batch for family, friends, and neighbors
Make ahead – freeze the dough for easy slice and bake cookies
Customizable – swap the fruit and nuts for your favorite mix-ins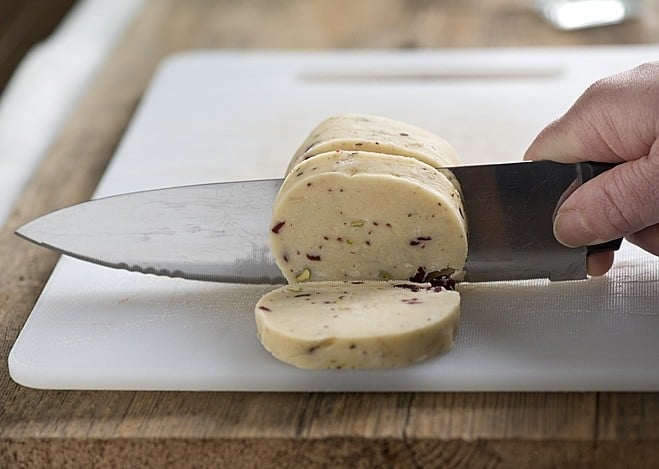 How To Make Slice and Bake Cookies
These buttery, rich refrigerator cookies are a baker's dream — and a real timesaver! The dough can be made ahead of time, formed into a log, then sliced and baked as needed. You can even bake the cookies well ahead of time and freeze them with absolutely no compromise to the taste!
Brown the butter
Trust me, you don't want to skip this step! Not only is the smell incredible, but browned butter adds so much flavor to these icebox cookies. A little bit nutty with plenty of warmth, it's the perfect complement to both the pistachios and the vanilla extract.
Instead of being tied up at the stove, place cubed butter in a glass pie plate and cover it with a heat-safe plate. Microwave the butter until the water evaporates and the milk solids brown, about 6 to 8 minutes. Then, transfer to another container to cool.
Make the dough
Once the browned butter has come to room temperature, it's time to get started on your cranberry pistachio cookie dough!
Beat the softened butter first, then add in the brown butter. Continue adding the ingredients as listed in the recipe card until a soft, pliable dough is formed.
It's best to mix in each set of ingredients just until combined — that includes the dried cranberries and pistachios. Luckily, the top remedy for overmixed cookie dough is to let it rest, and it will have plenty of time to do so!
Chill and bake
Here's where the "icebox" part of this icebox cookies recipe comes in! Roll the dough into a log and wrap tightly in plastic wrap. Refrigerate for at least 2 hours (up to overnight) or freeze for 30 minutes if you're in a rush.
(That extra chill time helps to firm the butter back up, and that means less spreading in the oven.)
Then, slice and bake cookies for about 14 minutes at 350 degrees F, or until the edges just start to brown. Cool for just a couple of minutes on the baking sheet — this allows the centers to finish baking — before transferring to a wire rack.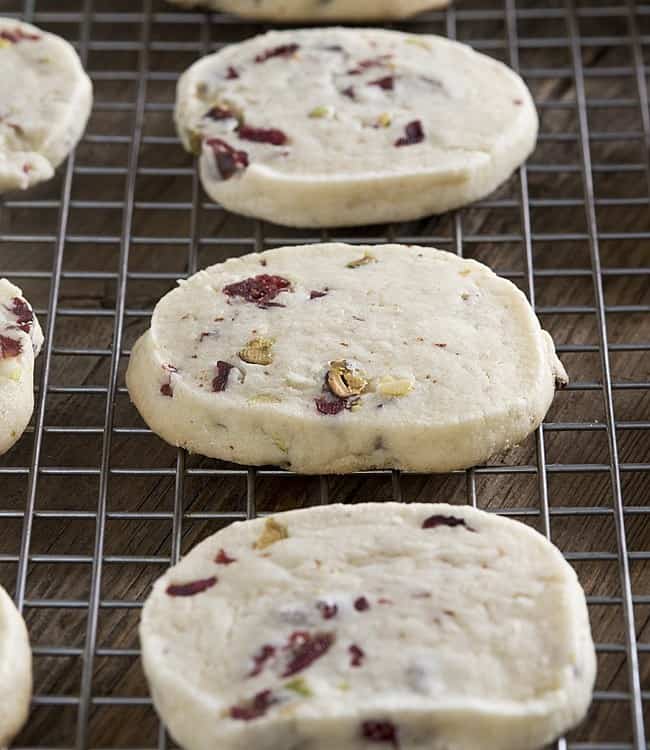 Frequently Asked Questions about Icebox Cookies
Why are they called icebox cookies?
Before modern refrigeration, households would have an icebox – an insulated cupboard used to store the daily ice delivery, which kept food cold.
Cookie dough would be placed in the icebox overnight to chill before baking, thus earning this name. Since we can now chill the dough in mere hours, these are also known as refrigerator cookies.
How do you freeze slice and bake cookie dough?
Simply follow the recipe as directed, then place each plastic-wrapped dough log in a freezer-safe Ziploc bag. Freeze for up to 3 months.
When you're ready to bake, transfer the dough log to the refrigerator to thaw overnight. Slice and bake cookies as directed, and enjoy!
Can I double this pistachio cookie recipe?
Yes! In fact, it's perfect for holiday baking for that exact reason. This recipe is easily doubled — you can even divide the dough in half and make two different flavors. Brown butter refrigerator cookies are a delicious base for all kinds of mix-ins.
Make several batches of dough logs to keep on hand in the freezer, or bake one and save the other for the holiday rush. No matter what the occasion, these ice box cookies are a lifesaver!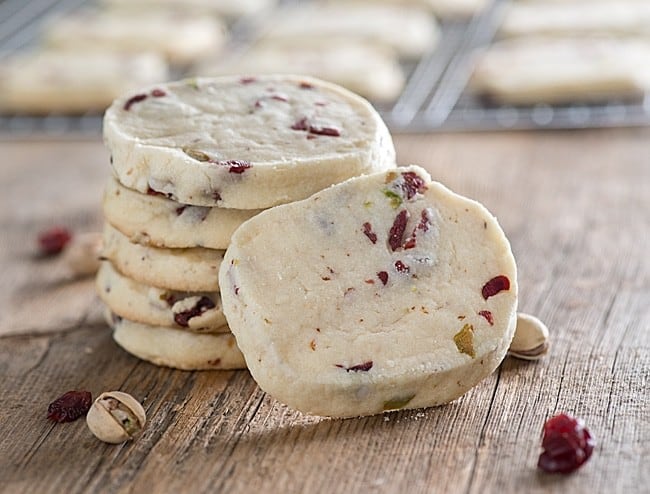 Aside from adorning your holiday dessert table, wouldn't these ice box cookies make the most thoughtful holiday gift? A decorated tin or some creative cellophane wrapping and a beautiful ribbon is all the packaging an edible treat like this needs.
This is also a great recipe to get the kids involved in the kitchen too. I'm sure their teachers would prefer a pistachio cookie over another apple any day — just saying!
More Easy Cookie Recipes
4 Ingredient Chocolate Chip Cookies
Ice Box Cookies (Slice and Bake)
These ice box cookies are buttery, rich, and loaded with dried cranberries and pistachios. Make homemade slice and bake cookies in no time!
Servings 18 large bakery style cookies
Calories 197kcal
Ingredients
1/2 cup brown butter instructions below
1/2 cup unsalted butter room temperature
1 cup sifted icing sugar
1/2  tsp kosher salt
2 egg yolks
2 cups flour sifted
1 tsp vanilla
1/2 cup dried cranberries
1/2 cup shelled and roughly chopped salted pistachios
Instructions
To brown the butter, place 1/2 cup of cubed butter in a glass pie plate. Cover with a plate to catch any spatters, and microwave for 6-8 minutes. The butter will bubble furiously for a few minutes as all water evaporates out and the milk protein solids begin to brown. Keep an eye, as it can burn quickly. Add more time in 30 second increments if needed. Transfer browned butter to a container (so it doesn't keep cooking) and allow to come to room temperature.

In a large bowl, beat the butter until it is smooth. Add the cooled brown butter and continue beating for a few minutes.  Add the confectioners sugar and beat again until fully combined and smooth again. Add the salt, yolks and vanilla. Mix well. Add the flour and mix just until combined.  Add the cranberries and pistachios and stir just until combined.

Turn the dough out onto the counter that has been lightly dusted with confectioners sugar. Roll the dough into a sausage about 2 1/2- 3 inches in diameter. For smaller sizes, roll into a smaller log.

Wrap the log in plastic wrap and refrigerate for at least 2 hours or overnight (you can also freeze it for 30 minutes). Once chilled, unwrap the log and slice it into rounds approx. 1/2 inch thick. Place cookies about 1 inch apart, on a sheet lined with parchment, and bake at 350 for 14 minutes. Allow cookies to rest for 2 minutes before moving to a cooling rack.  Enjoy!

These cookies freeze exceptionally.
Nutrition
Serving: 1cookie | Calories: 197kcal | Carbohydrates: 19.9g | Protein: 2.5g | Fat: 12.4g | Saturated Fat: 6.8g | Cholesterol: 43.3mg | Sodium: 55.7mg | Fiber: 0.9g | Sugar: 8g
Follow On Pinterest
Follow @bewitchinkitchen On Pinterest for more delicious recipes!