Raspberry Cookies
Loaded with raspberries and a hint of lemon, these Raspberry Cookies have chewy centers and crispy edges. Drizzled with white chocolate, they are the perfect combination of sweet and tangy.
White Chocolate Raspberry Cookies
These Raspberry Cookies not only taste incredible, but they make an excellent dessert for dinner parties, gifting, or taking to all of your holiday events.
A touch of lemon zest gives the white chocolate raspberry cookies a beautiful balance of flavors. Your kitchen will smell amazing as they bake!
Whip up a batch for an easy snack, or make extra and store them in the freezer for a simple grab-and-go dessert.
For more drool worthy Bewitchin' Kitchen cookie recipes, check out: Whipped Shortbread Cookies, Icebox Cookies, Coconut Chocolate Chip Cookies, and Egg Nog Cookies.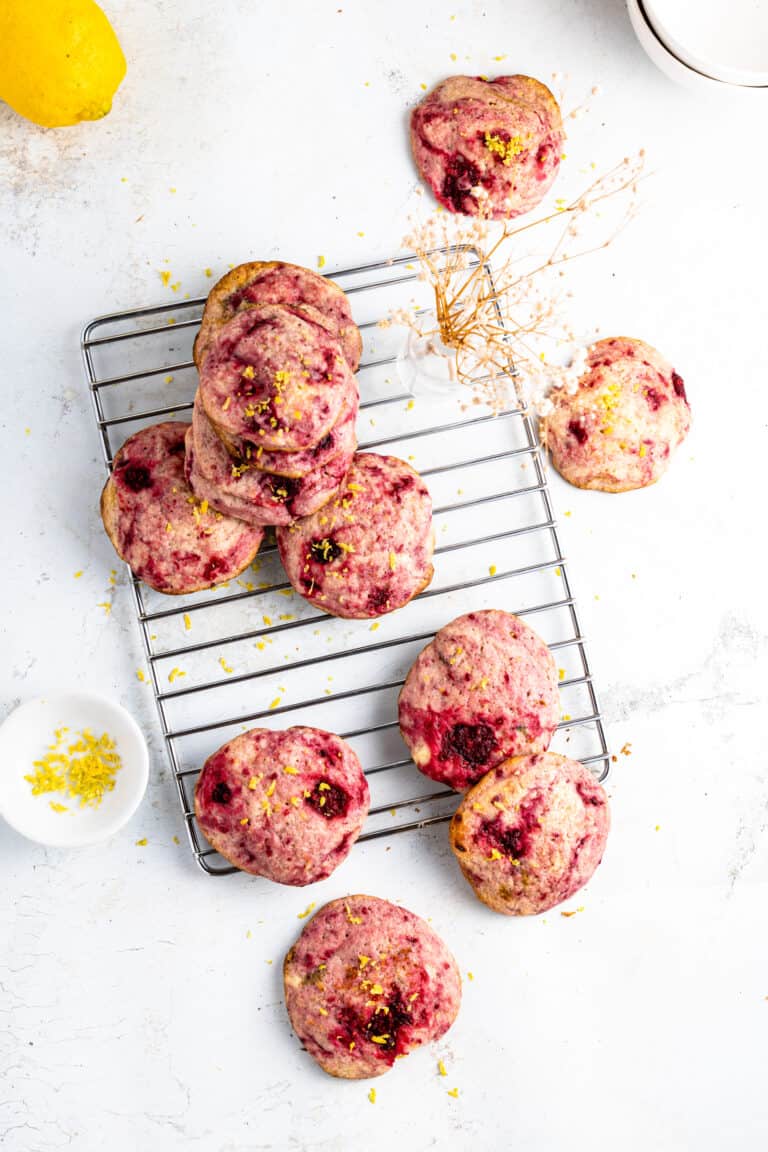 Why you will love Raspberry Cookies
Chewy cookies that are delicious
Great for cookie exchanges and holidays
Easy prep
Only 9 ingredients
Customizable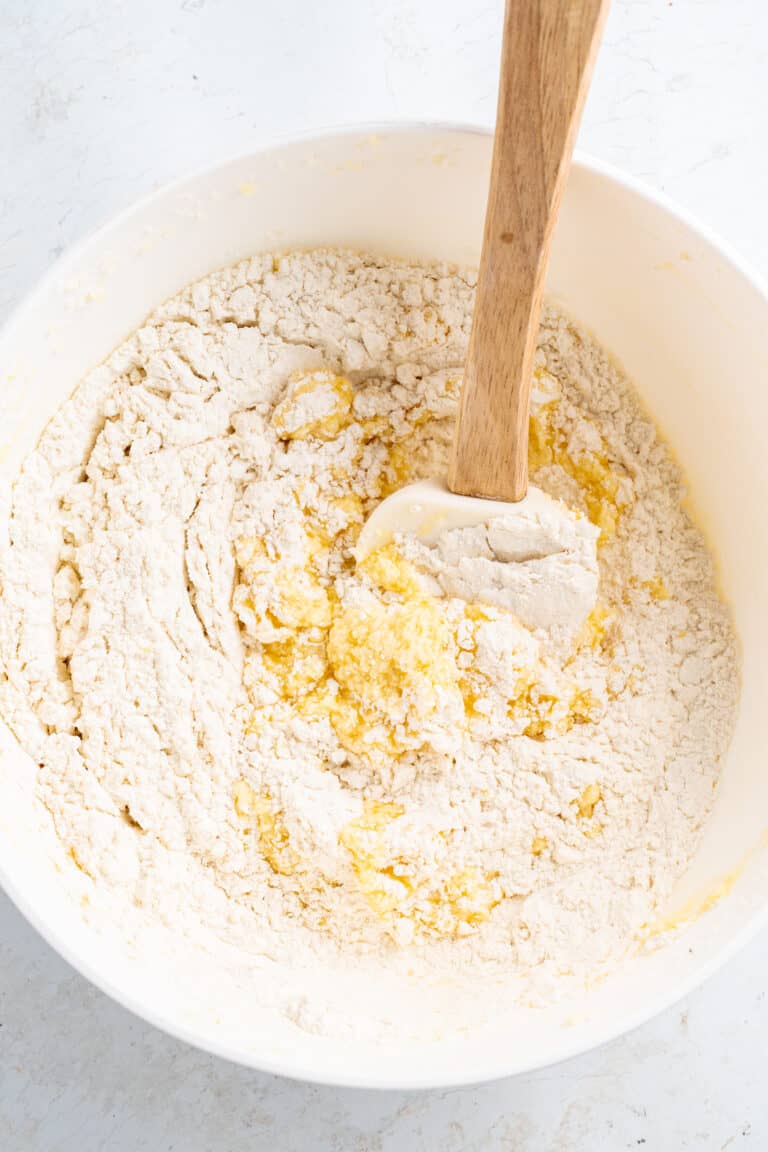 How to Make Perfect Raspberry Cookies
Combine until fluffy: Combine butter, sugar, and lemon zest in a bowl and cream until light and fluffy. Add vanilla and egg and combine.
Mix in powdered ingredients: In a separate bowl, mix together flour, baking soda, and salt. Slow mix into the butter mixture with a spatula until combined.
Add raspberries: Fold in frozen raspberries gently.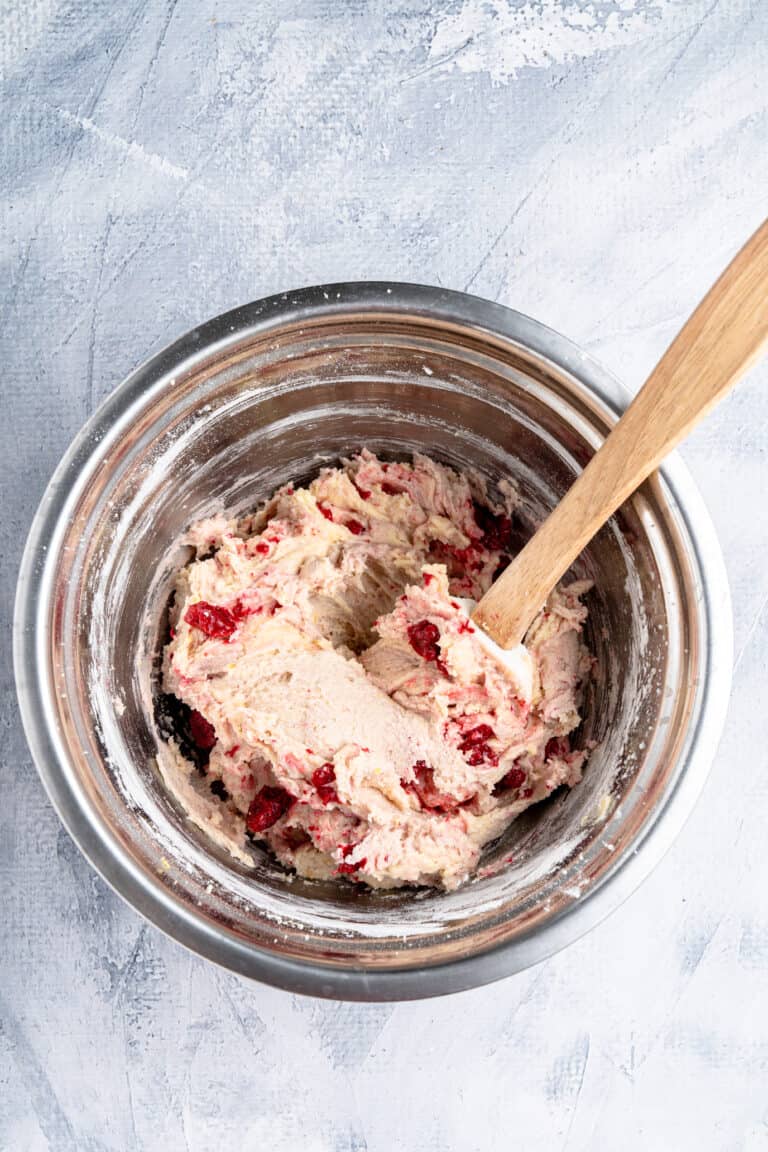 Create cookies: Place parchment paper on baking sheets and add cookie dough to the pan.
Chill: Chill the baking sheet in the freezer for 30 minutes before baking them.
Bake: Preheat the oven to 350 degrees and bake for 18-20 minutes, or until the edges are lightly golden brown.
Finish and serve: Drizzle with melted white chocolate — this step is optional, but super tasty! Then, let the raspberry cookies cool completely before removing them from the baking sheet.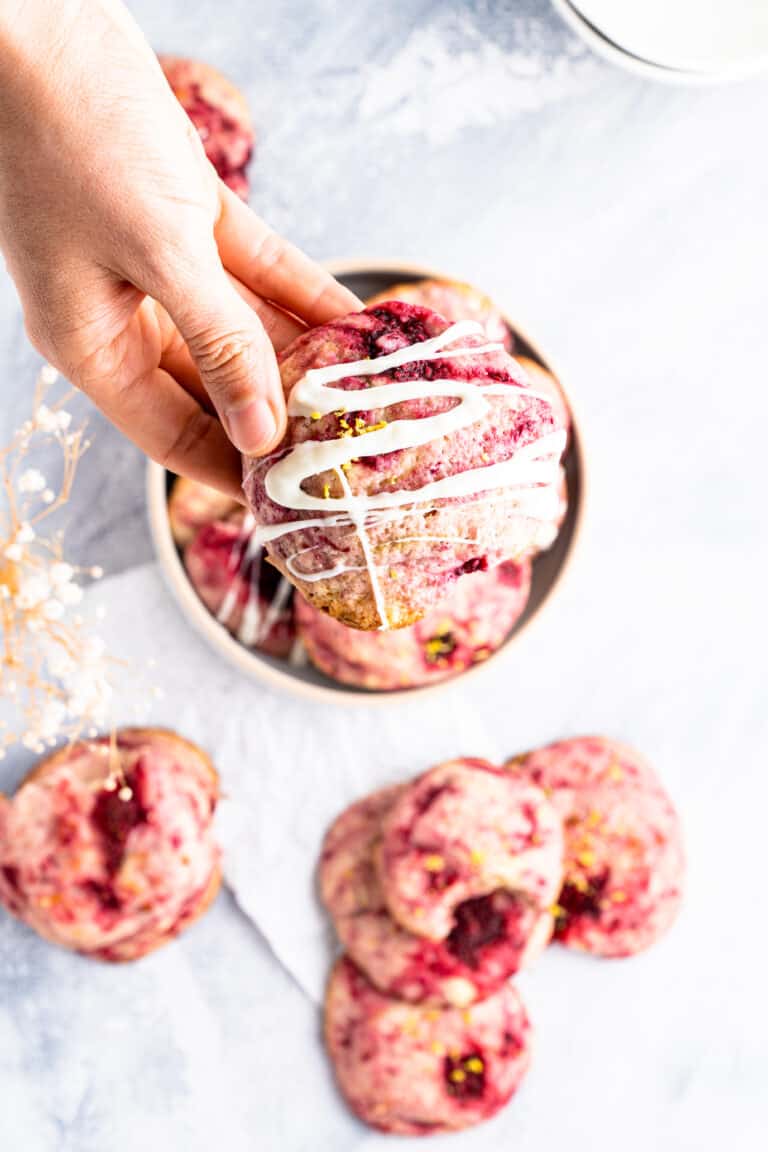 Pro Tips For The Best Raspberry Cookies
Don't overmix. Only mix the cookie dough until it's just combined, so they don't end up dense.
Be gentle. When adding the raspberries, be gentle when folding them in. This will keep them intact and prevent the cookie dough from becoming red.
Don't overbake. The cookies are done when the edges are slightly crispy and the centers are still soft. They will finish baking on the cookie sheet as they cool down.
Add mix-ins. Mix in some white chocolate chips, dark chocolate chunks, or chopped nuts.
Bake chilled. Don't skip freezing the cookie dough before baking or it will spread and become flat.
Freeze for later. You can freeze the cookie dough for up to 2 months before baking them. Keep them airtight until you are ready to bake.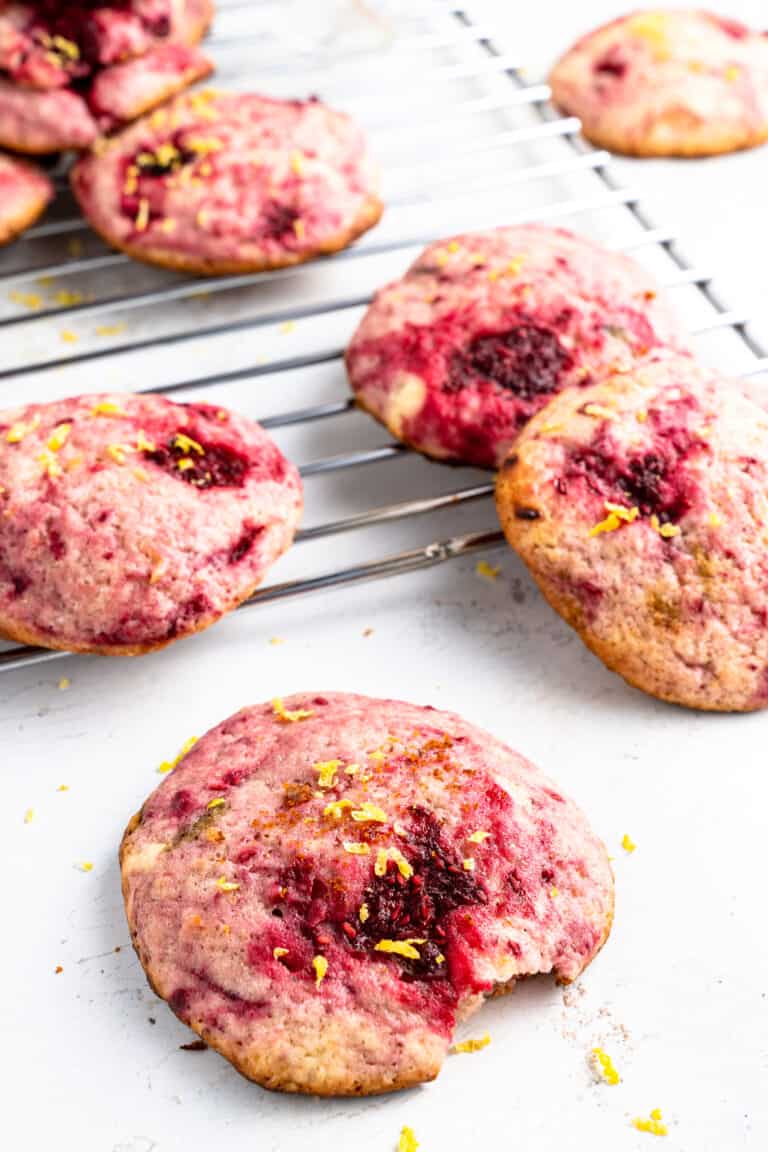 Frequently Asked Questions about Raspberry Cookies
How long do raspberry cookies last?
Store leftover white chocolate raspberry cookies in an airtight container for up to 3 days at room temperature or in the fridge for up to 7 days.
Can you freeze cookies?
Yes, freeze the cookies using layers of parchment paper to prevent sticking. Place them in an airtight container, and they will last 2-3 months.
Can I use fresh raspberries?
Yes, it's fine to use fresh or frozen raspberries. Choose raspberries that are firm and remove any that are mushy. Mix the fresh raspberries with 2 teaspoons of flour so they are coated evenly. This will prevent them from sinking to the bottom of the cookie batter.
Is it okay to use different fruit?
Yep, you can swap the raspberries for strawberries, blackberries, or blueberries. Additionally, you can mix the fruits to make some fun flavor combinations!
Raspberry Cookies
Loaded with raspberries and a hint of lemon, these Raspberry Cookies have chewy centers and crispy edges. Drizzled with white chocolate, they are the perfect combination of sweet and tangy.
Servings 16 Cookies
Calories 164kcal
Ingredients
1/2 cup butter softened
1 cup white sugar
1 medium lemon zest
1 tsp vanilla extract
1 large egg
1/4 tsp salt
1/2 tsp baking soda
2 cups all-purpose flour spoon and leveled
3/4 cup frozen raspberries
Instructions
Place softened butter, sugar, and lemon zest into a large mixing bowl. Use an electric mixer to cream butter until it gets fluffy. Then add vanilla extract and the egg. Mix to combine.

Mix dry ingredients (salt, baking soda, and all-purpose flour) in another bowl.

Add the dry mixture to the butter bowl. Stir with a spatula until combined, don't overmix.

Fold in frozen raspberries and gently mix to incorporate.

Prepare two or three large baking sheets with parchment paper.

Spoon the cookie batter into 1.25 oz cookies (medium cookie spoon), keeping two inches of distance between them.

Chill them in the freezer for 30 minutes before baking them.

Once ready to bake, preheat the oven to 350F. Bake them for 18-20 minutes or until lightly golden on the edges.

Let them cool completely before transferring them out of the sheet.
Notes
You can make the batter and keep uncooked cookies in the freezer until ready to bake.
Store leftovers over the counter, covered, for up to three days. Or in the fridge for up to one week.
These Raspberry Cookies are chewy with crispy edges; taste-wise, they're sweet with a tangy hint due to raspberries and lemon zest. Enjoy them as they are or with a drizzle of white chocolate that matches to perfection.
Nutrition
Calories: 164kcal | Carbohydrates: 25g | Protein: 2g | Fat: 6g | Saturated Fat: 4g | Polyunsaturated Fat: 0.4g | Monounsaturated Fat: 2g | Trans Fat: 0.2g | Cholesterol: 27mg | Sodium: 121mg | Potassium: 32mg | Fiber: 1g | Sugar: 13g | Vitamin A: 196IU | Vitamin C: 2mg | Calcium: 8mg | Iron: 1mg
Follow On Pinterest
Follow @bewitchinkitchen On Pinterest for more delicious recipes!