Babymoon Oahu: Turtle Bay Resort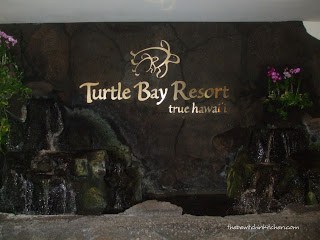 Yes, I'm finally getting down to blogging about my recent vacation to the beautiful island of Oahu. Our whole ten nights were spent at the breathtaking
Turtle Bay Resort.
Turtle Bay has been seen in Forgetting Sarah Marshall (it was the resort it was filmed at), the season finale of last season's Cougar Town and it used to be a prize on Regis & Kelly.
When we first arrived at our resort it was 11pm (3 am Alberta time), so I was exhausted and first impressions were a blur. I was more concerned on getting to bed. However, the next morning I couldn't wait to get out of my room and get down to explore.
The room itself was pretty plain. I had a kind size bed, a balcony (or lanai as it's calling Hawaii), and a wardrobe with a TV. Just the essentials. The bathroom was a decent size and the beauty room (as I called it) was typical. The room did include a bar fridge, coffee maker and hair dryer. Something I thought wasn't too practical was there was no microwave. I brought home leftovers many nights and had no way to heat it. I later found out that for $10 a day you can have a microwave brought up to you (which I think is a little ridiculous).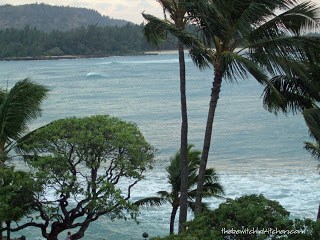 My view from my room
The resort itself is beautiful. So much greenery and water, it has some breathtaking views. Everything was very clean (which is #1 on my list) and I was impressed with how courteous the staff was. Everyone always had a smile on their face and Aloha coming from their mouth (however, come to think of it, if I lived in Hawaii I would be constantly smiling as well). Turtle Bay has a couple of swimming pools, two hot tubs, and miles of beach. They also have a few selections of dining.
Most mornings we ate at The Palm Terrace. They had a decent breakfast menu and a breakfast buffet that I never tried because it was $25 a person and I just refuse to pay for that for a breakfast. My favorite option of the breakfast menu was the omelet. Num! There was also fine dining at 21 Degrees, but I never had the chance to try it.
The first day at the resort I knew I wanted to try their Italian restaurant, Leonardo's. What a disappointment and a rip off that was! My first time there I ordered the gnocchi and it was really gross. My husbands dinner wasn't too appetizing either. We each ordered virgin pina coladas and they charged is $20 for the drinks…may I remind you that there was no booze in there? I was not impressed. A couple nights later I thought I would try it again, thinking maybe I just didn't like the dish and it wasn't the restaurant's fault. My husband orderd a pizza and we both couldn't even eat it. It was really gross. I ordered the Pasta Ala Vodka, it's a dish that i love and it was one of the worst versions I have ever had of it. Needless to say I left a comment card (especially after someone at the resort told me to because she has heard nothing but issues about the restaurant, including the service).
The ladies at the coffee cart were so friendly and my husband was probably one of their best customers. He loves kona coffee and visited at least three times a day.
Will continue soon to talk about the beaches. Stay tuned.