Berries and Cream Parfait
This recipe for Berries and Cream Parfait is a sponsored post written by me on behalf of The Skinny Gut Diet. All opinions are 100% mine.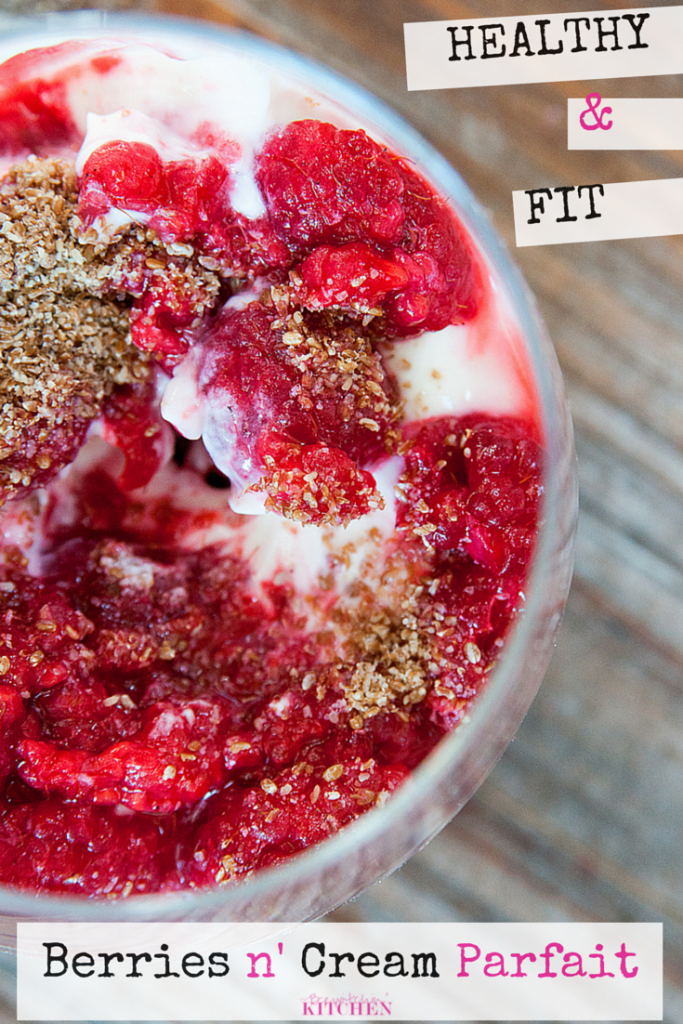 What do you think of when you hear the word "diet"? I think of restriction, which is why I don't like "diets". However; The Skinny Gut Diet doesn't restrict you, in fact, it gives you some amazing recipes like this Berries and Cream Parfait dessert.
Skinny Gut Diet
This post contains affiliate links.
As I write this, I'm going into week 4 on The Skinny Gut Diet
by Brenda Watson. I'm really enjoying it. Yes, I said I am enjoying a diet but I am not considering this a diet at all. It's a pretty rare occasion I'm hungry and I feel amazing. I had a few ups and downs, but after buckling down and following the plan I'm down almost a total of 6 pounds since I started The Skinny Gut Diet. My jeans fit better, I'm happier and I'm beginning to understand what my body is telling me.
Skinny Gut Diet Reviews:
The Skinny Gut Diet & Why I'm Doing It.
The Tools For Success In Restoring Gut Health.
I get asked a lot on what I eat. For right now (in the phase I'm in) I eat a lot of protein, fat, and vegetables.
Sample Skinny Gut Diet Meal Plan
Morning: I usually have a protein shake in the morning with added fiber, a little fruit, and kefir.
Lunch: Omelet with cheese and some chopped veggies. If I'm hungry still I add bacon or whatever I feel like with a side (that's within my limit).
Afternoon snack: Almonds, cottage cheese, yogurt – it really depends on what I feel like eating. I only eat when I'm hungry – not if I'm bored. If I'm bored, I take a walk.
Dinner: A piece of protein with a size of salad, and roasted vegetables. A favorite of mine lately is my Creamy Bruschetta Chicken (recipe to come).
Dessert: I have dessert every day. I have to have something sweet at night, and I'm really excited to share with you what my new favorite (and let's not forget to mention super quick) recipe is.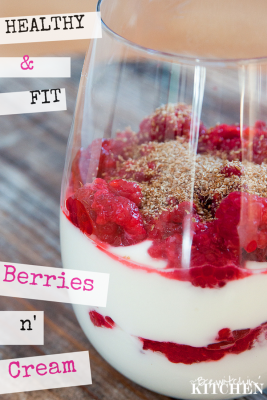 Berries and Cream Parfait
1/4 cup whipped cream – no added sugar
6 ounces plain Greek Yogurt
1/2 cup raspberries (or other high fiber berries)
1 tbsp ground chia (optional)
Whip cream until fluffy and soft peaks form (I use my Vitamix, and it takes less than 30 seconds). Fold whipped cream in with Greek Yogurt in a bowl. Top with raspberries and chia (for an extra fiber boost).
Note: Depending on how sweet my tooth is that night, I do add some stevia to sweeten the cream sometimes. This is also great with a little bit of cocoa powder for a protein-packed chocolate mouse.