Skinny Gut Diet & Why I'm Doing It #SkinnyGutDiet
This is a sponsored post written by me on behalf of The Skinny Gut Diet. All opinions are 100% mine.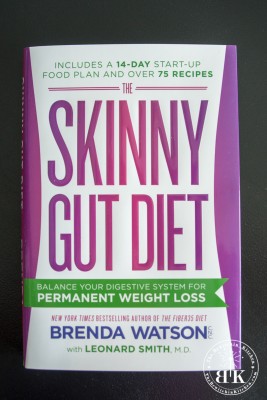 I'm excited to let you all in on a little something: I have been chosen to be an Ambassador for the Skinny Gut Diet Book, written by Brenda Watson.
Please don't be thrown off from the word "diet". I promise you, I wouldn't be apart of something that was unhealthy and promoted deprivation.
Brenda Watson Author of Skinny Gut Diet
Skinny Gut Diet: What Is It?
The Skinny Gut Diet promotes gut health. Yes, your gut is actually an organ system and a highly important one at that.
I'm sure a few of you have heard me say a few times that I am currently going to school to be a Registered Holistic Nutritionist. Something that all my books go back to is how important your digestive and gut health are.
It's all about the Bacteria
Your gut contains over 100 trillion gut bacteria and that bacteria has over 100x more DNA then you do. Like our DNA, your gut bacteria DNA is 100% unique to you and they greatly affect our health.
That bacteria is split into two:
Good Bacteria (Bacteroidetes, Bifidobacterium & Lactobacillus)
Bad Bacteria (Firmicutes and other potential pathogens)
Good bacteria helps us lose weight, keep weight off, reduce silent inflammation (which is the root cause for disease), improve immune function, reduce digestive distress and reduce depression and anxiety. I think this goes without saying, but we want more good bacteria then bad (that's what is meant when Brenda mentions "balance").
The Skinny Gut Diet will help with balancing the bacteria in the gut and will possibly help with weight loss as well. With the right bacteria: you will absorb fewer calories, you store less fat and you have fewer cravings.
A bad "gut" is the root of all evil when it comes to health.
When there is more bad bacteria than good, disastrous things happen. The Bad Bacteria shows up when we eat unhealthy diets, take antibiotics, are stressed, age, use acid-blocking medications, and are around toxins. An unhealthy gut has been linked to the following:
Digestive conditions (constipation, diarrhea, IBS, etc)
Candidia overgrowth
Acid Reflux and heartburn
Emotional stress
Depression
Anxiety
Did you know that 95% of our serotonin (the happy hormone) is produced in our intestines? Our digestion problems could very well be the issue with our own anxiety and depression problems.
Skinny Gut Diet: My Story
I have a sugar addiction (I may or may not be having a hot cocoa as I type this), and you know why I have a sugar addiction?
I have poor gut health.
Researchers say that our bacteria may be capable of manipulating our behavior and our appetite in order to obtain more of the sugars they thrive on. – Brenda Watson
Candida and leaky gut are both something I have been diagnosed with by my ND and it's something I'm working on. I have known this for a while but there was always something getting in the way of fixing that (Christmas, press trips, etc). I'm putting my health first now and will be testing out the Skinny Gut Diet from Brenda Watson and I'm thrilled that you will all be along for the ride.
Candida: Candida is a yeast, not a bacteria. This fungus lives in your gut and thrives on sugar. When it eats the sugars and carbohydrates in your body, it wants more. It sends messages to your brain telling you to eat more sugar: this is why my sugar cravings have been out of control. It's a vicious cycle and Candida coincides with leaky gut.
Leaky Gut: This is what happens when gut bacteria is out of whack. Basically there is a hole in my protective wall in my intestinal tract. Usually only water and nutrients are absorbed into my blood stream, but now everything is coming through – including toxins, undigested food, and pathogens. This is why I was recently tested positive for 125 food allergies (which bring on crazy hives), and yes I said 125. This may also explain my recent 10 pound weight gain.
My symptoms:
Sugar cravings
Anxiety
Feeling sluggish
Low energy
Moody, high strung, "on edge"
I also should mention that I have had a thyroidectomy, and we are still figuring out the proper dose for thyroid supplementation and I do believe that is part of the reason for a few of the symptoms.
With The Skinny Gut Diet Brenda will guide me towards achieving optimal gut health with her diet. I'm excited to track my progress and share with you what I learn along the way.