Biscotti Munch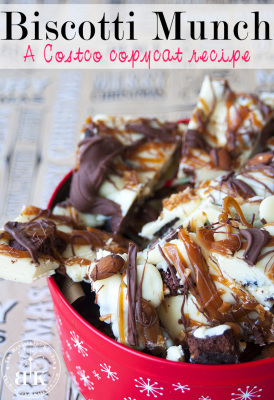 I get a lot of traffic from people who are searching healthy recipes or reviews of fitness programs, if this is you – run and hide. This copycat recipe for Biscotti Munch is amazingly awesome but I don't want to know the calorie count. Good thing calories don't count during the holidays!
In all seriousness, I believe a healthy lifestyle has moderation. Life isn't worth living if you can't indulge every once in a while (or for a few weeks out of the year like I do around this time) and personally I don't think it's healthy to deny yourself every treat that comes your way. As my Naturopath said last week at our appointment "a cookie is good for the soul".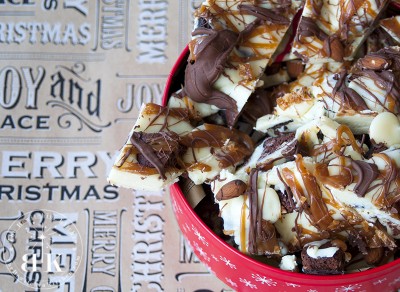 Biscotti Munch: The Story
It all started the Saturday before Thanksgiving. My husband and I made a quick trip into Prince George (my nearest "city") to get my Costco needs met. The parking lot was nuts, and that should have been my first clue that I was in for trouble. My husband figured it out before I did so he just dropped me off at the door with a smile and a wave goodbye while he head to some man store to do man things.
I love Costco. Where else can you get a huge tub of coconut oil (for a steal I might add), some footed PJs, and a multi pack of nail guns?
Anyway, Costco was crazy busy. I couldn't handle it, I knew it was time to go when I almost snapped on an older lady for taking up the aisle with her cart while waiting for a snack (which is a huge pet peeve of mine). I waited for my husband in one of the side aisles and killed the time by looking at back splash. When he finally met up with me, I was a bear and needed something "good". He left for checkout while I went to the bakery area.
Now I never buy baked goods at Costco, but I needed some comfort. After rubbing shoulders with a thousand strangers looking for something "good" I saw something called Biscotti Munch. We checked out, I brought it in the truck and oh-my-heavens I immediately went from a bear to a kitten. I knew right there and then I had to re create the recipe when I got home.
I apologize for the novel, but I feel that it was important for you to know how my version of Biscotti Munch came to be.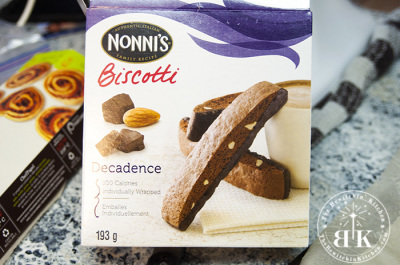 For the actual biscotti, I bought store bought. This is the brand I used, it was the only thing I could find at Safeway. It's actually pretty good but there wasn't enough, next time I will buy two boxes.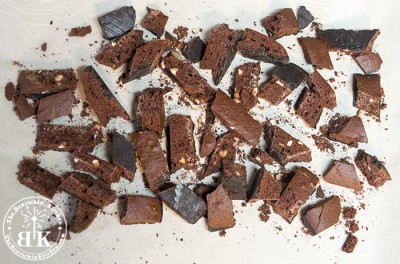 On parchment paper I took a knife to the biscotti and gave it a good chop.
I then made a white chocolate concoction inspired by a fudge recipe I use. It's just 2 bags of white chocolate chips and a can of sweetened condensed milk microwaved until melted – easy peasy.

Then the magic happens. Pouring the white chocolate mixture, then the caramel drizzle, followed by milk chocolate and almonds. Let harden and chop up. See how easy it is?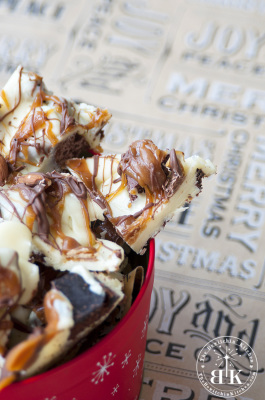 I'll stop running my mouth and give you the recipe because this post has been long enough with the Costco story and all.
Here's the actual recipe:
Biscotti Munch
A delicious and easy treat that's no bake and makes a great Christmas gift for your neighbours, teachers and coaches.
Servings 10
Calories 607kcal
Ingredients
10 Chocolate Biscottis
2 bags white chocolate chips
1 can sweetened condensed milk
1 batch of caramel I halved this recipe or you could melt those little caramel squares in the microwave
1/2 milk chocolate chips melted in microwave
1/4 cup almonds
Instructions
Line a baking sheet with parchment paper.

Chop up your biscotti into chunks.

In a microwavable bowl, add your sweetened condensed milk and white chocolate chips and stir. Microwave for 45 seconds, stir and then 30 seconds at a time until fully melted.

Pour white chocolate mixture over the biscotti and set in the fridge or freezer until hardened.

Add the almonds.

Microwave 1/2 cup of milk chocolate chips and drizzle over top of everything.

Let harden, I placed mine in the freezer over night.

Cut up with a knife and serve.

This makes a great gift!
Nutrition
Serving: 1g | Calories: 607kcal | Carbohydrates: 77g | Protein: 9g | Fat: 30g | Saturated Fat: 16g | Cholesterol: 48mg | Sodium: 178mg | Potassium: 366mg | Sugar: 69g | Vitamin A: 225IU | Vitamin C: 1.4mg | Calcium: 257mg | Iron: 0.7mg
Follow On Pinterest
Follow @bewitchinkitchen On Pinterest for more delicious recipes!