Team Beachbody Black Friday Deals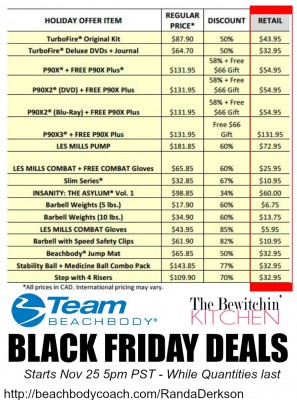 I love this time of year, there are so many amazing deals to be had all over the internet and Team Beachbody is no different. Here are the Team Beachbody Black Friday Deals for 2014.
You can shop the deals here. The sale goes from November 25 at 5pm PST to December 2, only while quantities last. Last year most sold out in a few hours time (I know this because I missed out on a few items).
Closer look at the items on sale:
The prices listed below are in CAD. US Deals will be listed in a photo below.
TurboFire® Original Kit: $43.95 (50% off)
TurboFire® Deluxe DVDs + Journal: $32.95 (50% off)
P90X® + FREE P90X Plus: $54.95 (58% + Free $60 Gift)
P90X2® (DVD) + FREE P90X Plus: $54.95 (58% + Free $60 Gift)
P90X3® + FREE P90X Plus: $131.95 (Free $66 Gift)
LES MILLS PUMP: $72.95 (60% off – COMES WITH barbell and weights)
LES MILLS COMBAT + FREE COMBAT Gloves: $25.95 (60% off)
Slim Series®: $10.95 (67% off)
INSANITY: THE ASYLUM® Vol. 1: $60.00 (34% off)
Barbell Weights: 5lbs: $6.75 10lbs: $13.75 (60% off)
LES MILLS COMBAT Gloves: $5.95 (85% off)
Barbell with Speed Safety Clips: $10.95 (82% off)
Beachbody® Jump Mat: $32.95 (50% off) I bought this last year and like it.
Stability Ball + Medicine Ball Combo Pack: $32.95 (77% off)
Step with 4 Risers: $32.95 (70% off)
Want to know what I'm buying?
I have been wanting the barbell weights and bar for a long time, and the timing is perfect. I'm currently doing Body Beast and although it's not required, it would make life a lot easier. However, this morning it was pointed out to me that Les Mills Pump comes with the Barbell and weights and that it's one heck of a deal. So I think I will just get that instead.
I have the all the Turbo Fires and LOVE THEM. I highly recommend it, especially at that price. I also have the jump mat which is great and doesn't tear up. P90X is also something I own but keep in mind you need weights and a chin up bar (the whole P90X series is the same way).
Below I will share a large image of the Canadian and US deals, which include the prices for club members and fellow coaches. If you're interested in a club membership or becoming a coach (to receive 25% off all Beachbody products and earn some money yourself) click here.
Beachbody Black Friday US PRICES: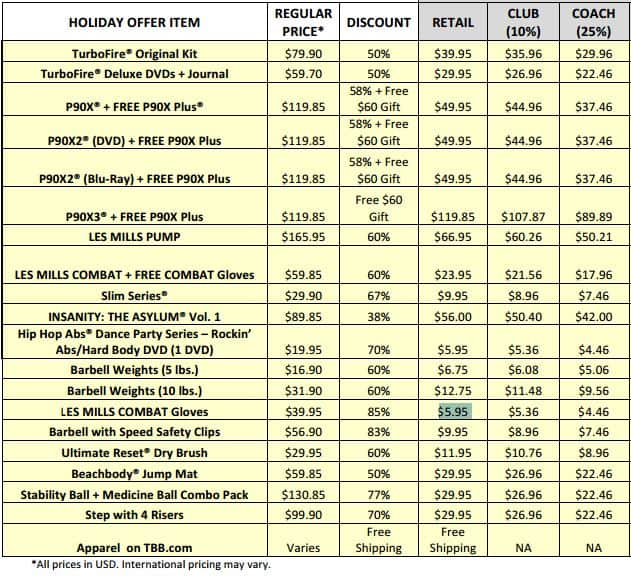 Beachbody Black Friday CANADIAN PRICES: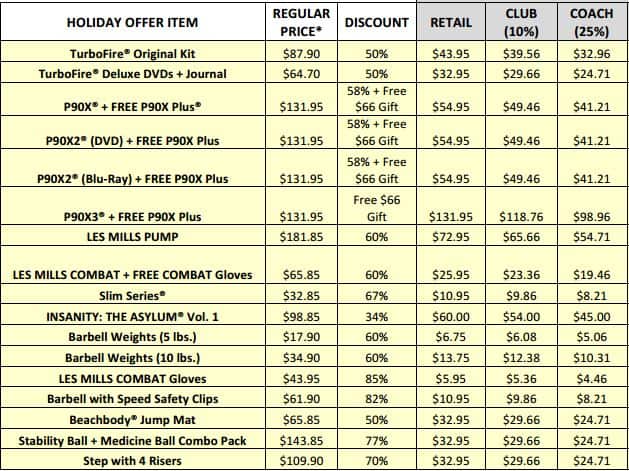 Again, to take advantage of Team Beachbody's Holiday Deals you can visit the Beachbody Holiday Deals page.

Remember: The sale does not start until 5PM EST so the Holiday Deal page will not be live until then.