No Bake Coconut Bars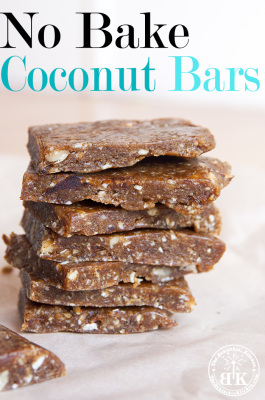 I love Larabars, I buy a lot of them (thank heavens for Costco) but the cost can add up. So I decided to whip out a few ingredients and make my own.
A few months ago I bought a detox eBook from Live Green Healthy. In it she had this delicious recipe for raw brownies that had the base of dates, walnuts, and almonds. I whipped up many batches of that recipe and my son and I enjoyed each and every one. Since then I have used her recipe as a base and have created a few versions of my own.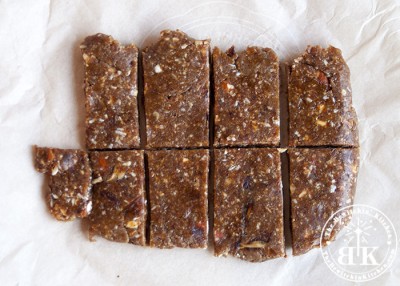 These No Bake Coconut Bars are one of those versions.
When I wanted to create a Larabar, I immediately thought of the Apple Pie flavour, as it is my favourite, but I wasn't sure if I should puree the apples or dehydrate them and then blend. I didn't want to put a recipe out there that required much thought (my brain seems to have taken a vacation for the past few days) so I used the Coconut Cream Larabar (my second favourite) as inspiration.
All you have to do with Larabars is turn it over and read the ingredients. I had everything but the cashews, and I didn't feel like using coconut oil so I went rogue and used Jenny's base instead.
As you can tell from the above photo, I couldn't take the photos fast enough. My toddler kept walking in and grabbing a bar, I had to get the shots as fast I could. I didn't mind, they're healthy and I like my son eating these treats.
Personally, I used my Vitamix (I have the S30 model) for this recipe, you can check out my Vitamix review and read the full details about this blender. Vitamix Blenders are available on Amazon.com
 or Amazon.ca
.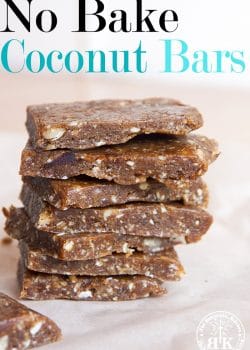 No Bake Coconut Bars
Ingredients:
1 cup pitted dates
1/2 cup walnuts
1/2 cup almonds
1/4 cup unsweetened shredded coconut
1 tsp coconut extract
Directions:
Add all of the ingredients in your blender or food processor (I use a Vitamix) pulse/blend until incorporated.
Press into a parchment paper lined 8×8 pan and let set in the fridge for a few hours. Divide into servings.
All images and text ©
.
 If you could have a copycat recipe for your favourite snack, what would it be?
No Bake Coconut Bars: #paleo, gluten free, and so darn yummy! http://t.co/ptr275whMz #glutenfree #dairyfree pic.twitter.com/hCTjUtUA4k

— Randa Derkson (@bewitchinkitch) November 18, 2014
Looking for more great ideas? Click here to follow me on Pinterest!
Visit Randa | The Bewitchin' Kitchen's profile on Pinterest.
FREE Recipe Binder
Are you constantly wondering what's for dinner?
When I don't meal plan I feel behind, and we usually end up ordering take out. This recipe binder will keep you organized and make life a little bit easier.