Blogging Income Report September 2016 – How I Made over $6000 This Month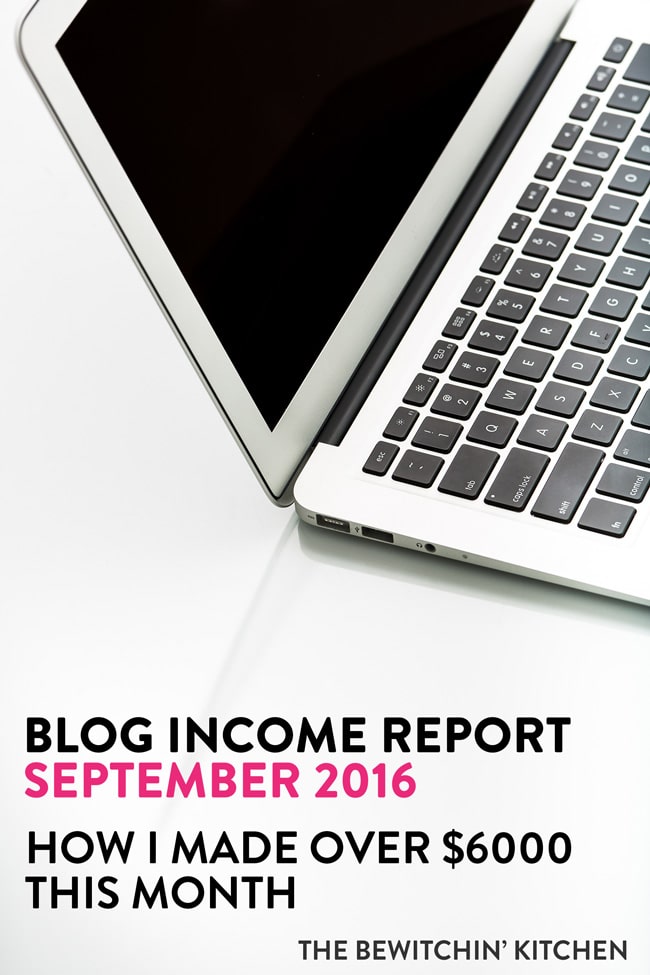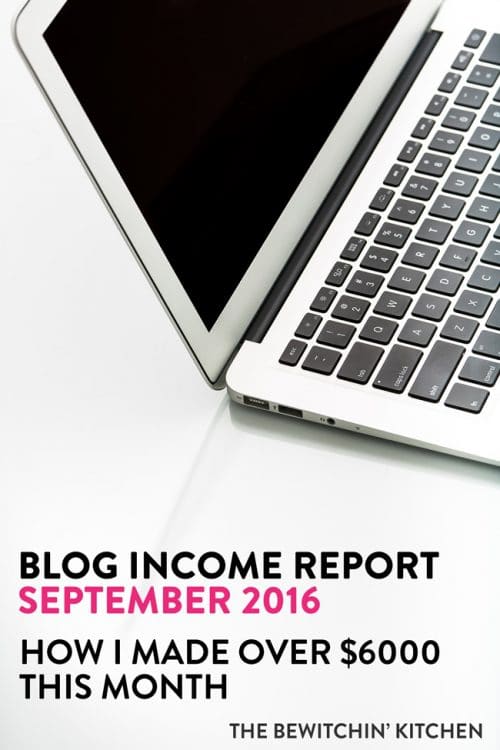 September was a good month and I'm proud of this blogging income report. It's the most I have grossed so far!
Curious on how to start a food blog (or a general blog)? <– Check out the guide! Don't forget to check out my blogging resources too!
Mode Media: Most of you know that Mode Media left many bloggers high and dry in September. After chasing down payments, I'm sad to say that I'm out $2000 after their bankruptcy (or shut down or whatever it is). I was owed roughly $1500 for the month of August, which was late and it carried onto September. I'm not seeing that money now. It hurts, but I'm not hurt near as bad as some of my peers. Thankfully I left Mode in June and I'm with AdThrive now (who I love so much).
New expenses: 
It seems like there is always a new expensive every month. This month was Craftsy, TypeKit and Video Roi.
Craftsy – Craftsy is an awesome online course resource for food and crafts. I purchased a video course on how to make homemade sourdough. I want to buy the cheesecake making course next.
TypeKit – I used this to buy my main font that you see here for my new blog design.
Video Roi – YouTube marketing course.
This post contains affiliate links.
BLOGGING INCOME REPORT
Everything is in Canadian dollars, all US currency was converted using the PayPal converter. 
Sponsored Posts: $5379.38
Sponsored Social Media: $100
Amazon.ca Affiliate: $0
Shareasale:
The Blogger Network: $240.17
AdThrive: $628.65
BBTV: $3.50
Total Income: $6351.70
BLOG EXPENSES
Virtual Assistants: $196.39
Supplies (Office supplies, supplies for blog projects, and groceries for recipe development): $153.87
Food Blogger Pro: $38.31
Adobe Photoshop CC: $15.11
MailChimp: $58.58
WiredTree (Host): $109.33 (also includes domain renewal).
Craftsy: $26.22
FontSpring: $132.11
TypeKit: $67.20
VideoROI: $126.04
Internet: $81.76
Data: $112
Facebook Ads: $28
Total Expenses: $1144.94
This expense report does not include house bills and utilities. 
Blog services that I've paid for and that I couldn't live without or have made a difference:
Tailwind, Buffer, Skyrocket Blog Pageviews with Google Analytics, Dominate The Search Engines with Webmaster Tools, CoPromote, Food Blogger Pro, CONQUER the Layers of Search Engine Optimization.
I have also signed up for Craftsy. I have bought a course (this will show in next month's blog income report) and look forward to learning more about cooking and baking!
Curious on previous months? Check out the Blog Income Report page to snoop around.
What would you like to see on my blog income reports? Is this something I should continue sharing?
This post contains affiliate links of products I use and love.