Gluten Free Lasagne Soup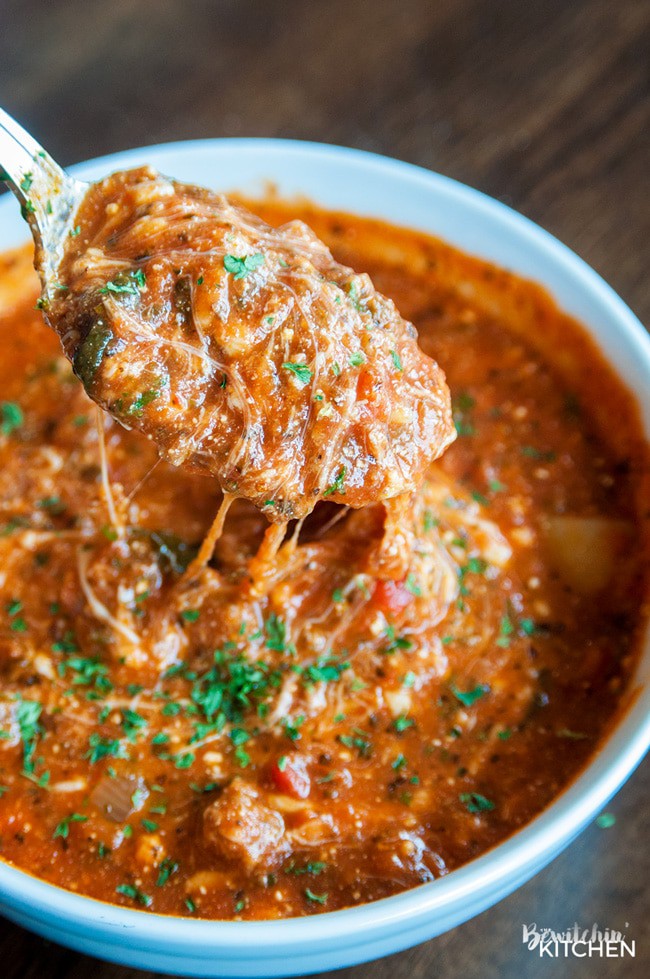 Oh you guys are in for a real treat today with this Gluten Free Lasagne Soup recipe. I think this very well could be the best soup I have ever made.
Is it Lasagna or lasagne? I never knew the difference so I went to Google and found this:
As with most other types of pasta, the Italian word is a plural form, lasagne meaning more than one sheet of lasagna, though in many other languages a derivative of the singular word "lasagna" is used for the popular dish. – Wikipedia
So, technically, it's lasagne. My life has been forever changed. 
I've made a lasagne soup before on The Bewitchin' Kitchen, but the ingredients are not what I used in my personal recipes for lasagne. So although the soup is delicious, I never found that it tasted exactly like lasagne. I wanted to change that.
So I wrote out what ingredients I typically use and tossed it all in a pot with chicken broth.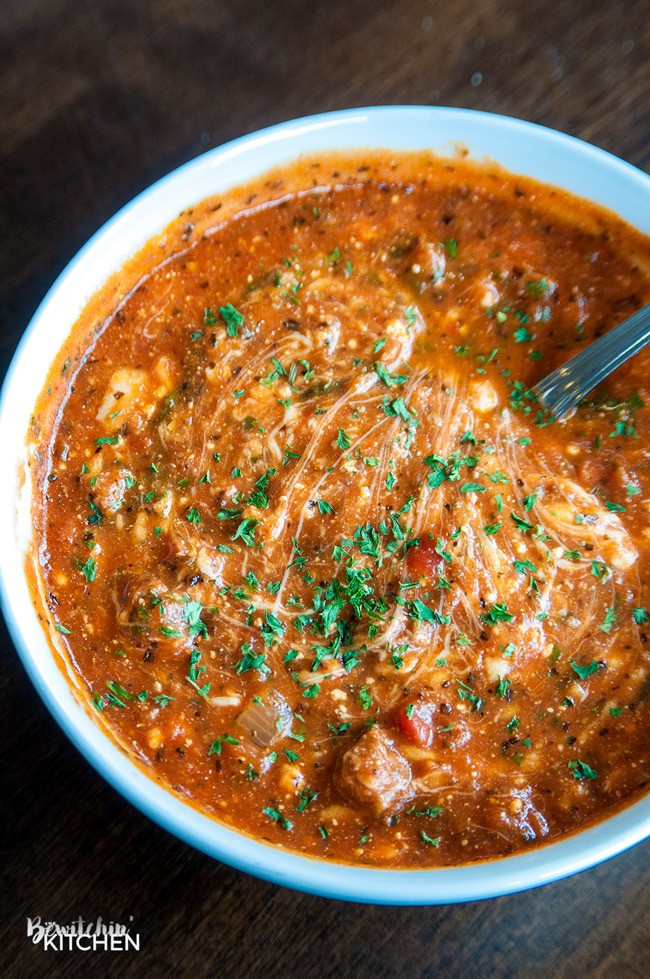 You guys – I did it.
I asked my husband what he thought it tasted like and he said the words that made my heart soar – lasagne. The secret? Ricotta cheese!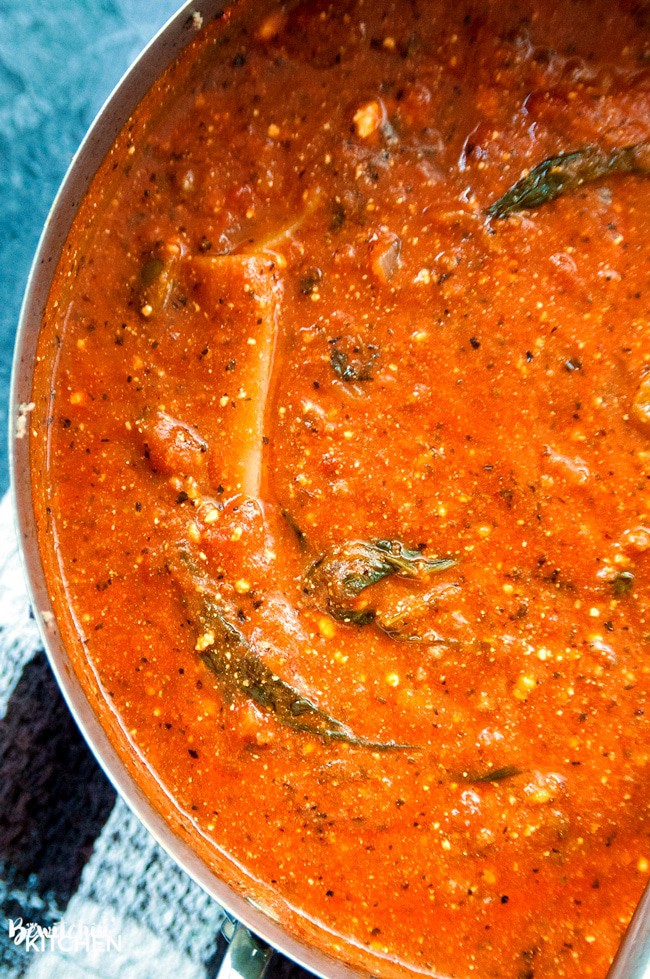 Don't forget the darn cheese, it's so crucial in a lasagne recipe (fun fact, my mom uses egg and cottage cheese, I never tried ricotta cheese until my adult life) so, of course, it would be important in lasagne soup, or in this case gluten free lasagne soup.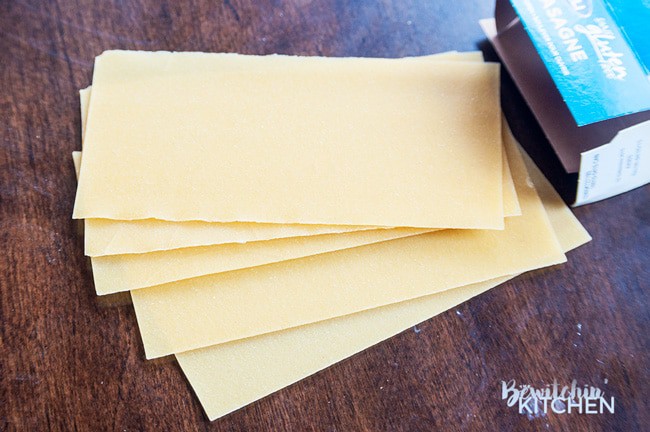 As many of you know, I've been working with Catelli since the beginning of the year as a brand ambassador. This will be my last post as their BA and to celebrate the partnership we've shared I'm using one of my favorites from the Catelli line up: Catelli® Gluten Free.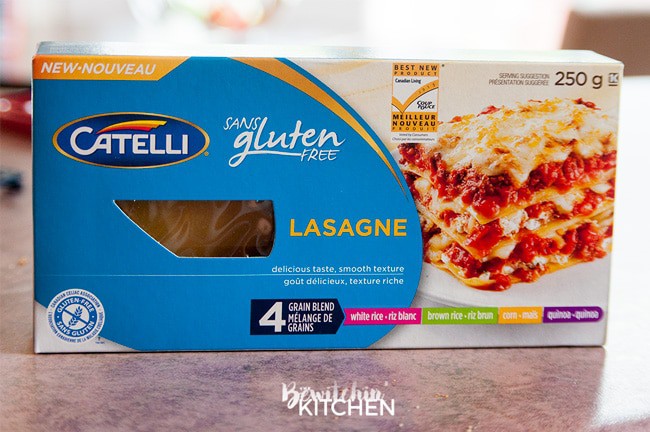 We all know someone who can't have gluten. Whether it's an intolerance or Celiac Disease, Catelli's Gluten Free pasta is made of white rice, brown rice, corn, and quinoa. It tastes just like white pasta, so no one will know the wiser, and it's a way to welcome everyone to the dinner table.
Gluten Free Lasagne Soup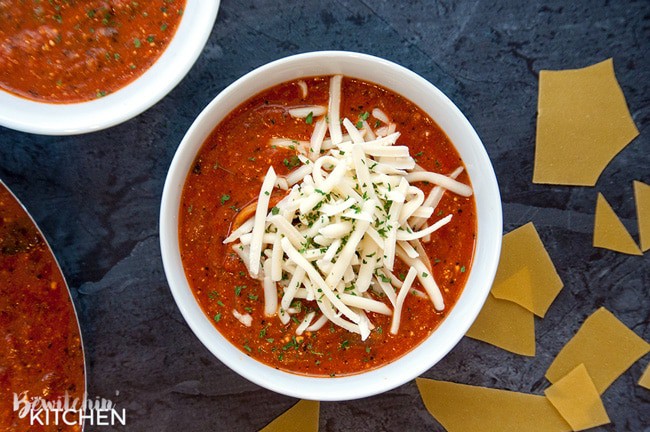 PS – if you're looking for another gluten free pasta recipe, check out this Spinach Artichoke Jalapeno Bake. I don't mean to toot my own horn here, but it's amazing.
Gluten Free Lasagne Soup
This gluten free lasagna soup is AWESOME and super cheesy. A fall soup favorite that actually tastes like lasagna, and easy enough to toss in the slow cooker!
Servings 8
Calories 293kcal
Ingredients
1 lb lean ground beef
1 tbsp olive oil
1 onion chopped
1 green pepper chopped
3 cloves of garlic minced
2 cups spinach
1 28 oz can crushed tomatoes
3 1/2 cups marinara
1 32 oz low sodium chicken broth 900ml
1 6 oz can tomato paste
1/4 teaspoon red pepper flakes
3 tbsps dried basil
1 tbsp oregano
5 Catelli Gluten Free lasagne noodles broken up
3/4 cup Ricotta
1/2 cup mozzarella cheese
Optional: Additional mozzarella cheese for topping
Instructions
In a large pot, over medium heat cook up the ground beef, drain and set aside.

Heat up the olive oil, add the onion, green pepper and cook for 3-4 minutes. Add the garlic and spinach. Stir until spinach is wilted.

Add the ground beef back to the pan.

Add the crushed tomatoes, marinara, chicken broth, tomato paste, red pepper flakes, basil, and oregano. Bring to a boil, cover and simmer for 30 minutes.

Add the ricotta, lasagne and mozzarella. Let it heat through, over low for about 20-30 minutes and serve.

To serve, scoop into bowls and top with more mozzarella.
Nutrition
Serving: 1g | Calories: 293kcal | Carbohydrates: 31.4g | Protein: 19.1g | Fat: 11.1g | Saturated Fat: 4.4g | Cholesterol: 90.3mg | Sodium: 1139.9mg | Fiber: 6.1g | Sugar: 14.4g
Follow On Pinterest
Follow @bewitchinkitchen On Pinterest for more delicious recipes!
What are your favorite classic pasta meals? Share with me your photos (and recipes) of your favorite comfort recipes using #CatelliFamilies on social media (don't forget to tag me) and in the comments below.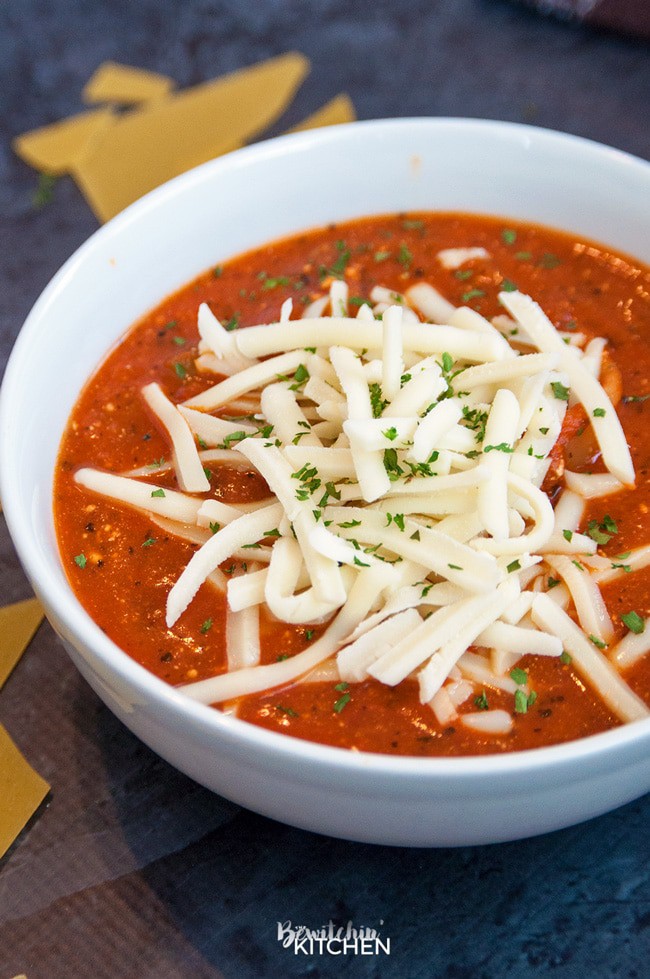 To learn more about Catelli and the pasta products they offer visit http://www.catelli.ca/. I love working with a company that I have welcomed into my family for years.
Like this recipe? Then please pin it, I even made a super-easy pinnable image for you – just hover over the picture below and a Pin It button should appear.

This Gluten Free Lasagne recipe has been sponsored by my friends over at Catelli. I am being compensated as their brand ambassador but all opinions are 100% my own.