Bravado! Designs Nursing Bra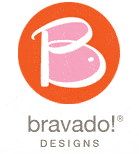 In pregnancy there are a lot of discomforts but I never thought my bra could have been one of them. I was very stubborn throughout my pregnancy, I wanted to keep on wearing my "pretty" bras and look good. I was uncomfortable, but never knew any different so I sucked it up. Then I tried the Bliss Nursing Bra from Bravado!
From humble beginnings developed around a kitchen table, Bravado quickly built a strong reputation as having comfortable, stylish and quality nursing bras. Lactation consultants, midwives, childbirth educators and others in the health care community quickly started recommending our products to new moms, and they still do to this day.
I have had an amazing experience with Bravado from day 1. My contact from Bravado, Julie, has been nothing but warm and informative (a huge help for a beginner like me). I was "professionally" sized, to ensure comfort and practicality, over the phone at first and a few short weeks later I received the Bliss Nursing Bra.
The Bliss is a seamless nursing bra that is great for everyday use. I'm a no fuss kind of girl when it comes to my bras and if I can't toss them in the wash, it's just not going to work out for me. Of course, it is never recommended to throw your bras in the washing machine, but I do it and my Bliss bra has never had an issue (although it's not guaranteed). This bra has molded foam cups and a low neckline, it provides great support but also gives me a beautiful silhouette.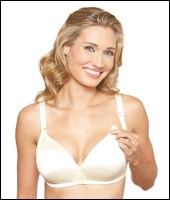 I used the Bliss bra as a maternity bra in the beginning, it was so comfortable and felt amazing to finally have a bra that fit properly to my growing body. I couldn't believe I waited seven months to get one, I endured so much discomfort for far too long. I could sleep in it and use it for everyday use (like I stated above).
Now that I have had Carter, I use my Bliss bra almost everyday. It makes feeding/pumping a breeze. The Bliss nursing bra has clips on the top of the shoulders of each cup, so it's easy to remove the "shell" for feeds/pumps and it's quick to do back up. I have never had it open up on me unexpectedly (a fellow mom in the NICU told me that this is a common problem with her nursing bra) and when the shell is folded down you get the maximum contact for "skin to skin" which, I have learned from my stay in the NICU, is very important. Not only does it establish a breastfeeding rhythm and bonding, but helps with their stats and development as well.
The Bliss comes in ivory, black or chai (which is a nude colored bra and the one I chose to review).
For more information on Bravado! and their products visit http://www.bravadodesigns.com.
Be sure to watch for another Bravado! product review on the Bringing Home Baby Gift Guide in April.
Pin It