Nursing Tops From Milk Nursingwear

 I never thought that a nursing top would become a new favorite shirt of mine. It sounds silly to say but once you see that styles of the fabulous nursing wear that Milk provides your views will change too.
I have been looking at nursing tops for a while now and I have been constantly discouraged with how frumpy they are. It was hard to find a seamless, everyday top that you would never guess served a double purpose. Then I found milk nursingwear.
I was sent the cowl neck top to review. My first impression of this top was I was amazed with how soft the fabric is. This top is made of 95% rayon and 5% lyrca and it is the softest shirt I own and it feels fantastic against my skin. Another feature I love? It's versatile, you can pull of a great casual look with a pair of jeans or dress it up with dress pants. It's my new "go to" shirt.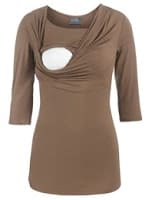 I also want to mention how light the material is as well. I'm still pregnant and having a light shirt against my sensitive (and over heating skin) is just what I need right now. So this shirt is also a great maternity option as well (for all you pregnant mamas out there). However I know that when I do nurse, it's going to be easy and discreet. All you have to do is pull down the cowl neck and there is a band that overs your breasts that you can lift. No one will even notice and you will stay hidden and comfortable.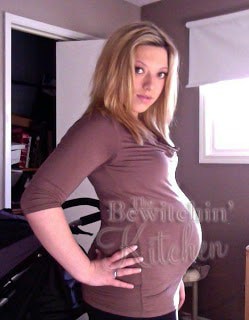 Doesn't it look great? Another item that I am looking at from Milk Nursingwear is a nursing dress. Summer will be right around the corner when I have my little guy and I want to look fashionable yet be practical. I am in love with the flirty halter dress that milk offers on their site.
For more information because sure to visit http://www.milknursingwear.com.
FREE Recipe Binder
Are you constantly wondering what's for dinner?
When I don't meal plan I feel behind, and we usually end up ordering take out. This recipe binder will keep you organized and make life a little bit easier.