Broccoli & Ranch Twice Baked Potatoes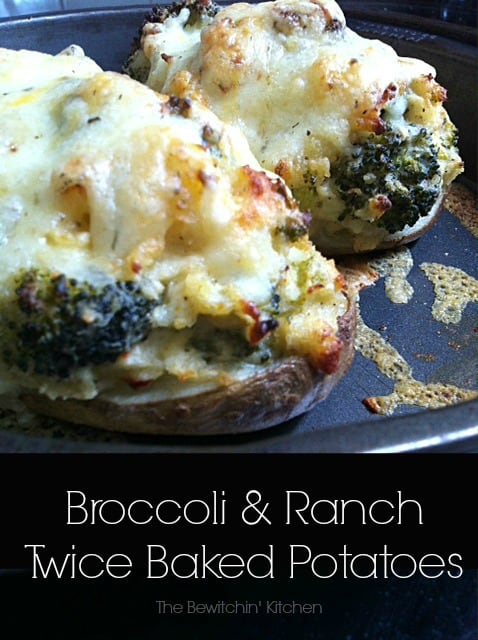 I am participating in the Hidden Valley Ranch Ranchify Recipe Challenge. I'm going to be honest here, other then using it as a dip for my pizza crust, I'm not a big ranch eater so I thought that this challenge would be a bit challenging. Then I remembered that I make awesome twice baked potatoes.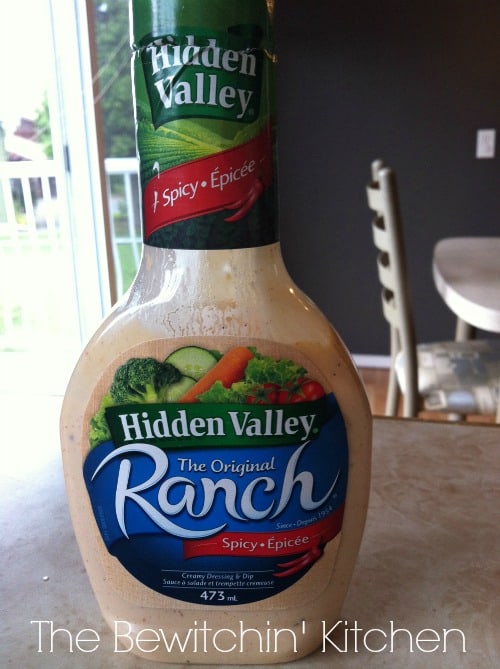 Since this challenge required me to use a Hidden Valley Ranch product, I had to switch up my recipe a fair bit. Actually, to be completely honest I just started through stuff together when it came down to it. I had to choose between the Original, Spicy and Cheese flavored ranch varieties for my potatoes. I knew either one would taste great, but I opted for the Spicy. In the end, the results were simply delicious.
These broccoli and ranch stuffed potatoes are loaded with flavor and make even the non potato lovers (like me) want to go for seconds. The potatoes I used in this recipe were massive, so if you're using smaller potatoes I recommend using less ranch and miracle whip (reduce by a tablespoon each).
Broccoli & Ranch Twice Baked Potatoes
Ingredients
2 large russet potatoes
1 tbsp minced garlic
2 cups chopped broccoli
1/4 cup Hidden Valley Spicy Ranch
1/4 cup Light Miracle Whip
1 cup cheddar cheese
Seal salt and pepper to taste
Method
Preheat your oven to 425 degrees.
Wash your potatoes and stab them with a knife/fork a few times (you don't want them to explode). Bake for 45 minutes or until cooked. Let cool to the touch. Reduce your heat to 375 degrees.
Once your potatoes are cooled, half your potatoes. Take a spoon and scoop out the flesh into a bowl, mash the with a fork. Arrange your potato shells onto a baking sheet. Don't do what I did and completely gut the potatoes, leave some along the edge so the shell will hold it's shape. I messed up the first two, which lead to two massive stuffed potatoes instead of four.
Add all of your ingredients (save 1/2 cup of the cheese) to the potato and combine.
Place your potato mixture in the shells and bake for 20 minutes.
Top with the remaining cheese and bake for an additional 15 minutes.
That's it! They're really easy to make, and make an amazing side dish for your next family BBQ. If you like it, don't forget to pin it 🙂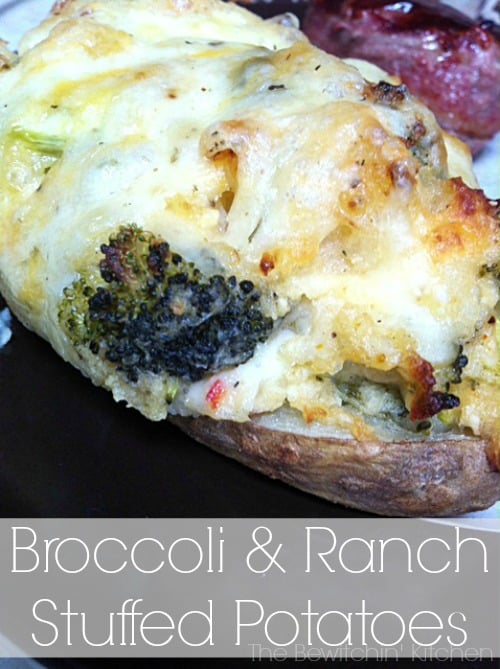 FREE Recipe Binder
Are you constantly wondering what's for dinner?
When I don't meal plan I feel behind, and we usually end up ordering take out. This recipe binder will keep you organized and make life a little bit easier.