Red Wine Steak Marinade + Video
I love a good marinade, it takes no time to prepare and adds a ton of flavor. This red wine steak marinade is our go-to recipe during BBQ season. It truly is the best steak marinade that has been an easy family favorite barbecue recipe for years.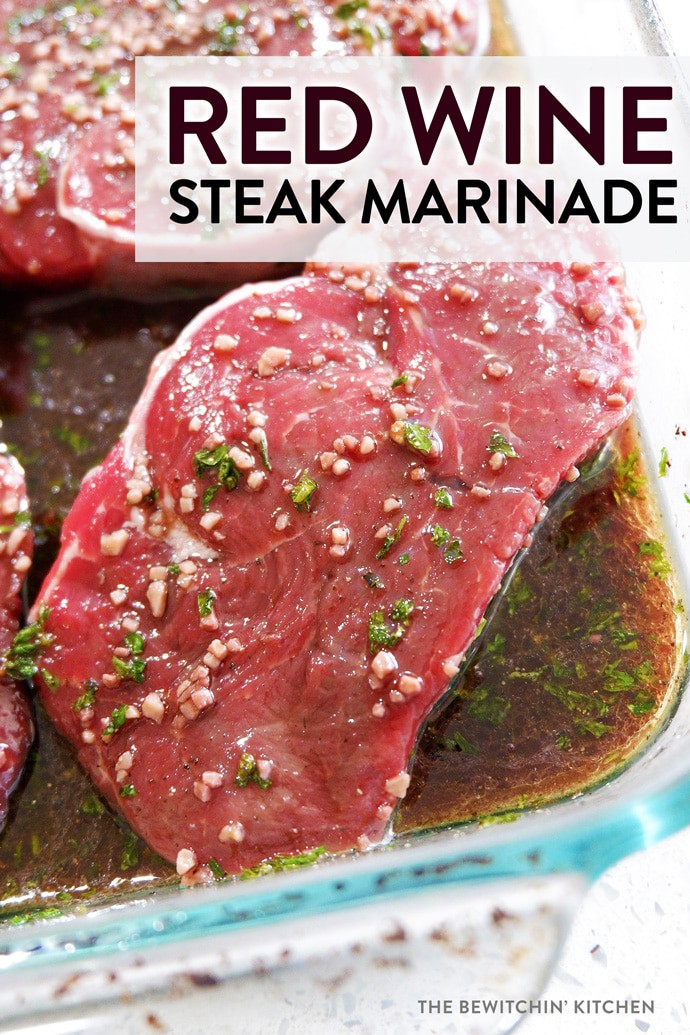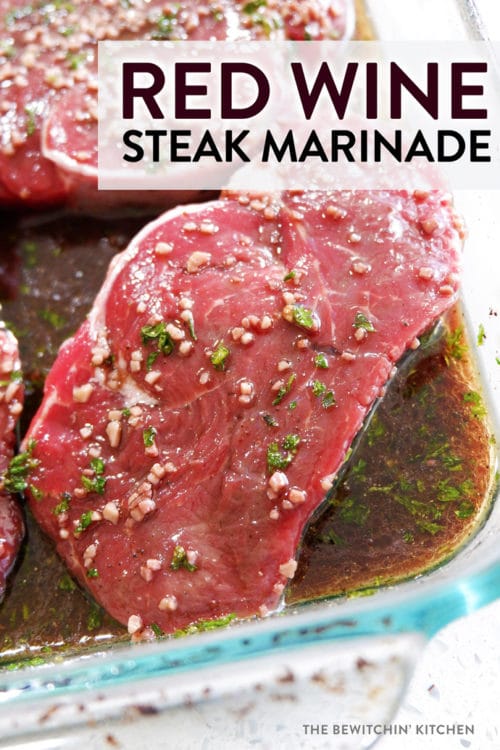 Red Wine Steak Marinade
Disclosure: This post contains affiliate links for your convenience. As an Amazon Associate, I earn from qualifying purchases.
Last summer we lived on our newly built deck. It was a great summer filled with a lot of sun and BBQ – more specifically steak. We had steak every Friday to help kick off the weekend and every weekend we made it the same way.
This is our go-to steak marinade. I wish I could take full credit, but it was my husband who came up with it over six years ago.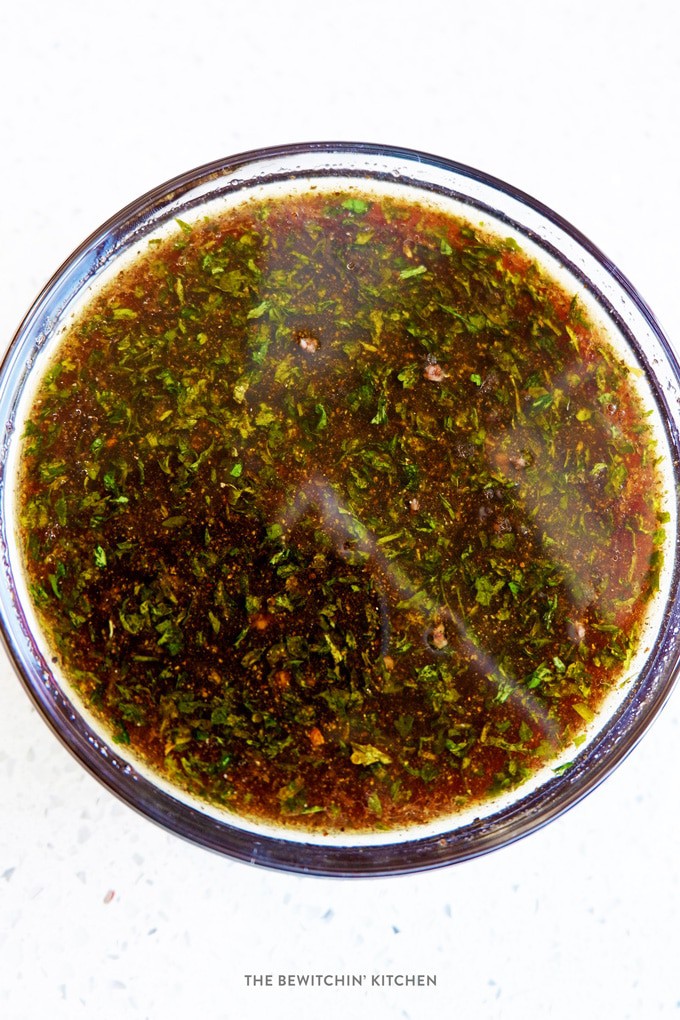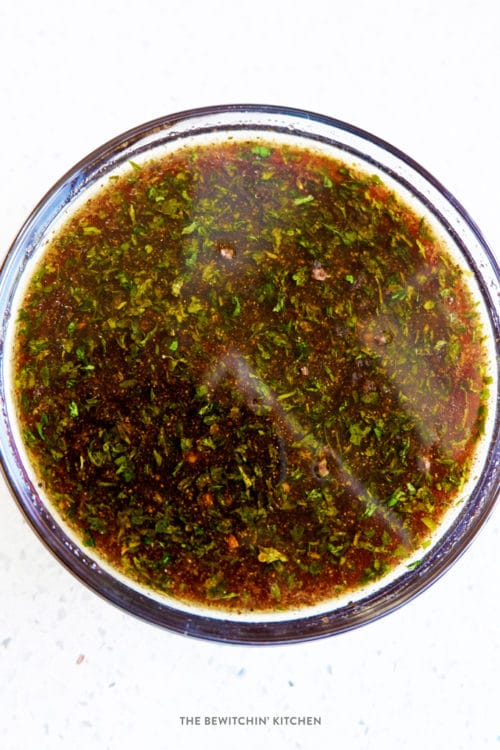 This recipe (for years was always the same) a bit of red wine, a bit of soy sauce, and garlic. Today, I wanted to make it and update some of the old photos from the original post from 2013 and thought, hey? Why not switch it up a bit. So I added some oil and parsley and here we are.
How to Marinate Steak
I'm all for recipes that are quick and easy, and this is just that. For photo's sake, I toss the marinade in a separate bowl, but I usually add the ingredients to resealable bag, shake it up and then add the steaks (or mix it in a bowl and add the steaks to it).
How long should I marinate for?
Wine acts as a natural meat tenderizer through a process called "denaturing". It can break down some of the tough proteins before you get to the grill which makes the end result so tender and good!
I marinate steaks at minimum 2 hours, but it's best if it's overnight. Overnight allows the wine to really get further into the meat and soften some of those fibers. 2 hours gives you flavor, more time gives you more tender meat.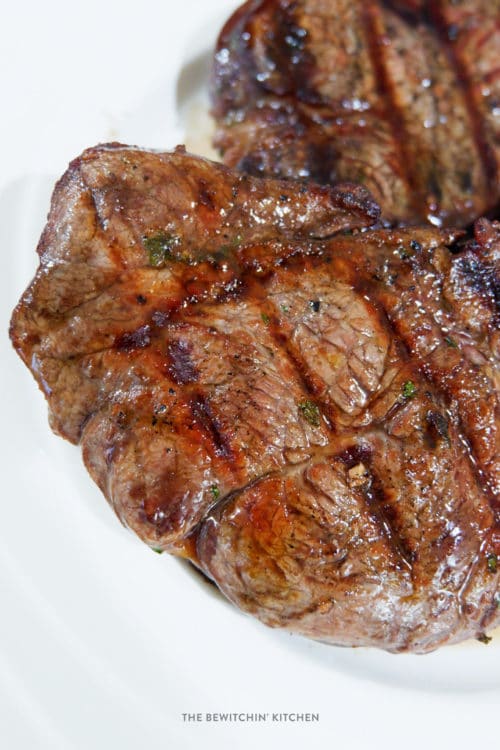 Pro tips for grilling steak
Buy a slightly better cut of meat. It's true, you can marinate and do all you can to season and cook right, but buying that cheaper cut of beef simply will never turn out the same as a well marbled rib-eye (as an example). Don't be stingy….you deserve it!
Sear first. Start your grill early and get it nice and hot. I prefer a temperature at least 400 when I first place the steak on. That high heat sears the meat and keeps all those juices in. After a couple of minutes on both sides, you can reduce the heat quite a bit to then allow the internal meet to come to temperature.
Flip as many times as you want. There is a myth out there that says you should only turn a steak one time. There is simply no science behind it. I took a course from world renowned grill master Aaron Franklin who reaffirmed, turning the steak regularly helps to ensure you don't get a crusty over done outside while the inside is coming to temperature. So don't listen to those urban myths and flip away!
Stop early. The best way to ensure a perfect steak is to measure with a meat thermometer. I always pull the steak from the grill about 10 degrees before my desired temperature. The meat will have a natural momentum that will continue to cook even after you have removed it. So take it off a bit early to keep it just right.
Let it rest. Letting any meat rest after cooking is always a good idea. Give a steak at least 10-15 minutes to level it's temperature and reabsorb it's juices. Resting ensures you have the most tender and juicy steak around!
TBK's Pro Tip: If I don't have red wine on hand I substitute (and use a little less) with red wine vinegar. Vinegar helps it break down and makes it that much more tender.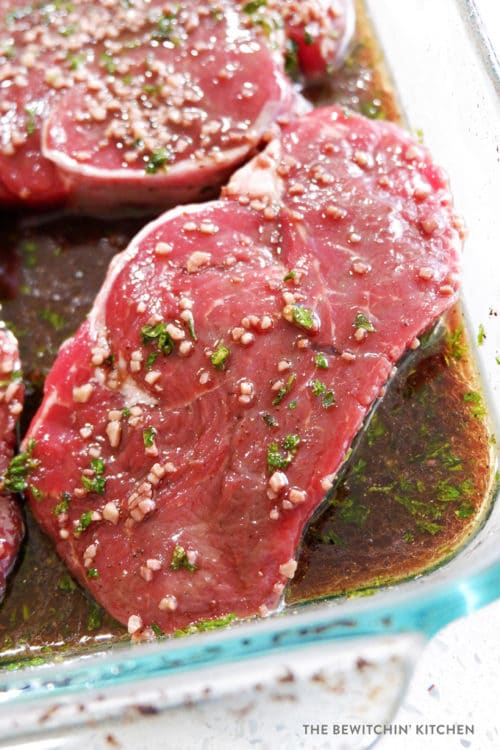 Something I did this time around that was different than last was when I tossed the steaks on the grill, I took the marinade and reduced it over medium heat for a red wine sauce. The plan was to make a demi-glace, but it wasn't thickening so I added a tiny bit of easy blend flour.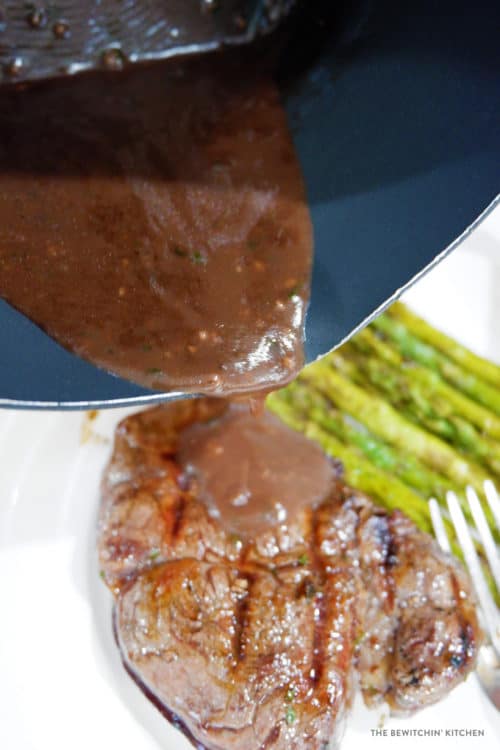 Note: the wine I used this time was a merlot, but it changes to whatever I have on hand. Each wine adds a different flavor.
What do you need for a steak marinade?
Red wine (I linked to one of my favorites)
Side dishes for steak
Here are a few recipes on TBK that go well with this marinade to create a delicious steak dinner.
Red Wine Steak Marinade
This red wine steak marinade is incredibly easy to throw together. It's my favorite grilled steak marinade, so whip this up and fire up the BBQ!
Servings 1 batch
Calories 550kcal
Ingredients
1/2 cup red wine
1/4 cup soy sauce I use low sodium
1 & 1/2  tbsps  olive oil
1 & 1/2  tbsps  toasted sesame oil
3 cloves garlic crushed
2  tsps  parsley
1 tsp pepper
Instructions
Combine the marinade ingredients in a bowl and add the steaks. I prefer using a Ziploc bag to put the marinade and steaks in.

Marinade for as long as you can with a minimum of 2 hours. The longer the better though. I try to prepare it 24 hours in advance. The steak comes out tender and full of delicious flavor.

Then add to your grill and cook to desired internal temperature.
Nutrition
Serving: 1batch | Calories: 550kcal | Carbohydrates: 11g | Protein: 7g | Fat: 44g | Saturated Fat: 6g | Sodium: 3252mg | Potassium: 366mg | Fiber: 1g | Sugar: 1g | Vitamin A: 830IU | Vitamin C: 15.9mg | Calcium: 42mg | Iron: 2.7mg
Follow On Pinterest
Follow @bewitchinkitchen On Pinterest for more delicious recipes!
Looking for more great ideas? Click here to follow me on Pinterest!
Visit Randa | The Bewitchin' Kitchen's profile on Pinterest.