Lemon Garlic Roast Chicken and Vegetables
Buttery lemon garlic roast chicken? I'm in. Cooking once to serve many meals? Sold.
I'm a big fan of cook once, eat many. Whether that's batch cooking, making a lot of one meal, or putting together a dinner that can be used for many recipes down the line. This roast chicken recipe does just that using an oven roasted chicken that serves dinner a few times over.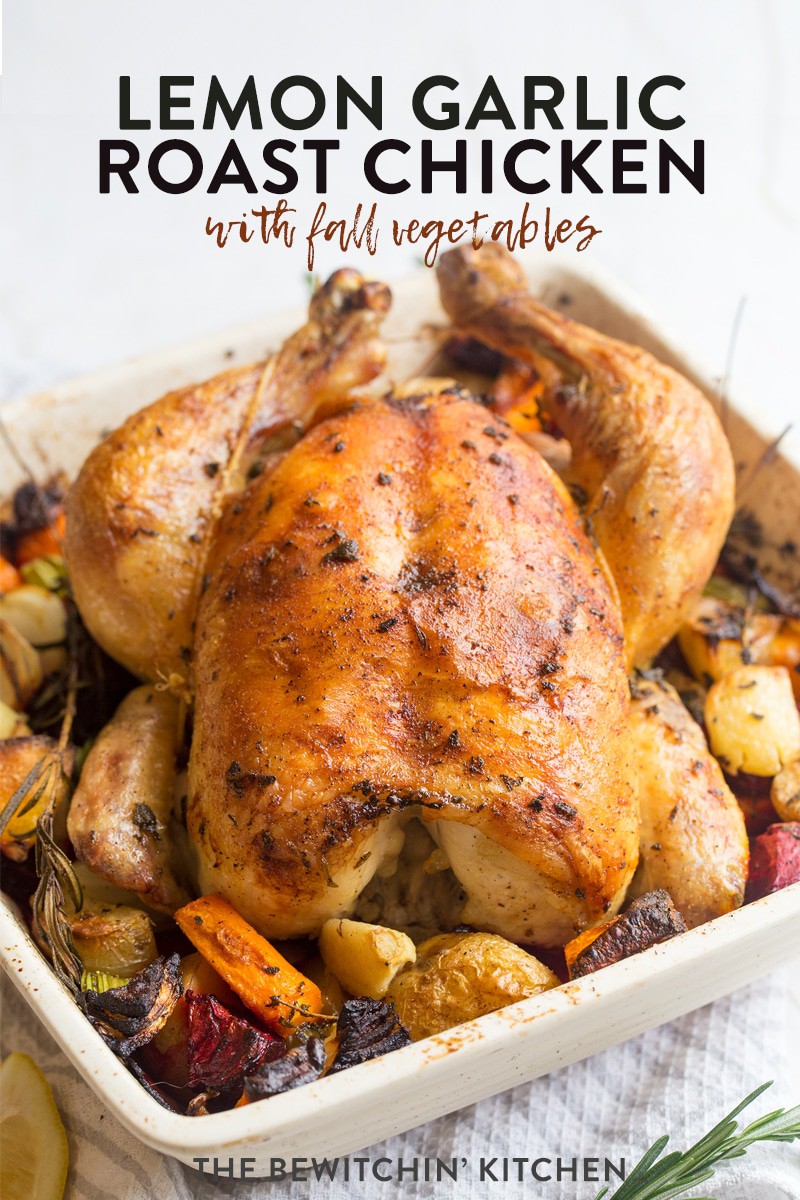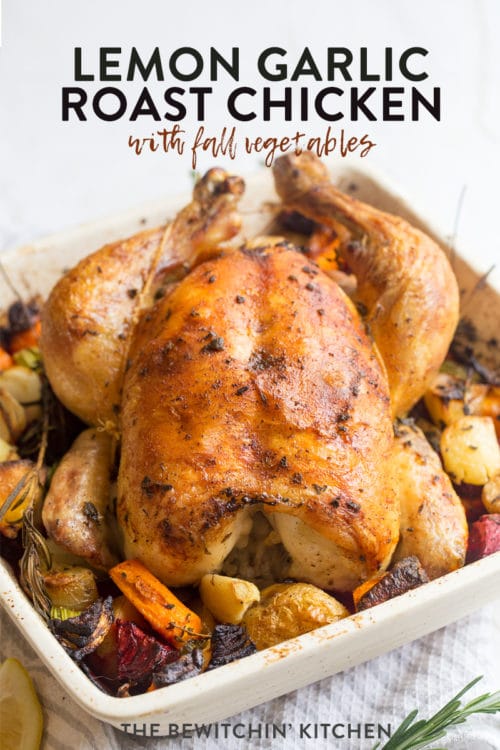 Roasted Chicken
Disclosure: I am participating in the Chicken Farmers of Canada campaign managed by SJ Consulting. I received compensation in exchange for my participation in this campaign. The opinions on this blog are my own. Search the recipe sections over at Chicken.ca. Follow them on the following social profiles: Facebook, Twitter, Instagram, and Pinterest.
Can you believe I've never made an oven roast chicken before?
It's true! I have to say that I was intimidated by roasting a chicken, but now that I'm looking back at this experience I have no idea why. It's basically roasted a turkey but with less time.
As always, I cooked with chicken that has been raised by Canadian Chicken Farmers.
Why?
Not only is Canadian chicken is a healthy choice but it's also grain-fed, free of added hormones (like all chicken in Canada) and steroids, and raised right here in Canada according to nationally-set, high food safety, and animal care standards.
The animal care standards are audited by a third party program and it's a mandatory program for all Canadian chicken farms.
Did you know? Canadian chicken farmers are committed to sustainability by preserving the health of the land, providing value to Canada's economy, and making affordable food for Canadians.
Oven Roasted Chicken Cook Once – Serve Many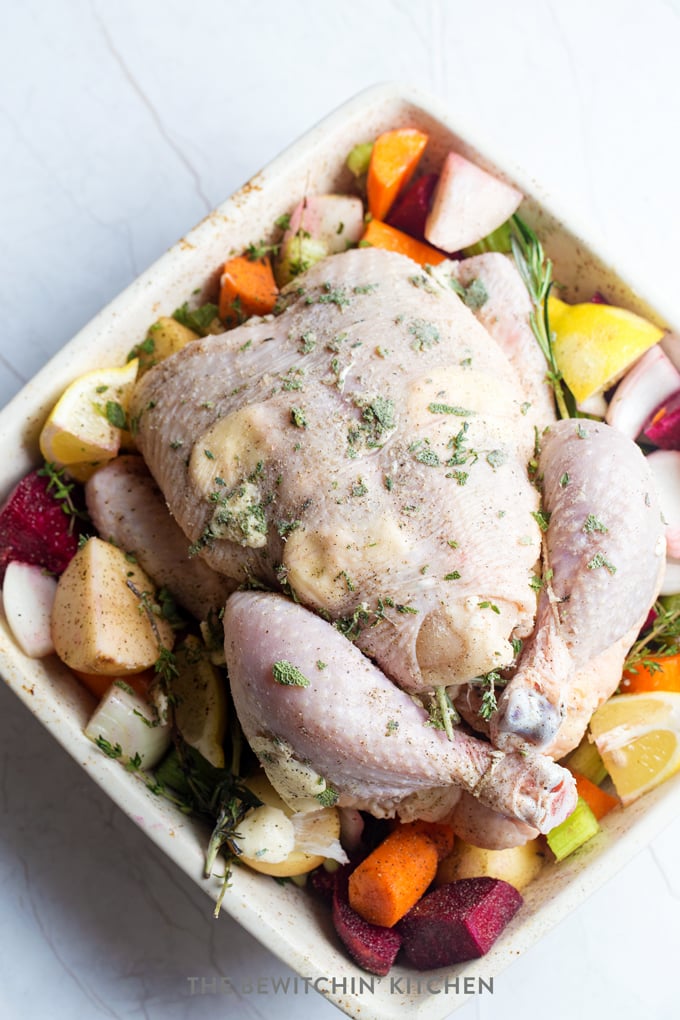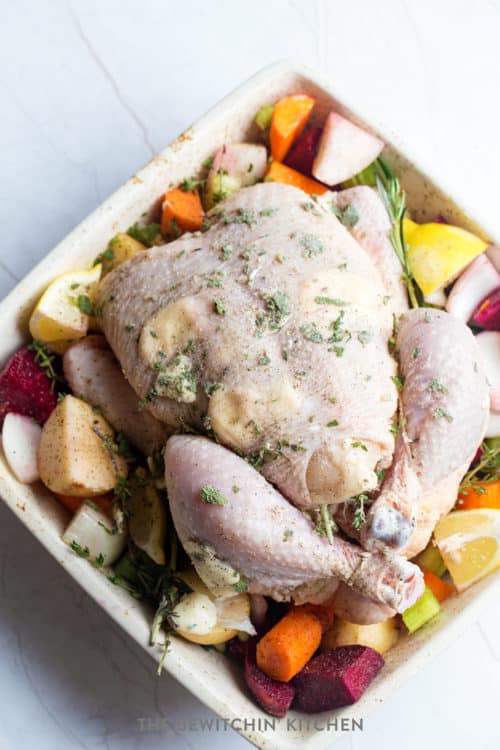 Here are a few ways you can use a whole roasted chicken for many meals.
Leftovers Make little plates of roast chicken dinner for the next few nights.
Sandwiches Use the shredded chicken for chicken sandwiches.
Stir-fry Having pre-cooked chicken makes a stir-fry ready in roughly 5 minutes! Try this healthy chicken stir fry recipe.
Salads Check this Santa Fe Chicken Salad for a delicious lunch and dinner.
Make bone broth There are so many health benefits to a homemade bone broth. You can make it on the stove, slow cooker, or try this Instant Pot Bone Broth tutorial.
Chicken soup I always save the brown meat from chicken in soups. Start with vegetables and seasonings, add the meat, the bone broth and you have soup!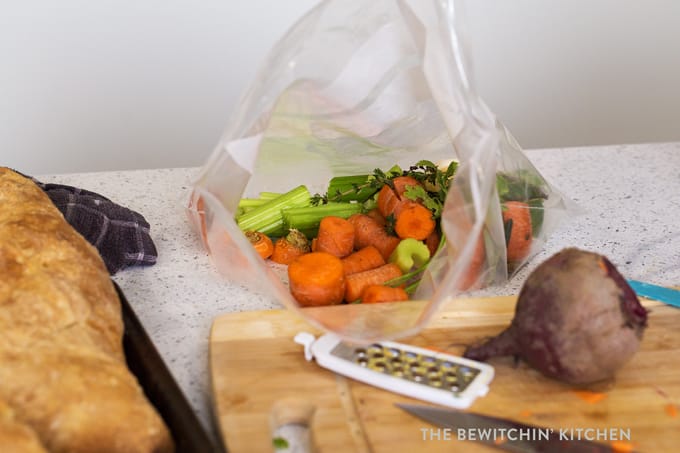 Here's a helpful tip:
While you're prepping the vegetables for roasted chicken, keep a bag open.
Toss the scraps (carrots tops, celery ends, extra herbs) in the bag. I also roughly chop extra carrots, and celery and add them in.
Once the chicken is cooked, I add the legs and wings into the bag and add the chicken to it once I picked the breast clean.
The next day, I add the contents of the bag to a pot, along with a quartered onion and some vinegar and water and boil all day for homemade chicken stock.
How to Roast a Chicken
I was intimidated to roast a chicken at first, but it's easier than what I made it out to be.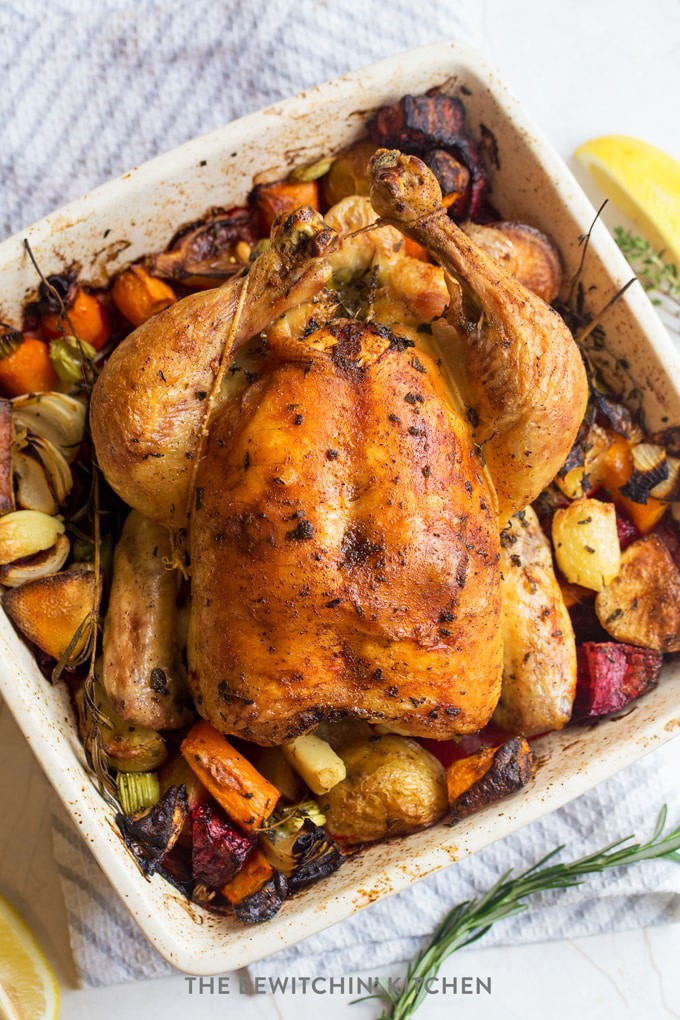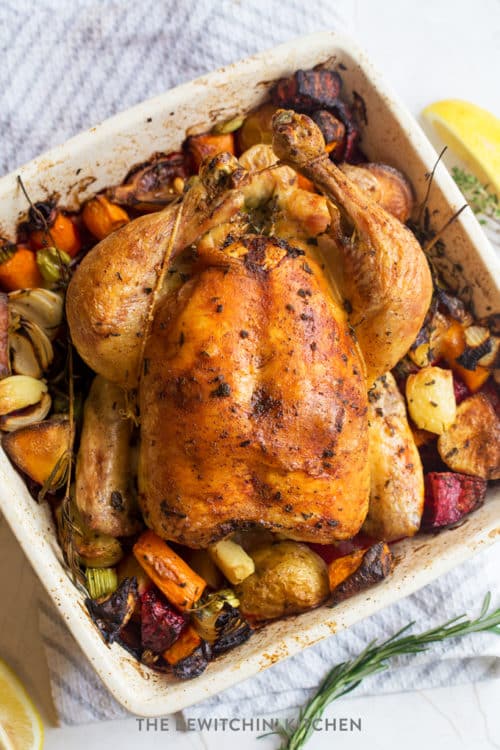 You'll want to crisp the skin first, so roast the chicken at 425 for 20 minutes. Once the skin is beautiful and brown, turn it down to 400 degrees and roast for about an hour (or until the internal temperature reaches 165).
TBK's Pro Tip: For a crispy and beautifully browned skin, I recommend patting it dry with paper towel and then rubbing a fat (butter) over the skin.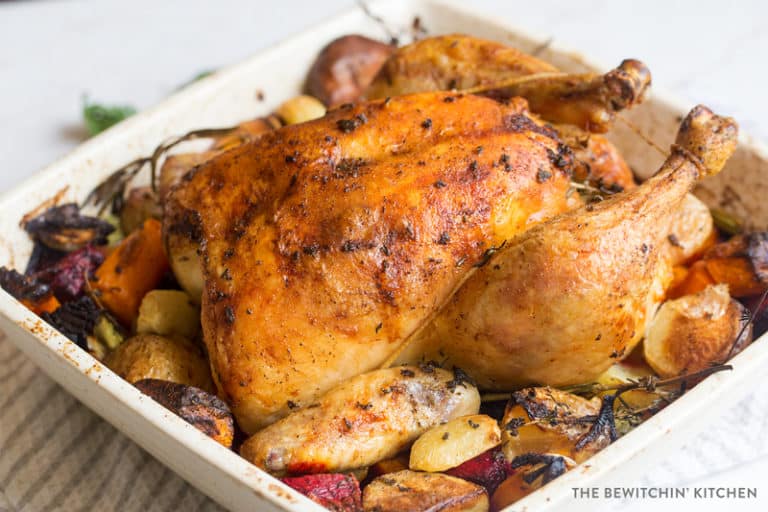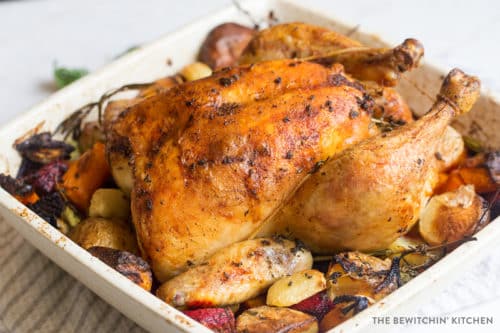 How long to roast a chicken?
TBK's Pro Tip: A good rule of thumb is 20 minutes of roasting per pound.
Don't forget, before you cut into the chicken let it rest on the counter for 10-15 minutes.
Roast Chicken Recipe
I recently bought an incredible cookbook called In the French Kitchen with Kids
. Last week, while I was visiting a friend from out of town, raved about this cookbook, so I ordered it.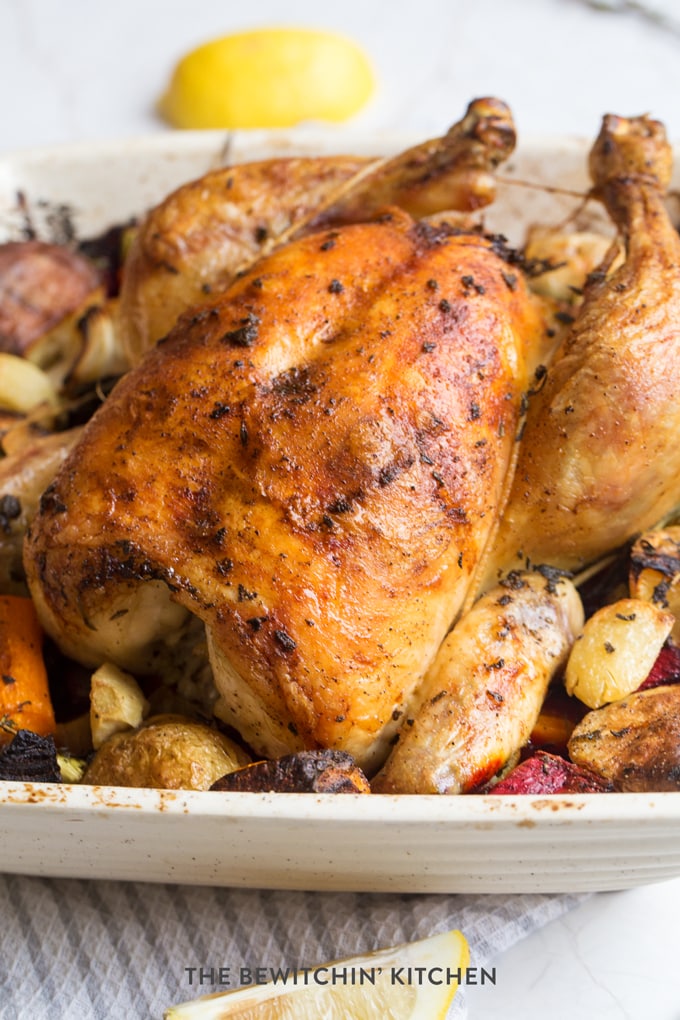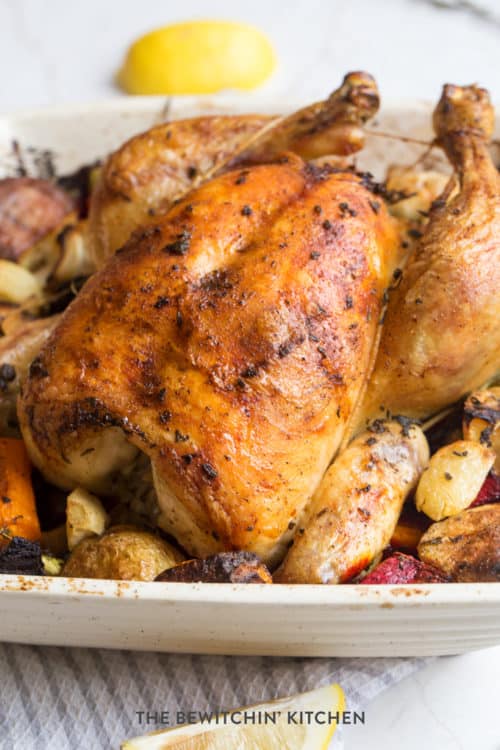 I originally bought it for the french bread recipe, but after skimming through it I noticed she had a roast chicken recipe. It had almost all the ingredients that I purchased for this month's Chicken Farmer's recipe (except she had an amazing garlic butter baste that I knew I had to try ) and thought her recipe was the tutorial to follow.
You're going to love this roasted chicken recipe!
The nutritional information below is for 4oz of the chicken breast and 1/4 of the vegetables.
Roast Chicken Dinner
This roasted chicken recipe is so easy! A lemon garlic roast chicken dinner with vegetables that uses one pan (for easy clean up). The best part? Using a whole chicken means leftovers and a rich and healthy bone broth.
Servings 4 servings
Calories 488kcal
Ingredients
2 carrots quartered
4 potatoes quartered
2 celery stalks cut into 1/2 inch chunks
2 beets quartered
2 small onions cut into thick chunks
2 tbsps olive oil
1 large lemon
9 sprigs thyme
2 sprigs rosemary
2 tsp  sea salt
1 tsp  pepper
1 whole chicken 3lbs
4 cloves garlic smashed
1/4 cup butter
2 tsp  sage leaves chopped fined
Basting
1/4 cup butter
1 tsp  salt
3 cloves garlic smashed and peeled
Instructions
Preheat oven to 425

In a roasting pan, lay out the carrots, potatoes, celery and, beets. Do your best to cut all the vegetables in a similar size.

Drizzle olive oil over the vegetables and add the zest of 1/2 a lemon, 6 sprigs of thyme, 1 spring of rosemary, season with salt and pepper. Toss to coat.

Place the chicken on top of the vegetables and pat dry with a paper towel (both in the cavity and on the skin).

Cut the lemon in quarters, place half of the lemon in the chicken cavity along with the last of the rosemary, garlic cloves, and thyme.

Cut half the butter into small squares and place until the skin, along with some salt and pepper.

Rub the remaining butter over the skin, along with two sage leaves (cut small), the leaves from one sprig of thyme, salt, and pepper.

Roast in the oven for 20-25 minutes, or until skin browns.

While the chicken roasts, melt the butter in a saucepan and add the salt and garlic. Let it simmer on low for 10 minutes, then turn off the burner and remove from heat.

Take out the chicken, turn down the heat to 400 and baste with the butter.

Cook the chicken for 60 minutes, basting once or twice, or until the chicken's internal temperature reaches 165F.

Remove the chicken from the oven and let rest for 10-15 minutes.
Optional steps
The vegetables will be soft from all that butter, the chicken juices, etc so pour the juices into a saucepan.

Place the vegetables back in the oven and roast until crispy.

I boiled down the juices and topped with some more garlic and a little white wine as a sauce to pour over the chicken.
Notes
Weight Watchers Freestyle Points: 8 
Nutrition
Serving: 11/4 of the dish | Calories: 488kcal | Carbohydrates: 48g | Protein: 31.1g | Fat: 19.8g | Saturated Fat: 7.5g | Cholesterol: 107.1mg | Sodium: 1315.8mg | Fiber: 9.1g | Sugar: 9.4g
Follow On Pinterest
Follow @bewitchinkitchen On Pinterest for more delicious recipes!