Chicken Spring Rolls with Garlicky Turmeric Dipping Sauce
These chicken spring rolls are not only easy to make, but they're a super fun way to get the kids involved in dinner prep. Made with chicken, a rainbow of vegetables, and a dairy-free, garlicky turmeric dipping sauce – it's a healthy (and anti-inflammatory) recipe to make over and over.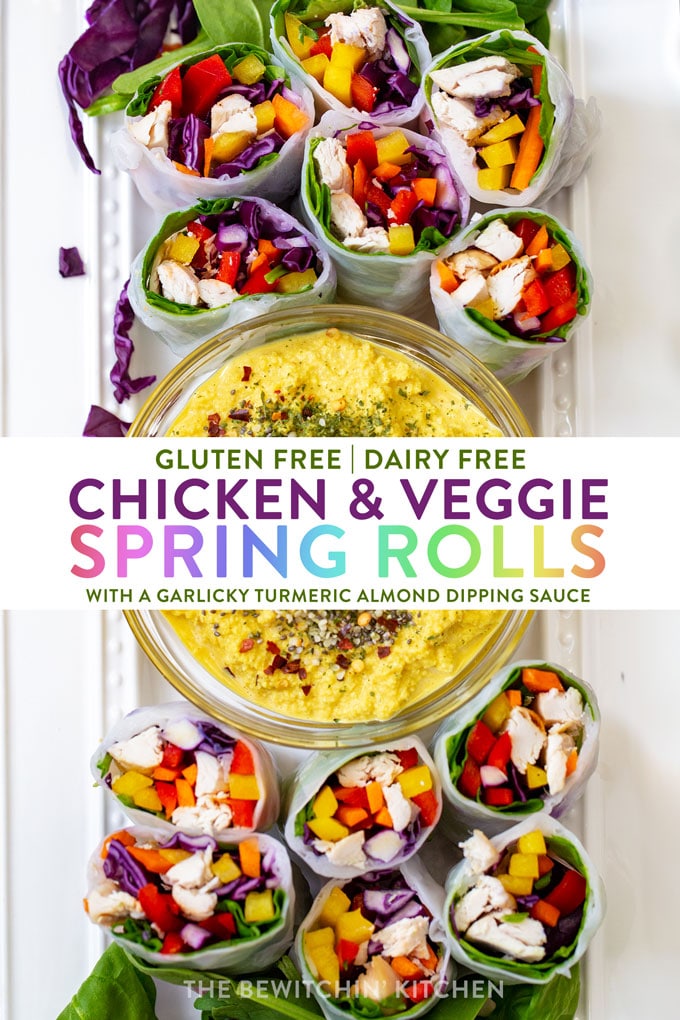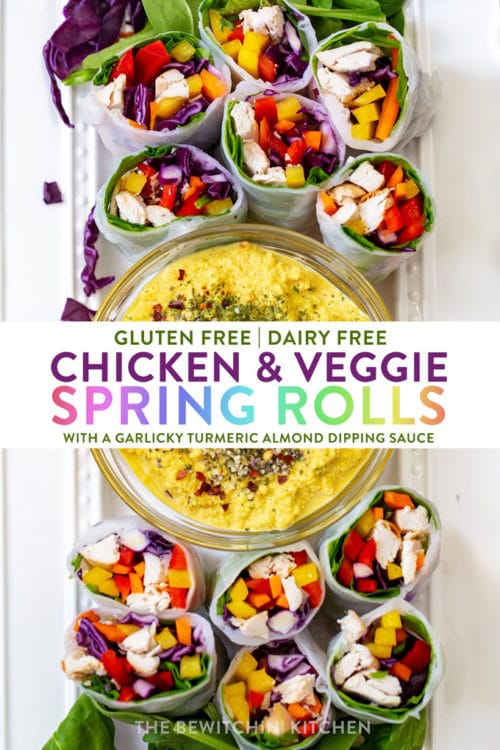 Chicken Spring Rolls
Disclosure: I am participating in the Chicken Farmers of Canada campaign managed by SJ Consulting. I received compensation in exchange for my participation in this campaign. The opinions on this blog are my own.
My tastebuds are in a weird state.
There's is snow on the ground but I don't want comforting winter recipes.
I want spring and summer recipes, but I can't make my way to the BBQ with the three feet of snow on my deck. Sure, I could shovel it but that sounds a lot like work.
I wanted to create a spring recipe for this month's chicken recipe but nothing seemed right. As I was scouring my pantry, I saw the rice paper wrappers and the next thing I knew, I was chopping vegetables.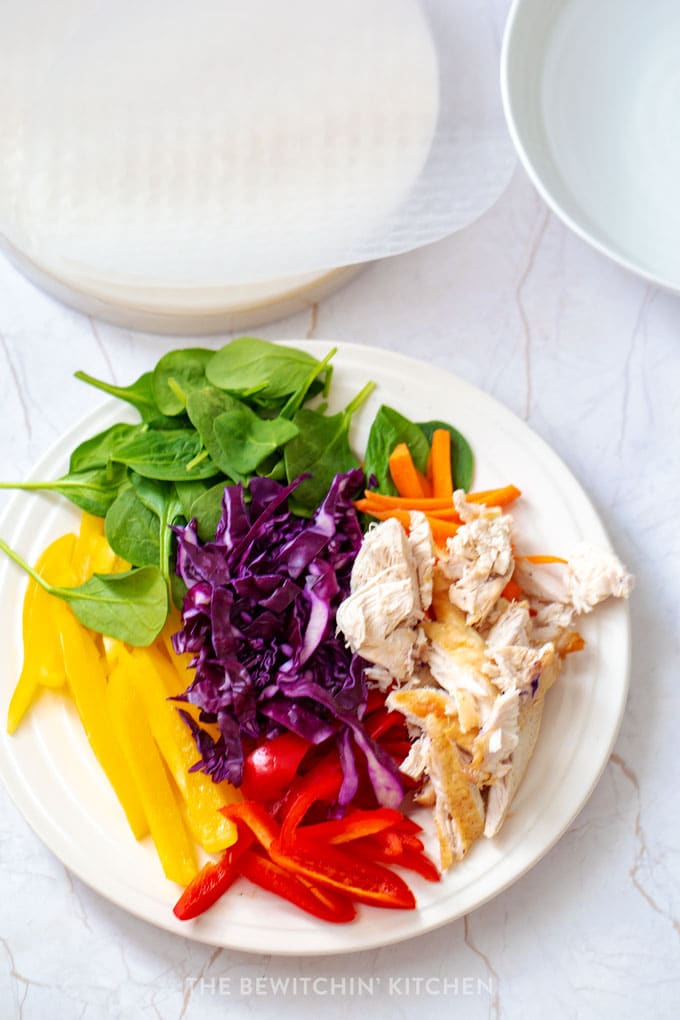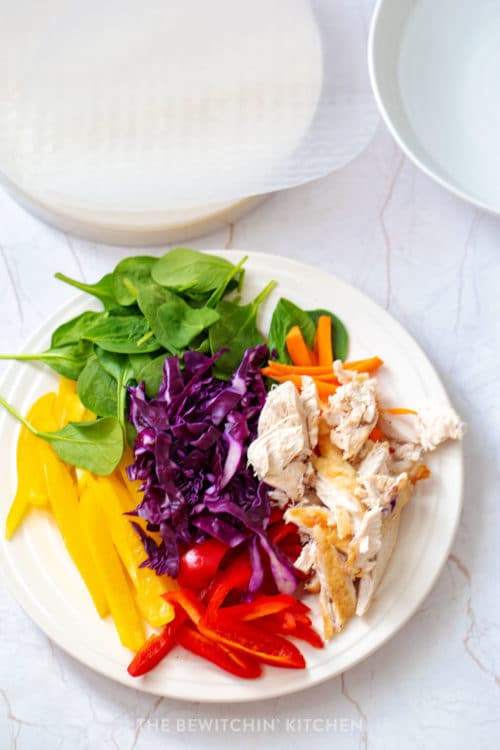 Have you asked your local grocery to carry chicken Raised by a Canadian Farmer yet?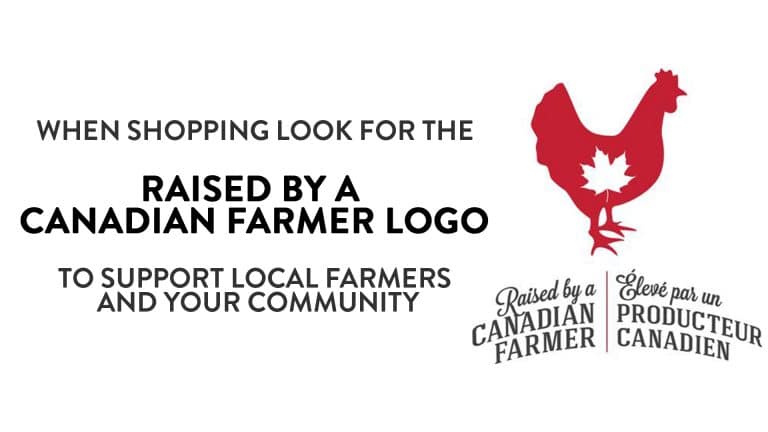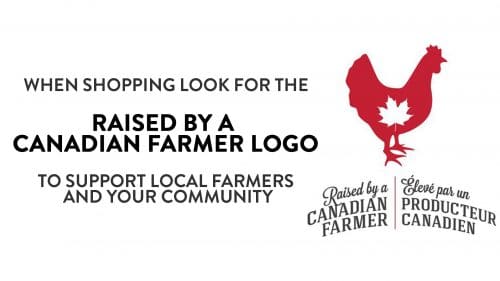 If the chicken you buy at the grocery store doesn't have the Raised by a Canadian Farmer (see above) you need to ask them to carry it!
Why Canadian Chicken?
Chicken that has been raised by a Canadian farmer supports our local economy.
Chicken raised by Canadian farmers is strictly monitored and audited by a third party. These audits ensure that the chicken has proper animal care and an on-site farm safety program.
Canadian chicken farmers are committed to sustainability through innovation, by preserving the health of the land, providing value to Canada's economy, and making affordable food for Canadians.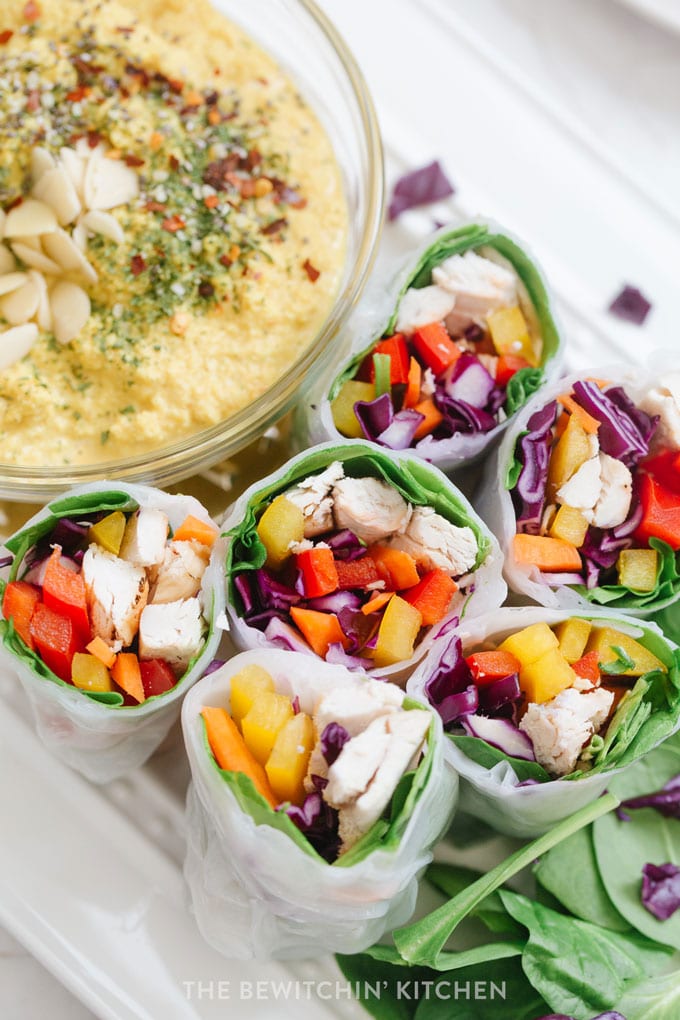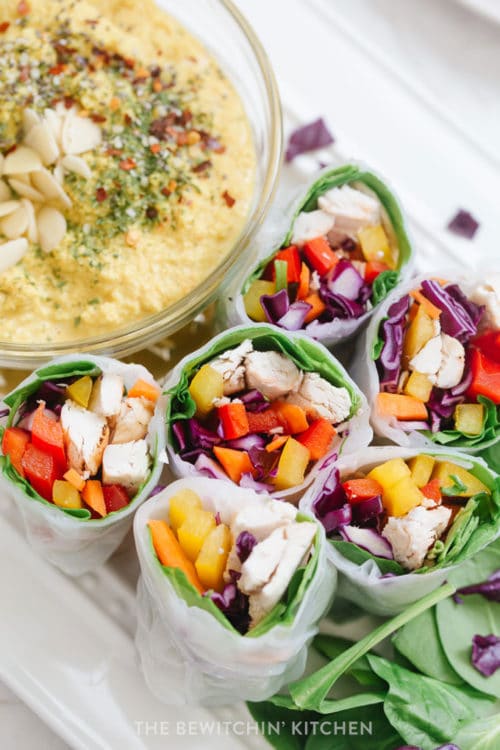 How to use rice paper wrappers
TBK's Pro Tip: I recommend using two bowls for water, this makes wrapping and preparing go quicker. Pie plates are perfect!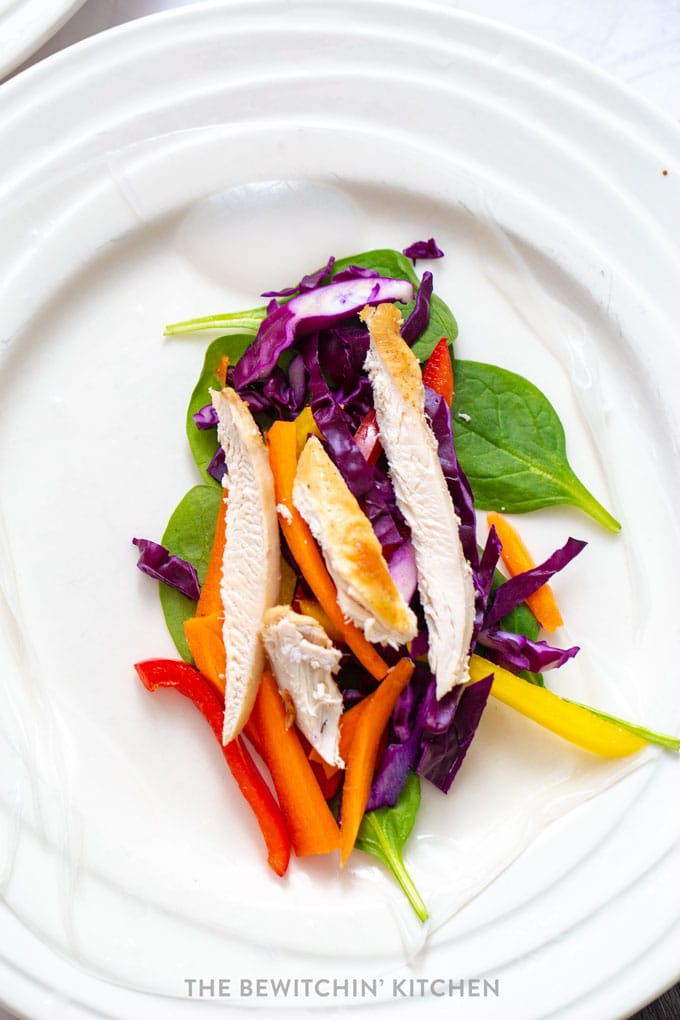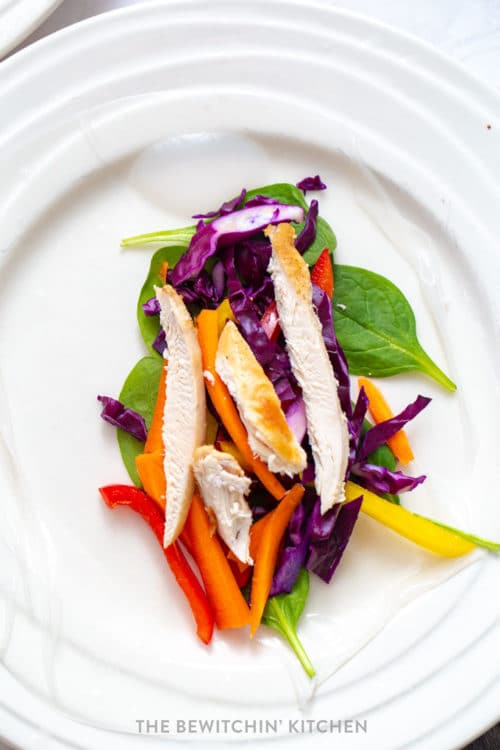 Slip the rice paper wrapper in a bowl (or pie plate) of warm water. Ensure the water covers it all. Wait a minute or two and take it out (all the stiffness will be gone).
Lay the rice paper on a flat surface and unfold any pieces that stuck to each other.
Place your toppings (but not too many, you'll find how much you need after the first go).
Bring the bottom and top of the rice paper wrapper to the center. Hold it with one hand, and make sure the toppings stay in the center. Then bring the right side tightly over and roll. Squeeze the filling as you roll to ensure a tight spring roll.
Set aside and move on to the next!
TBK's Pro Tip: If the spring roll feels flimsy, wrap it in a second layer.
Turmeric Almond Dipping Sauce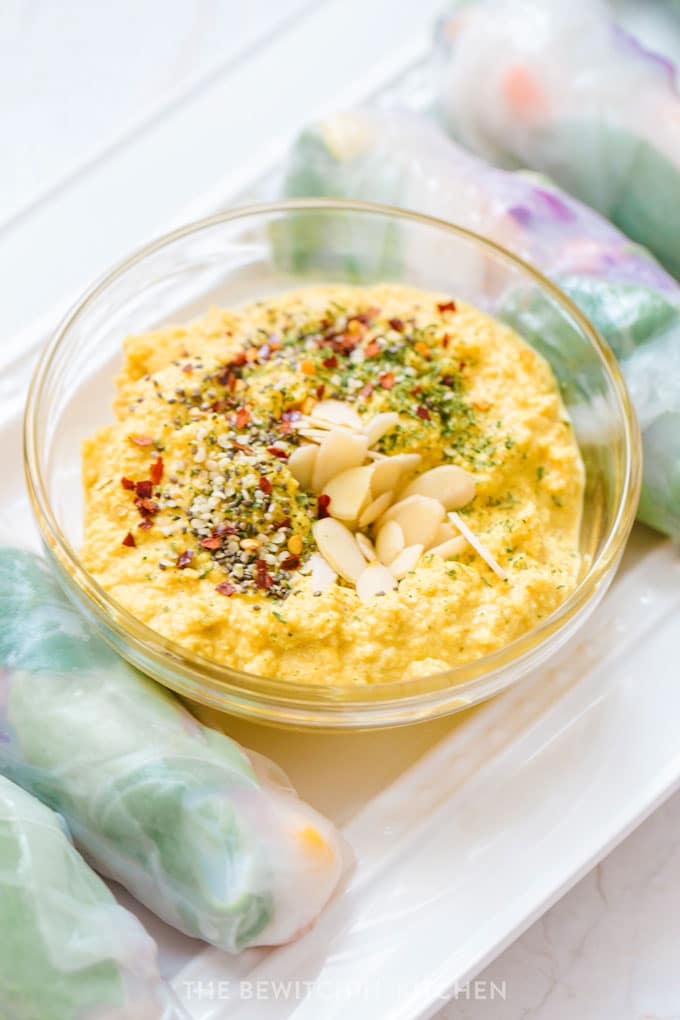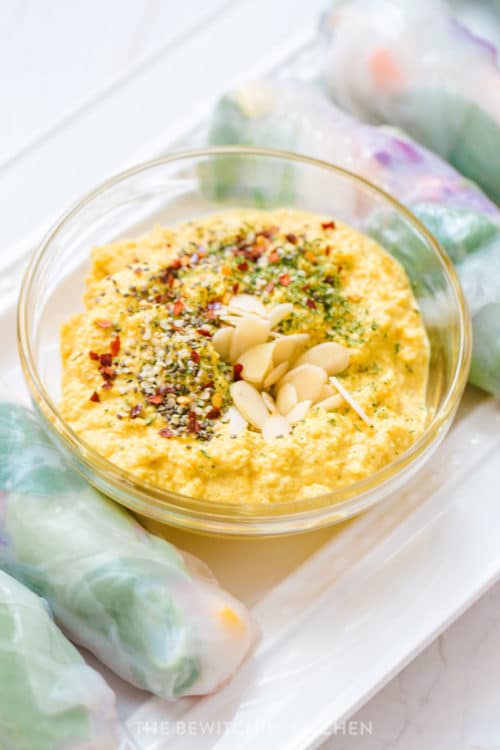 While I was enrolled in the Academy of Culinary Nutrition (affiliate) one of the assignments involved making Meghan Telpner's rice wraps and an almond dipping sauce. I changed a few things and created this amazing garlicky (and spicy) sauce for my assignment.
That assignment inspired this recipe (and you can find Meghan's original almond dipping sauce in her book, UnDiet (affiliate)) but the funny thing is I couldn't make it the same way as the assignment! No matter what I did, I couldn't get the right taste, so I decided to add some turmeric and sriracha and create something new.
If you don't like spice, leave out the sriracha but this recipe is quite mild. If you're scared I recommend adding a bit, taste, and adjust.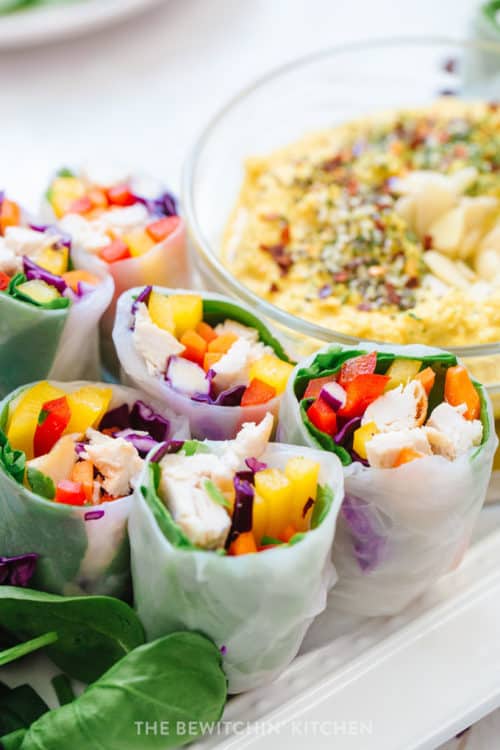 Healthy chicken recipes on The Bewitchin' Kitchen that are full of color
All nutritional information below is for 1 roll and 1/6th of the dipping sauce.
Chicken Spring Rolls with Garlicky Turmeric Almond Dipping Sauce
These chicken and vegetable spring rolls are simple, delicious, and healthy. Gluten free spring rolls with a dairy free garlicky turmeric almond dipping sauce make this perfect recipe for all.
Servings 6 rolls
Calories 318kcal
Ingredients
CHICKEN SPRING ROLLS
6 rice paper wrappers or 12 if double wrapping
2 chicken breasts baked, and sliced
1 red bell peppers sliced
2 carrots cut into matchsticks
1 yellow bell pepper sliced
2 cups baby spinach
1/4 purple cabbage shredded
TURMERIC ALMOND SAUCE
1 cup almonds
1/2 cup water
3 cloves garlic large
1 tbsp lime juice
1 tbsp coconut aminos
2 tsps ginger paste
1 tsp sriracha add more for more kick
1/2 tsp turmeric
sea salt and pepper to taste
GARNISHES (optional)
red pepper flakes
sliced almonds
parsley
hemp hearts
Instructions
Chicken Spring Rolls
Soak a rice paper wrapper in warm water to soften (I recommend two bowls to do two at a time). While the rice paper wrapper soaks make sure the fillings are ready to go.

Lay the rice paper wrapper on a flat surface and unstick the edges to make a circle again. Add the filling ingredients (don't add too much).

Roll the edges by folding the top and bottom and make the filling tight with your free hand. Next, grab the right side and fold over the filling (ensuring it's tight) and roll closed. Set aside. Repeat this for the rest.If the spring rolls are a little flimsy add a second layer of rice paper wrapper to tighten it up.
Garlic Turmeric Almond Dipping Sauce
Add all of the ingredients into a food processor and process until smooth. You may have to add more water to get your desired consistency. Play around with the recipe.

Add the optional garnishes.

Slice the spring rolls in half and enjoy.
Nutrition
Serving: 1roll | Calories: 318kcal | Carbohydrates: 24g | Protein: 24g | Fat: 14g | Saturated Fat: 1g | Cholesterol: 49mg | Sodium: 308mg | Potassium: 758mg | Fiber: 5g | Sugar: 4g | Vitamin A: 5410IU | Vitamin C: 88.4mg | Calcium: 113mg | Iron: 2.7mg
Follow On Pinterest
Follow @bewitchinkitchen On Pinterest for more delicious recipes!
If you like this recipe, make sure you pin it to save it for later.