Greek Chicken Souvlaki
One of my favorite chicken recipes is greek chicken souvlaki. It's simple, easy, and healthy! I love that it takes only a few seconds to mix together a marinade that provides a pack of flavor. It's perfect for all year round whether you grill it on the barbecue or roast it in the oven.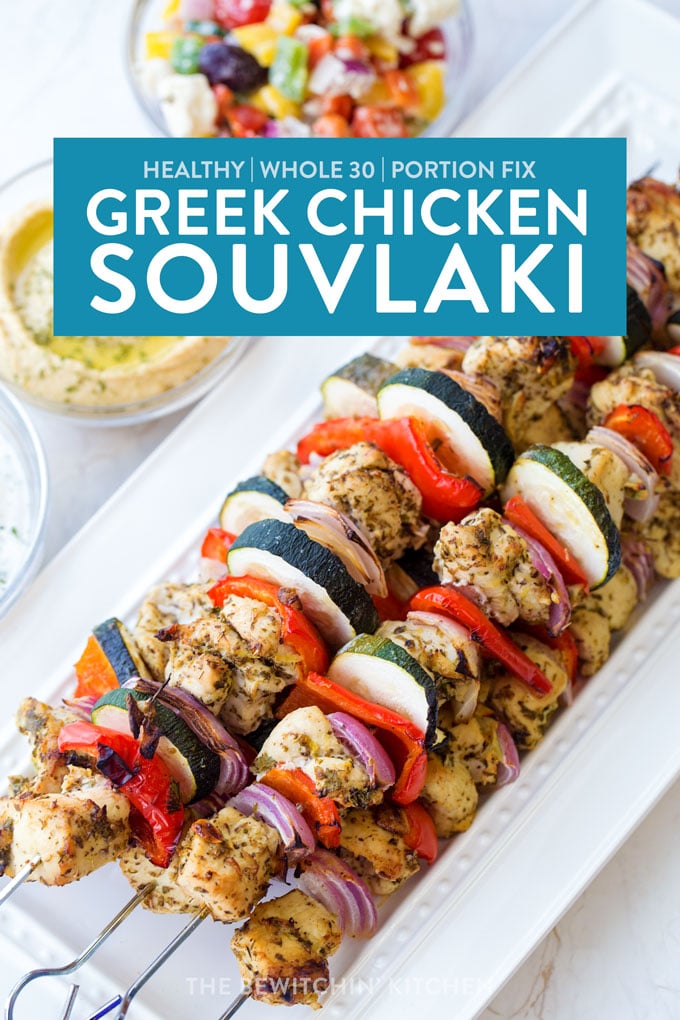 Chicken Souvlaki
Disclosure: I am participating in the Chicken Farmers of Canada campaign managed by SJ Consulting. I received compensation in exchange for my participation in this campaign. The opinions on this blog are my own.
It's the middle of the polar vortex as I write this and as much as I prefer chicken souvlaki grilled, it's too freaking cold to grill. So baked it is!
Greek chicken souvlaki makes me remember the days of the Greek restaurants I used to visit when I lived in Edmonton and Leduc.
I love Greek food but unfortunately, they're a rare commodity up in Northern British Columbia.
My old workaround was a souvlaki seasoning from a food specialty company but they're hard to come by (I don't even know if they make them anymore). It was time to step it up and make one from scratch.
Chicken Souvlaki Marinade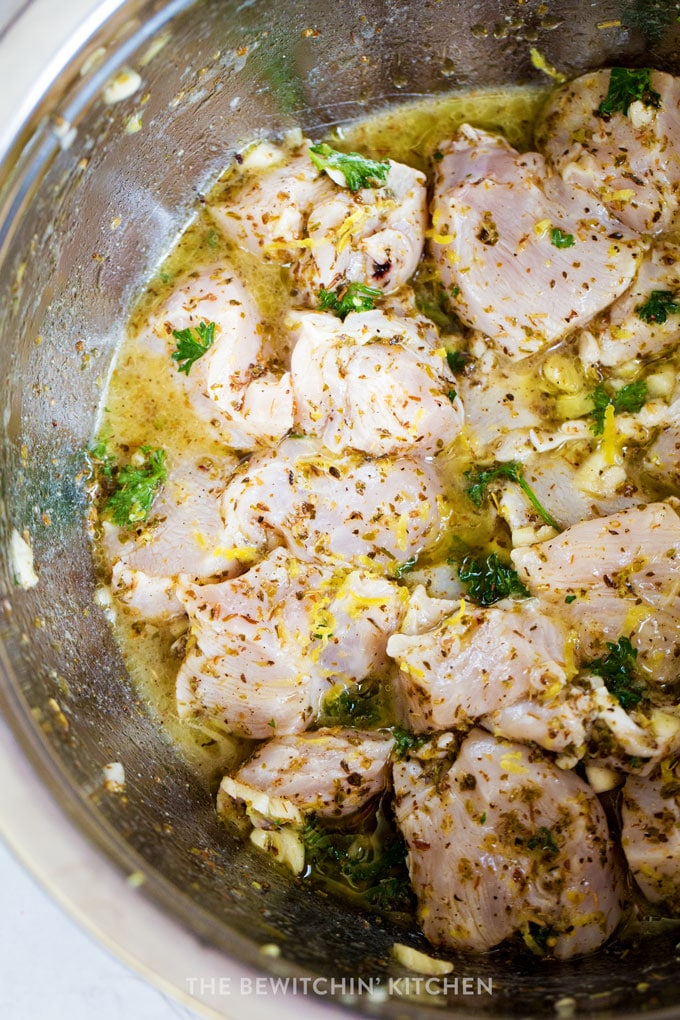 This recipe is so easy to throw together:
lemons
oregano
olive oil
garlic (lots of it)
parsley
Canadian chicken
I love that chicken is so versatile. You can create just about anything with this one ingredient. In this case, I added a few healthy flavors to transform chicken into Greek chicken souvlaki.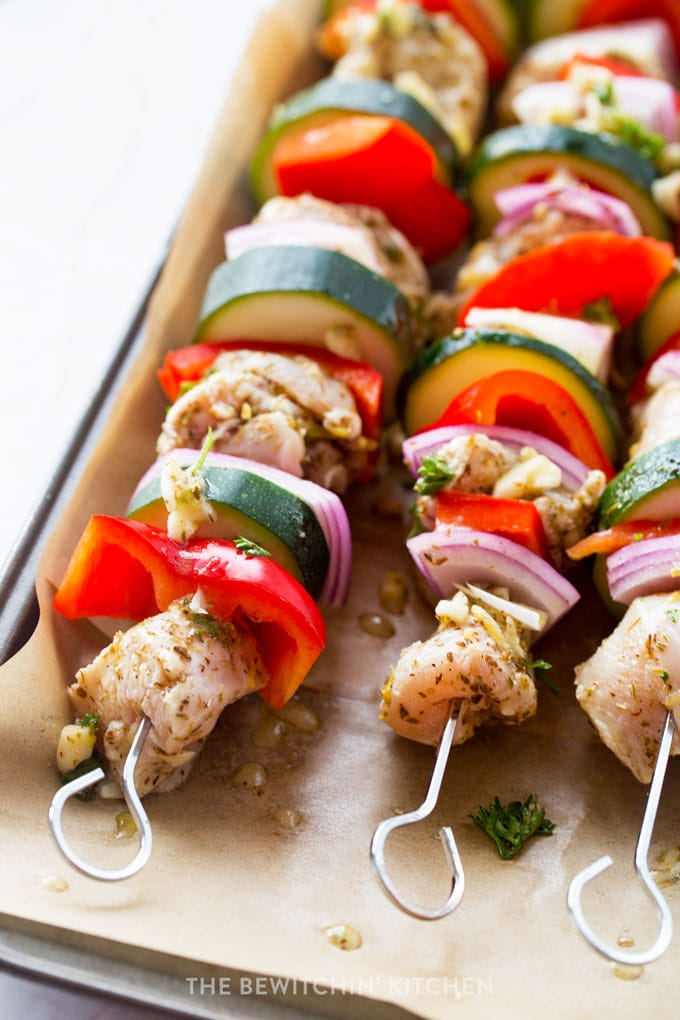 So why Canadian chicken?
Chicken that has been raised by a Canadian Farmer is held to the highest standards. It's audited by a third party to ensure that the chickens are raised in quality and humane practices. They have to follow an on-farm food safety program along with high animal care standards.
In addition to the high-quality chicken, I love supporting Chicken Farmers of Canada because it's a family affair.
Did you know 90% of Canadian chicken farms are family owned and operated?
So how can you ensure that your chicken offers everything that I've touched upon? Easy, look for the Raised By a Canadian Farmer logo on your chicken! (see below).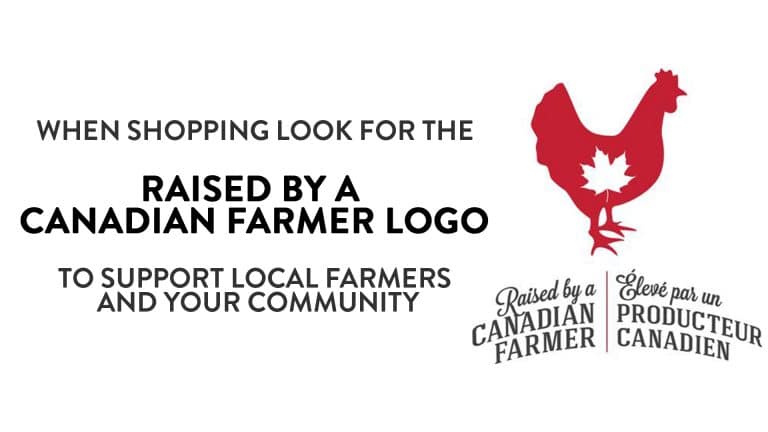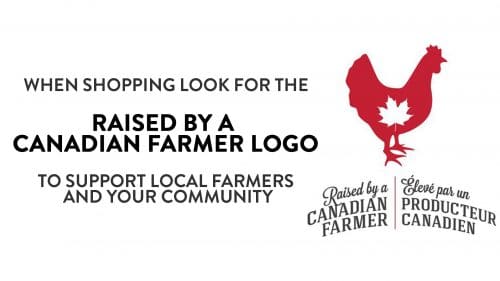 What to Serve with Chicken Souvlaki
Here's what goes with greek chicken souvlaki:
If you have leftovers, try this Greek Pizza with Tzatziki Drizzle.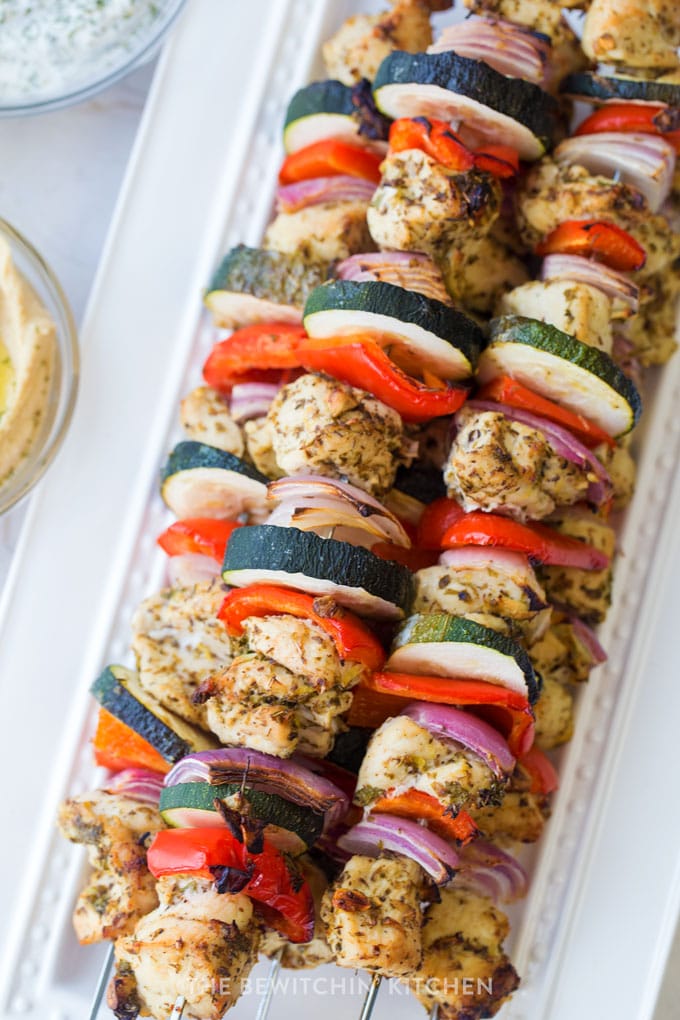 How to Make Chicken Souvlaki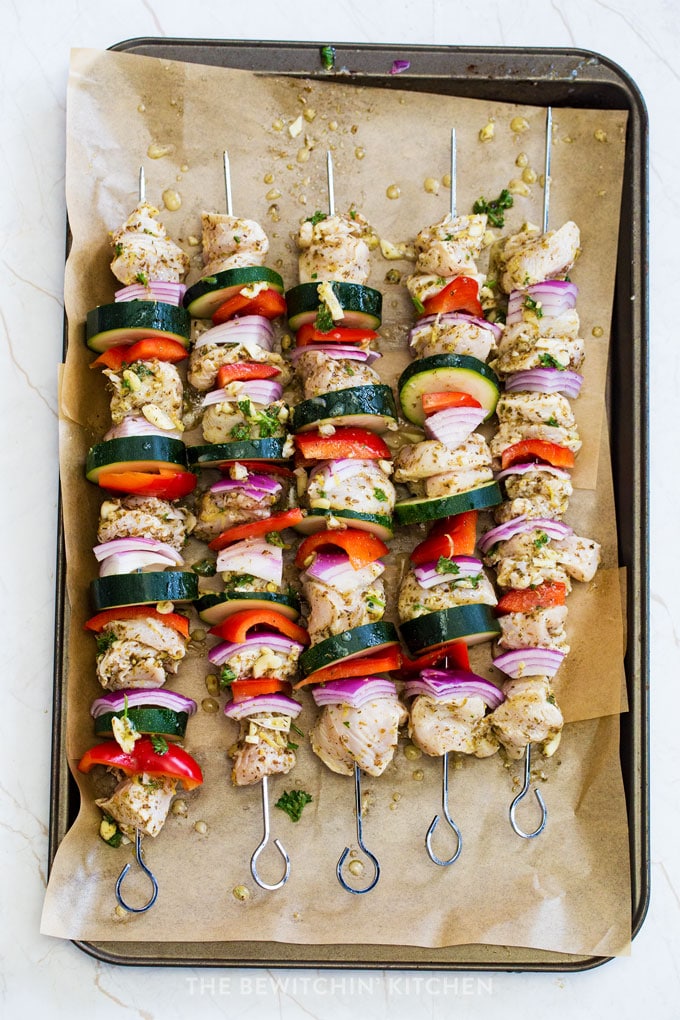 Whenever I have had chicken souvlaki in restaurants, the skewers have straight meat.
However, for the sake of my need to up my vegetable intake, I added some vegetables to the greek chicken kebabs.
PS: Search the recipe sections over at Chicken.ca to discover more healthy recipes. Don't forget to follow them over at Facebook, Twitter, Instagram, and Pinterest.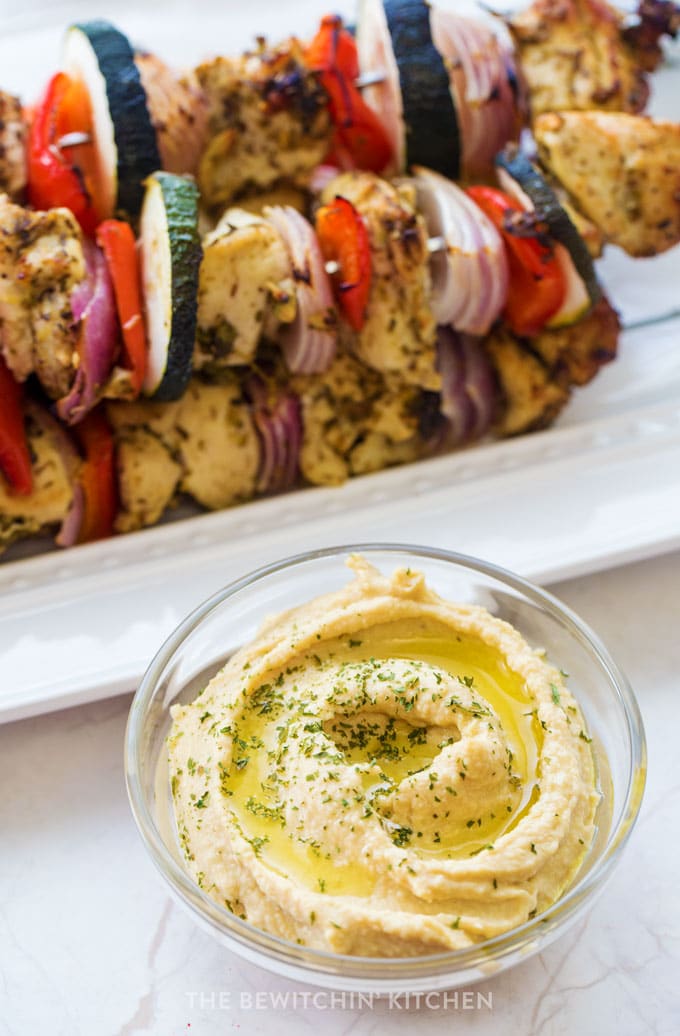 I highly recommend serving these chicken kebabs with a garlic hummus. I used a store bought brand, swirled it with my spoon and drizzled a little olive oil and topped with parsley to fancify it.
Chicken Souvlaki
These oven baked greek chicken souvlaki skewers are one of the easiest dinners to make! This recipe has a simple greek souvlaki marinade that packs on big taste! Make it tonight and serve it with hummus and tzatziki.
Prep Time 2 hours
Cook Time 30 minutes
Total Time 2 hours 30 minutes
Servings 5 people
Calories 341kcal
Ingredients
4 chicken breasts cubed
1/4 cup olive oil
1 large lemon juiced
1 tsp lemon zest
6 cloves garlic minced
2 tbsps fresh parsley chopped
1 1/2 tbsps dried oregano
1 tsp sea salt
1/2 tsp pepper
1 zucchini sliced in coins
1 red bell pepper sliced into large cubes
1 purple onion quartered
Instructions
If you're using wooden skewers, soak them in water a few hours before.
Chicken Marinade
In a large bowl, add the oil, lemon juice and zest, garlic, parsley, oregano, salt, and pepper. Whisk together and add the cubed chicken. Cover and let marinate in the fridge for 2-3 hours (minimum, overnight is best).

Preheat over to 450.

Take the chicken out and alternative cubed chicken and each one of the vegetables on a skewer.

Line on a parchment lined baking sheet and bake for 25 - 30 minutes (depending on the size of your chicken cubes). Turning at the 15 minute mark.

Service with greek salad, rice, or greek potatoes.
Notes
If you have leftovers, this is delicious on a salad the next day. Weight Watchers: 3 Freestyle Points. The only item with points is olive oil. Can recommend using lemon juice only instead of oil for a zero point recipe.
Nutrition
Serving: 1skewer | Calories: 341kcal | Carbohydrates: 9g | Protein: 40g | Fat: 15g | Saturated Fat: 2g | Cholesterol: 115mg | Sodium: 682mg | Potassium: 925mg | Fiber: 2g | Sugar: 3g | Vitamin A: 1040IU | Vitamin C: 56.4mg | Calcium: 59mg | Iron: 1.9mg
Follow On Pinterest
Follow @randaderkson On Pinterest for more delicious recipes!
FREE Recipe Binder
Are you constantly wondering what's for dinner?
When I don't meal plan I feel behind, and we usually end up ordering take out. This recipe binder will keep you organized and make life a little bit easier.