Chicken Rainbow Salad
Rainbow salad topped with juicy baked chicken and a citrus vinaigrette is the dinner of your dreams! With some simple meal prep at the beginning of the week, this colorful salad will only take a minute or two to throw together — perfect for busy schedules!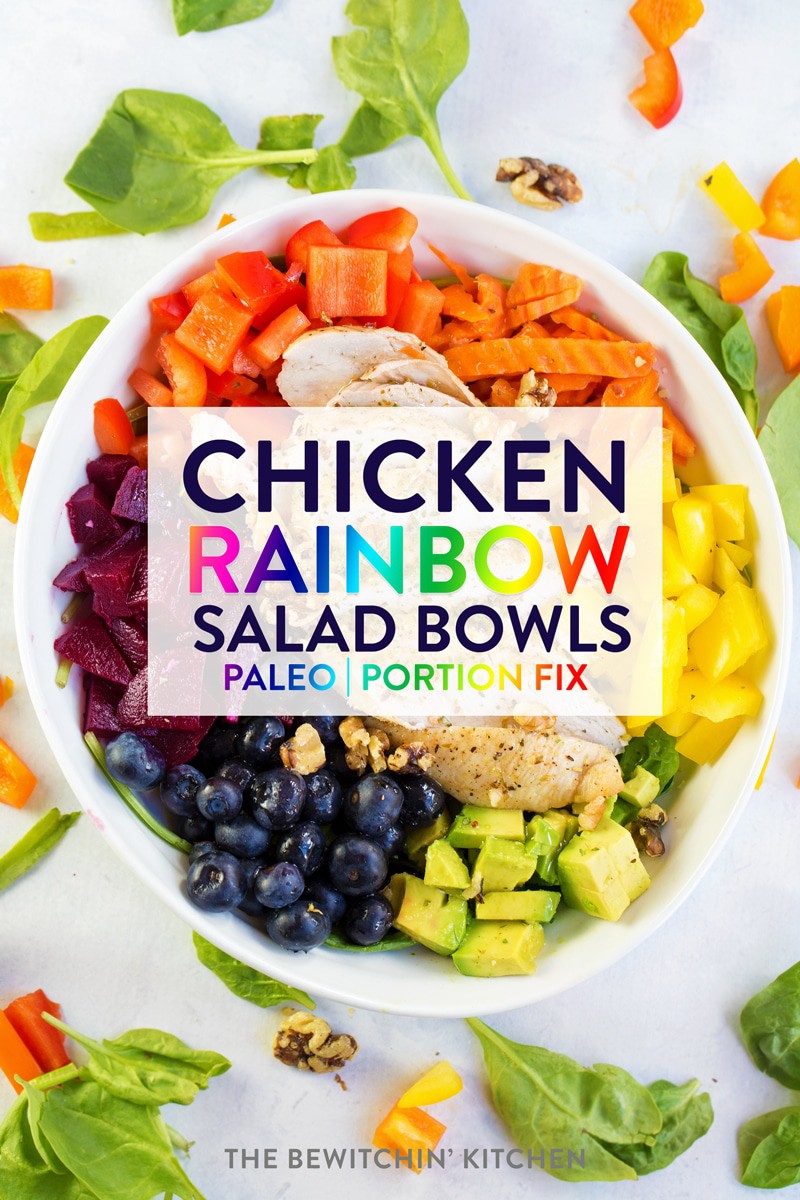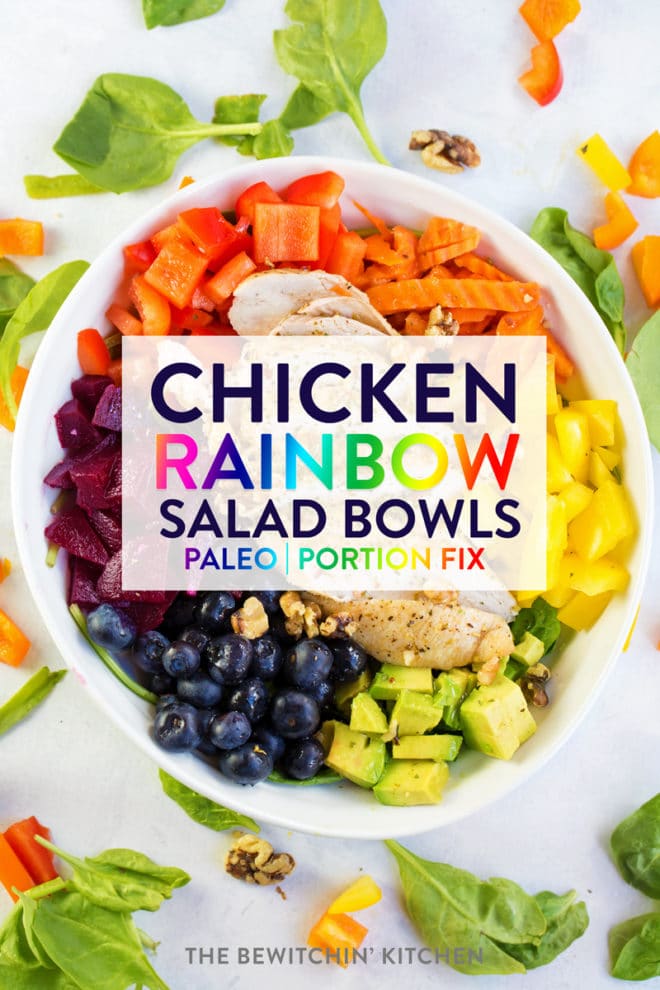 Chicken Rainbow Salad
Baked chicken on top of a rainbow salad, dressed with a key lime vinaigrette, makes this a bright and tasty meal that's perfect for summer (or for the months you wish were summer).
Even better, this dish is packed with protein and a wide range of vitamins and minerals. Who says eating healthy can't be fun and easy too?
I'm becoming such a fan of rainbow chicken recipes, which is why I have some in spring roll and taco form too. They may not contain every color of the spectrum, but I say close enough!
You will also find several more delicious and healthy chicken salad recipes here on The Bewitchin' Kitchen. Chicken Tenders Salad with Honey Mustard Dressing and Chicken Beet Salad with Pesto Vinaigrette are two of my favorites.
Why You Will Love This Colorful Salad
Prep ahead – chill everything until it's time to put your rainbow salad together
Filling and nutritious – this salad bowl is loaded with vitamins, minerals, and plenty of protein
Easy to customize – swap ingredients to make this recipe your own
Fun to eat – all of the colors make this meal bright and cheerful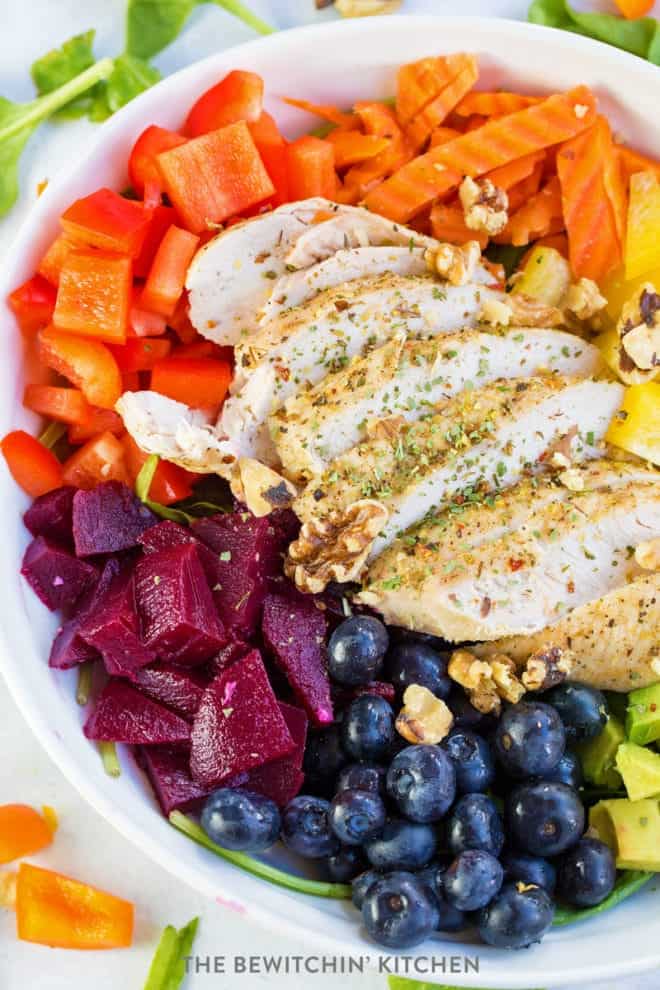 How To Make Rainbow Chicken Salad
The summer months bring on the heat, which means I don't use the oven often. I like to grill a bunch of chicken at the start of the week, plus wash and cut all my fruits and vegetables. This makes preparing meals during the week so much easier (and quicker).
Because of my meal prep, this Rainbow Chicken Salad Bowl only took me two minutes to put together — and it only took that long because I was trying to make it pretty!
Use High Quality Ingredients
Shop local and organic as much as you can, and always give your produce a good wash before eating (find my homemade wash linked above). This will remove any dirt and pesticides lingering on the surface, as well as bacteria from all the hands that may have touched your food along the way.
When it comes to poultry, I like to look for chicken that's been raised by local farmers — this ensures the health and safety of both the meat and the animal itself. This may not be an option where you live, so just do the best you can with your budget!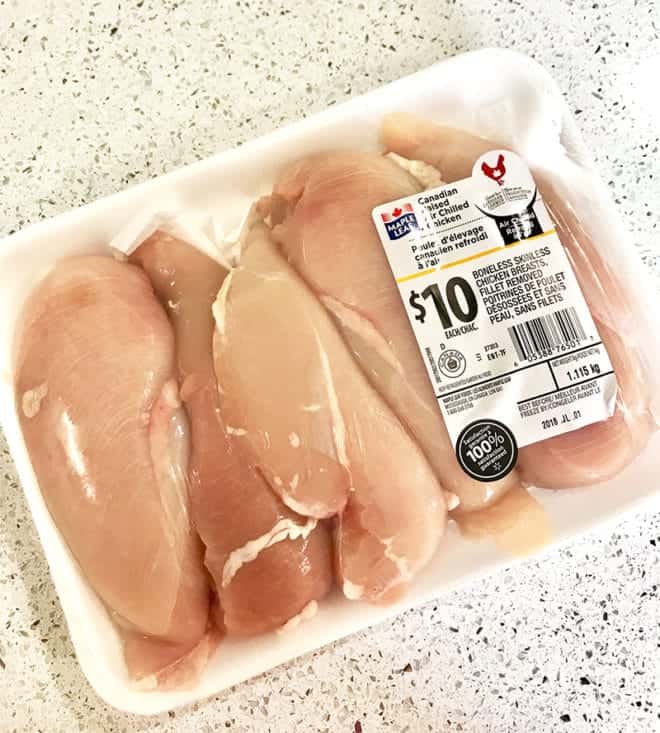 Get Creative With Colors
Choose one ingredient for every main color of the rainbow to make a gorgeous, colorful salad. Here's what I used, plus some alternative options if needed:
Red: Bell pepper is mild and sweet. Diced Fuji or Honeycrisp apples would add extra sweetness.
Orange: Carrots, of course! You could use bell pepper here if you swap out one of the other colors.
Yellow: Peppers again, but grilled corn kernels or yellow cherry tomatoes would be tasty.
Green: Spinach is the base of the salad bowl, and I added some avocado for healthy fats as well. Try cucumbers and green onions if you'd like!
Blue: There's really only one good option here. Blueberries add little pops of tart sweetness
Purple: I love beets in a salad, but they aren't everyone's favorite. Purple cabbage would look great, as would some red onion slices.
Top it all off with your grilled (or baked) chicken breast and some walnuts for crunch! I love the way the tangy Key Lime Vinaigrette ties everything together, but you could easily stick with a classic balsamic vinaigrette instead.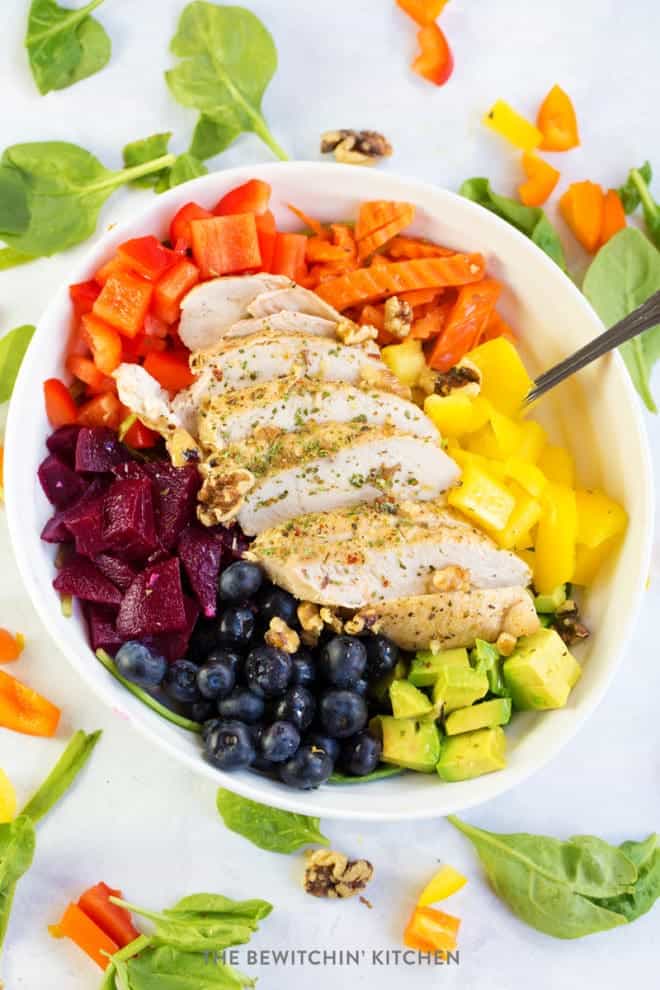 Meal Prep Tips for Your Chicken Salad Bowl
Cook up a bunch of chicken breasts at the beginning of the week, then slice them up once cool. When it comes to seasoning, use a versatile blend — I like to stick with salt, pepper, and Italian seasoning.
Wash and cut up all your fruits and vegetables ahead of time. Store in containers designed to preserve the freshness of your produce.
Combine the ingredients for the key lime vinaigrette in a mason jar and store it in the fridge. Then, take it out about 30 minutes before you're ready to dress the salad and be sure to give it a good shake.
By following those meal prep tips, you'll have this healthy chicken salad bowl ready in no time!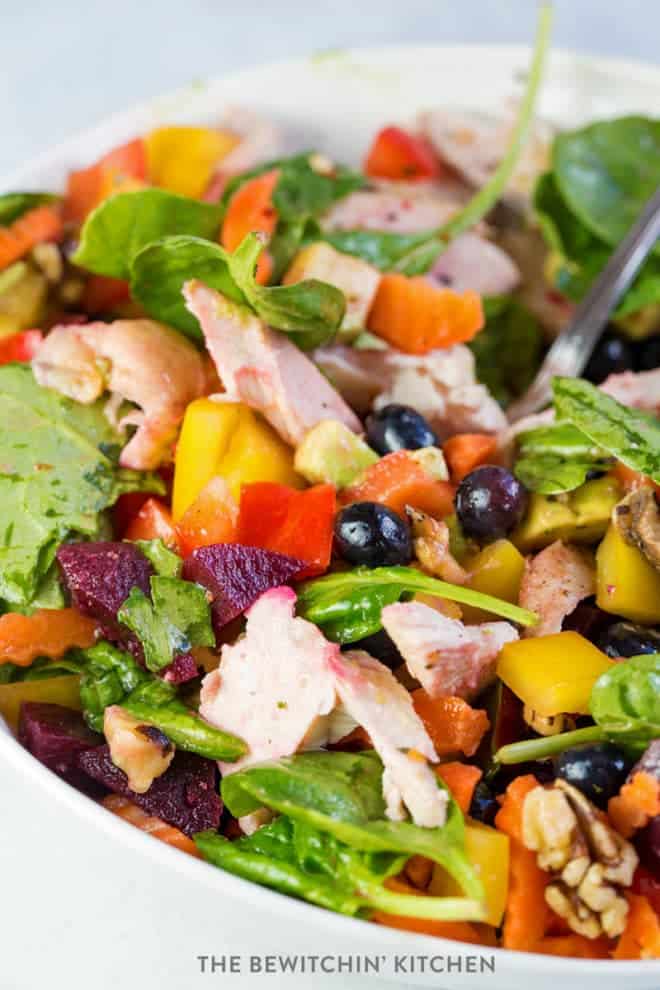 Frequently Asked Questions about Rainbow Chicken Salad
Why is it called rainbow salad?
Simple — this dish includes at least one ingredient from every main color of the rainbow! It's an easy and colorful way to pack plenty of produce into one meal. Even kids will love it!
Can I make this recipe without chicken?
You sure can! For a plant based option that still provides protein, I would substitute quinoa, chickpeas, or even sauteed tofu.
For extra fat, feel free to add extra nuts like almonds or cashews to your rainbow salad. Pumpkin or sunflower seeds would be tasty too.
Which vitamins and minerals are in this colorful salad?
I won't bore you with the full list, but here are the top players across all of the different ingredients:
Vitamins A, C, K, and B6
Iron
Folate
Manganese
Potassium
Calcium
Magnesium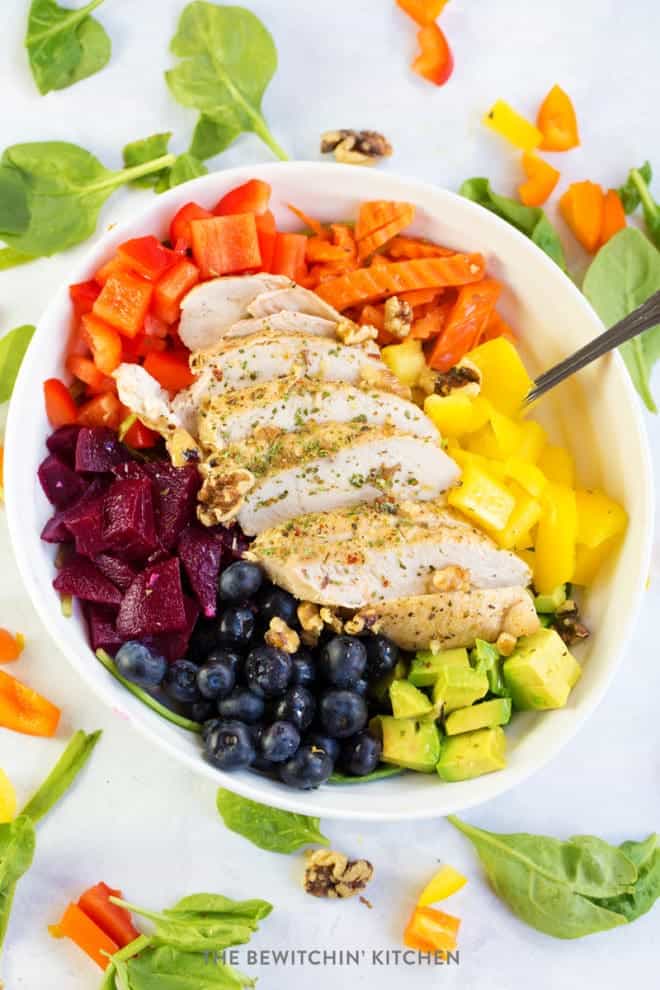 More Salad Bowl Recipes
Mediterranean Chicken Quinoa Salad
Chicken Rainbow Salad
Rainbow Salad is bursting with vitamins and minerals. Top your salad bowl with chicken and key lime dressing for an easy, nutritious meal.
Servings 1 serving
Calories 444kcal
Ingredients
1 cup spinach
1/4 cup red pepper diced
1/4 cup yellow pepper diced
1/4 cup matchstick carrots
1/4 medium avocado
1/4 cup blueberries
1 beet cubed (I used pickled beets that I had on hand)
1 cooked 4oz chicken breasts cubed
1 tbsps walnuts
2 tbsps Key Lime Vinaigrette recipe below
Instructions
To assemble the salad:
Place the spinach at the bottom of the bowl and surround then add the rest of the salad ingredients.

Dress with 2 tablespoons of the key lime vinaigrette and toss to coat.
Notes
Weight Watchers Freestyle: 7 points. Recommend weighing avocado for lower points 🙂 21 Day Fixers and portion fix followers: 1 green, 1/4 purple, 1 red, 1 blue, 1 orange. This recipe is great for programs like 21 Day Fix, 80 Day Obsession, P90x, and Liift4 (which is the program I'm currently preparing for). It doesn't matter your lifestyle, this gluten free and paleo recipe is just plain good and full of nutritious ingredients.
Nutrition
Serving: 1g | Calories: 444kcal | Carbohydrates: 28.9g | Protein: 30.8g | Fat: 24g | Saturated Fat: 3.1g | Cholesterol: 82.7mg | Sodium: 321.5mg | Fiber: 9.1g | Sugar: 17g
Follow On Pinterest
Follow @bewitchinkitchen On Pinterest for more delicious recipes!