Chicken Rainbow Salad
I am so excited to share this Chicken Rainbow Salad recipe today, I really think you're going to love it! If you do some simple meal prep (cook the chicken and cut the vegetables at the beginning of the week) this salad will only take a minute to prepare.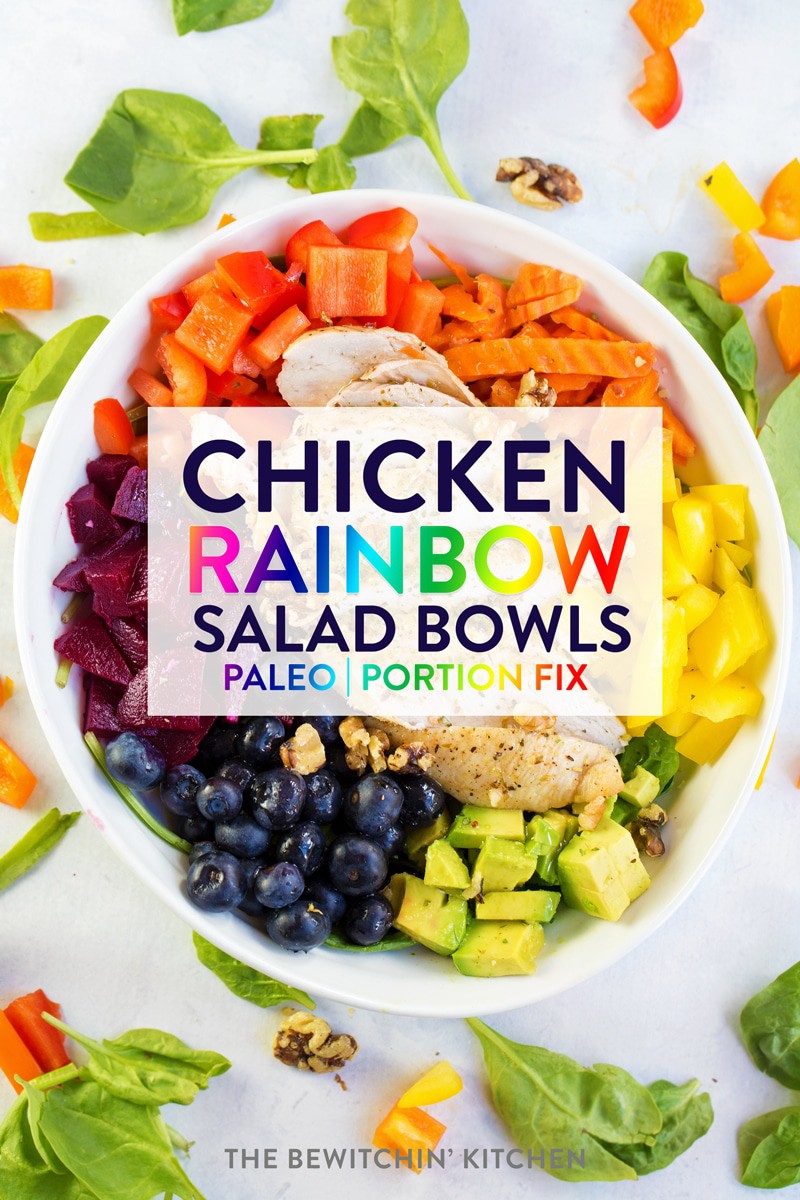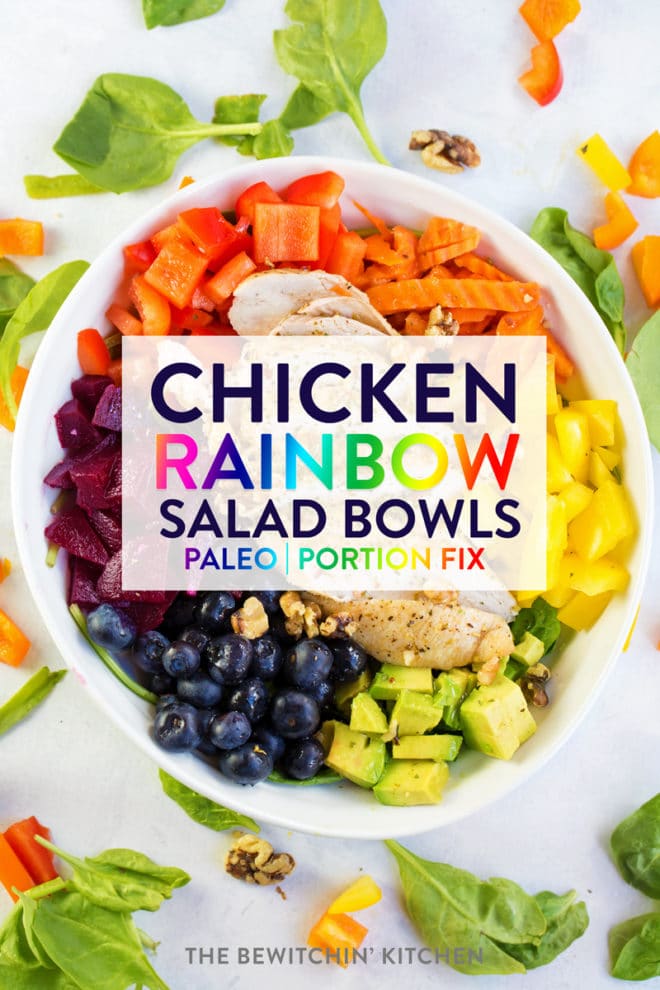 Disclosure: I am participating in the Chicken Farmers of Canada campaign managed by SJ Consulting. I received compensation in exchange for my participation in this campaign. The opinions on this blog are my own. Search the recipe sections over at Chicken.ca. Follow them on the following social profiles: Facebook, Twitter, Instagram, and Pinterest.
Chicken Rainbow Salad
I'm not usually a fan of sweeter salads, but this has both sweet and the savory that I crave for lunch and dinner. It's so good. Baked chicken on top of a rainbow salad, dressed with a key lime vinaigrette makes this a bright and tasty meal that's perfect for summer (or for the months you wish were summer).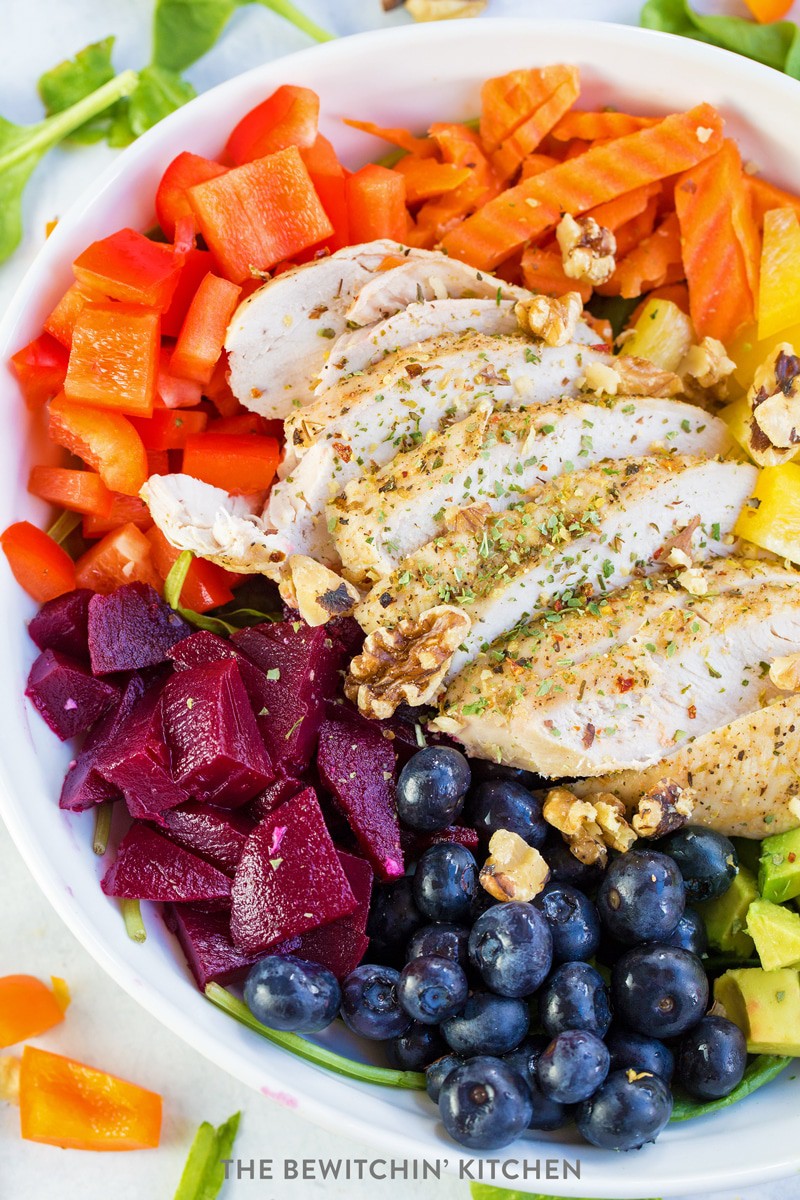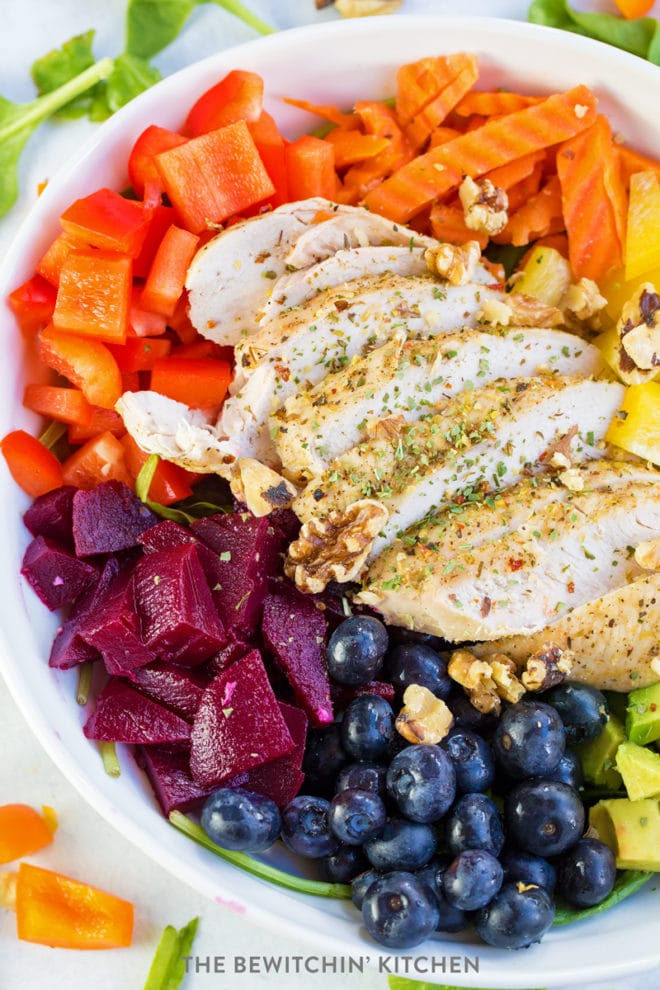 I dressed the chicken rainbow salad with my Key Lime Vinaigrette recipe that's featured in my eBook Delish Dressings & Vinaigrettes. I wanted something bright and happy and there is nothing happier than key limes (that could be because I relate that with key lime pie).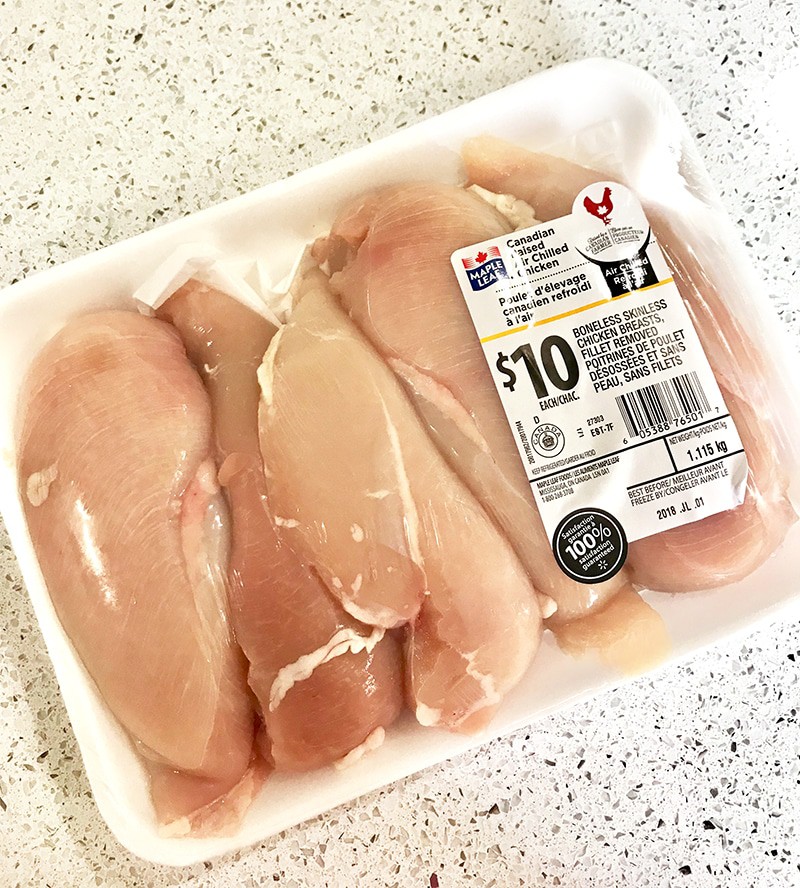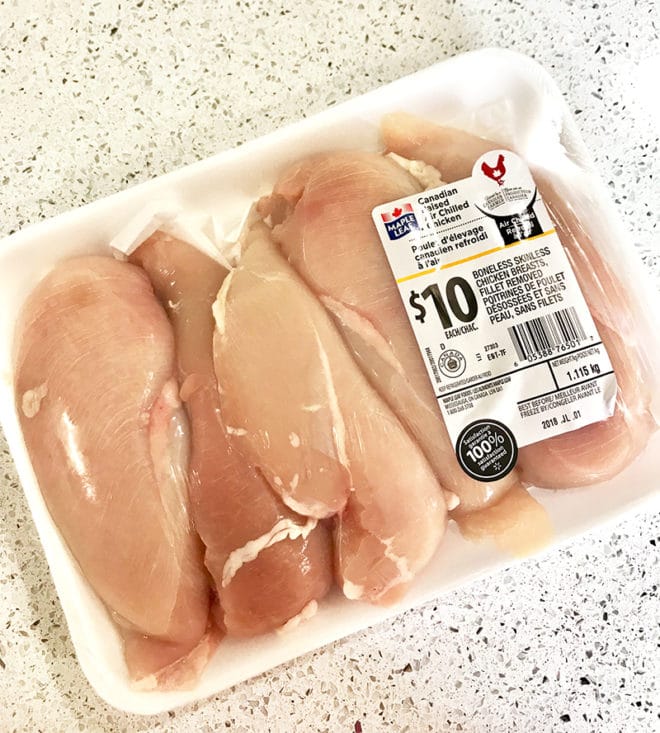 Out here in Northern BC, it's not always easy to find the Raised by a Canadian Farmer logo on the chicken I buy. For those local, or having a tough time finding it, Canadian Chicken that is raised by a Canadian Farmer is available at Walmart. However, I encourage you to ask your local grocer to bring in chicken that has this logo! Requests are the only way to make the change!
By purchasing chicken with the Raised by a Canadian Farmer logo we are supporting chicken raised in Canada that is audited by nationally set food safety and animal care standards.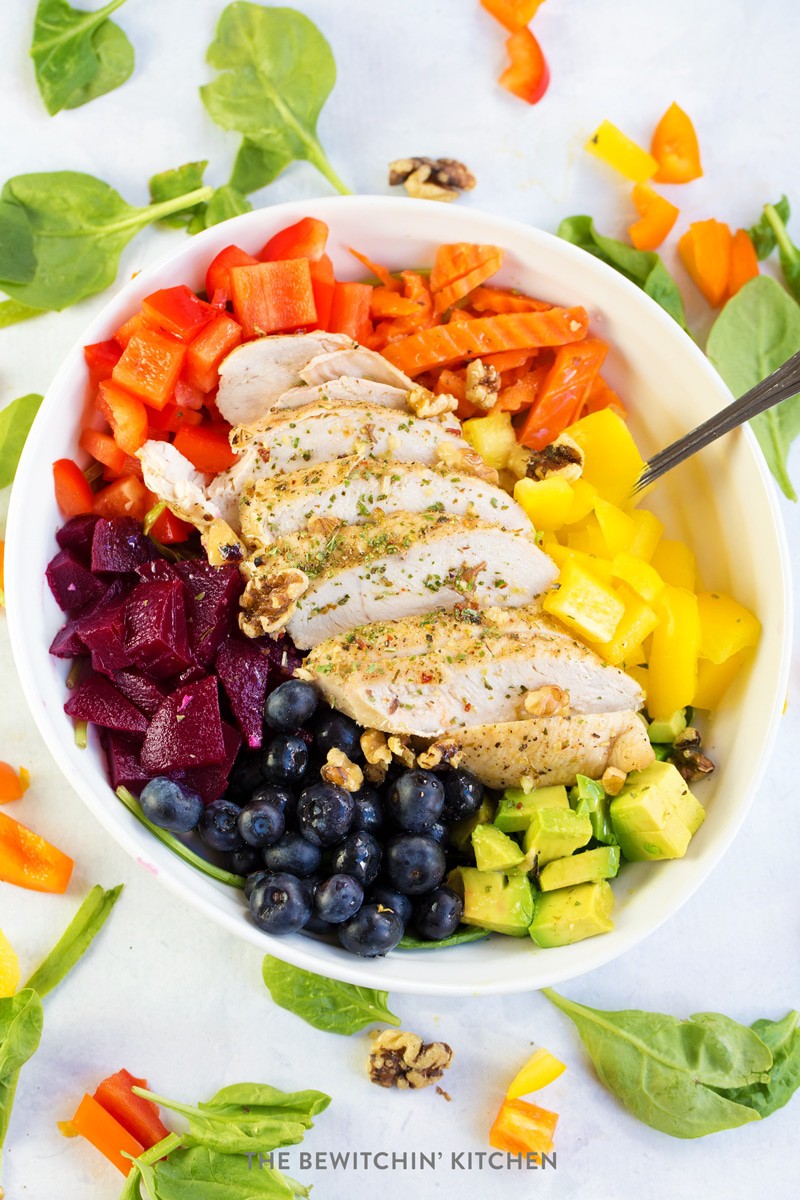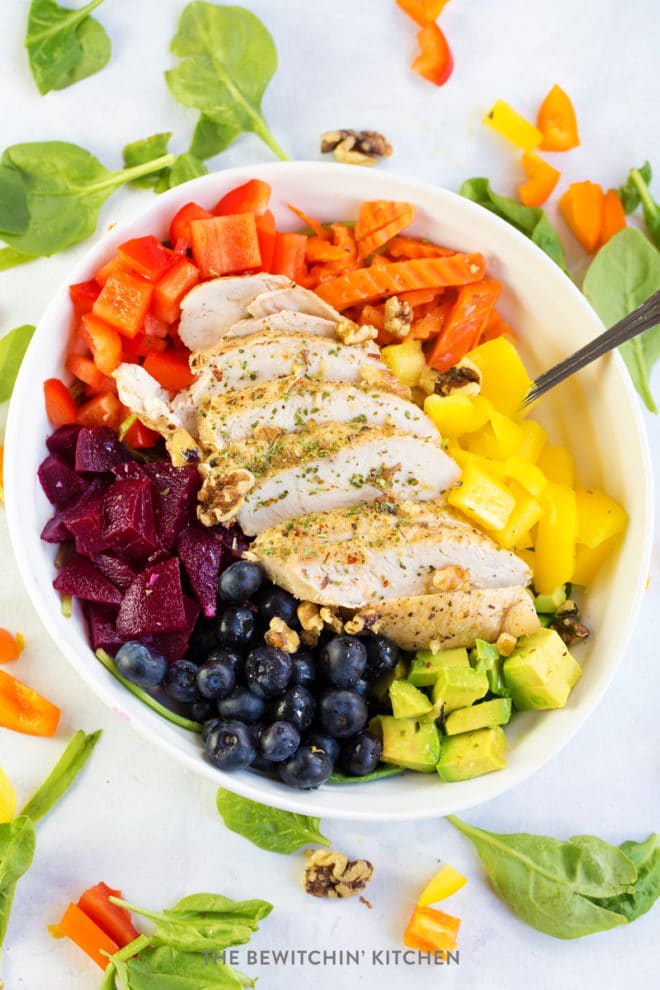 How many calories are in Chicken Rainbow Salad
For the whole recipe, there are 444 calories (vinaigrette included), but it's so filling you could easily split it with someone (I split mine with my son).
Randa's Tip: For the full nutritional information (macronutrients) please check out the recipe card below.
21 Day Fixers and portion fix followers: 2 green, 1/4 purple, 1 red, 1 blue, 1 orange. This recipe is great for programs like 21 Day Fix, 80 Day Obsession, P90x, and Liift4 (which is the program I'm currently preparing for). It doesn't matter your lifestyle, this gluten free and paleo recipe is just plain good and full of nutritious ingredients.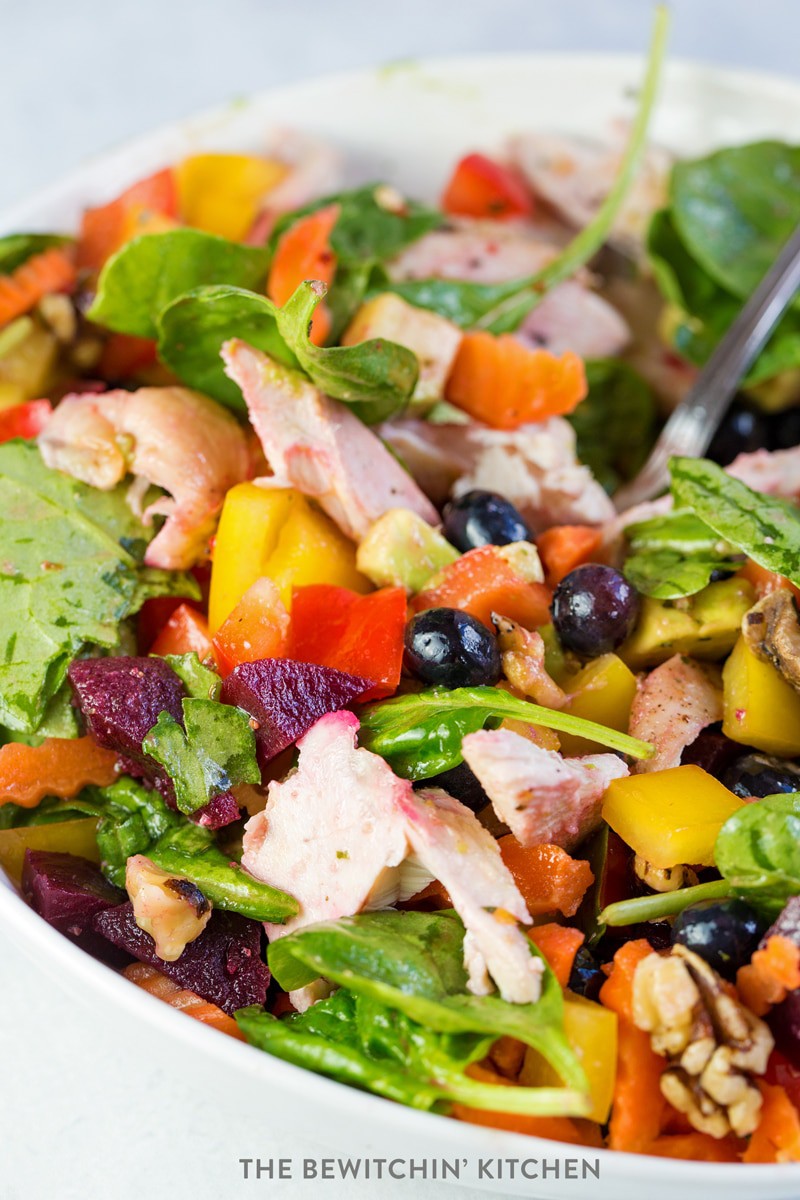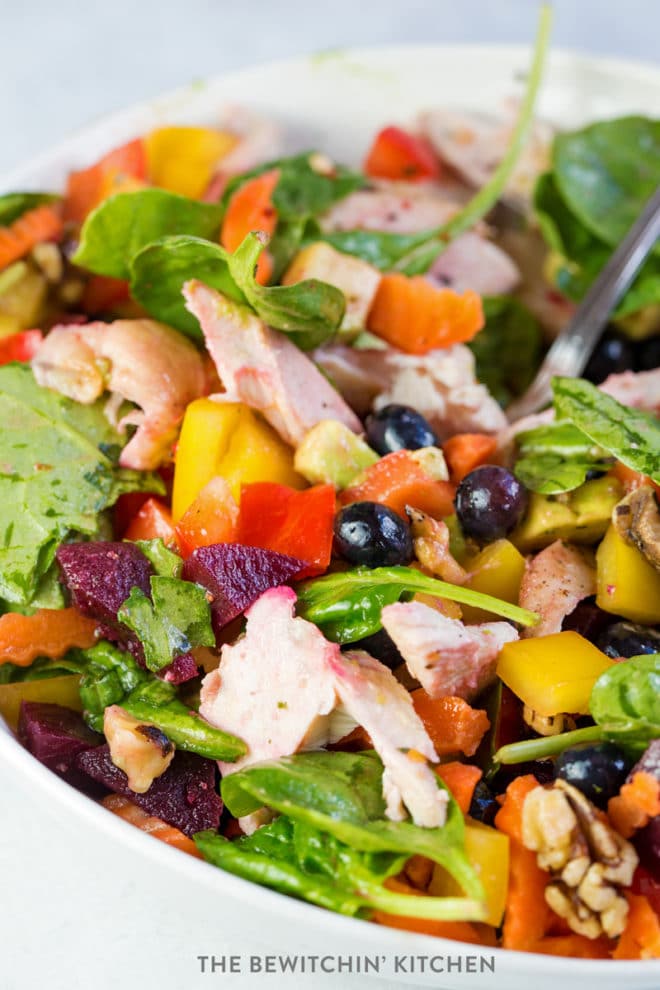 Rainbow Chicken Salad Ingredients
Cooked chicken breast
Spinach
Red and yellow bell peppers
Carrots
Avocado
Blueberries
Beets (purple cabbage would also look beautiful)
Walnuts
Key Lime Vinaigrette (dressing ingredients included in recipe card)
Healthy Chicken Salad Recipes
Here are three more delicious and healthy chicken salad recipes found here on The Bewitchin' Kitchen.
How to make Chicken Rainbow Salad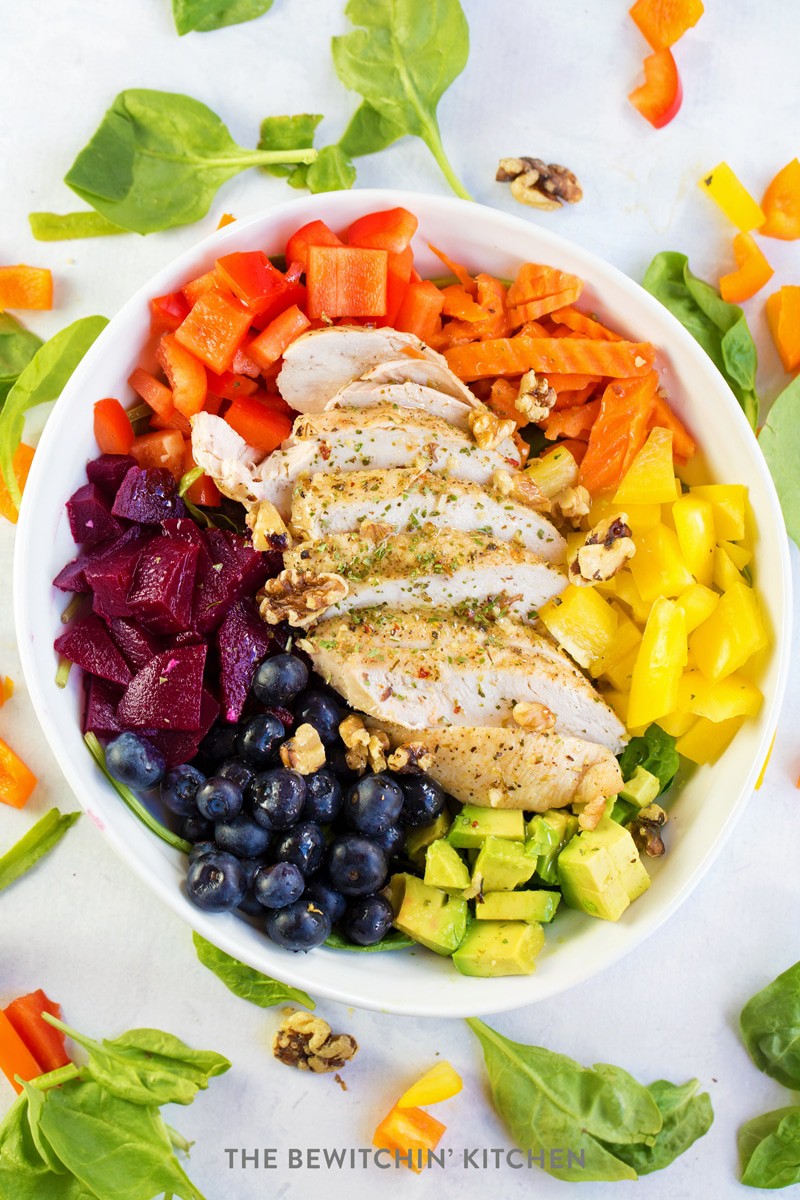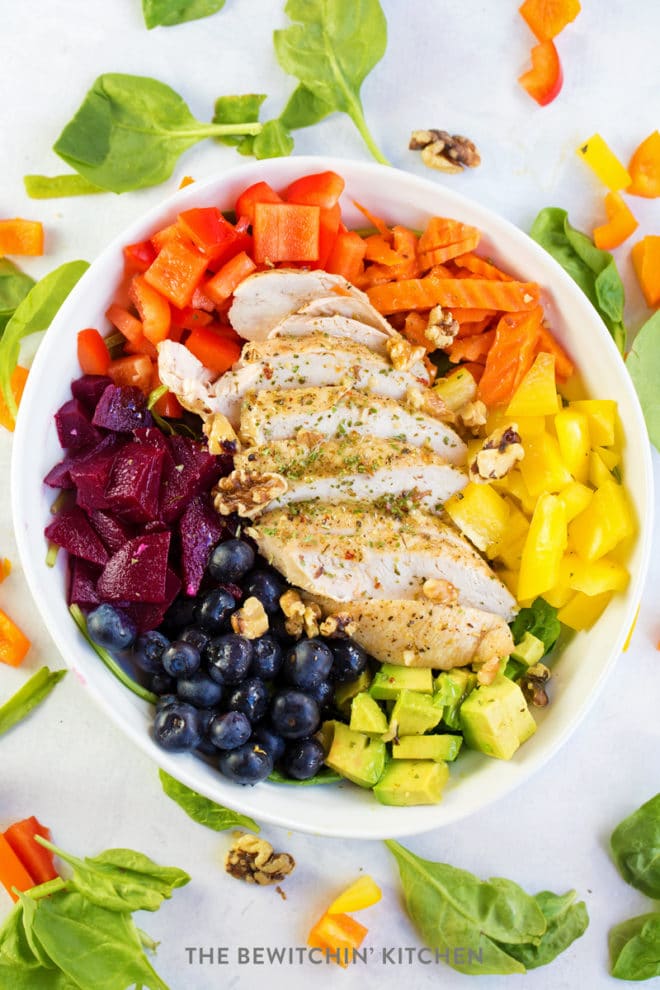 The summer months bring on the heat, which means I don't use the oven often. On Sunday's I like to grill a bunch of chicken up (or bake if it's not too hot in the house), plus wash and cut all my fruits and vegetables). This makes preparing meals during the week so much easier (and quicker). This Rainbow Chicken Salad only took me two minutes to put together because of my meal prep, and it only took that long because I was trying to make it pretty.
Meal Prep Tips for Rainbow Chicken Salad recipe:
Cook up a bunch of chicken breasts at the beginning of the week, and slice them up. When it comes to seasoning, use a versatile blend (salt, pepper, Italian seasoning is what I use).
Wash and cut up all your fruits and vegetables ahead of time. Store in containers designed to preserve the freshness of your produce.
Combine the ingredients for the key lime vinaigrette in a mason jar and store in the fridge. When you're ready to dress the salad, take it out 30 minutes before (or the oil will be a little cloudy and soft).
By following those meal prep tips, you'll have this healthy chicken salad recipe ready in no time!
Want more healthy tips? Come see what I'm up to on Instagram and give me a follow.
Chicken Rainbow Salad
Baked chicken on top of a rainbow salad, dressed with a key lime vinaigrette makes this a bright and tasty meal that's perfect for summer (or for the months you wish were summer).
Prep Time 10 minutes
Total Time 10 minutes
Servings 1 serving
Calories 444kcal
Ingredients
1 cup spinach
1/4 cup red pepper diced
1/4 cup yellow pepper diced
1/4 cup matchstick carrots
1/4 medium avocado
1/4 cup blueberries
1 beet cubed (I used pickled beets that I had on hand)
1 cooked 4oz chicken breasts cubed
1 tbsps walnuts
2 tbsps Key Lime Vinaigrette recipe below
Instructions
To assemble the salad:
Place the spinach at the bottom of the bowl and surround then add the rest of the salad ingredients.

Dress with 2 tablespoons of the key lime vinaigrette and toss to coat.
Notes
Weight Watchers Freestyle: 7 points. Recommend weighing avocado for lower points 🙂
Nutrition
Serving: 1g | Calories: 444kcal | Carbohydrates: 28.9g | Protein: 30.8g | Fat: 24g | Saturated Fat: 3.1g | Cholesterol: 82.7mg | Sodium: 321.5mg | Fiber: 9.1g | Sugar: 17g
Follow On Pinterest
Follow @randaderkson On Pinterest for more delicious recipes!
FREE Recipe Binder
Are you constantly wondering what's for dinner?
When I don't meal plan I feel behind, and we usually end up ordering take out. This recipe binder will keep you organized and make life a little bit easier.