Chocolate Chip Pancakes
Brimming with chocolatey goodness, these chocolate chip pancakes are moist, fluffy, and delightfully sweet. Top with butter and maple syrup for a deliciously indulgent breakfast!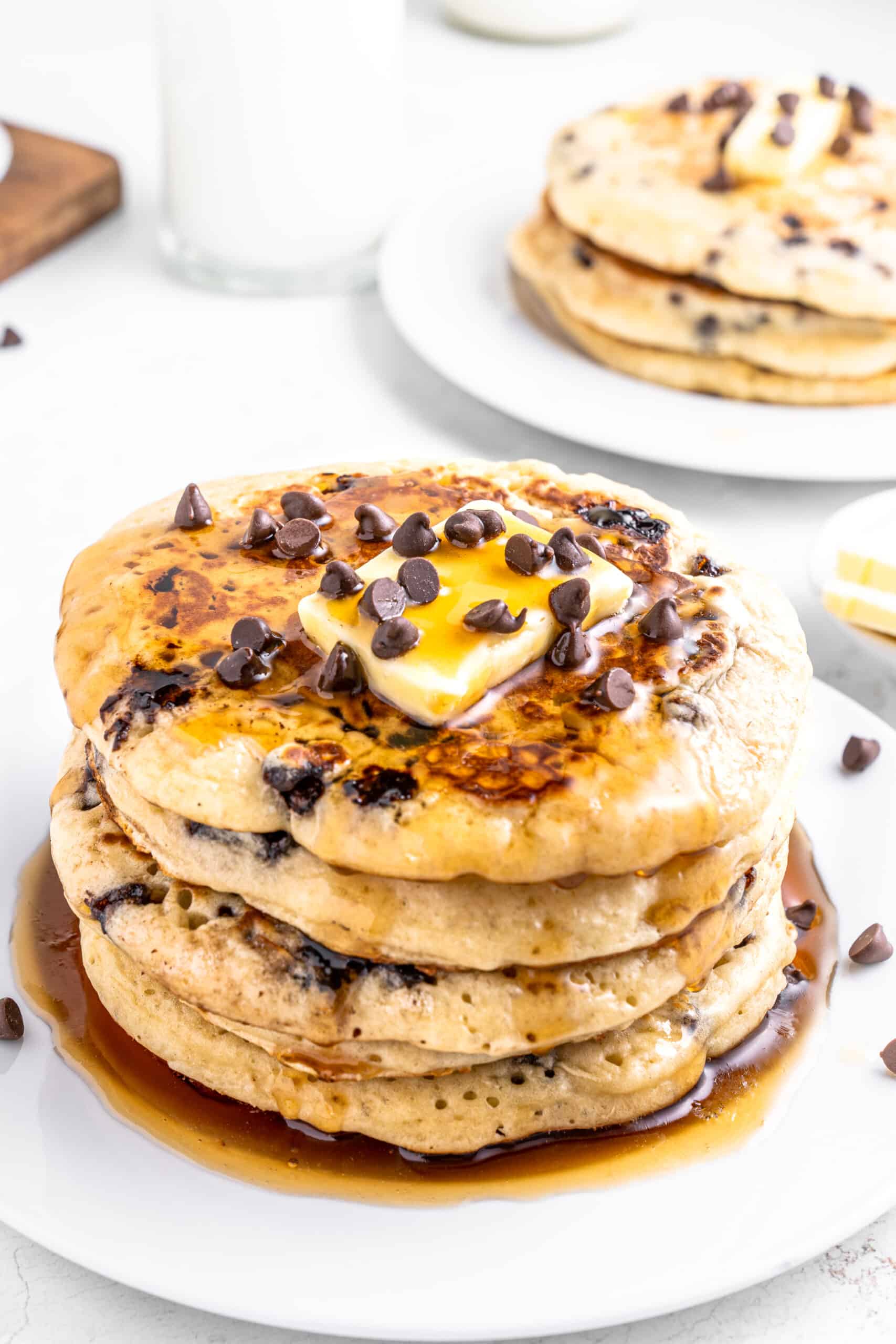 Chocolate Chip Pancakes
You are going to love this recipe for chocolate chip pancakes! Get ready for moist, tender, fluffy pancakes with just the right amount of sweetness.
After all, who doesn't want to wake up to the smell of sweet buttery maple syrup, vanilla and chocolate wafting in the air? Yes, please!
This chocolate chip pancake recipe is easy to make, easy to customize, and is always a crowd pleaser for the entire family.
For more Bewitchin' Kitchen pancake recipes, check out my Freezer Power Pancakes, Carrot Cake Pancakes, or these decadent Gluten Free Pancakes Smothered In Strawberry Cream Cheese Sauce.
(Total intro not to exceed 100 words, including the excerpt and intro sentence – Include 2-3 internal site links in this section)
Why you will love this recipe
It's easy to make — perfect for busy mornings or if the kids want to help!
Each batch of pancakes comes out soft, fluffy, scrumptious.
These are fun for the whole family.
Who doesn't love chocolate for breakfast?
Easy to customize with different mix-ins or to suit your dietary needs.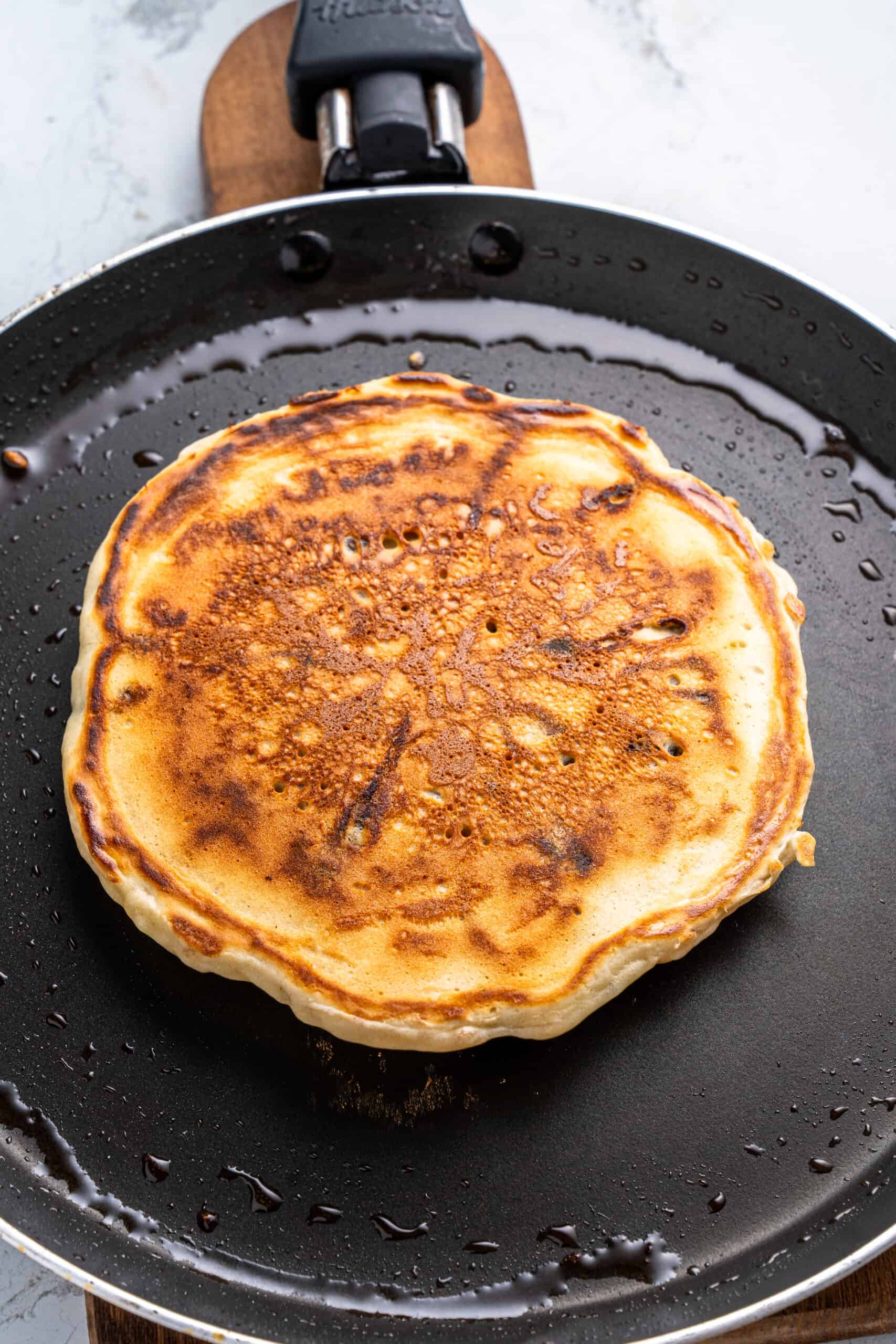 How to make perfect Chocolate Chip Pancakes
Combine dry ingredients. Add the flour, baking soda, baking powder, salt, and sugar to a large bowl. Mix to combine and set aside.
Mix wet ingredients. Beat the eggs in a medium bowl, then whisk in the buttermilk and vanilla extract until combined.
Make the batter. Add the wet mixture to the bowl with the dry mixture and stir until just combined and still a bit lumpy. Next, gently fold in the chocolate chips until combined.
Prepare the pan. Place a pancake pan over medium heat and melt about 1 tsp of butter on it.
Cook the pancakes. For each pancake, put about ⅓ cup of batter onto the heated pan. Cook for about 2 minutes on each side.
Serve and devour. Add a dollop of butter and a splash of maple syrup, and your pancakes are complete. Serve immediately and enjoy!
Pro Tips for the Best Chocolate Chip Pancakes
Mix wet and dry ingredients separately. Don't skip this important step. It only takes a few minutes and will prevent your pancake batter from becoming overly dense.
Don't overmix. For the fluffiest pancakes possible, be extra careful not to overmix. You want the ingredients to be well blended but still a little lumpy. Too much mixing will overdevelop the dough, making your pancakes chewy rather than fluffy.
Know when to flip. Don't burn those flapjacks! Watch the pancakes on the griddle closely. Once you begin to see the edges turning dry and bubbles rising to the top, go ahead and flip. Also be sure to butter your pan in between pancakes to prevent burning and sticking.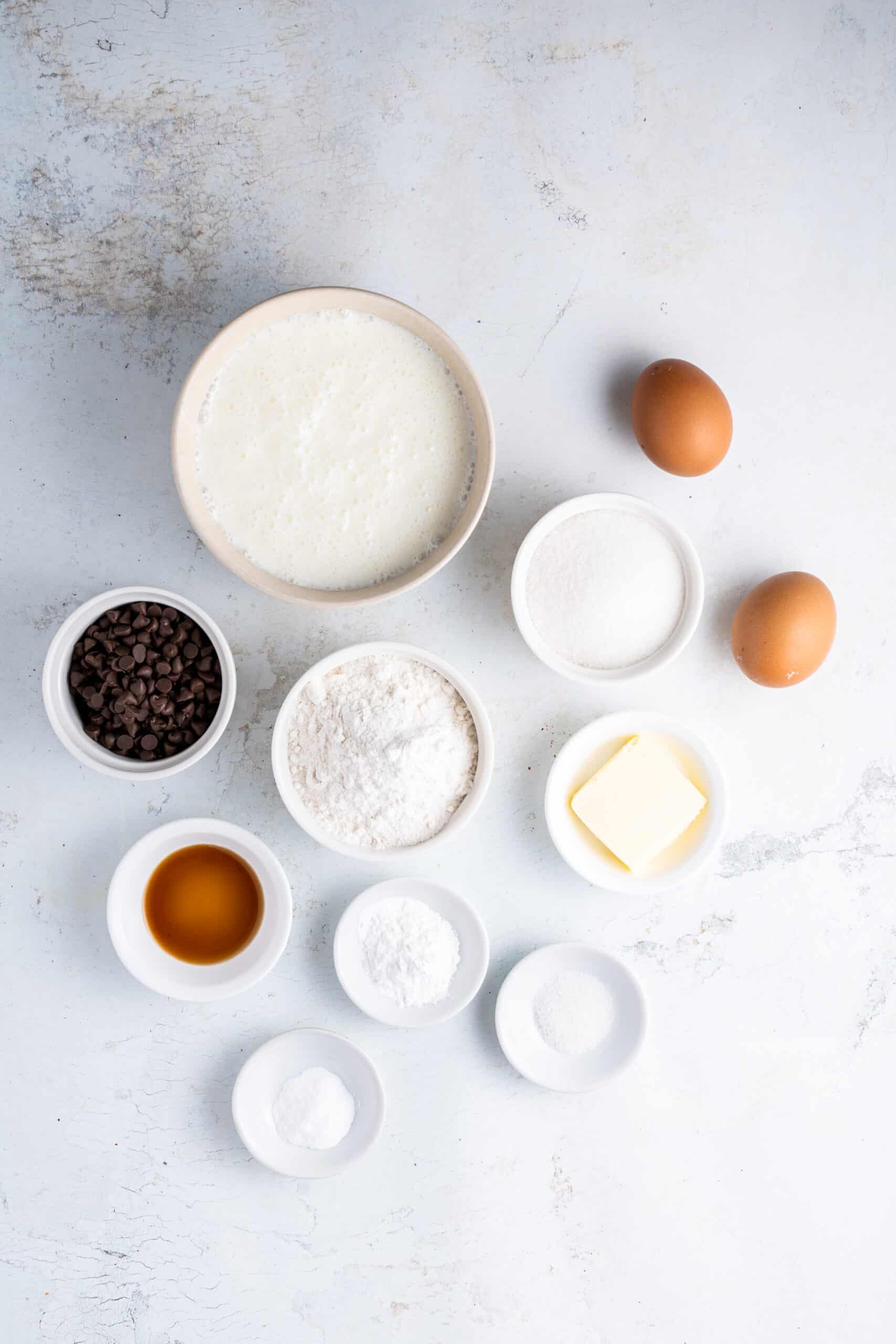 Key Ingredients and Substitutions for Chocolate Chip Pancake Recipe
Buttermilk: Buttermilk makes pancakes rich, moist, and fluffy while adding a slight tang that beautifully balances out the sweetness. You can make a substitute using one cup of regular milk and a tablespoon of a souring agent like lemon juice or vinegar. You can also sub in regular or nut milk, but expect denser pancakes.
Sugar: These chocolate chip pancakes are subtly sweet, calling for only a small amount of sugar. If desired, you can replace the sugar with maple syrup.
Eggs: Eggs help with binding, moisture, and fluffiness. If you'd like to make an egg-free version, you can substitute pumpkin, mashed banana, applesauce, or a flax or chia "egg." Do a quick online search for the proper ratios.
Flour: For a gluten free chocolate chip pancake recipe, change out the all-purpose flour for all-purpose 1:1 gluten free baking mix. Easy!
Chocolate Chips: I find mini semi-sweet chocolate chips to work best, but there is plenty of room for creativity. You can add or sub in the chips of your choice such as dark chocolate, peanut butter, white chocolate, etc.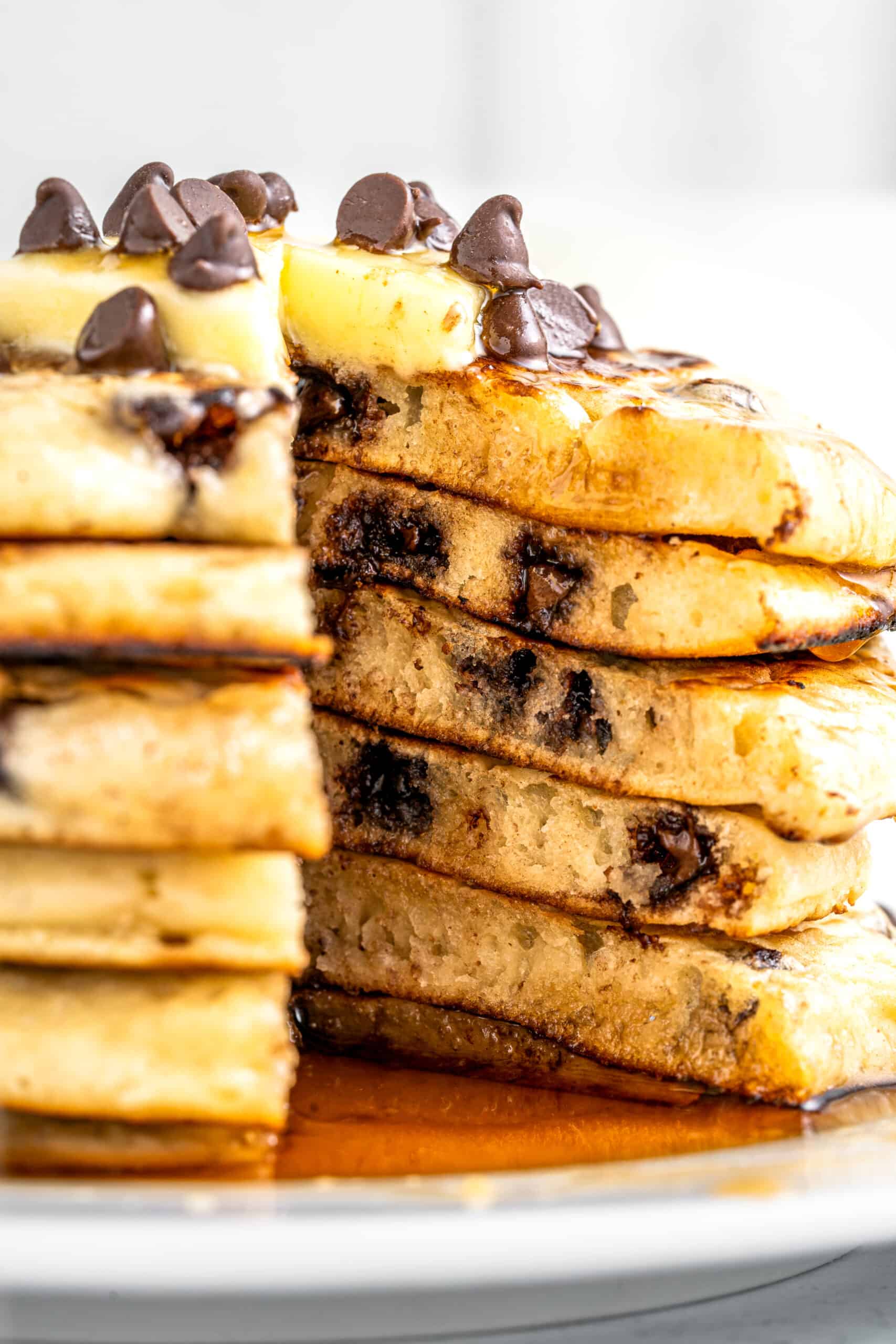 Frequently asked Questions about Chocolate Chip Pancakes
How Do You Keep Chocolate Chips from Melting in Pancakes?
Storing your chocolate chips in the refrigerator or freezer until it's time to put them in the batter will help slow down the melting process.
It's also important that your batter has the right consistency. If you get it too thin, the chips will sink to the bottom and likely burn. For added insurance, tossing the chips in a bit of flour can also help keep them from sinking.
How Do You Store Leftover Chocolate Chip Pancakes?
You can store leftover chocolate chip pancakes in an airtight container in the refrigerator for up to one week, or in the freezer for up to 3 months.
If freezing, either wrap pancakes individually or separate with wax paper to prevent sticking.
Once you are ready to reheat, place the pancakes on a baking pan, cover with foil, and bake at 350 degrees F for 8-10 minutes. Add your favorite toppings and enjoy!
Chocolate Chip Pancakes
Brimming with chocolatey goodness, these chocolate chip pancakes are moist, fluffy, and delightfully sweet. Top with butter and maple syrup for a deliciously indulgent breakfast!
Servings 10 Pancakes
Calories 208kcal
Ingredients
2 1/4 cup all-purpose flour
2 tsp baking powder
1 tsp baking soda
1/2 tsp salt
3 tbsp granulated sugar
1 1/2 cup buttermilk
2 medium eggs
1 tsp vanilla extract
1/2 cup mini chocolate chips
1 tbsp butter for cooking
Instructions
Mix all-purpose flour, baking powder, baking soda, salt, and sugar in a large bowl. Set it aside.

Beat two eggs into a medium-sized bowl. Add buttermilk and vanilla extract, and whisk to combine.

Incorporate wet ingredients into the dry ingredients bowl. Stir to combine but don't overmix; pancake butter is always a bit lumpy. Then, fold in chocolate chips and combine.

Put 1 tsp butter into a non-stick pancake pan over medium heat. Next, add ⅓ cup of pancake batter into the pan and reduce heat to medium. Cook pancakes from both sides, about 2 minutes per side. Tip: flip the pancakes once you see bubbles on top and the edges are dry.

Serve pancakes warm with maple syrup and butter on top.
Notes
These pancakes are slightly sweet, although you can omit sugar if you prefer only maple syrup as a sweetener. Texture-wise these are soft and fluffy.
Nutrition
Calories: 208kcal | Carbohydrates: 33g | Protein: 6g | Fat: 6g | Saturated Fat: 3g | Polyunsaturated Fat: 0.4g | Monounsaturated Fat: 1g | Trans Fat: 0.1g | Cholesterol: 41mg | Sodium: 377mg | Potassium: 92mg | Fiber: 1g | Sugar: 11g | Vitamin A: 162IU | Vitamin C: 0.1mg | Calcium: 108mg | Iron: 2mg
Follow On Pinterest
Follow @bewitchinkitchen On Pinterest for more delicious recipes!