Almond Flour Biscuits
Almond Flour Biscuits have a warm, soft center and slightly crisp crust – the perfect biscuit! With our recipe, you're just 30 minutes away from a buttery keto biscuit breakfast!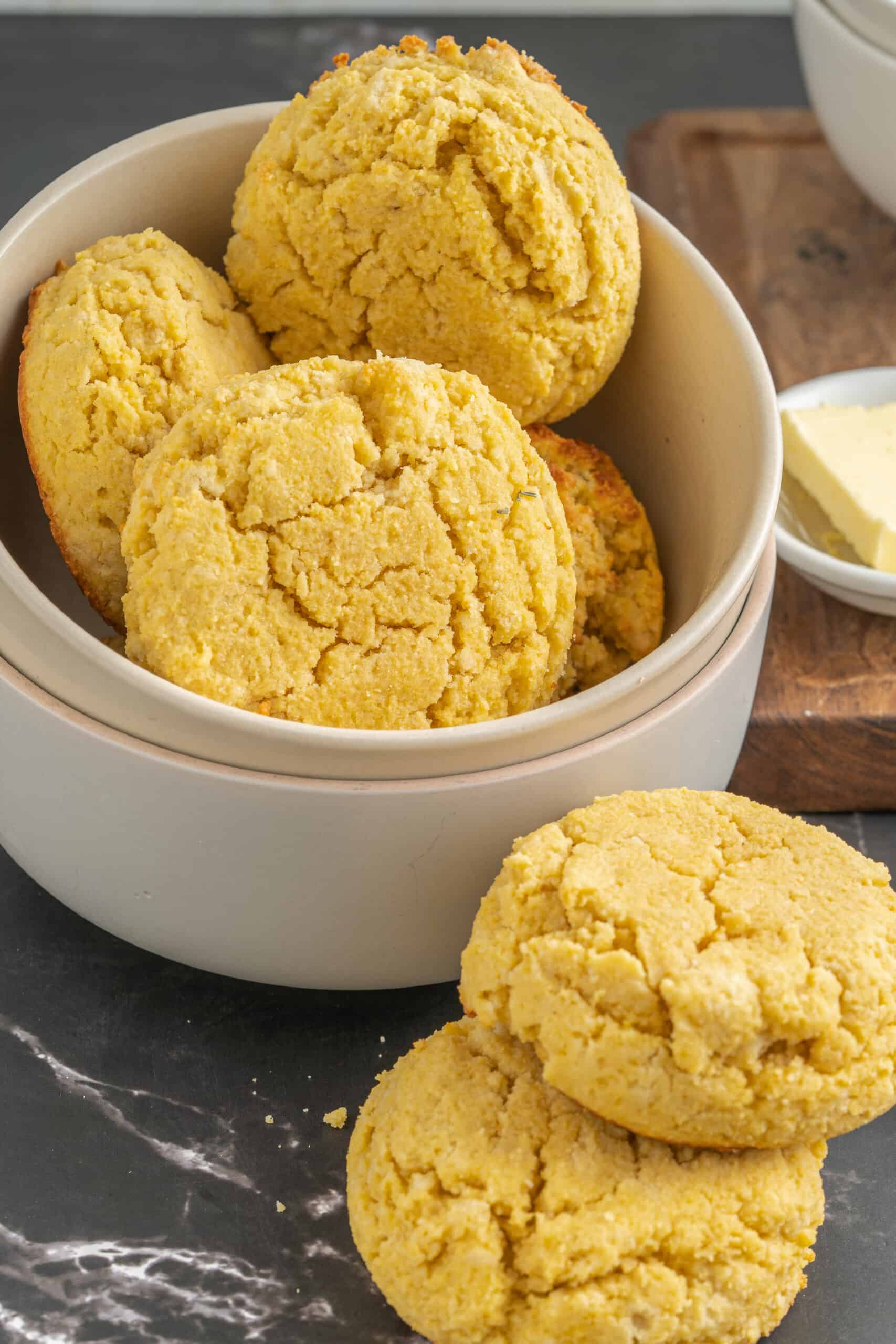 Almond Flour Biscuits
When we're trying to stay keto-friendly, we really start to miss enjoying soft, buttery bread with our meals – especially at breakfast time.
These keto biscuits are low carb but maintain that steaming, fluffy center that makes biscuits so irresistible! Altogether, this recipe takes only 30 minutes to prepare with only 12 minutes of baking time.
Some of our tastiest recipes are low carb. Cauliflower rice, curry chicken, even meatloaf – we don't cut corners on flavor with our diet-friendly food!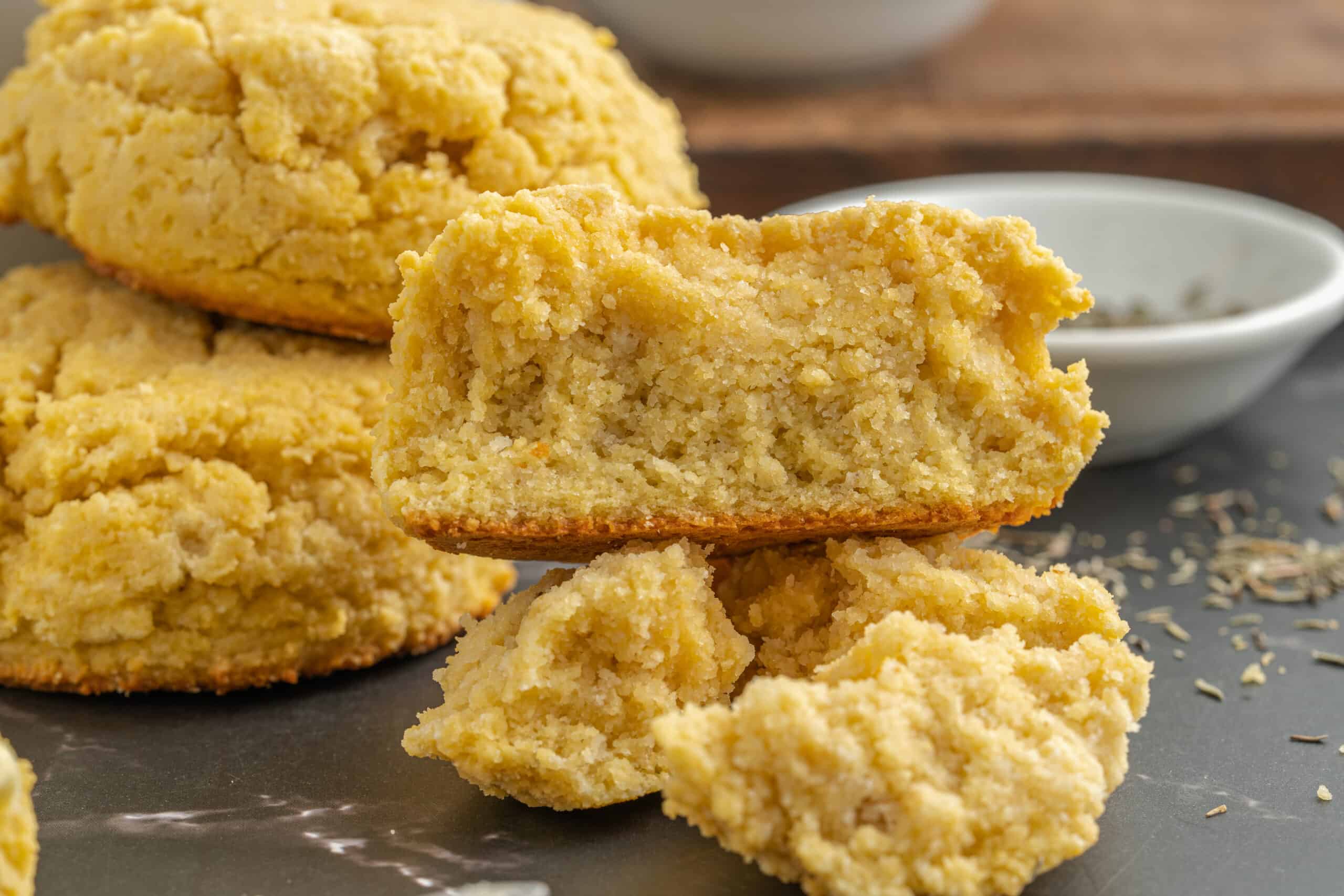 Why you will love this recipe
Pillowy biscuits with a light crust and captivating nutty taste!
Start to finish, our keto biscuit recipe takes just 30 minutes to prepare.
Great for a simple breakfast or as a side during dinner!
This dough can be prepped ahead and frozen for convenient baking later on!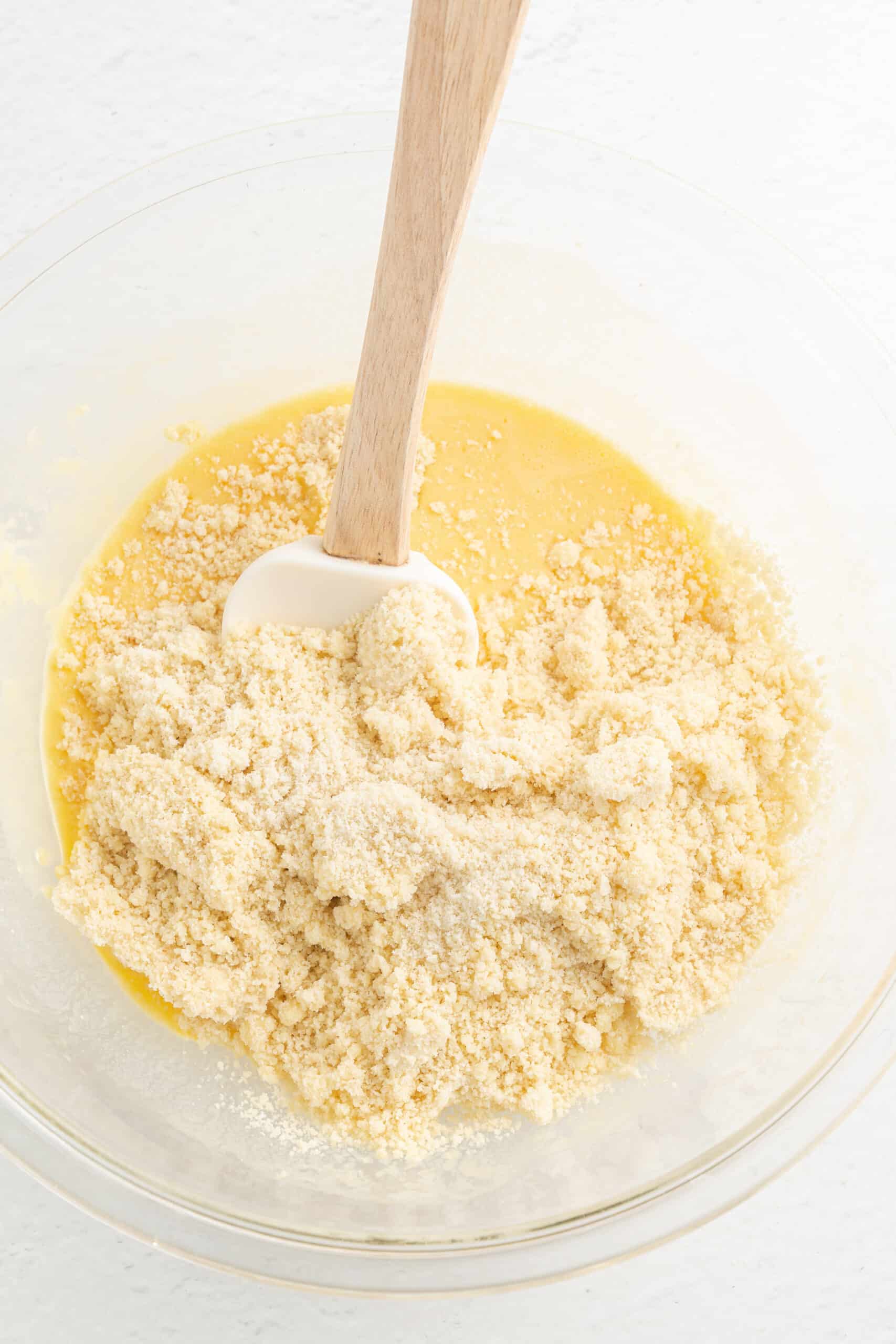 How to make fluffy Almond Flour Biscuits
Preheat and prep: Set the oven to 350F and line a baking sheet with parchment paper – this is more effective than cooking spray to prevent the biscuit bottoms from sticking.
Combine the wet ingredients: Whisk together the eggs and cream cheese in a large bowl.
Combine the dry ingredients: In a food processor, combine the almond and coconut flour, baking soda and powder, and salt. Pulse for just a few seconds before adding the cold butter. Continue pulsing until the butter breaks down into pea-sized pieces.
Form the dough: Work the flour mixture into the egg to gradually form a stiff batter. Then, divide the dough: for large biscuits, make 6 2.5"-3" balls. Alternatively, you could make 8 smaller biscuits.
Bake: Transfer the dough to the baking sheet and bake for 10-12 minutes. Don't overbake! The tops and edges will appear soft, but that's okay – once the bottoms are lightly browned, they're done.
Let cool and serve: Give them plenty of time to cool before removing from the tray. They're very fragile while they're warm and can fall apart.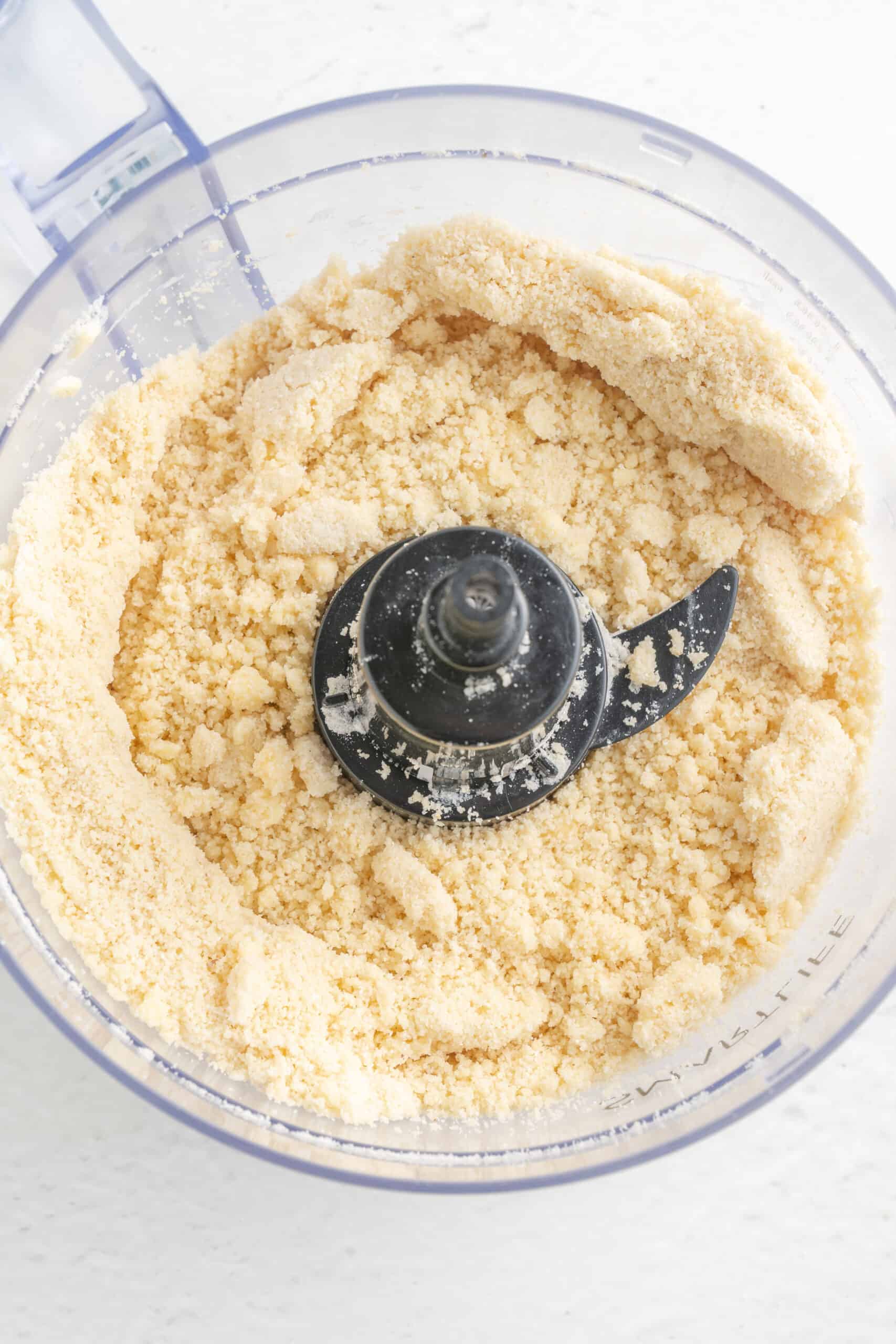 Pro Tips for Keto Biscuits
Pro Tip 1: The most important rule for making almond flour biscuits is do not overbake! Set a timer and keep an eye on the oven's temperature to make sure these biscuits come out soft and tender.
Pro Tip 2: These biscuits have a slight nutty flavor from the almond flour. We suggest serving with honey or apple butter for something different during breakfast time! Another great way to enjoy them is toasted with a bit of butter or slices of creamy avocado.
Pro Tip 3: The dough can be frozen for up to two months. Form the biscuits and store in a freezer bag for easy baking later on.
Pro Tip 4: Leftovers last for 3 days on the counter or a week in the fridge. The best way to store keto biscuits is in a clean tea towel at room temperature or in an airtight container in the refrigerator. Don't store them in a bag – they'll become too moist.
Pro Tip 5: To reheat almond flour biscuits, pop them in a toaster to get them nice and crisp!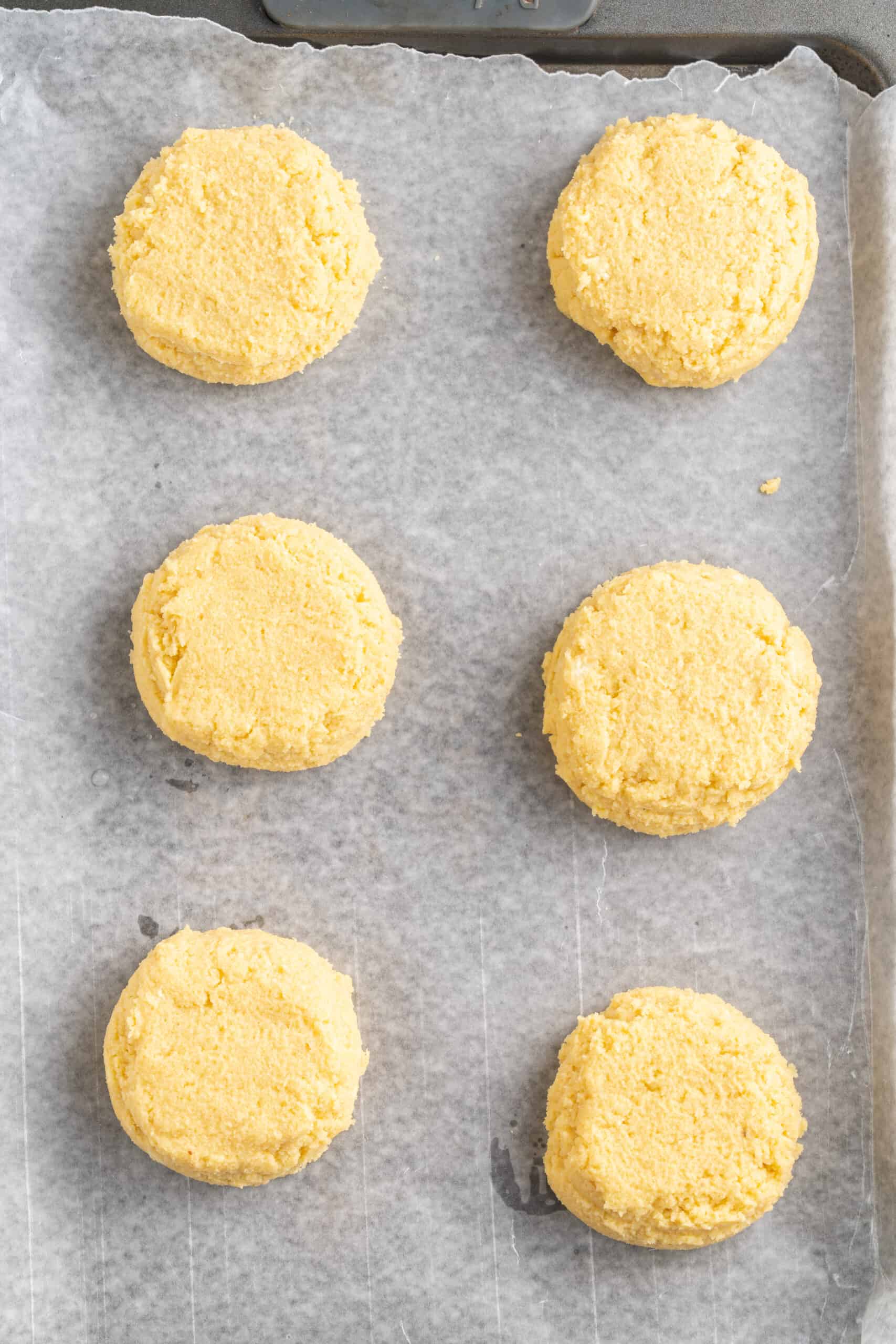 Key Ingredients and Substitutions for Almond Flour Biscuits
Cream Cheese Spread: Compared to butter, cream cheese is lower fat and has a strong, tangy flavor that results in absolutely mouthwatering biscuits!
Eggs & Butter: Keep the eggs and butter cold in the fridge right up until use. This is an extra measure to ensure the batter doesn't get too loose and warm – we want to avoid overbaking at all costs!
Almond Flour: We love to use this keto-friendly substitute for its rich nutrient density and its low carb appeal! We also use a bit of coconut flour – in this recipe, we wouldn't recommend using only coconut flour, while you could go with all almond. This is mostly due to flavor, however, so you can ultimately use any preferred keto flour.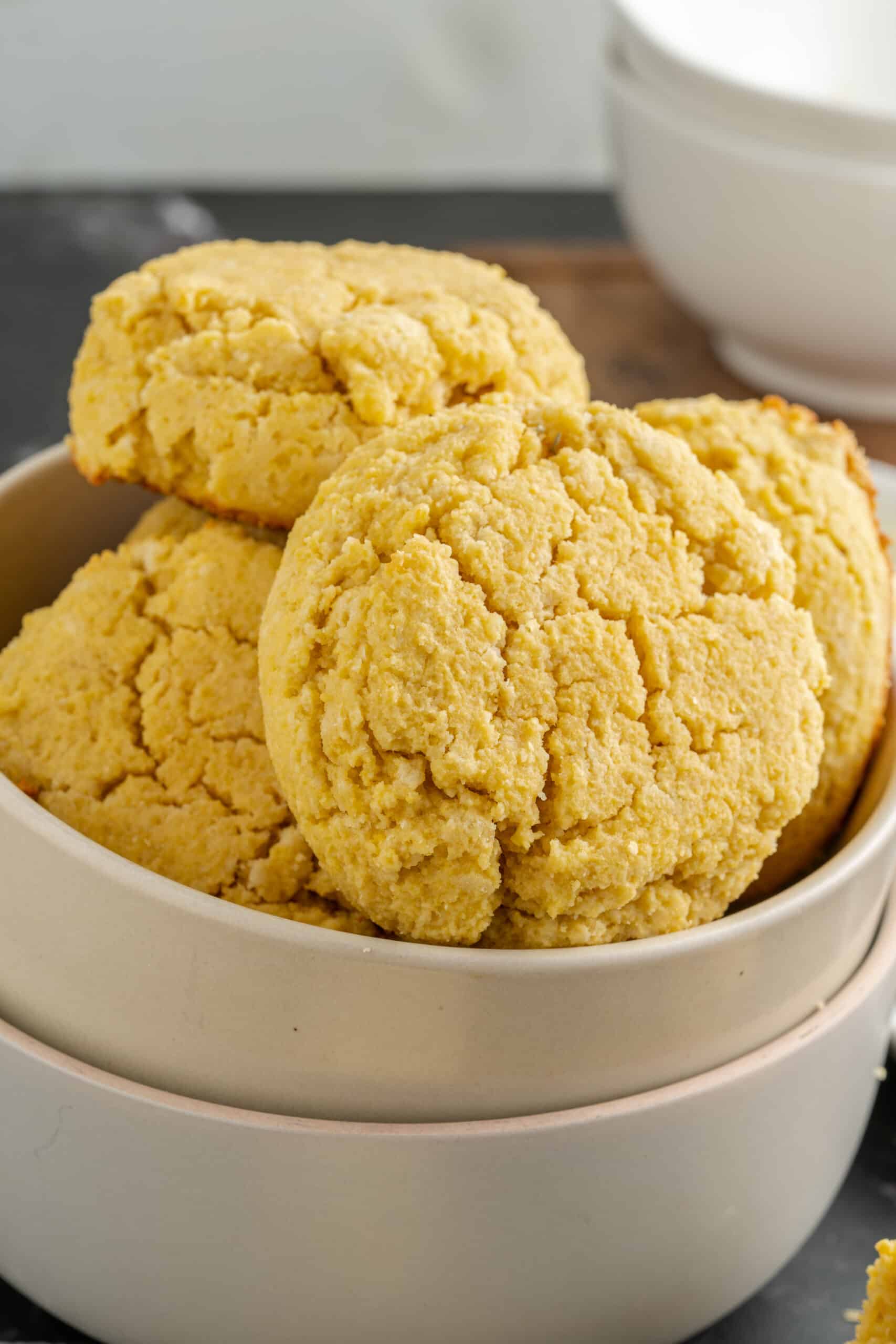 Frequently asked Questions about Keto Biscuits
Can I substitute almond flour for regular flour in biscuits?
Absolutely – it's one of the best ways to maintain a keto-friendly diet while continuing to enjoy your favorite baked goods.
Generally, almond flour can be substituted 1:1 for regular. However, some of your other ingredients and the baking process could change a bit, so pay attention to the consistency of your dough whenever you're converting a low carb biscuit recipe.
Is there a trick to baking with almond flour?
There are two important things to remember: the taste and the bake.
Almond flour, unlike all-purpose, has a distinct taste. While it isn't strong, there will always be a bit of a toasted nutty flavor when it's used. And that can be so delicious!
As for baking, almond flour burns easier than regular. That's why we emphasize diligence to avoid overbaking!
Keto Biscuits
Almond Flour Biscuits have a warm, soft center and slightly crisp crust – the perfect biscuit! With our recipe, you're just 30 minutes away from a buttery keto biscuit breakfast!
Servings 6 Biscuits
Calories 344kcal
Ingredients
3 medium eggs
1/4 cup cream cheese spread
1 5/6 cup almond flour 1/2+1/3
1 tsp baking powder
1/2 tsp baking soda
1/2 tsp salt
1/3 cup coconut flour
4 tbsp unsalted butter cold
Instructions
Preheat the oven to 350F and line a baking sheet with baking paper. Set it aside.

Add the eggs and cream cheese into a large bowl, and whisk to combine.

Next, mix almond flour, coconut flour, baking soda, baking powder, and salt in a food processor. Pulse for a few seconds, and then add chilled cubed butter and process until butter turns into pea-sized pieces.

Then, combine flour with the egg mixture, resulting in a stiff batter. Divide the dough into six portions and use your hands to form biscuits, about one inch thick and 2.5-3 inches wide. You could also make 8 smaller biscuits with this amount of dough.

Bake the biscuits for 10-12 minutes or until lightly brownish in the bottom. These biscuits will remain soft on top and around the edges when freshly baked, but that's what you'll be looking for, so when the biscuits get to room temperature, they stay soft and moist in the center.

Let them cool completely before transferring them out of the tray; otherwise, they'll be fragile and could break apart.
Notes
Taste-wise, these almond flour biscuits are buttery and lightly salty. Then, texture-wise, they're soft and moist inside and crispy on the outside.  Finally, the almond flour provides a nutty flavor that makes them irresistible.
Tips
It is key for these biscuits not to overbake them, so set a timer and control the temperature of the oven to achieve soft and slightly crispy biscuits. 
How to store these biscuits: they get moist in a sealed bag. So, wrap them with a clean tea towel to keep them fresh for up to three days over the counter. Otherwise, you can store them in an airtight container in the fridge for up to seven days and reheat them in a toaster to have them crispy again.
The best way to consume them is freshly made or toasted with butter or sliced avocado. Yum!
Nutrition
Calories: 344kcal | Carbohydrates: 12g | Protein: 12g | Fat: 30g | Saturated Fat: 9g | Polyunsaturated Fat: 1g | Monounsaturated Fat: 3g | Trans Fat: 0.3g | Cholesterol: 108mg | Sodium: 446mg | Potassium: 33mg | Fiber: 6g | Sugar: 2g | Vitamin A: 442IU | Calcium: 137mg | Iron: 2mg
Follow On Pinterest
Follow @bewitchinkitchen On Pinterest for more delicious recipes!