Gluten Free Pancakes Smothered In Strawberry Cream Cheese Sauce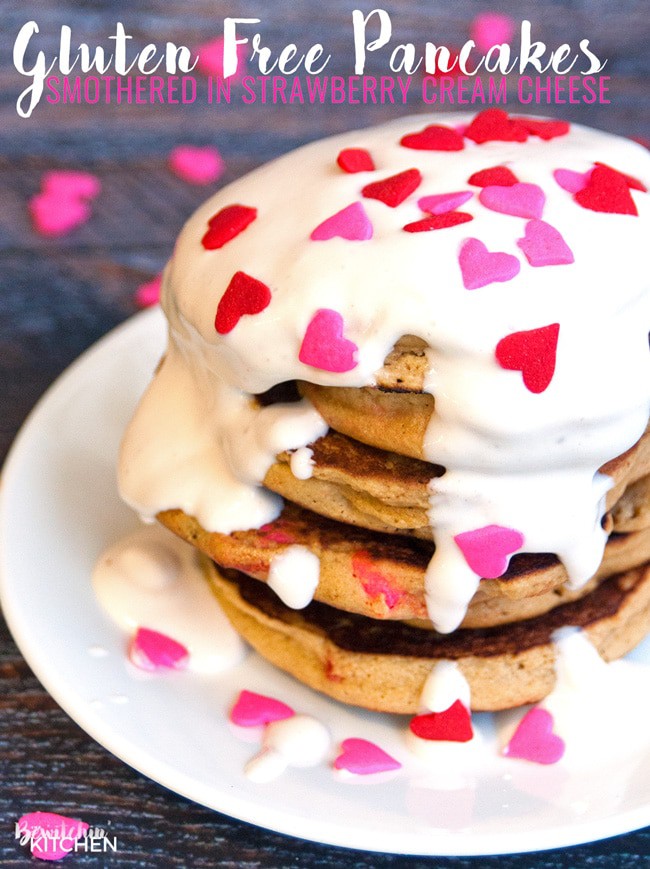 Gluten free pancakes are fun for me to experiment with. I've done banana pancakes, protein pancakes, oatmeal pancakes, almond flour pancakes, but my favorite gluten free pancakes are the ones that use coconut flour.
If you haven't tried coconut flour before, give it a try. It's high in fiber and makes fluffy mug cakes, scones and I have seen a pizza crust recipe or two on Pinterest. I buy mine from Vitacost (if you use that link we each get a $10 coupon) another place to check (for my fellow Canadians) is Well.ca.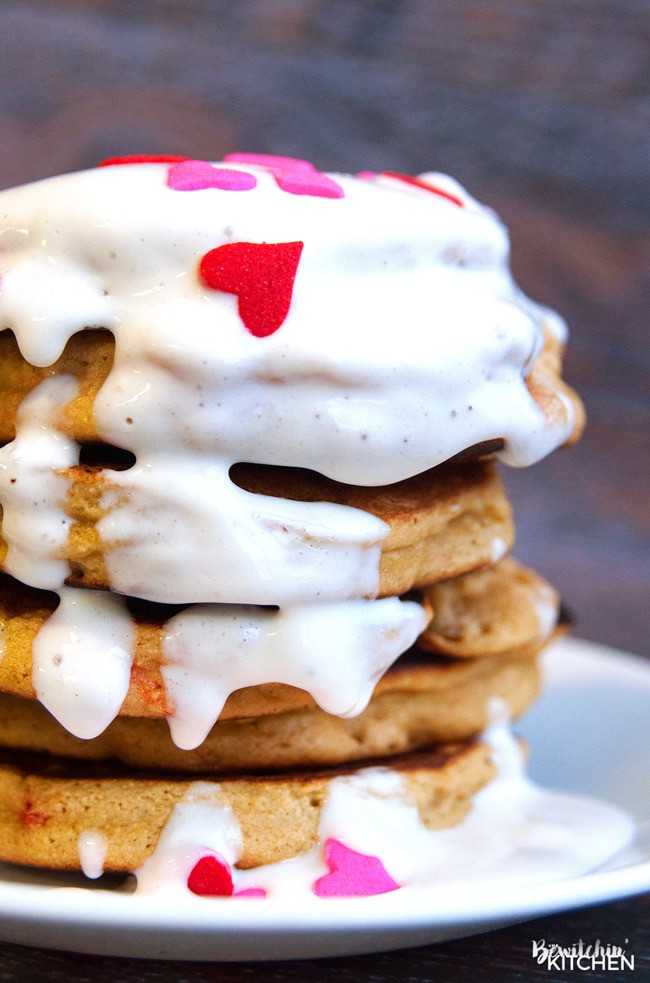 The yogurt sauce is made from strawberry greek yogurt and cream cheese. I originally planned to make this as a filling for the Valentine's Day Chocolate Shot Glasses, but I added too much yogurt and wasn't able to make it into the consistency I wanted (well, without added a ton of sugar anyway).
That's another thing, I didn't add any sugar. The yogurt I used was really sweet so I didn't think it was necessary but taste yours and go by your liking. You could sweeten it with maple syrup, honey, sugar or some stevia.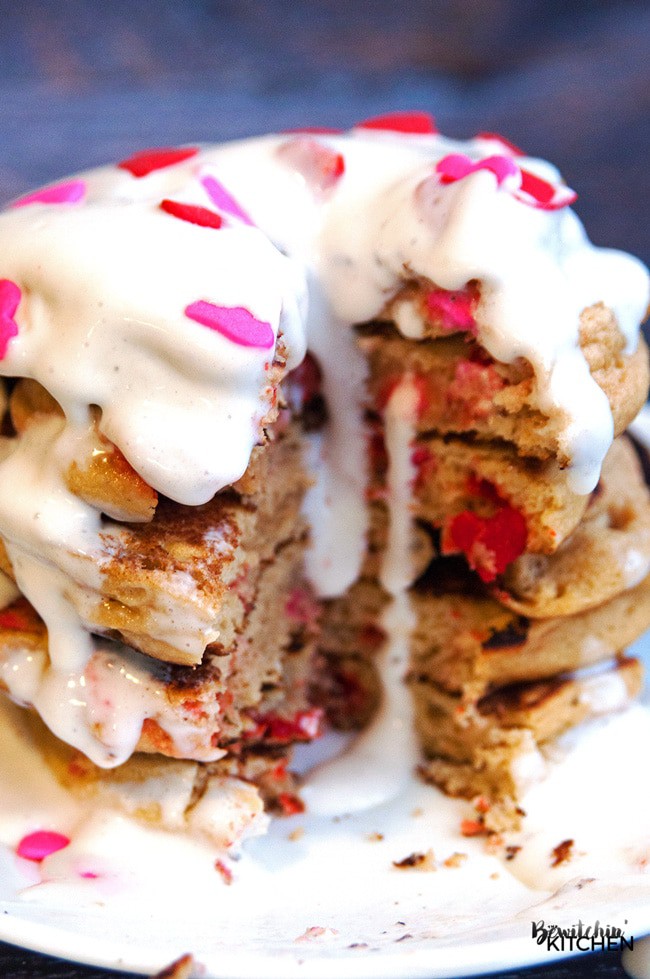 Yummy yummy yummy I've got love in my tummy
Gluten Free Pancakes Smothered In a Strawberry Yogurt Cream Cheese Sauce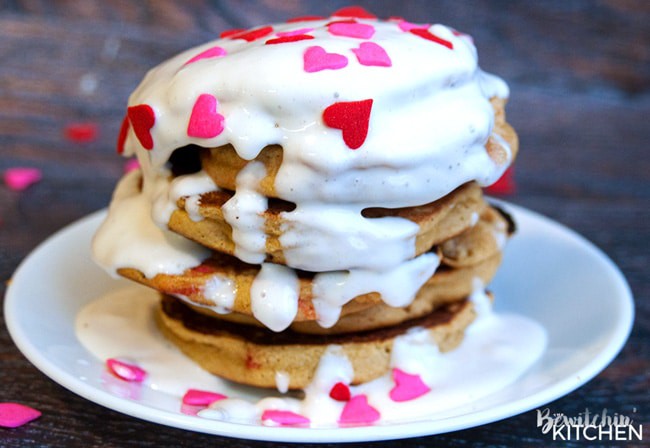 I used the pancake base from my recipe from Carrot Cake Pancakes (also see the recipe for the 3 Berry Chia Jam there too). It uses coconut flour, which is a flour that I love! It's so soft and fluffy.

GLUTEN FREE PANCAKES SMOTHERED IN STRAWBERRY CREAM CHEESE SAUCE
Ingredients
For the Gluten Free Pancakes:
4 eggs
1 tsp vanilla extract
1/4 cup coconut flour
1 tsp baking soda
Pinch of sea salt
Optional: sprinkles bonus points for a holiday theme
For the Strawberry Sauce
1 cup cream cheese
2 cups strawberry greek yogurt
Optional: sugar stevia or honey to sweeten to taste
Instructions
For the Gluten Free Pancakes:

Whisk eggs in a medium bowl and add the rest of the ingredients. Whisk until smooth.

On a pan over medium heat add 1/8 cup of the batter, wait 2-3 minutes flip and cook for another minute on the other side.
For the Strawberry Sauce
Using a blender, hand mixer or a good spoon combine until smooth. Add sweetener of choice, I left it out as the yogurt I used was really sweet.
Follow On Pinterest
Follow @bewitchinkitchen On Pinterest for more delicious recipes!
If you like this recipe, don't forget to Pin and it to share it with your friends. To Pin this recipe, you can either hover over any image or click the Pinterest symbol on the bottom or left hand side of this recipe.

This post does contain affiliate links.